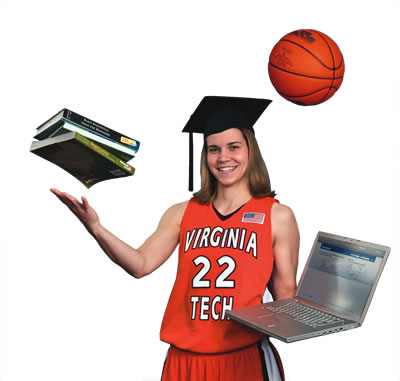 "I have a friend who is a juggler. If I'm at his house, I don't like to take food from him if it's in threes. If he has three apples left, I guess I can't have one. I wouldn't want to screw up his practice routine."
-Mitch Hedberg, standup comic
You might not think that quote has anything to do with Virginia Tech point guard Laura Haskins, and maybe you're right – maybe it's just an excuse to give a shout out to a hilariously non-sequitur comedian.
But try hard enough and you actually can relate Hedberg's random one-liner to the senior from Alexandria, Va. For one, her hidden talent is that she can literally juggle. But more importantly is the way that she's figuratively juggled the duties of being a three-year starter on the women's basketball team, as well as a dean's list student in the classroom. And how has she done it? By never screwing up her dedicated practice routine.
Haskins has always been a standout on the court and in the classroom – she was an all-state hoops player and the valedictorian at West Springfield High School – but it's what she's done since arriving at Tech that has been so impressive.
"When Laura first came here, I noticed how fundamentally sound she was as a player," Hokie head coach Beth Dunkenberger remembered. "Two things that really stood out were how hard she competed and how bright she was. She picks up on things very quickly, and she always gives 100 percent when she plays. Her intensity and competitiveness set her apart."
Haskins has never been the fastest or most talented player on the court since putting on the orange and maroon, but it's the mindset that Dunkenberger raves about that has helped Haskins to produce a rather noteworthy career. She's started all but two of Tech's games over the past three years and is on pace to finish her career ranked fourth on Tech's all-time assists list, having finished third in the ACC in that category her junior year.
The 5-foot-10 guard isn't a superb shooter – she's averaged just around four points per game on 34 percent shooting for her career – but her work ethic has made her into arguably the most well-rounded player on the team. She's turned in some eyebrow-raising stat lines over her four seasons, having recorded career highs of 11 rebounds, nine assists, seven steals and two blocks. It's a rare game when she doesn't lead the team in one of those categories, and that's a direct result of her hustle, something she takes pride in.
"Any time I play, I don't want anyone to out-work me on the court," Haskins said. "That's why you see me get a lot of rebounds, steals and assists because if my shot's not falling, there are other things that I can do. If I know I have a certain weakness in my game, then over the summer, I try to work on it and make it into a strength."
Not only has that mentality helped Haskins to contribute to the box score each night, but also to earn the respect of the players and coaches on what has been a young and injury-plagued team for the past two seasons.
"I think Laura has been a key for us in many ways," Dunkenberger said. "She is one of the hardest workers ever to play at Virginia Tech and she sets the standard for younger players to follow. She's also a coach on the floor and I frequently spot her helping out her teammates in practices and games."
As hard as one must work to be an elite basketball player, it's easy to forget that they need to work just as hard to fulfill the other half of the student-athlete moniker, something that Haskins has mastered as well. In fact, she is one of the rare student-athletes to graduate in three years, having completed her bachelor's degree in business management, with a concentration in human resources management, last summer. She has since begun work on a master's in business administration that she expects to finish in May of 2010.
It's a lot to handle in an efficient manner, and while Haskins has been a yearly member of the All-ACC Academic Women's Basketball Team, she admits it's not the easiest thing in the world to maintain.
"I think it's hard in that you don't feel like you have a lot of time to get things done," Haskins said of trying to mix homework and exams in with all of the practice, film study, traveling and games. "That's the hardest thing – all of the commitments that you have from both areas. Basketball takes away from the time that you would have to study. I guess I don't have as much free time as the normal student does because I want to do well in school."
But just like she's done on the court, Haskins made sure to put equal effort into her studies.
"I've always put a big emphasis on doing well in school, so it wasn't like I wasn't used to having to study and get my work done," she said. "I'd say my first semester was a little stressful because college basketball puts more on you than high school does, so my first semester took a little bit of an adjustment time. But it helped having a study hall that we were required to go to and they gave us tutors if we needed them, so I was able to come around pretty quickly."
So she's molded herself into one of the better pont guards in the ACC and she's upheld her status as an elite pupil, but like Hedberg said, you need three things to be a true juggler. So what is Haskins' third apple? It's trying to figure out what to do with all the knowledge and experience she's acquired over the years.
She's currently juggling three different plans of action. She's thought about using her undergrad degree and going in the direction of human resources, but she can't deny the fact that she might miss sports once her Hokie career comes to an end.
"I'm also thinking about maybe trying to combine my love of sports with my business background," Haskins said. "I could see myself working in a college athletics department one day or for a pro sports team. I'm really trying to decide between those two areas."
Haskins has inquired about obtaining a graduate assistantship or internship position in Tech's athletics department – she mentioned maybe learning from senior women's administrator Sharon McCloskey – to further explore the possibilities of that realm. She's also looking into applying for internships around the Washington, D.C., area for the summer, either with one of the local professional teams or with Octagon, a sports agency that sets up employment options within the sports and entertainment business.
She very well may do both a sports-related internship and one in HR as a means of comparing the two to see which suits her better – that was a recommendation from a teacher in a career-planning class – but if neither of those works out, there's always her third interest.
"I've also thought about law school," Haskins said. "I know there are schools out there – Marquette and Tulane are two of them – that have a sports law program where you can get a certification in sports law. I would consider one of them or a school that at least has a sports law and society program. Then I could use a law degree to get into the sports field, as opposed to just having the business background.
"Maybe I could be a sports agent or work in the general counsel's office for a pro sports team. I'm pretty interested in that as well. I figure you can never have too much education, especially with the way the economy is. I might just keep going to school until it turns around!"
She still has the summer and the next academic year (while she finishes her M.B.A.) to figure it out, but if she brings the same intensity and dedication to the process as she has to the rest of her collegiate career, it's a good bet that things should work out just fine.
"I have no doubt that Laura will be a success in whatever she decides to do," Dunkenberger said. " She's smart and driven and that will make her successful in whatever field she chooses."
Besides, if none of those options – human resources, athletics administration or sports law – pan out, there's always the circus. We hear she's a pretty good juggler.