A year ago, Tech fans wondered how the basketball program would fare with the departure of versatile superstar Deron Washington.

Another postseason berth simply answered that question.

Now, they wonder how Tech's program will get along without 20-point-per-game scorer and All-ACC selection A.D. Vassallo.

The answer to that question may lie in how well Tech coach Seth Greenberg's talented recruiting class adjusts to ACC competition. Given how most of them fared during their senior season, their transition may be a smooth one.

Of Tech's four fall signees, three of them guided their teams into their respective state's final four. The fourth missed most of the season with a broken leg, but his team, too, made the final four of the state playoffs.

Here is a look at how the Hokies' recruits fared this past season:
MANNY ATKINS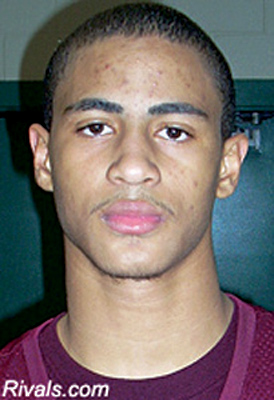 Atkins, a 6-foot-7, 200-pound wing player from Stone Mountain, Ga., could be the heir apparent to Vassallo. Atkins averaged nearly 27 points and 11 rebounds per game in leading Tucker High to a 24-9 record.

"I played him at the 3 [small forward] and the 4 [power forward], and even some 5 [center]," Tucker High coach James Hartry said. "He did everything for us. But I think he's probably a 2 or 3 in college. He can handle the ball well and he can shoot. He's a lights-out shooter. That's what he's known for. That's his thing."

Atkins led Tucker High to the Class AAAA championship game played in early March at Gwinnett Arena. His team lost to a powerful Miller Grove squad 59-31, a game in which he scored 16 points.

He got his team there, though. In the semifinals against Bainbridge, he poured in 28, hitting 10-of-12 from the free-throw line. In the quarterfinals against Hillgrove, he also scored 28 points and grabbed nine boards.

Atkins recently participated in the Georgia Athletic Coaches Association North-South All-Star Game in Savannah, Ga. He scored 22 points in that game to pace the North team, which lost 86-81.

Hartry has coached some great players during his 10-year tenure at Tucker High. Jeremy Simmons is playing for Bobby Cremins at the College of Charleston, while Marshon Brooks is currently at Providence and Cameron Tatum is at Tennessee.

But Atkins, who guided Tucker to the Class AAAA championship as a sophomore, ranks as his best.

"Across the board, he's the best I've ever coached," Hartry said. "He's got a 3.7 grade-point average, he's coachable, he's on time, he's a leader and he's a good kid. You can't ask for anything more."
ERICK GREEN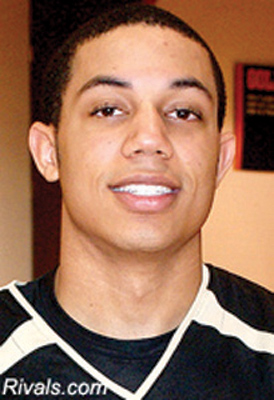 Green, a 6-2, 180-pound point guard from Winchester, Va., was the only Tech recruit to win a state championship this past fall, guiding Paul VI to the Virginia Independent School Division I championship. Paul VI beat Blue Ridge 61-47 in the title game and Green led the way with 23 points.

Green transferred to Paul VI following his junior season at Millbrook High in Winchester, Va. – a season in which he guided Millbrook to the Group AA title and averaged 18.5 points, three rebounds and 2.9 assists per game, earning Northwestern District and Region II player of the year honors in the process.

"This was a really productive year for Erick," said Paul VI head coach Glenn Farello, who has sent 40 players to Division I schools. "He came in wanting to play against a higher level of competition and it was a positive experience for him. He furthered his talents as a player. He learned that you have to grind and you have to do it on a daily basis. I think he met every expectation we had for him."

Green got better and better as the season went along. He scored 20 or more points in Paul VI's final five games. He also scored 23 points in a win over Christchurch in the semifinals, and for all his work, he earned state tournament most valuable player honors.

Green guided his team to a 19-15 record this season. He averaged 16.8 points and six assists per game on his way to earning first-team All-WCAC honors this past season.

"He's a pure point guard," Farello said, noting that Green finished with a 5-to-1 assists-to-turnover ratio. "He can score, but he's more of a facilitator. He gets everyone involved. He's got a college-level mid-range game and he can shoot the 3. But he'd rather pass than shoot."

Green faced some of the nation's best competition this past season. For example, he played head-to-head against Maalik Wayns out of Philadelphia's Roman Catholic High. Wayns was rated one of the best point guard prospects in the nation and signed with Villanova.

"One of the areas where I was really pleased with Erick was his defense," Farello said. "He played against Maalik and I thought he'd have trouble with him because Maalik is a very strong point guard. But Erick did an admirable job. He showed me he was capable of defending people.

"I often compare him to Delonte West, who's in the NBA [with the Cleveland Cavaliers]. Erick is long and can keep people in front of him. He understands angles. I knew he could handle the ball and pass it and that he would play under control, but the one piece of his game that exceeded my expectations was his ability to defend.

"I think he's really going to fit into the puzzle there [at Tech]. He's the consummate team player and he plays within himself. He'll get the ball where it needs to go. He's unselfish and that's going to make things easier for him."
CADARIAN RAINES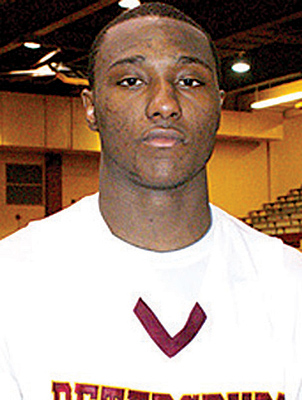 Raines, a 6-8, 210-pound forward from Petersburg, Va., is the true post presence in this class, and he dominated inside for Petersburg High this season, leading the team to the Group AAA semifinals.

Petersburg rolled to a 29-0 record before falling to King's Fork 73-67 in the semis. Raines, saddled with foul trouble, scored just seven points in the game.

Yet for the season, he averaged 15.8 points, 9.8 rebounds, 3.8 blocks and 1.8 assists per game. His best scoring game came against Henrico during the Central Region semifinals when he poured in 27 points and hit 12 of 14 shots.

"He had a very good year and his numbers don't really show what type of year he had," Petersburg coach Bill Lawson said. "Out of 31 games, there were probably 15 or 16 in which he didn't play in the fourth quarter.

"We played him at center, but I think he'll be a power forward at that level. His sophomore and junior years, he was primarily a shot blocker. But he became more of an offensive player this year. He's athletic and runs the court well. He knows how to finish inside. He's improved his face-up game. He can go out to the foul line extended."

Raines shot 64 percent from the floor this season, but only 42 percent from the free-throw line. He earned Central District player of the year honors for the second straight year. As a junior, he averaged 14.3 points, 10.4 rebounds and 5.8 blocks per game on his way to earning co-player of the year honors.

"I think the big thing for him is getting bigger," Lawson said. "The ACC is a physical league and he's going to need to get bigger and stronger for that level. But he's got the body to do it and I'm confident that he can."
BEN BOGGS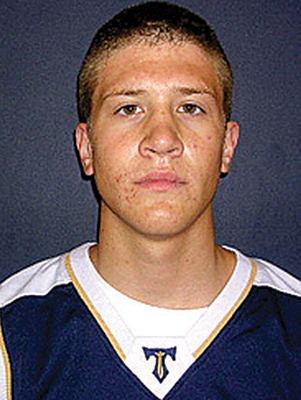 Boggs, a 6-3 combo guard from Roanoke, Va., suffered the worst of luck this season when he broke two bones in his leg in Hidden Valley High's second game of the season. Boggs drove the baseline in a game against Northside High and went up for a lay-up while a Northside player tried to draw a charge. It appeared Boggs came down on a teammate's foot.

Boggs spent the season cheering on his teammates. Without Boggs, head coach Troy Wells still managed to guide Hidden Valley to the final four of the Group AA tournament, where they lost to Salem in the semifinals. Boggs underwent surgery a couple of days after his spill and should be ready to go once practice starts next fall.

As a junior, he averaged 17.8 points, 8.3 rebounds and 3.7 assists per game in leading Hidden Valley to the Group AA semifinals. A first-team All-Group AA selection his junior season, he also was the Timesland player of the year according to The Roanoke Times.