Ready, Set, Dodgeball!
On the morning of the spring semester's reading day, approximately 80 student-athletes, support staff and coaches took a break from the rigors of the academic and athletic calendar to participate in what is quickly becoming a popular annual event, a student-athlete dodgeball tournament. Sponsored by the athletic department's Office of Student Life and the Student Athlete Advisory Committee, the event raised $400 for Relay for Life.
The Student-Athlete Experience
"The dodgeball tournament is one of my favorite events. It's an awesome way to get athletes together before we finish the year, and we raised money for a great cause, too. It gets better every year!"
Ryan Rotanz | Senior, Lacrosse, SAAC Vice-President
"The end-of-the-year dodgeball tournament to raise money for Relay for Life is always one of the year's highlights. It is so good to see athletes from all different sports come together to raise money for a great cause and develop our community of student-athletes. Thank you for giving us the opportunity to take part in events like these."
David Marone | r-Senior, Wrestling, SAAC President
The Donor File: Bo Hart
Hokie Club Level: Hokie Club
Member Since: December, 2010
Currently Resides: Blacksburg, Va.
What year did you graduate? 2011
Q: Being a member of the Hokie Club and supporting Virginia Tech athletics is important to me because …
A: I love Virginia Tech, so it was important to join the Hokie Club immediately so that I can support the athletics program. Donations will help provide services that our student-athletes need, and it will also be beneficial to me so that I can start earning those Hokie Club points now.
Q: Do you have a specific moment when you realized that you were a fan of Virginia Tech athletics and knew without a doubt that you were a Hokie?
A: That first time I walked into Lane Stadium and heard "Enter Sandman" and "Tech Triumph" was when I knew that wearing maroon and orange was the best thing.
Q: Do you have any game day or tailgating traditions or superstitions? If so, what are they?
A: No game day traditions, but I always seem to underestimate the Blacksburg weather for every game.
Q: When you drive into Blacksburg, Va., for a game, are there any "must-do" things?
A: I love Blacksburg. The first thing you must do is to get off 460 on Southgate Drive and drive by the big VT. Then drive around the Drill Field, go have dinner downtown, get a dozen doughnuts from Carol Lee for the morning, and witness a victory in Lane Stadium.
Q: Name your all-time favorite Virginia Tech football player and describe your favorite memory of him.
A: Eddie Royal. My favorite memory is the 2004 Georgia Tech/Virginia Tech game, where Bryan Randall hits Royal to get the TD to tie the game with five minutes to go. The Hokies end up winning 34-20, and this was the start of Royal's many successes at Virginia Tech. I will be pulling for him in San Diego this year.
Q: Name your all-time favorite Virginia Tech student-athlete from another sport and tell us about your favorite memory of him or her.
A: Deron Washington. He knew how to excite the crowd, and nobody will forget his dunk over Duke's Greg Paulus, or his game-winning shot against UVa in 2008. Both are classic Virginia Tech basketball memories.
The 2012 Orange and Maroon Tour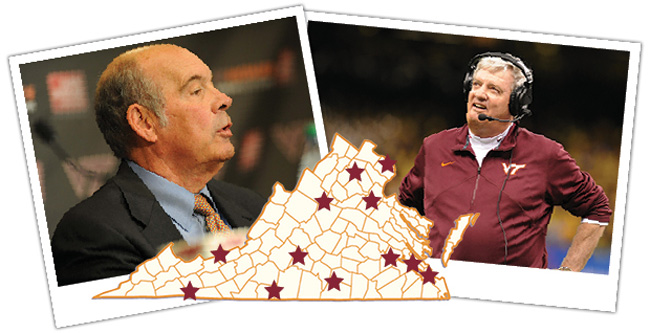 From everyone at the the Hokie Club and Virginia Tech athletics, we would like to thank all who played a part in the success of the 2012 Orange & Maroon Tour. With 15 events spread across Virginia as well as North Carolina, Maryland and West Virginia, thousands of Hokie Club members and Virginia Tech supporters had an opportunity to interact with Virginia Tech coaches and athletic department administrators. We thank everyone for supporting us, and we are already looking forward to next year's tour!