View the full 2012 Football Recruting Chart for bios, stats, and other information on Virginia Tech's 2012 football class.
Tech head football coach Frank Beamer assumes many roles under his title, including educator, motivator, psychologist, counselor and organizer, among others. He also serves as a mathematician, or at least, he does during recruiting season.
Beamer and the rest of his coaching staff inked 26 prospects to letters-of-intent on Feb. 1, better known as 2012 National Signing Day. The haul marked the third-largest crop in Beamer's 25 years as the head coach at Tech. In 2008, he and his staff signed 31 prospects, and in 1996, they signed 28.
That total of 26 doesn't include two others who graduated from high school early and enrolled at Tech for the spring semester – tailback J.C. Coleman from Chesapeake, Va., and defensive back Donaldven (pronounced Donovan) Manning from Miami. But those two figure in as part of this class, bringing the number to 28, even though they did not sign letters of intent.
Beamer and his staff got pleasant news on signing day when they received the signatures of two of Virginia's top prospects. Joel Caleb, a 6-foot-3, 205-pounder from Midlothian, and Ken Ekanem (pronounced eee-can-um), a 6-3, 240-pounder from Centreville, both waited until the last moment before signing with Tech. Also, Joshua Stanford, a 6-1, 180-pound receiver from Georgia, reaffirmed his commitment to Tech by signing with the Hokies after mulling late offers from UCLA and TCU.
The only downer was the loss of Korren Kirven, a defensive lineman from Lynchburg, Va., who signed with Alabama on signing day.
"We got three out of the four and we're extremely excited about that," Beamer said. "The others [Tech's signees] were committed, and you hope they stay committed [on signing day]. Any time you've got four guys out there and they're all great players and you think they're going to be great players, there's a little nervousness there."
Those three wrapped up a class that enabled Beamer and his staff to fill needs at nearly every position. As usual, the coaches started with the defensive line, signing six prospects. They also signed five receivers, five running backs (including Coleman and another prospect, Trey Edmunds, who also is listed as a linebacker), four linebackers (including Edmunds), four defensive backs (including Manning) and three offensive linemen.
But Tech's staff added more than just numbers – they added talent. Five prospects out of this class earned SuperPrep All-America honors, including Caleb, Ekanem, Coleman, Edmunds and running back Drew Harris. Those five, along with linebacker Deon Clarke and defensive end Jarontay Jones, earned All-America honors by PrepStar. The seven All-Americans marked the most signed by Tech's staff since 2007 when the staff inked seven that year.
Even before those three decided on signing day, the Hokies' class was being ranked in the top 25 by most recruiting services. With the addition of Caleb, Ekanem and Stanford, the class finished at No. 21 in Rivals' team rankings and at No. 25 by ESPN.
"I think we've taken another step toward reaching our goals at Virginia Tech," Beamer said. "There's no question. We've won a lot of games. We just need to take that next step and get some of these BCS games. Getting there is hard. We've won a lot of big games to get to a big game in the BCS. But today's class gives us a chance to have some more success the next time we get to a BCS game."
Virginia's team
A year ago, the Hokies' staff signed just eight players from Virginia, one of Tech's smallest in-state hauls in recent memory. Of those eight, six were rated among the top 25 prospects in Virginia by Doug Doughty, who covers recruiting for The Roanoke Times.
But the coaches cleaned up in the state this year, signing 17 prospects from Virginia, including two of Doughty's top five, four of his top 10 and 12 of his top 25. Doughty rated Caleb as the No. 2 prospect in Virginia and Ekanem at No. 4, while Coleman and Edmunds came in at No. 6 and No. 8, respectively.
"I thought the talent level in the state was very good," said Jim Cavanaugh, Tech's director of recruiting and high school relations. "I don't know if there was a marquee guy [in the state] this year, and when you don't have a marquee guy, people tend to think it's not a good year. But I disagree. I think there were a lot of good football players in the state this year."
For the most part, Tech's staff landed the best players from each area within the state. Cavanaugh, whom Beamer moved into the role of director of recruiting and high school relations last spring, laid the foundation for most of Tech's impressive haul of recruits from Richmond. Then, Shane Beamer, Tech's running backs coach who took over the Richmond area in recruiting when he came aboard last spring, followed up and finished the job.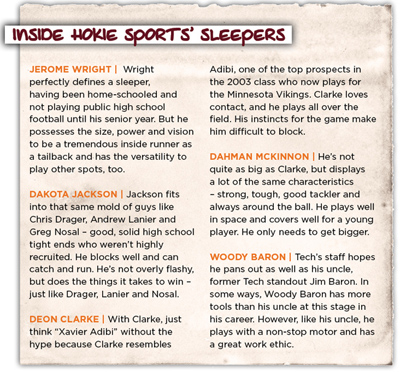 Behind the work of those two guys, Tech landed six prospects out of the Richmond area – Caleb, Clarke, offensive lineman Augie Conte, defensive back Desmond Frye, defensive lineman Nigel Williams and running back Jerome Wright. Caleb may be the best prospect in the class after rushing for 747 yards and 12 touchdowns and throwing for 846 yards and seven touchdowns as a quarterback his senior season. He projects as a receiver at Tech and wants to play at that spot.
"I do think the talent level was very, very good in Richmond this year," Cavanaugh said. "In fact, this is one of that area's best years. I'd say it was an outstanding year in Richmond."
Tech's coaches fared well in other parts of the state, too. Defensive coordinator Bud Foster inked Ekanem and linebacker Devin Vandyke – two All-Met selections by The Washington Post – and offensive lineman Adam Taraschke. Offensive coordinator Bryan Stinespring brought in Edmunds from the central part of the state, and then he landed two from just down the road in Dakota Jackson, a tight end from Roanoke, and defensive lineman Seth Dooley from Salem. And Curt Newsome brought in four from the Tidewater area in Coleman, defensive lineman Alston Smith, receivers Thomas Smith and Der'woun (pronounced dare-ee-on) Greene.
The rest of Tech's class came from the Hokies' traditional mid-Atlantic recruiting grounds. Shane Beamer brought in two from Pennsylvania, Torrian Gray landed three from Georgia and one from Florida, Charley Wiles got one each from Tennessee and North Carolina and Mike O'Cain snared one each from North Carolina and South Carolina.
"We try to get the in-state kids first," Cavanaugh said. "Then we try to supplement with kids from Baltimore to Atlanta – that corridor. We start at home and branch out."
Stocking up on d-line – again
Seemingly every year, Tech's staff targets defensive linemen and the 2012 class is no exception. The staff signed six prospects listed as defensive linemen.
Tech's staff has now signed 23 defensive line prospects in the past four years. Some of those never made it to Tech (e.g. DeAntre Rhodes), while others got moved to the offensive line (e.g. David Wang, Nick Acree).
Williams, the 6-3, 270-pound defensive lineman from Richmond, Ekanem and Jones, a 6-2, 240-pound end from Lithonia, Ga., probably rank as the headliners of this 2012 group. Williams finished with 38 tackles for a loss combined the past two years, while Ekanem recorded 72 tackles and 18 sacks as a senior. Jones – who fielded offers from LSU, Florida and Auburn – had 115 tackles, including 22 for a loss, and 14.5 sacks this past season.
Dooley, Woody Baron and Alston Smith round out the group. The latter two names possess Tech ties, as Smith is the son of former Tech Outland Trophy winner and 11-time Pro Bowl selection Bruce Smith and Baron is the nephew of Jim Baron, a defensive tackle who played a key role on the Hokies' 1995 Sugar Bowl-winning squad.
"All of those kids can flat run," Cavanaugh said of the defensive line prospects. "Basically, you're looking for big, strong, fast kids who can run. Speed is the key, and then, you also want a guy who has a knack for making plays. That means finding kids who can play with leverage. They have to be able to defeat blocks.
"So there are a lot of things you're looking for, and it's not easy to find players who can do all those things."
Other critical needs included linebackers and tailbacks. Six of the Hokies' current linebackers at the three spots (mike, backer and whip) depart within the next two years, so the staff set about replenishing those spots, and Tech is really thin at tailback now thanks to the departure of four in the past two years and because of an injury to Tony Gregory.
So Frank Beamer and his staff brought in lots of linebackers and tailbacks. The linebacking crew features the three best in Virginia – Edmunds, Clarke and Vandyke. Edmunds rushed for nearly 2,600 yards this past fall, but also recorded 143 tackles on defense. He currently is listed at both spots, as the staff plans on giving him a look at both to see where he best fits. Clarke, a 6-3, 200-pounder, finished with nearly 100 tackles this past season, and Vandyke, a 6-0, 205-pounder, had more than 90 tackles each of the past two seasons.
Also, the group features Dahman (pronounced duh-mahn) McKinnon, a 6-1, 210-pound tackling machine from North Carolina. He figures in at the whip spot.
At tailback, Coleman graduated from high school early and enrolled at Tech for the spring semester, allowing him to get a jump on classes and to participate in spring practice. The 5-7, 170-pounder rushed for nearly 1,500 yards this past season in leading his team to the Group AAA championship, and he rushed for 4,416 yards in his career.
The remaining running back prospects are Harris, Chris Mangus and Wright. Harris, a SuperPrep All-American from Downingtown, Pa., rushed for 600 yards this season, but missed half his campaign with a knee injury (he should be fine for the fall), and he rushed for nearly 5,000 yards for his career. Mangus, a Raleigh, N.C., native, rushed for more than 4,000 yards in his career.
Wright could be the sleeper of the bunch. After playing on a home-school team for several years, he wound up at Highland Springs this past season and rushed for 600 yards and 15 touchdowns.
"We're going to give them all a shot and figure out what the best options are right now," Beamer said. "But certainly that [the tailback position] had to be a priority and to come away with the quality of kids we got at that position is a big plus."
Adding speed at the skill spots
Tech's staff brought in just one quarterback in this class – 6-3, 195-pound Brenden Motley from nearby Christiansburg. Motley accounted for nearly 1,600 yards of offense and 25 touchdowns his senior season, but he may wind up at a different position. He played safety in high school as well as being a quarterback.
Tech's staff actually signed many of those types – skill guys with speed, like Motley. In fact, the coaches brought in 15 of those guys – 11 on offense.
The 11 on offense included Motley and the five tailbacks. That group also included the five receivers – Caleb, Greene, Thomas Smith, South Carolina native Mark Irick and Stanford. Most are taller than 6-foot and all except Caleb and Greene, who both played quarterback, caught more than 800 yards worth of passes this past season. Stanford, a 6-1, 180-pounder, caught more than 1,100 yards and 11 touchdowns.
The four on defense included defensive backs Frye, Manning, Davion Tookes of Fairburn, Ga., and Baltimore's Donovan Riley. Manning and Tookes stand at 5-10 and 5-11, respectively, and both cover well. Frye had 91 tackles and three interceptions as a senior, while Riley intercepted five passes this season. Safety and rover remain viable options for them.
Three offensive linemen and a tight end round out the class. The linemen – Conte (6-4, 265), Taraschke (6-5, 270) and Jack Willenbrock (6-2, 260) – weren't highly recruited, but resemble the types that the staff enjoyed success with in the past (e.g. Jake Grove, Jim Miller). Jackson, a 6-3, 250-pounder, ranked as the state's best tight end prospect after catching 22 passes for 360 yards his senior season.
By signing such a big class, Tech's staff figures to be hamstrung in terms of numbers for the 2013 class. After all, the 2012 team features 14 scholarship seniors, but the coaches know what they want with next year's class – offensive linemen, in particular.
"Offensive linemen will be key for us," Beamer admitted. "And then after that, it's however many we'd like to get at each position or we wouldn't take one unless he's a great one. We've already got that figured out. We've really got a great start on next year's recruiting."
The coaches knew they simply couldn't turn away talent this year, particularly when it comes from Virginia. So going hard after the state's many good players this year made sense.
Hopefully, it'll pay huge dividends down the road.