Olympic Sports Athletic Performance Center to give Hokies a lift
Tech opened a $1 million dollar training center this summer specifically for its Olympic sports.
The Student-Athlete Experience
Having our new facility has allowed us to have a greater level of flexibility on how we train our Olympic sport student-athletes. They now have the opportunity to train and excel in a world-class facility, with state-of-the-art equipment, because of the great support system we have set up here at Virginia Tech. I am very excited for the upcoming seasons and seeing how our athletes push themselves to grow individually as well as a team in here.
Megan Evans | Coordinator of Strength and Conditioning for Olympic Sports
Thanks for the support over the years. The incredible Hokie Nation has made my career at Tech unforgettable!
Morgan O'Neill | Senior, Volleyball
The Donor File: Dare Lane Query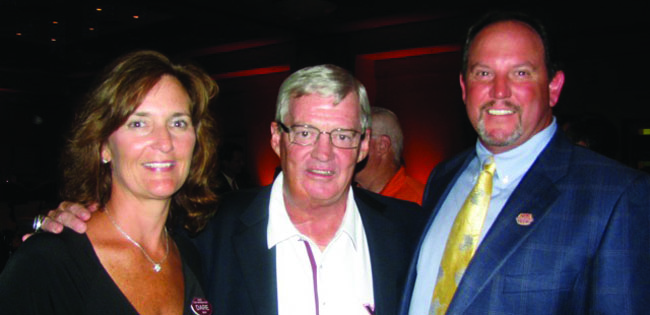 Hokie Club Level: Golden Hokie
Currently Resides: Norfolk, Va.
What year did you graduate? 1989
Family: husband - Joe, daughter - Allison (age 16), son - Ryan (age 14)
Q: Being a member of the Hokie Club and supporting Virginia Tech athletics is important to me and my family because …
A: I enjoy helping to provide athletics scholarships and to improve facilities to make the sports programs at Virginia Tech the best that they can be. Hokie football has been an integral and fun part of the fall for our family for many years.
Q: Do you have a specific moment when you realized that you were a fan of Virginia Tech athletics and knew without a doubt that you were a Hokie?
A: I felt a part of the Hokie family upon my entrance to Tech in 1985. But I'd say the 1999 win over BC at home was one of the turning points for me as a football fan. This past July, I took my daughter, Allison, an aspiring Hokie, on an official campus tour. They showed an impressive and spirited athletic video that got everyone excited, and I was very proud to be a Hokie.
Q: Do you have any game day or tailgating traditions or superstitions? If so, what are they?
A: We arrive at our lot as early as we are allowed. My husband, Joe, is a tailgater extraordinaire. His grill that hitches to the Suburban comes with us to every game, and we always have a nice spread with family and friends.
Q: When you drive into Blacksburg for a game, are there any "must-do" things for you and your family?
A: A Mike's Grill burger is a must for me, and we always visit the Campus Emporium for the latest in Hokie wear. And when the weather is right, we go tubing at the New River Junction.
Q: Virginia Tech has had a lot of successful teams and wins over the years. Do you have a favorite team/season or game that stands out the most?
A: My two most favorite wins were over Nebraska in 2009 and over Miami last season. I was at both of those games, and they were so exciting, especially the very end! My son, Ryan (then only 11), ran onto the field after the Nebraska game. He had a ball!
Q: Why is being a volunteer/Hokie Representative important to you?
A: It makes me feel more connected to Tech and helps me feel like I can help make a difference for young deserving athletes. It is rewarding to contribute to Tech athletics.
Q: You have done an outstanding job as chairperson of the Tidewater Football Kickoff Dinner. Please tell us how you manage the event and how the other Tidewater Hokie Reps are involved.
A: I do not do it alone! The group of reps that puts on our Kickoff Dinner is probably one of the best teams I have been a part of. We each have our strengths and execute on them to put on an event that improves every year. I am proud of my association with that event and that special group of people. We also are so thankful for our great sponsors, prize donors and guests! Be sure to join us next year!
Letter from Lu
Welcome back! The summer is coming to an end and that means two things, the start of another academic year and new beginnings for several of our fall sports. We look forward to seeing each of you on campus this fall, and we are excited to kick off the football season in Lane Stadium on Sept. 3 against Georgia Tech. We appreciate all that you do to support Virginia Tech athletics, and I want to thank you for a record year in 2011-12, where $27.6M was received. The annual fund grew by $1 million, however, the scholarship bill is again on the rise and will exceed $11.2 million this fall. We ask that you consider upgrading your support and talk to your friends about the importance of the Hokie Club. If you have a friend who isn't currently a Hokie Club member, we hope that you will encourage him or her to support our student-athletes by joining the Hokie Club today!
Go Hokies,
Lu Merritt
Senior Director of Development for Intercollegiate Athletics