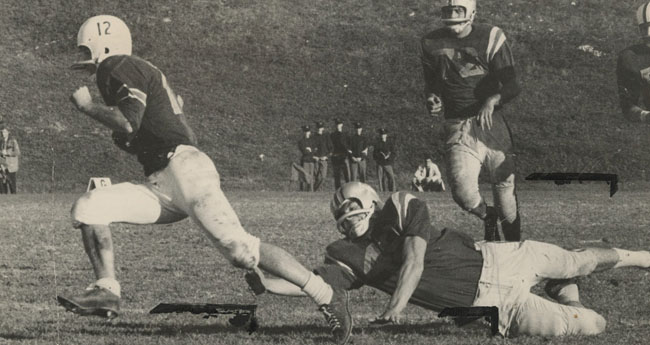 Only his closest friends know this, and it rarely comes up in conversations these days given the high-powered aerial shows that dominate college football today. But Billy Holsclaw years ago etched his name in the Virginia Tech record book because of his ability to fling a football in an era unfortunately forgotten or ignored by many.
Holsclaw, who played football at Tech under legendary coach Frank Moseley from 1956-58, was the first Tech quarterback in the modern era to throw for more than 1,000 yards in a season. Tech's records only go back to 1950, but it's a safe likelihood that no one before 1950 eclipsed the 1,000-yard plateau, especially considering the ground-oriented attacks of yesteryear.
Holsclaw threw for 1,013 yards during the 1958 season, which saw the Hokies go 5-4-1 under Moseley. These days, college quarterbacks throw for that amount in less than five games, but the era and Moseley's conservative approach should not diminish Holsclaw's accomplishment.
"People used to bring it up," Holsclaw said of his place in the Tech record book. "But as time goes … they don't say anything about it now."
Then he added, with a chuckle, "You tell people that today [that he threw for 1,000 yards], and they're like 'What?' I guess it's not as impressive today."
That the now 76-year-old Holsclaw became a record-setting quarterback is an interesting tale. He never played quarterback at Charleston High School in Charleston, W.Va., before coming to Tech, following in the footsteps of his uncle, Duncan Holsclaw, who played at Tech in the early 1930s. Billy Holsclaw played in a single-wing offense at Charleston High and was thus more of a tailback.
When he got to Blacksburg, he sat out a year and then joined the varsity squad in 1956. He spent most of the 1956 and 1957 seasons on defense, where he played as a defensive back.
But guys like former quarterbacks Billy Cranwell and Jimmy Lugar started graduating, and Moseley called on Holsclaw to be the sole quarterback in 1958.
"I was a tailback in high school," Holsclaw said. "I had never played under center until I got to Tech. But he [Moseley] wanted me to go to the quarterback position, and I had played a little bit my first two years, but mostly, I was on the defensive side of the ball. Then he named me the starter at quarterback my senior year."
Moseley probably wanted to take advantage of his personnel. After all, at one of his receiver spots was a young man named Carroll Dale, who went on to earn two All-America nods at Tech and later helped the NFL's Green Bay Packers win two Super Bowl rings.
Holsclaw completed 70 of his 127 pass attempts for 1,013 yards his final season, with nine touchdowns and seven interceptions. Twenty-five of those completions and six of those touchdowns went to Dale, who set modern-day records for receptions in a season, touchdown receptions in a season and receiving yards in a season (459) that year.
"We were running basically the same offense," Holsclaw said. "But we threw it [the football] much more. Coach Moseley decided to open it [the offense] up more, and obviously Carroll was a very good player."
Holsclaw guided the Hokies to five wins, but the season could have been so much more. Tech tied a game and lost two games by seven points and one point, respectively.
Holsclaw graduated from Tech in 1959 with a degree in distributive education. He wanted to get into coaching, in large part because of Moseley's influence. So after graduating, he embarked on what turned out to be a 40-year coaching career in the high school ranks.
"I enjoyed playing for Coach Moseley," Holsclaw said. "I liked the way he was. He got on everyone quite a bit, and he was tough. But he was fair.
"But just being in football for so many years [before graduating], I just loved it. Coach Moseley let me help coach the freshman team at Tech my last year there, and I really liked it. Coach Moseley helped me a lot. He gave me the start I needed."
Holsclaw's first job came at Spotsylvania High School, near Fredericksburg, Va., where he taught and coached for a couple of years before taking a job at Osbourn High School in Manassas, Va. He spent 10 years there, coaching and teaching history, social studies and driver's education.
After 10 years, he moved to Woodbridge High School in Woodbridge, Va., where he stayed until he retired in 1990. He remained involved with football after his retirement, though, helping out as an assistant coach for another 10 years.
His responsibilities on Friday nights in the fall – and even on Saturdays and Sundays – prevented him from getting back to Blacksburg for many football games. But he kept in touch with his teammates over the years, and a group of them get together each year for a golf outing.
"A lot of us have stayed connected," Holsclaw said. "We'll meet up and play golf there in Blacksburg, and we do that just about every year. Guys like Barry Frazee, Bobby McCoy, Terry Strock and Dickie Beard, we all keep in touch. We have a lot of fun when we get together."
Holsclaw got married not long after graduating from Tech, and he and his wife have four children and six grandchildren. Their oldest daughter graduated from Tech, and the other three children also graduated from college.
These days, he and his wife live in Manassas. Of course, he'll always have a permanent residence in Blacksburg – in the Tech record book.
"I really did enjoy being at Virginia Tech," he said. "Just to be there was such an honor for me. You could tell back then that the place was getting ready to bust out and go big time. We were very successful under Coach Moseley, and there was such a close bond between that group. But you look at it now, and things have only gotten better."