It's been a busy six weeks for the man in charge of Tech's football program. First, he spent a countless number of hours hiring three new coaches to his staff. Then, he spent even more time than that helping his staff secure one of the nation's top recruiting classes.
But Frank Beamer doesn't mind working so hard when he reaps the results he wants.
The 2013 National Signing Day came and went quietly for Beamer and the Hokies, who have seen their share of drama over the years. But their 18-member talent haul spoke loudly to those in the ACC and beyond, as the staff members inked a class rated in the top 25 nationally by both Rivals and 247Sports, two organizations that focus on recruiting.
ESPN ranked the class 19th nationally and third in the ACC. Rivals ranked the class at No. 22nd in its team rankings and third in the ACC, while 247Sports ranked it 20th nationally and fourth in the ACC.
"We'll answer that question for sure in three or four years," Beamer said when asked about this being one of his highest-ranked classes ever. "But I do feel good about these kids. They have good athletic ability. They are good-quality kids, and they're a good fit for Virginia Tech."
Several recruits possess family ties to the Tech program, but the most important family connection centered on the Fuller family, as Kendall Fuller, the younger brother of former Tech players Vinnie and Corey Fuller and current player Kyle Fuller, followed his brothers to Blacksburg. The cornerback from Baltimore, Md., was the Hokies' lone 5-star recruit and ranked as the No. 9 overall prospect in the nation by Rivals and the No. 2 cornerback.
Fuller won every award imaginable after a senior season in which he caught 44 passes for 695 yards and seven touchdowns as a receiver and finished with 28 tackles and three interceptions on defense.
"The tough thing about Kendall Fuller is he's the last one," Beamer laughed. "We'd like to have a couple more come through here.
"Kendall is extremely athletic, and I think he'll have a chance to figure in somewhere in our secondary. I think he needs to get his hands on the ball some. We'll work with him as a return guy, and maybe after he gets settled defensively, we'll get him an offensive package. But he's quite a player. He's very athletic, very smart, very competitive – just like that whole family."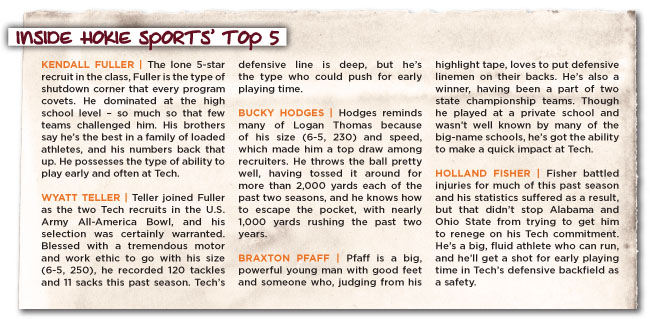 Fuller, though, wasn't the lone headliner of the class. Holland Fisher, a free safety from Richmond, and Wyatt Teller, a defensive end from Bealeton, Va., joined Fuller as top-100 recruits by Rivals. According to 247Sports, Fuller, Fisher, Teller and Bucky Hodges, a quarterback from Virginia Beach, Va., were among the top 115 prospects in the nation.
Hodges threw for 2,000 yards each of the past two seasons. In his junior and senior years combined, he threw for 44 touchdowns and only 12 interceptions. Teller, who joined Fuller in playing in the U.S. Army All-America Bowl in San Antonio – an all-star game that features the nation's top high school talent – recorded 120 tackles and 11 sacks as a senior. That came on the heels of an 85-tackle, 9.5-sack junior season. Fisher recorded 72 tackles in an injury-plagued senior season.
The class overall features a nice balance of players, as the staff signed no more than four players at any one position. The coaches focused on the offensive line, cornerbacks, safeties and linebackers, signing four, three, three and two, respectively, at those spots. Those numbers, though, could vary depending on where the two prospects listed as "athletes" end up.
Four of the 18 members in the class enrolled for the spring semester – offensive linemen Jonathan McLaughlin and Parker Osterloh, quarterback Carlis Parker and defensive back Brandon Facyson. Doing so gives them the advantage of going through spring practice and perhaps helping the Hokies next season.
But that's not to sell the rest of the class short. Despite dealing with a lack of scholarships – this is the smallest class since 1995 – the coaches put together a class that ranks among the top 25 nationally for the second straight year. Back-to-back top-25 classes should be the foundation for getting this program back in the hunt for future ACC championships.
In-state success
Two years ago, Tech's staff signed just eight prospects from the state of Virginia, one of the smallest hauls in Beamer's tenure. But that changed last year when Beamer and his staff brought in 17 prospects from Virginia, including 12 of the top 25 according to The Roanoke Times.
This year, more than half of Tech's class hails from the state. Of the 18 recruits, 12 come from Virginia, giving the program 29 of the state's best players in the past two years combined. Eight of this year's 12 prospects found their names on the state's top-25 list produced by Doug Doughty of The Roanoke Times.
Doughty ranked Hodges No. 4 on his list, while Fisher came in at No. 8 and Teller at No. 11. Last year, the staff signed the No. 2 (Joel Caleb), No. 4 (Ken Ekanem), No. 6 (J.C. Coleman) and No. 8 prospects (Trey Edmunds) on Doughty's list.
"We're going to work hard and get the best players out of the state of Virginia," Beamer said. "Virginia is a highly recruited state. There are a lot of coaches out there who realize Virginia is a good state for football. But that needs to be our foundation – that we get the best players out of the state who can help us win the ACC."
As usual, the staff cast a wide net throughout the state. Bryan Stinespring and former offensive line coach Curt Newsome signed a combined five prospects from the Tidewater/Peninsula areas, including Hodges. Running backs coach Shane Beamer – who inked six prospects out of Richmond last year – delivered three this time, including Fisher, tailback D.J. Reid and cornerback Cequan Jefferson. Defensive coordinator Bud Foster landed North Stafford High safety Anthony Shegog, while defensive backs coach Torrian Gray brought Teller into the fold – both from northern Virginia. And whip linebackers coach Cornell Brown signed one each from Roanoke and Lynchburg, with the inking of athlete David Prince and offensive lineman Braxton Pfaff, respectively.
The rest of the class follows Tech's blueprint for recruiting. The staff concentrates heavily on Virginia kids and then branches out through the mid-Atlantic. They signed two from North Carolina, one from South Carolina, one from Maryland, one from Georgia and one from Florida.
Tech stocks up on quarterbacks, o-linemen
Most of the attention with any recruiting class centers on the quarterback position, and justifiably so given the importance of the position. No program wants to lack quality at that spot, so Tech's staff signed two quarterbacks in this class after signing one – Brenden Motley – a year ago.
In many respects, Hodges and Parker, a Statesville, N.C., native, are similar. Both possess height, speed and athleticism, with the ability to run. Both need to work on their throwing mechanics, but both possess a ton of potential.
Hodges, who outweighs Parker by 40 pounds, threw for more than 4,000 yards the past two seasons, so he knows how to get the ball to the right spots. He also rushed for nearly 1,000 yards combined in his final two seasons. He gives Tech a dual-threat presence.
So, too, does Parker. The left-hander, who draws comparisons to former Tech signal caller Michael Vick, threw for 1,181 yards as a senior despite platooning with another player because of an injured knee suffered early in the season (the coach wanted to preserve him). Even missing some time, he still rushed for 959 yards and 10 touchdowns.
Parker has incurred some knee troubles over the years – he tore his LCL in his right knee in the first game of his junior year and missed the rest of that season. But with added size and strength, he possesses immense potential.
"We evaluated all of them," Beamer said of the quarterbacks in Virginia. "But for us, Bucky was the best fit, and then when we got on Carlis, that was a good fit, too. We added the quarterbacks that we thought were the best for us. There were a lot of good quarterbacks around, but we're pleased with the two we got.
"We're hoping to get a commitment for one next year, too. That's one place (quarterback) where you better be good. I think it's a proven fact that you better have a quarterback."
Tech's staff also took steps to replenish the offensive line. For the second year in a row, the staff signed at least three offensive linemen, this time bringing in four. McLaughlin, from Mauldin, S.C., by way of Fork Union, may be the closest of the group to playing, given his experience this past season at the prep school level. But Osterloh, from Williamsburg, Va., and Pfaff bring some serious size and athleticism to the program for big guys.
Kyle Chung has a last name that most Tech fans will notice – he is the son of former All-America offensive tackle Eugene Chung. Kyle, a Ponte Vedra Beach, Fla., native, played mostly tight end in high school, but the staff envisions him putting on weight and helping down the road on the offensive line. In the short term, he could be a much-needed blocking tight end.
"We'd like to start all of these guys at the tackle spot," said Stinespring, who also serves as Tech's recruiting coordinator. "That's how you want to approach it. All these guys have shown the ability to play in space. Their footwork ability is what you're looking for at that spot. Obviously, it's one of the toughest spots to recruit to, so each of these guys will start off at tackle. There's a need, and if it doesn't work out, we can move them inside."
Taking care of the "D"
Tech's staff went light on the defensive line this year for the first time in four years. After signing 23 defensive line prospects combined the past four years, Beamer and his staff only signed one listed as a defensive lineman – Teller. According to most recruiting services, Teller ranked as the second-best defensive line prospect in Virginia, only behind Jonathan Allen, a Stone Bridge High product who signed with Alabama.
But the staff filled needs at other spots, signing six prospects in the secondary – including three cornerbacks and three safeties. Fuller, Jefferson and Facyson, a native of Georgia, figure in at the corner spots, while Fisher, Shegog and Charles Clark, Jr., are the safeties.
Fisher battled injuries this past season, which limited his production, but Shegog, who played both ways, recorded 63 tackles, five forced fumbles and two interceptions as a senior. Clark, Jr., from Suffolk, Va., recorded 57 tackles and four interceptions – three of which he returned for touchdowns.
"It just kind of happened that we hit on some," Beamer said, referring to the signing of six defensive backs. "Some of those guys have flexibility in terms of where they end up playing. If they can run and redirect, that gives you some flexibility elsewhere."
Tech's staff also brought in two linebackers in Andrew Motuapuaka, from Virginia Beach, Va., and Jamieon Moss from North Carolina. Though undersized, Motuapuaka was a productive player in arguably the best district in the state, recording 115 tackles, including 21 for a loss, and eight sacks his senior year. Moss finished with 135 tackles, including 12 for a loss, as a senior.
Tech loses both Tariq Edwards and Jack Tyler after next season, and Chase Williams will be a senior after next season, so shoring up this position was important for the staff.
Rounding out the class
Finally, Tech's staff signed two prospects listed as athletes – skill players with the ability to fit at any number of positions – and one tailback.
The duo listed as athletes are Prince and Deon Newsome from Hampton, Va., who is the son of former Tech linebacker Myron Newsome. Prince and Newsome were quarterbacks in high school, but project as either receivers or defensive backs at Tech.
"I like recruiting quarterbacks out of high school, even though they may not be a quarterback (in college)," Beamer said. "They've generally got good leadership skills. They may be the best athlete on the team in high school. There are a lot of reasons to like them, and they can play other positions if they're athletic enough."
Reid was an outstanding tailback at Thomas Dale High in Chester, Va. He rushed for 1,000 yards in each of the past two seasons, and he brings a nice combination of size (6-0, 205) and speed (in the 4.3-4.4 range).
He also catches the ball well, and the coaching staff saw value in him as a punt and kick returner. Or even possibly as a slot receiver. Like many of the recruits in this class, Reid gives the staff some versatility.
"Within this recruiting class, there are a lot of individuals with versatility," Stinespring agreed. "In a recruiting class, you like to have versatility. You don't want to be locked in. What we liked with this class, when you watched the tape, there were guys playing free safety, playing receiver, playing tailback, returning punts, covering kicks … when you have that type of versatility, that gives you options, and that's an advantageous situation."
Tech's staff did not sign a "true" receiver, perhaps the only thing lacking in this class. But the Hokies have some depth at those spots – and any number of versatile athletes to move around.
In all, this is another well-rounded class. It's loaded with speed, and the offensive linemen give the program some needed size and muscle. For that reason, the class has been ranked among the top 25 by several recruiting outlets.
Beamer and company could care less about that, though. They're more interested in whether the class can get them back to the top of the ACC – and they're pretty confident that this group can.