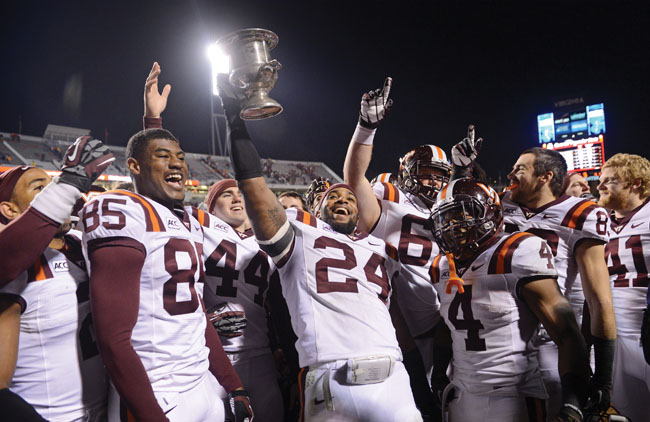 A DECADE FOR THE AGES
The Commonwealth Cup will stay in Blacksburg for another year after Virginia Tech beat in-state rival Virginia 16-6 in Charlottesville, Va., on Nov. 30. The win marked the Hokies' 10th straight victory over the Cavaliers, and by this time next season, Tech will have kept possession of the Commonwealth Cup for more than 3,600 days.
The Student-Athlete Experience
"I'm very appreciative for everything the Hokie Club does and for all those who contribute money for scholarships. People contributing is what got me here. If people didn't give money back and support the program, a lot of guys wouldn't be here and wouldn't be able to experience the things they've experienced. So I think we're all appreciative of everything that's been done for us."
-Derrick Hopkins | Senior, Football
"I'm very thankful for everything that's been done. The one thing my mom always told me when I was growing up was, 'You're going to go to college. You're going to get an education.' I'm thankful for the opportunity to play football and thankful to the people who gave money so that I could come here and get a degree. I've had a great five years and couldn't be more appreciative."
-Logan Thomas | Senior, Football
The Donor File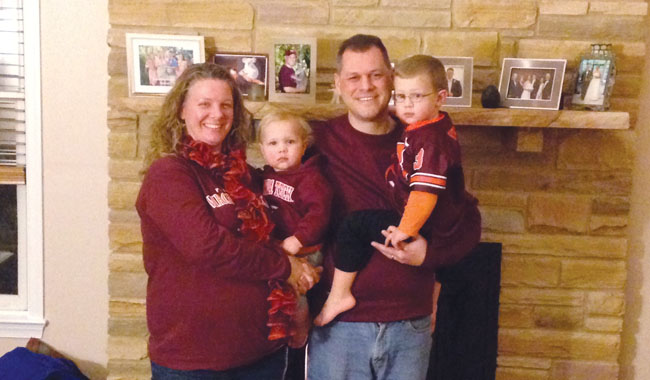 Jon and Colleen Rucker
Hokie Club Level: Golden Hokie Champion
Currently Resides: Gaithersburg, Md.
What year did you graduate? 1996
Family: Colleen (wife), Alex (son), Max (son)
Q&A
Q: A Hokie is …
A: Anyone who instinctively starts jumping whenever "Enter Sandman" plays!
Q: The Hokie Nation is real because …
A:
We win and lose together, we share a passion and respect for our university that has held strong through awesome times and terrible times, and we believe in the possibility the future holds.
Q: What is your best memory of Virginia Tech athletics?
A: Jan. 4, 2000. We lost to FSU in the national championship game that night, but never gave up. The team and fans left it all on the field. We had every reason to be a proud Hokie Nation that night.
Q: How did you to become a fan of Virginia Tech?
A: I spent four of the best years of my life in Blacksburg … how could you not love it? My wife didn't go to VT, but quickly fell in love with game day in Blacksburg and joined the Hokie Nation.
Q: Describe your perfect day at Virginia Tech.
A: Morning/afternoon of tailgating and a big win under the lights in Lane Stadium. It doesn't get any better than that.
Q: What motivates you to give back to help Virginia Tech athletics and being a Hokie Club member?
A: My time at Virginia Tech helped shape the person I am today. I have so many great memories in the dorms, in the classrooms, in Lane Stadium and Cassell Coliseum. Being able to help to build on what is already an awesome community just feels right.
Q: Rumor is you have flown directly from Australia to Blacksburg and other venues for Hokies' football games in the past. Can you explain how long that takes and what motivates you to travel that distance?
A: My job has me working a new business opportunity that had me back and forth to Australia for the majority of the 2013 football season. I was down there the week before the Alabama, Marshall and Maryland games and was able to get done and fly straight home. It's about 10,000 miles from Canberra, Australia to Blacksburg and takes about 30 hours door to door involving three airline legs. As for motivation, my wife and I love game day in Blacksburg – just us and 65,000 of our closest friends from the Hokie Nation!
Q: My favorite Virginia Tech sports are …
A: Football and basketball.
Q: My all-time favorite Virginia Tech football player is …
A: Antonio Freeman and Corey Moore. They represent what was great about the rise of Tech football.
Q: My all-time favorite Virginia Tech student-athlete from another sport is …
A: Shawn Smith. That same move he used to get to the hoop over and over, the free throws he hit to win the NIT … that was awesome!
Hokie Club Year-End Items of Importance
The fall semester has been filled with many exciting moments for our Virginia Tech student-athletes. The football team is preparing for its 21st consecutive appearance in postseason play, which is the second-longest active streak in the nation, and we hope to see you cheering on the Hokies at the bowl. Congratulations are also in order to Coach Chugger Adair and the entire women's soccer team, as they competed in the College Cup semifinals on Dec. 6 in Cary, N.C. This was the first appearance for our program in the women's version of the Final Four.
I hope that you are enjoying the exclusive content in each issue of Inside Hokie Sports magazine, as I am. The magazine highlights many of our outstanding student-athletes and student life on campus, as well as the community involvement by our players and teams. We are surrounded by terrific young people who will be the leaders of tomorrow, and it is a pleasure to come to work each day to work on their behalf. I know that they appreciate your support from their comments as shown on the Student-Athlete Experience two-page photograph that leads off each issue.
As we think about year end, I ask that you please be sure to make your gift to the Hokie Club by the Dec. 31 Benefits Deadline. Each year, we are challenged to meet the rising cost of tuition, room, board and textbooks, and your annual fund gift helps us meet this goal. Also, I'd ask you to please consider increasing your gift this year. Your investment in Virginia Tech is paying real dividends, and you are making a difference in the lives of hundreds of young Hokies!
"NEW" Hokie Referrals Program
Just a reminder that you can earn extra priority points for referring new members to the Hokie Club! All you have to do is refer someone to join the Hokie Club and then submit your referrals to us on hokieclub.com. We will verify that they have joined the Hokie Club and you will earn points for each member who joins. You will earn three priority points for the first member and four for the second member, etc. Go to hokieclub.com for more information.
2014 Football Season Parking
As has always been the policy, parking for football season ticket holders is assigned yearly, and parking locations are based on Hokie Club member's point priority rank as of the most recent Benefits Deadline. For the upcoming 2014 football season, the opportunity to select parking will be based on your rank as of the Benefits Deadline of Dec. 31. When it is time to select parking, we will once again utilize the Ballena Technology software used last year. Some Hokie Club members also upgraded their seating location this season.
Hokie Club Reception at Hyundai Sun Bowl
The Hokies will be making their 21st consecutive bowl appearance at the Hyundai Sun Bowl, being played in El Paso, Texas, on Dec. 31. The Hokies will face UCLA. The Hokie Club will once again serve as hosts to its annual Hokie Club Reception at the team hotel. We hope you will support the Hokies by attending the bowl game, and we hope to see you at our event at the Radisson. For more details on the Hokie Club Reception, please visit hokieclub.com.
Holiday Schedule
Because of the university's holiday schedule and the bowl game schedule, please make every effort to speak with the Hokie Club staff or visit with our office ahead of time. The Hokie Club office will be closed per the university's holiday schedule on Dec. 23–27 and Dec. 30-31.
Benefits Deadline and Year-End Giving
The Benefits Deadline for all Hokie Club benefits for 2014 is Dec. 31. If you are planning to make a gift to the Hokie Club as we approach the deadline, please make sure to take note of the following reminders and please contact the Hokie Club office at (540) 231-6618 in advance if you have any questions:
1) Envelopes containing checks must be postmarked by Dec. 31.
2) Online contributions must be made at hokieclub.com before midnight, Dec. 31.
3) For your security, please do not send credit card payments via the mail. They may not be processed until after Dec. 31 and therefore would not count for 2014 priority points.
Gift Acknowledgements and Year-End Gift Accounting
Once the Hokie Club receives a gift, donors receive a gift acknowledgement letter or receipt. This letter is usually mailed within one to two weeks after the donation is made and serves as your VTAF tax receipt. As we move toward the end of the year, the number of gifts received and processed by the Hokie Club typically increase. Because of the added volume of gifts, the amount of time it takes to mail out gift acknowledgement letters may increase. Our gift accounting staff is working diligently to process and acknowledge all gifts as quickly as possible, and we thank you for your patience.
Updated Point Priority Sheets to be mailed in late January, 2014
Once all 2013 gifts are received, processed and acknowledged, the Hokie Club will send out updated point priority sheets to each member. We anticipate that these updated point priority sheets will be mailed to the entire Hokie Club membership in late January, 2014.
Best wishes for a joyous holiday season,Lu Merritt
Senior Director of Development for Intercollegiate Athletics