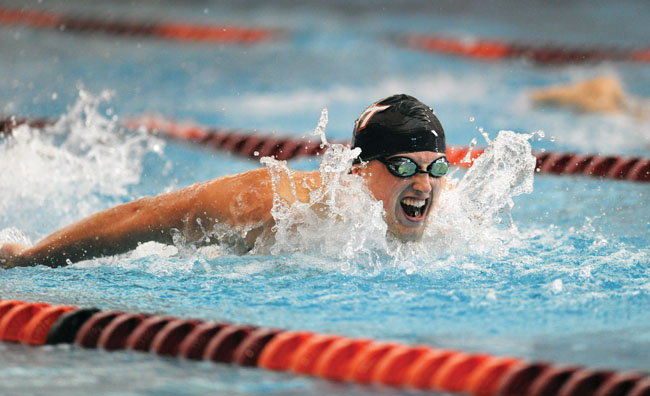 MAKING WAVES
Behind Morgan Latimer, who helped the Hokies win five events, the Virginia Tech men's swimming and diving team beat in-state rival Virginia in a dual meet for the first time since 1981. Latimer won the 100-yard butterfly and the 200-yard butterfly, and he was a member of the 200-yard medley relay, the 800-yard freestyle relay, and the 400-yard medley relay teams that took first place. The ACC Men's Championships begin Feb. 26 in Greensboro, N.C.
The Student-Athlete Experience
"Thank you for treating Virginia Tech athletes the best of any in the country. It's an amazing place."
-Morgan Latimer | Junior, Swimming & Diving
"Thank you for helping my team achieve our goals. Go Hokies!"
-Rachel Sepanski | Senior, Swmming & Diving
The Donor File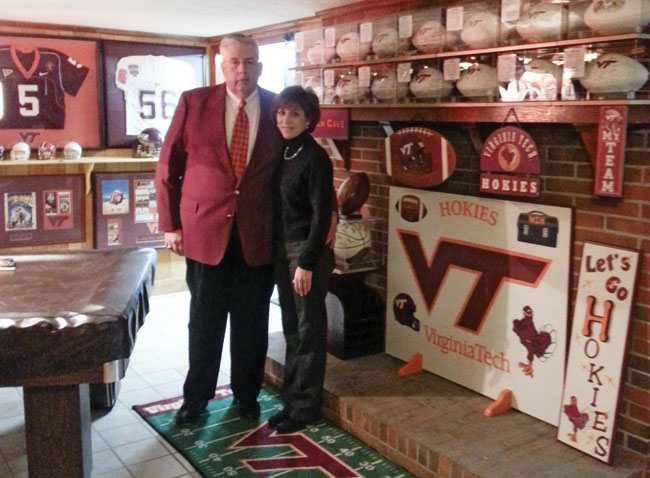 Alan "Big Al" Dickerson
Hokie Club Level: Golden Champion
Currently Resides: Galax, VA
What year did you graduate? 1984
Q&A
Q: A Hokie is …
A: Anyone who loves and supports Virginia Tech!
Q: The Hokie Nation is real because …
A: I have traveled all over the country following Virginia Tech football, and I have never been anywhere that Virginia Tech was not known!
Q: What is your best memory of Virginia Tech athletics?
A: The 1995 Sugar Bowl. My father (Class of '62) and I were walking out of the Superdome after a thrilling come-from-behind victory over Texas in Virginia Tech's first major bowl game appearance, and my father turned to me and said, "I have been waiting over 30 years for this moment!" That's when I realized how much potential there was for Virginia Tech athletics if the alumni had a winning program to get behind and support.
Q: How did you get involved with the Hokie Club?
A: I live in the city of Galax, which is between the counties of Grayson and Carroll (home of Frank Beamer). The Hokie Club had been inactive for several years, and I was asked to help in reviving the chapter.
Q: What caused you to become a fan of Virginia Tech?
A: My father took me to my first college football game on Sept. 17, 1977, to watch Texas A&M at Virginia Tech. Texas A&M had a cadet corps like Virginia Tech, and they had traveled to Blacksburg for the game – both cadet corps marched into the stadium before the game, and the pageantry, excitement and crowd noise was unlike anything I had ever seen. Texas A&M had a 280-pound fullback named George Woodard, and Rick Razzano stopped him on consecutive plays on the goal line! From that point on, I was hooked on college football.
Q: Do you have any game day superstitions? If so, what are they?
A: I don't really have any game day superstitions other than attending the game and tailgating. The Sun Bowl in El Paso this past year was my 235th consecutive game. The last game I missed, home or away, including bowl games, was in November of 1995.
Q: Describe your perfect day at Virginia Tech.
A: A Saturday home football game with a 3:30 p.m. kickoff and tailgating before and after the game!
Q: What motivates you to give back to help Virginia Tech athletics?
A: To be successful, the athletics programs must have support from fans and alumni, and I have so many great memories from the athletics events. I think the least I can do is support the athletics program that has given so much to me.
Q: My favorite Virginia Tech sport is …
A: Football!!!
Q: My all-time favorite Virginia Tech football player is …
A: Bruce Smith. I knew Bruce when I was at Virginia Tech, and I have never seen another player who could dominate a game from the defensive side of the football like Bruce.
Q: My all-time favorite Virginia Tech student-athlete from another sport is …
A: Dell Curry. I also knew Dell during my time at Virginia Tech, and he was the best pure shooter I have ever seen.
Upgraded Members
The following is a partial list of donors who upgraded their memberships in 2013. Room did not allow for the complete list, so the remainder will be listed next month.
Adam Abrams - Los Angeles, CA
William & Nancy Aden - Blacksburg, VA
Trina Anise - Richmond, VA
John T. Antolino - Washington Crossing, PA
Larry & Judy Archer - Disputanta, VA
AREVA NP, Inc. - Lynchburg, VA
William C. Baldwin - Richmond, VA
Dr. McRae C. Banks - Summerfield, NC
Michael D. Barber - Yorktown, VA
Tripp & Megan Barksdale - Greensboro, NC
J. C. Barnold - Olney, MD
Amanda Barrett - Christiansburg, VA
Stephen Barry - Brentwood, TN
Adam Wesley Bartlett - Richmond, VA
Garland C. Beam - Mount Crawford, VA
Frank & Cheryl Beamer - Blacksburg, VA
Sam & Paige Beasley - Harrisonburg, VA
John M. Berger - Raleigh, NC
Thomas Bernard & Valerie Tweedie - Christiansburg, VA
William L. Berry - Madison, VA
Autumn & Kevin Bice - Chesapeake, VA
Dr. S. Wayne Bingham - Blacksburg, VA
Robert Henry Bishop, Jr. - Alpharetta, GA
Thomas James Blackwell, III - Rocky Mount, VA
Willis P. Blackwood - Midlothian, VA
Blackwood Family LLC - North Chesterfield, VA
Doug & Melissa Blount - Salem, VA
Matthew T. Bolling - Ashland, VA
David Borden - Dahlonega, GA
Gregory & Suzanne BourneKill - Devil Hills, NC
Michael B. Boynton - Charlottesville, VA
Matt Brecht - Chicago, IL
Richard I. Brinkley - Louisville, KY
David Brookman - Hampton, VA
Gary S. Brooks - Roanoke, VA
Thomas A. Brown - Richmond, VA
Karen L. Brown - Chesapeake, VA
Joe & Susan Buchanan - Youngsville, NC
Robert E. Buchanan, Jr. - Johnson City, TN
Regina M. Buck - Aldie, VA
H. B. Butterworth - Blacksburg, VA
Brian J. Callaghan - Richmond, VA
Joshua L. Cameron - Arlington, VA
Jason Dale Campbell - Lynchburg, VA
Carilion Clinic - Roanoke, VA
John W. Carney - Greensboro, NC
Gray Carper - Radford, VA
Jon Paul Cassada - Danville, VA
James M. Cassady - Martinsville, VA
Judy F. Cavanaugh - Herndon, VA
Central Virginia Chapter - Charlottesville, VA
Ben Chapman - Roanoke, VA
Dr. Hillary H. ChaseMarietta, GA
Michael & Susan Cheatham - Midlothian, VA
David Chubb - Centreville, VA
Ray & Jenny Clarke - Huntersville, NC
Katherine L. Clary - Emporia, VA
Scott M. Clifton - Richmond, VA
J. Eric Cocker - Hampton, VA
Paul M. Coleman - Scottsville, VA
Josie L. Collier - Virginia Beach, VA
James W. Coon - Falls Church, VA
Travis & Marsha Cooper - Woodstock, VA
William J. Coughlin, Jr. - Winnetka, IL
W. Brandon Cowan - Midlothian, VA
Frank N. Cowan - Richmond, VA
Richmond L. Crawford, III - Richmond, VA
Robert N. Creasy - Forest, VA
Alvin Q. Croy - Vinton, VA
Tom & Paige Crump - Midlothian, VA
Stuart & Jean Dance - State College, PA
Thomas B. Daniels, Jr. - New Kent, VA
Ben Davenport, Jr. - Chatham, VA
August F. Davis - Richmond, VA
Peter & Sandy Dawyot - Salem, VA
John & Amy Daylor - Richmond, VA
Jennifer K. Di Sessa - Lebanon, TN
Matthew Dillard - Falls Church, VA
William C. Dixon - Norfolk, VA
Peter Martin Donovan - Goochland, VA
James B. Doughtie - Powhatan, VA
John & Erin Doyle - Midlothian, VA
David Doyle - Daleville, VA
John W. Dreiling - Hardy, VA
Katharine E. Duggan - Manassas, VA
Allen & Andrea Dukes - Forest, VA
Dr. Thomas A. Dumper - Broadford, VA
Gerald E. Duncan - Blacksburg, VA
Erik C. Dykes - Raleigh, NC
Claude A. Eley, Jr. - Smithfield, VA
A. J. Engelberg, Jr. - Springfield, MO
Buddy EvansWest - Columbia, SC
Judy & James Evans - Concord, VA
Michael J. Everett - Christiansburg, VA
John W. Failes - Virginia Beach, VA
F. Frank Farabow, III - Alexandria, VA
Edward T. Farmer - Meadowview, VA
Bradley John Farris - Avon Lake, OH
Mark H. Fasser - Pearisburg, VA
Stephen H. Ferguson, Jr. - Farmville, VA
First Bank & Trust Company - Christiansburg, VA
First In Services, LLC - Petersburg, VA
James & Gretchen Flynn - Blacksburg, VA
Andrew W. Frevert, III - Nashville, TN
Ronnie & Tonda Fugate - Roanoke, VA
Rodney Fultz - Roanoke, VA
H. Allan Gibbs - Virginia Beach, VA
Michael A. Gillespie - Dumfries, VA
Deborah B. Gonsa - Arlington, VA
Angela M. Goodman - Waxhaw, NC
William Jeffrey Graff - Forest, VA
Graham White Manufacturing Co. - Salem, VA
Grand Home Furnishings - Roanoke, VA
Stephen Alan Grant - Blacksburg, VA
Leroy T. Gravatte, III - Alexandria, VA
James C. Gravitt - Richmond, VA
John Edward Gray, Jr. - Southlake, TX
Terry N. Grimes - Roanoke, VA
Stephen Guill - Mooresville, NC
H. M. Terry Company, Inc. - Willis Wharf, VA
Harvey L. Hales - Wilmington, NC
David & Margaret Hamilton - Roanoke, VA
Andrew P. Hammes - Raleigh, NC
Forrest & Judy Harkrader - Vinton, VA
Michael & Linda Harman - Roanoke, VA
Josh & Valarie Harrison - Appomattox, VA
David & Stephanie Harvey - Hillsville, VA
Steven W. Harvey - Needham, MA
Christopher A. Hawkins - Christiansburg, VA
Greg T. Haymore - Danville, VA
Hearndon Construction Corp. - Chesapeake, VA
Eddie F. Hearp - Roanoke, VA
Ellen C. Hedrick - Glen Allen, VA
Ralph J. Helms, Jr. - Roanoke, VA
Terry & Carol Herdman - Blacksburg, VA
Matthew C. Herman - Virginia Beach, VA
William Hess - Blacksburg, VA
C. Bradford Hobbs - Norfolk, VA
Dustin N. Hollandsworth - Roanoke, VA
Laura & Sidney Holloway - Yorktown, VA
Mike Hoover - Gainesville, VA
Christopher N. Hoover - Ashburn, VA
Roger L. Hopkins - Richmond, VA
Ron Hopkins - Ashland, VA
Lucas & Jennifer Huddleston - Winchester, VA
Donald W. Huffman - Roanoke, VA
Scott C. Hughes - Christiansburg, VA
Walter Kevin Ickes, Jr. - Georgetown, KY
IMG College LLC - Winston Salem, NC
Leslie B. Irvin - Madison Heights, VA
Doris Johnson - Manassas, VA
Stephen & Karen Jones - Cornelius, NC
Leonard E. Joyce, Jr. - Chesterfield, VA
Prakash R. Kamath - Charlottesville, VA
Stephen Patrick Kearney - Powhatan, VA
John P. Keating - Bellaire, TX
Bill Kelliher - Bellevue, WA
Natalie & Joe Kelly - Springfield, VA
Ahsanul Khan - Corvallis, OR
Matthew A. Kidwell - Blacksburg, VA
William D. Kilgore, Jr. - Bristol, VA
Chris & Ginger Killorn - Midlothian, VA
Harold & DebraKing - Richmond, VA
Meredith L. King - Suffolk, VA
Dr. Deborah & Kent Koller - Chesterfield, VA
Kurt J. Krause - Lansdowne, VA
Kurt L. Kreider - Roanoke, VA
Douglas V. Krogh - Louisville, KY
William C. Latham - Haymarket, VA
Dawn & Hamid LaPuasa - Blacksburg, VA
Dr. James W. Lark, III - Free Union, VA
Lisa & Jason Lavinder - Daleville, VA
Robert J. Leach, Jr. - Manassas, VA
Katherine Lee - Tustin, CA
Stewart L. Lefler - Simpsonville, KY
Jeffrey L. LeHew, Sr. Front Royal, VA
Michael & Sharon Ligon - Richmond, VA
Molly School de Lima-Campos - Oakton, VA
Robert D. Litton - Fort Worth, TX
Vickie & Todd Lonker - Cary, NC
Glynn C. LoPresti - Ashburn, VA
Philip E. Louer - Riner, VA
W. Stephen Love - Dallas, TX
Roger W. Lovern - Roanoke, VA
Floyd A. Lowry - Richmond, VA
William E. Lucas, III - Reston, VA
Carol S. Lutterbein - Manakin Sabot, VA
Col. Robert Scott Lyman - Honolulu, HI
Reynolds G. Lynch, III - Roanoke, VA
Ashley Nichols MacLaughlin - Richmond, VA
Bruce MacPherson - Falls Church, VA
Mason S. Malmuth - Henderson, NV
Jean Manner - Clifton Forge, VA
Richard Marrs - Arlington, VA
Lynn H. Martin - Blacksburg, VA
Orange Brothers Masonry - Roanoke, VA
Charles W. McBride, IV - Richmond, VA
William J. McMenamin - Clifton, VA
Randolph C. Meador - Blacksburg, VA
Richard B. Meador - Austin, TX
Robert J. Medler - Chantilly, VA
Lou Merryman - Rustburg, VA
Rudy & Dawn Middleton - Norfolk, VA
Ryan & Lindsey Millard - Salem, VA
J. Shawn Mitchell - Broadlands, VA
Glenn Roger Mitchell - Gen Allen, VA
Jeff & Allison Mitchell - Blacksburg, VA
Cary & Greta Mitchell - Manakin Sabot, VA
Ellis P. Monroe - Shelby, NC
Kenneth Moore - Arlington, VA
Dr. Alexander P. Moya - Danville, PA
David & Debbie Mumford - Hampton, VA
Joe & Susan Murdock - Midlothian, VA
Timothy T. Murray - Chantilly, VA
Matthew T. Myers - Silver Spring, MD
Myrtle Beach Hokie Club - Myrtle Beach, SC
Ryan Michael Naff - Blacksburg, VA
Diane Naff - Blacksburg, VA
Travis M. Nebel - Richmond, VA
George T. Newbill, Jr. - Christiansburg, VA
Col. Howard O'Brien - Burke, VA
Newman R. Ogden, Jr. - Richmond, VA
E. A. Overstreet, III - Bedford, VA
Bill S. Pafford - Damascus, VA
Jim & Donna Pagans - Salem, VA
Rick Parsons - Blacksburg, VA
Jim & Gail Patterson - Christiansburg, VA
Stuart & Jodie Patterson - Williamsburg, VA
Barry Pearson - Virginia Beach, VA
Frank A. Pleva - Mathews, VA
Todd & Marquetta Porth - Blacksburg, VA
Kerry Kathleen Price - Indian Trail, NC
Kenneth Pugh - Roanoke, VA
Bryan & Dina Purcell - Washington, DC
Mark Allen Rakes - Richmond, VA
James L. Ray, Jr. - Danville, VA
Phillip Koji Reid - Anchorage, AK
James Reilly - Chicago, IL
Don & Shannon Rellins - Broadway, VA
Charles E. Renner, Jr. - Bowie, MD
Brian D. Reynolds - Apex, NC
Deidra Jo Reynolds-Journey - Christiansburg, VA
John R. Risendal - Midlothian, VA
John M. Robertson - Chester, VA
Tom Robertson - Naples, FL
Dr. C. Howard Robins, Jr. - Williamsburg, VA
John M. Rokisky - Roanoke, VA
John & June Rosini - Powhatan, VA
Matthew J. Frusti - Charlotte, NC
William M. Sandidge - Madison Heights, VA
Joseph Schickling - Christiansburg, VA
R. Wayne Schwartz - Goode, VA
Christopher J. Scott - Middletown, DE
Sam Sears - Richmond, VA
H. Fulton Sensabaugh, Jr. - Richmond, VA
Janet Shields - Smithfield, VA
Dennis M. Shrewsberry - Dublin, VA
Kristie Petty Simmons - Troutville, VA
Dr. Douglas Smartt - Radford, VA
Larry Dexter Smith - Blacksburg, VA
Brian E. Smith - Baltimore, MD
Sam Sanchez - Carpentersville, IL
Stephen V. Spradling - Charlotte, NC
Wesley H. Stanley - Wilkesboro, NC
Thomas Stark, III - Amelia, VA
Cody Thomas Stepp - Hummelstown, PA
Lisa Hoosier Stewart - DanvilleVA
David & Stephanie Stinson - Princeton, WV
Scott A. Stosser - Blacksburg, VA
Craig Strong - Erie, PA
Richard Patrick Sullivan - Lansdowne, VA
Robert M. Tallent - Mclean, VA
Dave & Lisa Thoma - Blacksburg, VA
Gregory C. Thompson - Atlanta, GA
J. Alan Thompson - Doylestown, PA
Charles E. Tilson, Jr. - Blacksburg, VA
Charles R. Thompson - Virginia Beach, VA
Dr. Paul Torgersen - Blacksburg, VA
Gregory Stephen Trobaugh - McGaheysville, VA
Zach & Dara Tucker - Keysville, VA
James & Allison Turk - Radford, VA
Joseph C. Turley, II - Blacksburg, VA
Valley Mechanical Contractors, Inc. - Troutville, VA
A. Glenn VanLandingham - Ashburn, VA
Christie Veatch - Alexandria, VA
Carl G. Verboncoeur - Potomac, MD
Allison H. Vetter - Alexandria, VA
Andrew S. Vipperman - Roanoke, VA
Pa Vue - Denver, CO
A. Franklin Wagner, II - Lorton, IA
Doug Wagoner - Broadlands, VA
Dr. Mark Wales - Bay City, TX
Dr. Wilbert Ware - Goochland, VA
Robert & Joyce Warren - Danville, VA
Rex & Cynthia Waters - Burlington, NC
Hunter R. Watson - Farmville, VA
George & Pam Webb - Simpsonville, SC
Barry Wells - Cumming, GA
William H. West, Jr. - Glen Allen, VA
Michael & Christa Whaley - Blacksburg, VA
Preston M. White, Jr. - Virginia Beach, VA
James & Adele Whitener - Blacksburg, VA
James L. Whitson - Hampton, VA
Michael K. Wilson - Williamsburg, VA
Joseph A. Wood - Vinton, VA
Ms. Lauren E. Wright - Richmond, VA
Bruce R. Wright - Arroyo Grande, CA
Justin Adam Yalung - Blacksburg, VA
Paul M. Young - Glen Allen, VA
David Aaron Ziegler - Richmond, VA