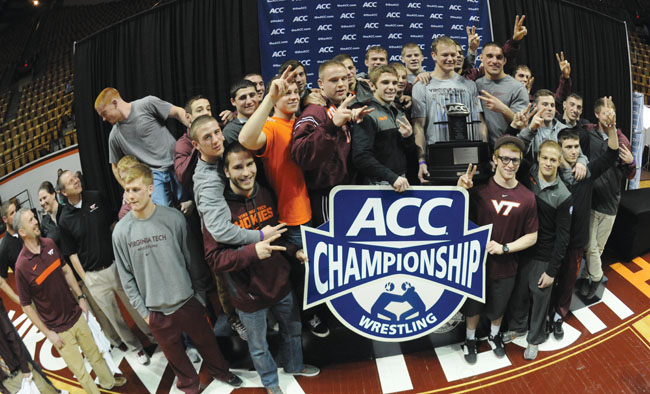 BACK-TO-BACK CHAMPIONS
The Virginia Tech wrestling team dominated the competition at the ACC Championship on March 8 en route to its second straight ACC title and the 11th conference championship as a program (two in the ACC, two in the CAA, seven in the Southern Conference). Four wrestlers won individual crowns, including Devin Carter, who was named the event's Most Outstanding Wrestler after winning the title at 141 pounds.
The Student-Athlete Experience
"Thanks for all the support! Being a Hokie is a blessing!"
-Auston Gabel | R-Sophomore, Wrestling
"Thank you for everything that you do for Virginia Tech and all of the sports programs!"
-Brooks Morrison | Sophomore, Wrestling
The Donor File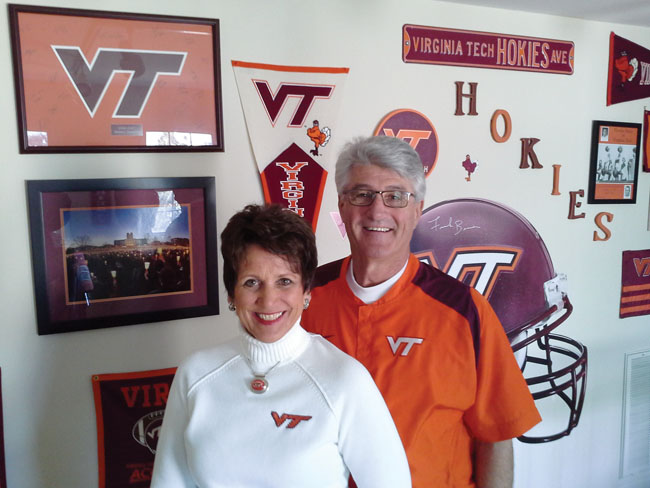 Nancy & Coleman Brittle
Hokie Club Level: Silver
Currently Resides: Blacksburg, VA
What year did you graduate? Nancy- 1972, Coleman- 1971
Family: Nancy's two sons, Todd (2004) and Mark (2006) Helton, are Hokies and Coleman's sons, Eric (1997) and Ryan (2000) Brittle are both Hokies. Coleman's daughter, Renee, is a University of Tennessee grad.
Q&A
Q: A Hokie is …
A: A passionate Virginia Tech fan who loves this university, the athletes, the spirit and the community.
Q: The Hokie Nation is real because …
A: It is family. We have traveled all over the world and always wear our orange and maroon. Rarely will we not have someone shout, "Go Hokies," and we immediately find new friends and extend our Hokie family.
Q: What is your best memory of Virginia Tech athletics?
A: There are so many great memories! The national championship game in 1999 was played just after my son had received his acceptance letter to Tech. We took him to New Orleans for his first college football game! WOW! Another memorable moment was my very first airplane trip. As a Tech cheerleader, I rode the Virginia Tech president's plane to Buffalo, N.Y., in 1969, cheered at the game, and then flew back in the same day! A most memorable experience for Coleman was watching his son (Ryan) play baseball at Tech.
Q: How did you get involved with the Hokie Club? Why do you enjoy being a Hokie Rep?
A: Being avid Virginia Tech sports enthusiasts, it was just a natural fit for us to get involved when we moved to Blacksburg. We enjoy helping with the Hokie events that support our athletics program. Working the Hokie Celebration event, the Welcome Back Picnic, the Hardwood Club auctions and anywhere else that we can give a hand to promote Hokie sports … we want to be involved. Through these events, we have met so many wonderful folks who share our Tech bond.
Q: What caused you to become a fan of Virginia Tech?
A: I became a fan since the first day I came to campus. My father graduated from Burruss Hall in 1949 after the war, so it has been a special place all my life. Watching the enthusiasm and passion that Tech fans displayed wherever we were proved to us that there was no place like Virginia Tech!
Q: Do you have any game day superstitions? If so, what are they?
A: Not just game day, but we frequently dress in our orange and maroon attire wherever we go. Game day means tailgating with friends, meeting new Hokies and expanding our Hokie Nation family. Win or lose, we love and support our teams, although the postgame celebrations are much more fun after winning!
Q: We are Hokie Club members because …
A: With the motto of our university being "Ut Prosim," giving back to the university – whether it means giving our time or money – is important, and because sports provide the most visible exposure of Tech to the nation, we feel like it is important to support the athletics programs. Sharing our enthusiasm with other Hokie fans is most enjoyable for us.
Q: Describe your perfect day at Virginia Tech.
A: Nothing is more perfect that spending a beautiful sunny day in Blacksburg, walking around campus, and when possible, going from one sporting event to another… softball, baseball, spring game, volleyball, soccer or wrestling. We love them all!
Q: Do you have any tailgating traditions? If so, tell us your best.
A: Tailgating at the German Club Manor with hundreds of Hokies and friends we have known for 40-plus years is a special treat. As we have gotten older, we realize how appreciative we are of having the opportunity to reconnect with friends and family.
Q: What motivates you to give back to help Virginia Tech athletics?
A: As Blacksburg residents now and with our involvement in the Blacksburg Sports Club, we have had the wonderful opportunity of personally meeting some of the exceptional student-athletes who attend Virginia Tech. They make us so proud, and they are the reason that we are proud to give back.
Q: My favorite Virginia Tech sports are …
A: Football and baseball, especially, but we love going to watch the athletes in all the sports – soccer, volleyball, softball, wrestling, etc. We are very fortunate to have the opportunity to enjoy so many different sporting events just a mile from our home.
Q: My all-time favorite Virginia Tech football player is …
A: We have many favorites, but two players who have helped to put Tech on the map and were incredibly fun to watch were Michael Vick and Tyrod Taylor. We also remember the intense eyes of Corey Moore that are indicative of our dynamic "lunch pail" defense!
Q: My all-time favorite Virginia Tech student-athlete from another sport is …
A: Of course, excluding Coleman's son, Ryan, who played baseball, some of our basketball favorites were Dell Curry, Allan Bristow and Deron Washington.
Upgraded Members
The following is a partial list of donors who upgraded their memberships in 2013. Room did not allow for the complete list, so the remainder will be listed next month.
Michael Allen - Richmond, VA
Clem & Georgia Carter - Richmond, VA
Milton Carter - Unicoi, TN
Rowland Davis - Reston, VA
Andrew Foster - Roswell, GA
Peter Gingrich - Arlington, VA
Christopher Harris - Roanoke, VA
Kirk Herdman - Leesburg, VA
Atwell Phillips - Mechanicsville, VA
William Schroeder - Alpharetta, GA
Christopher J. Scott - Middletown, DE
Sam Sears - Richmond, VA
H. Fulton Sensabaugh, Jr. - Richmond, VA
Janet Shields - Smithfield, VA
Dennis M. Shrewsberry - Dublin, VA
Kristie Petty Simmons - Troutville, VA
Dr. Douglas Smartt - Radford, VA
Larry Dexter Smith - Blacksburg, VA
Brian E. Smith - Baltimore, MD
Phillip Smith - Raleigh, NC
Sam Sanchez - Carpentersville, IL
Stephen V. Spradling - Charlotte, NC
Wesley H. Stanley - Wilkesboro, NC
Thomas Stark, III - Amelia, VA
Cody Thomas Stepp - Hummelstown, PA
Lisa Hoosier Stewart - Danville, VA
David & Stephanie Stinson - Princeton, WV
Scott A. Stosser - Blacksburg, VA
Craig Strong - Erie, PA
Richard Patrick Sullivan - Lansdowne, VA
Robert M. Tallent - Mclean, VA
Dave & Lisa Thoma - Blacksburg, VA
Gregory C. Thompson - Atlanta, GA
J. Alan Thompson - Doylestown, PA
Jeff & Dodie Thompson - Troutville, VA
Charles E. Tilson, Jr. - Blacksburg, VA
Charles R. Thompson - Virginia Beach, VA
Dr. Paul Torgersen - Blacksburg, VA
Gregory Stephen Trobaugh - McGaheysville, VA
Zach & Dara Tucker - Keysville, VA
James & Allison Turk - Radford, VA
Joseph C. Turley, II - Blacksburg, VA
Valley Mechanical Contractors, Inc. - Troutville, VA
A. Glenn VanLandingham - Ashburn, VA
Christie Veatch - Alexandria, VA
Carl G. Verboncoeur - Potomac, MD
Allison H. Vetter - Alexandria, VA
Andrew S. Vipperman - Roanoke, VA
Pa Vue - Denver, CO
A. Franklin Wagner, II - Lorton, IA
Doug Wagoner - Broadlands, VA
Dr. Mark Wales - Bay City, TX
Dr. Wilbert Ware - Goochland, VA
Robert & Joyce Warren - Danville, VA
Rex & Cynthia Waters - Burlington, NC
Hunter R. Watson - Farmville, VA
George & Pam Webb - Simpsonville, SC
Barry Wells - Cumming, GA
William H. West, Jr. - Glen Allen, VA
Michael & Christa Whaley - Blacksburg, VA
Preston M. White, Jr. - Virginia Beach, VA
James & Adele Whitener - Blacksburg, VA
James L. Whitson - Hampton, VA
Michael K. Wilson - Williamsburg, VA
Joseph A. Wood - Vinton, VA
Ms. Lauren E. Wright - Richmond, VA
Bruce R. Wright - Arroyo Grande, CA
Justin Adam Yalung - Blacksburg, VA
Paul M. Young - Glen Allen, VA
David Aaron Ziegler - Richmond, VA
New Members
Aaron M. Davis - Gloucester, VA
Aaron M. Moorehead - Blacksburg, VA
Gary Shapiro - Fairlawn, VA
R. John Seabrook, Jr. - Centreville, VA
Alex Sauer - Waynesboro, VA
Austin Myers - Roanoke, VA
Chris & Christy Morrissey - Goldsboro, NC
Christopher Hazley - Charlotte, NC
Dr. Katherine N. Hoover - Washington, DC
Dr. Kevin R. Dye - Roanoke, VA
Gobbler Gear - Salem, VA
Ian Turner - Williamsburg, VA
John & Kitty Newton - Roanoke, VA
John Skaggs - Manassas, VA
Keller Watts - Suffolk, VA
Kensley Stump - Salem, VA
Knights of Columbus Council 6747 - Christiansburg, VA
Meg & Mike Biggs - Bristol, VA
Megan Harvey - Lynchburg, VA
Miss Lauren Page - Chicago, IL
Mitchell Crump - Midlothian, VA
Alexander M. Foley - Richmond, VA
Andrew L. Colvin - Arlington, VA
Barry Casanova - Marriottsville, MD
Bill Bryant - Lynchburg, VA
Bob Tzotzolis - Elgin, IL
Brett Andrew Buckland - Charlotte, NC
Brooks F. Aker - Charlotte, NC
Bruce Tomlinson - Salem, VA
Bryan Gitlin - Chicago, IL
C. Victor Sorrell - Maidens, VA
Carl D. Wilson - Bluefield, VA
Charles A. Cox - Lynchburg, VA
Charlie A. Thomas - San Diego, CA
Christopher J. Wilcox - Hampton, VA
Christopher M. Bradford - Herndon, VA
Christopher M. Lowery - Midlothian, VA
Dan A. Rickenbach - Arlington, VA
Daniel R. Overstreet - Blacksburg, VA
David A. Bass - Moseley, VA
David A. Decker - Cave Creek, AZ
Derek E. Perry - Rileyville, VA
Donald E. Dalton - Powhatan, VA
Douglas Ready Ivey - Richmond,VA
Drew Michael Forte - Winchester, VA
Frederick Tomoso - Lincolnwood, IL
G. Cefalu - Chicago, IL
Gannon M. Reilly - Richmond - , VA
Gary D. Williams, Jr. - Midlothian, VA
George Walton Montague - Manakin Sabot, VA
Gerald P. Trainor - Mc Lean, VA
Gil R. Carroll - Cary, NC
Howard Sykes, Jr. - Virginia Beach, VA
J. Philip Cornett - Richmond, VA
J. Scott Montgomery - Salem, VA
Jack Montague - Manakin Sabot, VA
James Clor - Sun City Center, FL
Jason Belleau - Richmond, VA
Jeff R. Hubbard - Virginia Beach, VA
Jeffrey C. Doughty - Arlington, VA
Joey M. Phillips - Blacksburg, VA
John D. Lohr - Charlotte, NC
John F. Jones - Manassas, VA
John M. Gillick, III - North Potomac, MD
John Myers - Midlothian, VA
Julian Evans - Smithfield, VA
Kareem Zaki - Galax, VA
Ken Monahan - Chicago, IL
Kenny G. McLemore - Midlothian, VA
Kevin A. Killigrew - Mesa, AZ
Kyle Robinson - Charleston, WV
Lance Austin Rees - Arlington, VA
Lawrence M. Weinstein - Chesapeake, VA
Mark A. Smucker - Glen Allen, VA
Mark E. Woods - Wilmington, NC
Mason Reece Cobbler - Roanoke, VA
Michael A. Noble - Richmond, VA
Michael R. Henson - Warrenton, VA
Michael S. Fortin - Concord, NC
Mike G. Dickerson - Fairfax, VA
R. J. Hall - Fairfax, VA
Ricardo J. Manrique - Smithfield, VA
Ricky Gene Payne - Roanoke, VA
Robert Douglas Boyd - Pulaski, VA
Sanjeev Banja - Glen Allen, VA
Scott A. Campbell - Lynchburg, VA
Todd R. Anthony - Wake Forest, NC
Travis Del Koger - Henry, VA
Travis H. Sheets - Vass, NC
Warren Palmer - Blacksburg, VA
Wayne Miller - Christiansburg, VA
William A. Webb - Columbia, SC
William G. Hill, III - Lindenhurst, IL
William M. Glidden, Jr. - Yorktown, VA
William M. Tuttle - Chesapeake, VA
William S. Stephens - Fredericksburg, VA
Zachary Erwin - Manassas, VA
Cathy Price - Blacksburg, VA
Crystal J. Guffee - Winchester, VA
Eloise Garland - Henrico, VA
Karen Lavinder Garlow - Roanoke, VA
Kimberly Tibbs Allen - Mint Hill, NC
Luralee J. Cornwell - Fredericksburg, VA
Lynette Marie Washburn - Newport News, VA
Samantha M. Zanotti - Chantilly, VA
Sharon D. Parrish - Newport News, VA
Susan L. Renfro - Forest, VA
Alison Whittaker - Blacksburg, VA
Alyssa B. Lawrence - Roanoke, VA
Amy A. Davis - Chatham, VA
Barbara Buck - Christiansburg, VA
Barbara Ellen Sprinkel - Fincastle, VA
Caitlin E. O'Connell - Casanova, VA
Cynthia R. Utz - Salem, VA
Denise L. Laman - Richmond, VA
Donna M. Goyer - Roanoke, VA
Elizabeth Chapman - Virginia Beach, VA
Emily P. Daniels - Salem, VA
Fee Reilly - Mount Pleasant, SC
Helen S. Gilmore - Alexandria, VA
Jamie Lee Williams - Radford, VA
Jeananne Dixon - Blacksburg, VA
Kate O. Thompson - Richmond, VA
Kathleen Hogan - Chicago, IL
Kristen M. Becker - Clifton, VA
Leah Nicole Robinson - Annapolis, MD
Linda Garland Taney - Henrico, VA
Lindsay C. Chapman - Virginia Beach, VA
Lynn T. Surum - Atlanta, GA
Maegan A. Keane - Arlington, VA
Mandy Taylor - Richmond, VA
Mary Sage Earley - Blacksburg, VA
Melanie Yu Brown - Arlington, VA
Melissa Elligson - Roanoke, VA
Michelle C. Ligon - Henrico, VA
Nina Dominisac - Norfolk, VA
Sharon N. Ligon - Richmond, VA
Stacie Marie Hogan - Portsmouth, VA
Stephanie Paige Carr - Roanoke, VA
Stephanie Williams - Reston, VA
Suzanne Cronise - Troutville, VA
Nancy Dye - Roanoke, VA
Philip and Cathy Dalton - Pulaski, VA
Randy & Laura Gallagher - Lynchburg, VA
Ryne W. Amos - Roanoke, VA
The Gourmet Pantry - Blacksburg, VA
Brandon Rakes - Mount Airy, MD
Travis L. Caldwell - Arlington, VA
Abramsc A. Adams - Santa Monica, CA
Dana R. Croeber - Virginia Beach, VA
Dr. Angelique S. Edwards - Princeton, WV
Ben R. Wemgert - Arlington, VA
Alex Horton - Woodlawn, VA
Hans W. Bernhardt - Sunnyvale, CA
Dr. Heather Michelle Jones - North Chesterfield, VA
Christopher H. Kitts - Richmond, VA