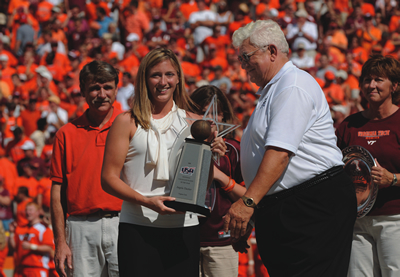 At some point, the awards and accolades may stop rolling in for Angela Tincher.
Maybe.
The latest one came courtesy of the Tech athletics department. On the same day in which the softball pitcher and her family stood at midfield before the Georgia Tech game and collected the trophies for the three major awards she won this past season (the USA National Player of the Year, the Honda Award for Softball, and ACC Female Athlete of the Year), officials from the Tech athletics department surprised her by retiring her number – No. 1. The Eagle Rock, Va., native, who went 123-35 over four years with a 0.78 ERA and 2,149 strikeouts (the third most in NCAA softball history at any level), became the third female athlete to have the honor bestowed upon her, joining former standouts Lisa Pikalek (volleyball) and Renee Dennis (basketball).
"I was shocked," Tincher said. "I didn't think something like that would happen, and if it did, I didn't think it would happen this soon. When I looked up on the videoboard [to see her jersey hanging at the softball field], it took me a few seconds to realize what was going on. It's an incredible honor."
Though her days of playing for the Hokies ended at the College World Series, her playing career will be continuing. She pitched this summer for Akron in the National Pro Fastpitch League, and she earned all-league honors there after leading the league in strikeouts. But she recently signed a contract to play for a professional team in Japan, which will provide better competition and better money. She plans on helping Scot Thomas and the Hokies for the remainder of this fall, and then will head to Japan in late January.
"My feelings change from day to day," she said. "It's a little overwhelming, just knowing that I'll be in a different country and so far away from the people I know. But lately, I've been excited about it. It'll be a new experience."
Her team in Japan is one of 20 in that particular league, and each team is allowed to sign two foreign players. The season runs from March through May and then picks up again, going from September through October, with the playoffs in November. League rules allow her to pitch only 14 games – games are played on the weekends – but she can pitch in exhibitions during the week.
Next summer, Tincher plans on coming back to the States at the end of May and pitching for Akron. Then she'll head back to Japan in late August to finish that season.
She landed a pretty sweet set-up in Japan. In addition to paying her a good salary, the team provides her with an apartment and a translator to help her with the language barrier. Companies sponsor the teams over there, and she'll be living near that company, so she gets free use of that company's cafeteria for meals. She can't reveal the name of the team or the company yet because the season is still going over there. Her only expenses would be for personal items.
"I've committed to do this for one year and then we'll see," she said. "I didn't want to commit to anything longer than that. But if I like it over there, I'll consider another year."
In addition to helping Thomas and the Hokies this fall, she also plans to work part-time for Club K, a softball instructional facility in Nashville. She'll serve as a private instructor for 10 days a month.
"This fall, things started to sink in for me," she said. "I felt like it was the end of everything. But it helps to have the opportunity to keep playing. It's not like softball is over for me and I want to stay involved with it while I can."
Vassallo gains more international experience
Tech forward A.D. Vassallo played for his home country of Puerto Rico in the Centrobasket Tournament held in late August in Cancun, Mexico, and played a small role in leading Puerto Rico to the gold medal. Puerto Rico, which went 5-0 in the tournament, knocked off the Virgin Islands 87-70 in the gold medal game.
Vassallo, a senior from Toa Baja, Puerto Rico, played on a stacked team that included Jose Juan Barea, a guard for the Dallas Mavericks who won MVP honors in the tournament. Vassallo played in four of the five games in the tournament. His best game came in a 107-102 win over Panama when he played 18 minutes and scored 13 points, hitting 4-of-5 from the floor, 1-of-3 from beyond the 3-point arc, and 2-of-2 from the free-throw line.
He played 11 minutes against Cuba, scoring six points, grabbing two rebounds and dishing out two assists. In 13 minutes against Costa Rica, he scored five points and grabbed two rebounds.
Former Tech player signs with NBA's Suns
Former Virginia Tech basketball player Coleman Collins signed with the Phoenix Suns of the NBA and currently participates in their training camp, which began Sept. 30th in Tucson, Ariz.
Collins, a 2006 graduate of Virginia Tech who completed his eligibility in 2007, played on a first-division German team in Ludwigsburg last year. He averaged 10.6 points and 4.1 rebounds while shooting 58.3 percent to help the team to the league finals. He played on the Toronto Raptors' summer league squad this summer, averaging 7.3 points and 3.7 rebounds in 17 minutes per game for the Raptors.
He completed his Virginia Tech career with 1,144 points, good for 32nd in career scoring at Tech, and is currently ninth on the school's career blocked shots list with 106.
Morgan out for the year
Tech rover Davon Morgan, a sophomore from Richmond, will miss the remainder of this season after tearing the anterior cruciate ligament in his knee while returning a kickoff in the Nebraska victory. Dorian Porch, a redshirt junior from Calhoun, Ga., will assume Morgan's starting spot.
Morgan became the seventh player to suffer a season-ending injury, joining freshmen Marcus Davis (shoulder) and Joe Jones (shoulder), redshirt sophomores Aaron Brown (shoulder) and Ron Cooper (knee), junior Kenny Younger (knee) and redshirt junior Brandon Dillard (Achilles).