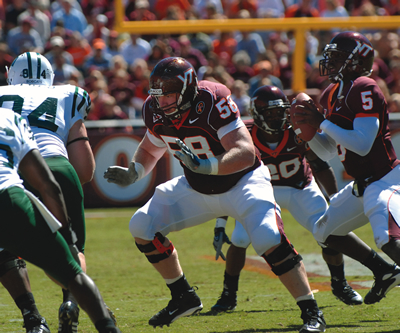 The smile came slowly across Cody Grimm's face.
He was sitting at Tech's weekly press conference, answering the same old tired, mundane questions about the upcoming week's opponent when he finally received something worth actually answering. It was like fielding an easy interception – and seeing nothing but a sea of green expanse in front of him.
Question: "I'm doing a feature on Ryan Shuman. What can you tell me about him?"
Then came the smile.
"He's hilarious," Grimm said.
That summed up the consensus among a majority of players when asked about John Ryan Shuman, Tech's starting center and veritable anchor on the offensive line. And those responses came as a bit of a surprise.
Maybe that's because he's an offensive lineman, and he doesn't do a ton of interviews, so the public never gets a glimpse of his true persona. All people pretty much know about this guy is that he practices hard, works hard in the weight room, and in a blue-collar fashion, gets the job done on Saturday.
But judging from his teammates' responses, this guy ought to be working on Saturday nights – as in on the set of Saturday Night Live.
"I hear you been talking to Cody," Shuman said. "All lies. You can't print any of that stuff either."
Maybe he'll end up forgiving those who take a few literary liberties with his exploits. His humor centers not really on slapstick, nor on stand-up routines, but more along the lines of simple shenanigans, or rather, Shuman's shenanigans. These are more appreciated by the young men ages 18-23 who congregate daily in the Hokies' locker room.
For starters, the proud alum of Fork Union often sports his old high school jersey in public. Shuman arrived at Tech weighing about roughly 250 pounds and now weighs more than 290, so the jersey fits a little snugly. Yet sources say he takes so much pride in it that he even wears it out to local establishments and parties.
"The funny thing is I found it in my bag one day," Shuman said. "I don't know how it got there. Maybe I packed it. I don't know. So I just started wearing it.
"Then I lost it somehow. I went to my old high school buddy's house one day and his roommate had it on his wall. I had no idea. I was like, 'How did that get there?' Somehow, my buddy got it and his roommate found out whose it was and put it on his wall like it was his. It was pretty funny, but I got it back and it's at my house.
"I don't really wear it to parties, though. Yeah, I wear it from time to time. But I don't wear it out [on the town]."
"He's a liar. I can tell you about numerous occasions," best buddy and offensive line teammate Richard Graham said. "He wears it to the pool. He wears it when he comes over to watch football with us and when he goes out at night. He's a big fan of that. It barely covers half his gut."
Graham possesses firsthand knowledge of Shuman's shenanigans. He let his hair grow long and grew a beard during preseason camp this past August, and Shuman coined the nickname 'Thunder Dick' for Graham, who also goes by the common nickname for his first name, 'Dick.' Not long thereafter, a Facebook page entitled 'Thunder Dick, the sensation formerly known as Richard Graham' popped up. At last check, it had 87 members.
"He thought I looked like a lead singer for an '80s rock band," Graham said. "So he started calling me 'Thunder' and it developed into 'Thunder Dick,' and everyone started calling me that.
"I had the bandana on [during practices] to hold my hair back and he kept saying that I should come in on a zip line before every game, right after the team came out to Enter Sandman. That was his great idea."
Shuman's teammates say he's obsessed with hair, mostly of the facial variety. Of particular interest is the rather thick beard grown by redshirt freshman lineman Blake DeChristopher. That subject crops up quite frequently.
"He enjoys Blake DeChristopher's beard a lot," Grimm said. "He claims it's beautiful."
"I can grow a somewhat trashy beard, but Blake can grow a real man's beard," Graham said. "Shuman, however, can't grow anything. He swears he can grow a beard. He tries and then he gets in these pictures with me and Blake, but you can't even see his facial hair. He's really jealous of Blake's facial hair ability and his mustache."
Shuman's obsessions also extend to his own trapezius muscles, or 'traps' as they get called among those in the weightlifting profession. Most weightlifters take pride in their biceps or their abdominal muscles, but Shuman goes to great pains to point out his traps – the muscles behind the neck that extend part way down the back – to his teammates.
"He's got big traps, but it's by genetics," Graham said. "It's not by his weightlifting routines."
One wouldn't know that by checking out his Facebook profile. It includes every famous weightlifting quote imaginable, and his activities all pertain to weightlifting. His favorite magazines and books are related to weightlifting as well. If one didn't know better, one would think he was the biggest meathead on the team.
"I work out for a purpose and I don't mind it," Shuman said, laughing. "But it's not an obsession at all.
"That [the Facebook thing] was just a joke. It was a masterpiece, though, you must say. It's pretty good. I have a sense of humor, too."

---

Shuman's shenanigans could be written about for days. But one other thing also needs to be said about him – this young man is a helluva football player.
And that's nothing to laugh at.
It comes as no surprise since, after all, he grew up as the son of John Shuman, Fork Union Military Academy's longtime postgraduate team football coach, and Patricia Shuman, whose father, Bill Miller, played basketball at UVa and recorded the first triple-double in ACC history. Fork Union sits in the tiny town of Fluvanna, Va., not far from Charlottesville, and like most small towns, there was little to do.
Oddly, John Shuman and his sons, Ryan and Mark, spent their free time playing basketball in the backyard. Ever the crafty coach, John Shuman wanted to get his boys away from the television set, but also saw basketball as a way to improve their footwork for the sport he coached and they played.
"Oh yeah, we played a lot of basketball," said John Shuman, himself a former athlete at VMI. "And every time we'd go to a relative's house, we'd try to find an outdoor court.
"We'd block each other's shots and foul each other. It was a great stress reliever. I'd say my record against him is about 20-3."
"He was real good," Ryan admitted of his dad. "Not now. He had knee surgery. He can't move like he used to, but when I was growing up, the guy could still move. He was good. I couldn't keep up. But he's fading now. He's getting old. Fading quick."
The familial hoops games became so legendary that even Tech's current players quiz Ryan about them, especially about the one in which Ryan allegedly took a big lead and his dad started fouling him hard and yelling that he was 'soft.'
"I had to break out some old school," John said. "Had to elbow him a bit, knee him in the thigh. I had to toughen him up."
The Shumans lived right across the street from the Fork Union campus, so Ryan got an everyday glimpse of cadet life. But rather than send Ryan to the private school, John and Patricia Shuman elected to take the public route.
"My wife has taught in the public school system for 39 years," John said. "So we decided 'Let's do public.' He went to elementary school, then middle school and then to Fluvanna [High] for two years.
"The interesting thing – and I'll never forget this – was that Ryan had a job with me in the summer. July 4th that year was on a Thursday and me and Ryan and Liz, my daughter, came in to work on that Friday. Me and Liz started ganging up on him. I asked him, 'Do you think you can accomplish your goals there [at Fluvanna]? If you come here, you can concentrate on your grades and getting your SAT scores up and getting your weight and strength up.' I was just running off at the mouth, but he didn't say much.
"A few days later, my wife comes up to me and she's irate because Ryan wanted to transfer. I was like, 'What are you talking about?' I didn't think he was even listening to me. But it began the trek to where he is today."
Ryan Shuman shined on the prep team for two years and ultimately earned a scholarship offer to Tech. Interestingly, he only played for his dad once, moving up to the postgraduate team for a game at the end of the season.
That's not to say he didn't learn something from his old man. On the contrary, his dad showed him and Mark the tricks of the trade. He emphasized work ethic and built up his sons' toughness during those bruising summertime basketball games. Yet he never pushed football on either of them, letting them pick their paths.
"He's a tough guy, but he was never really tough on us," Ryan said. "He made sure that we did stuff. When it was slow around the high school, he'd make us do some stuff to improve ourselves.
"Coming in here [at Tech], I knew how to run block and pass block and stuff like that. I knew the basic stuff. He never pushed us to lift weights or anything like that, but he made sure we could move and that we understood the game."
Those instincts, that toughness and that work ethic all led to him becoming a three-year starter here at Tech, even when injuries tried to derail him. As a redshirt sophomore, he partially tore the anterior cruciate ligament in his left knee late in the season and underwent arthroscopic surgery, which caused him to miss the remainder of the regular season. He came back to start the bowl game, though in pain.
The knee bothered him all of last season and hindered his play at times at his center spot. Still, he managed to start every game, even though he lived in the training room and constantly needed to get the fluid drained from his knee.
"I was just stiff," Shuman said. "It took me so long to get going. Last year was a struggle. I couldn't really run and I got heavy, and that didn't help."
Shuman underwent microfracture surgery in January in hopes of taking care of the problem once and for all. He missed out on spring practice, but managed to participate in all of the Hokies' summer workouts.
For the first time in two years, he feels good – and it shows. He's been Tech's top offensive lineman in nearly every game so far this season and was named the ACC's offensive lineman of the week following the Nebraska game in which he graded out at a team-high 84 percent and had seven knockdown blocks.
"Two years ago, when he actually was lifting weights and was huge, he moved so much better and was positive on the field," Graham said. "Last year, he couldn't move like he wanted to. He was frustrated. He couldn't block in space like he wanted. He was in a lot of pain and was always getting his knee drained.
"But this year, he's pain free and you can tell by the way he's playing. I haven't seen any centers playing any better than he is."

---

Shuman hopes that leads to future games, of the NFL variety, that is – "It's all about the knee," John Shuman said. "The coaches say what he does well is what the scouts look for." – but if not, he plans on going out and getting a 9-to-5 job. He graduated with a degree in apparel, housing and resource management this past spring.
For now, it's all about the remaining games left on the Hokies' schedule, including the opportunity to close out his final game at Lane Stadium with a win over Virginia, completing the senior class' 4-0 sweep of its in-state rivals.
"I'll be wearing sunglasses on that day [to hide the tears]," said John Shuman, who will be with his wife on the field before the game participating in the senior day festivities. "I hope I don't have to get too close to that UVa sideline, though. Brother Groh [Al, UVa's head coach] was the first to pass on him. I don't know. I may have to say something.
"But I don't want that day to come too fast. I want him [Ryan] to enjoy this season and I want to enjoy it. But I'll definitely have on big sunglasses that day and I usually don't."
Rest assured, Ryan Shuman will enjoy the rest of this season. He'll enjoy every day. He'll enjoy wearing his high school jersey out on the town and gazing at his traps in the mirror, and he'll fondly admire Blake DeChristopher's facial hair.
He'll also remind his teammates that he is a team captain – another of his true passions.
"He's all the time saying, 'Go get me this. Listen to your captain,'" Grimm said. "He loves it. He was looking at me the other day before the game and then he held the 'C' up on his jersey ['C' for captain]. They don't even have C's on them, but he's holding his hand as if it were a 'C.' It was pretty funny."
"I'm more quick than anything," Shuman said. "I have a sense of humor. I like to laugh and have a good time. But I'm more quick than anything."
Certainly when he leaves, his play will be missed.
Yet his laughter-provoking antics may be missed even more.
WHAT YOU DON'T KNOW ABOUT starting center RYAN SHUMAN
What do you watch on TV?: World's Strongest Man, Food Network, Discovery Channel.
What's in your iPod?: Hootie & the Blowfish, Kid Rock, Bruce Springsteen, Tom Petty, John Cougar Mellencamp.
What do you drive?: Durango.
Favorite flicks: All Kevin Costner flicks (Waterworld), All Steven Segal flicks (Hard to Kill), all Nick Cage and Sean Connery flicks (The Rock).
What are you reading these days?: Mind Gym: An Athlete's Guide to Inner Excellence.
Favorite magazines: FLEX (a bodybuilding magazine).
Favorite Internet sites: Redskins.com.
What's on the walls of your apartment?: Prints from the National Art Museum (mostly Wassily Kandinsky prints).
Favorite city to visit: New Orleans.
What was your first job?: Working maintenance at Fork Union Military Academy.
Favorite team as a kid: Redskins.
Favorite trait in others: Kindness (isn't everyone's?).
I'd love to trade places for a day with …: Curt Newsome.
Favorite dinner: Steak dinner.
Talent you'd most like to have is…..: Wish I could juggle.
Your motto: Lift heavy – life is too short to be small.