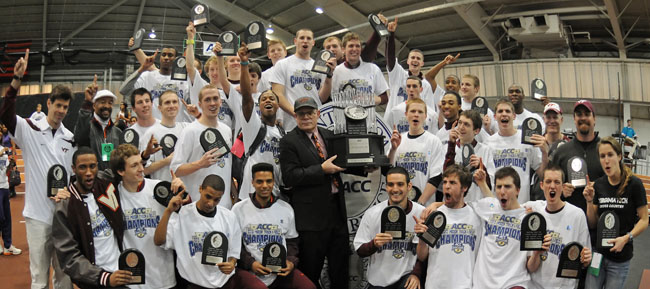 HOARDING TROPHIES
The Virginia Tech men's track and field team won the 2013 ACC Indoor Championships at Rector Field House and have now won the past three ACC track and field and cross country events (the ACC outdoor meet, the ACC cross country championships and the ACC indoor meet). Only one other ACC program has done this since 1986 - Florida State in 2009-10.
The Student-Athlete Experience
"I'm very thankful for the time I've had at Tech. Thanks for the support!"
-Ryan Hagen
Senior, Men's Track & Field/Cross Country
"Thank you so much for all your support. I will always remember my time at Tech."
-Sammy Dow
Redshirt Senior, Women's Track & Field/Cross Country
The Donor File
Brian V. Wilson
Hokie Club Level: Platinum Hokie
Hokie Club member since: 1992
Currently Resides: Roanoke, Va
What year did you graduate?
1979 (Business Management)
Family:
Wife - Sheila (VT, CTRA, 1980)
Son - Ashton (VT, Finance, 2007)
Daughter - Britni (VT, Finance, 2011)
Q&A
Q: Being a member of the Hokie Club and supporting Virginia Tech athletics is important to me and my family because…
A: We love everything about Virginia Tech and appreciate the fact that athletics provides exposure to the university like no other medium can. That exposure ultimately benefits and enhances all aspects of Virginia Tech.
Q: Do you have any game day or tailgating traditions or superstitions? If so, what are they?
A: Not for football, but all trips to Blacksburg for home basketball games have to start with a meal at Sharkey's on Main Street!
Q: You are involved with the Roanoke Valley Hokie Club as the Hokie Club president. How and why did you get involved and has it been a good experience for you?
A: I got involved in the Roanoke Valley Hokie Club so that I could enhance my Hokie experience. That involvement has been all that I had hoped for and more. The camaraderie and spirit among my fellow Hokie Reps can't be beat. Being president also gives me a unique perspective of the intense devotion and commitment of Hokies everywhere.
Q: Virginia Tech has had a lot of successful teams and wins over the years. Do you have a favorite team / season or game that stands out the most?
A: The 1995 NIT championship team has to be my favorite. My son, Ashton, then just 8 years old, and I went to the Roanoke airport to meet the team when they arrived back from New York City. Ashton had his "Hokie Hankie" and had everyone on the team sign it. The most memorable, though, was Shawn Smith, who was carrying the championship trophy draped with the net from Madison Square Garden. When Ashton asked for his autograph, "Smitty" looked down at him and asked him to hold the trophy. You should have seen the look on Ashton's face! We still have that autographed "Hokie Hankie."
Q:My all-time favorite Virginia Tech student-athlete from another sport is (player's name) and my favorite memory of (player's name) is …
A: Erick Green because of his composure under immense pressure and, specifically, his game against Wake Forest during which he broke the single-season scoring record. He will be greatly missed next year!
Q: How specifically has the Roanoke Valley Hokie Club contributed to the success of Virginia Tech athletics through the years?
A: During 2012, we became the first entity and the only Hokie Club to top the $1 million mark in giving to the Virginia Tech Athletic Fund. We have supported both the general fund and many individual teams and projects.
Hokie Club frequently asked questions
How is the Virginia Tech Athletics Department funded?
The Virginia Tech Athletics Department receives no funding from the Commonwealth of Virginia. Therefore, it must operate solely on what monies that it generates. Self-supporting funds are generated from football and basketball season ticket revenue, conference and television rights revenue, and private support from Virginia Tech Athletic Fund (Hokie Club) members.
How will my contribution to the Hokie Club be used?
Donations to the Hokie Club are primarily used to provide scholarship aid to our 21 varsity sports programs. Funds are also used to support facility improvements and programmatic needs of the Virginia Tech Athletics Department. The Virginia Tech Foundation, which acts as the depository for the Virginia Tech Athletic Fund, is a non-profit 501 (c) (3) organization. Your gift is tax deductible as provided by law. We recommend you consult your tax advisor to determine how the tax laws may affect you.
Why should I give to the Hokie Club?
With approximately 500 student-athletes and the cost of both in and out-of-state scholarships continuing to rise, every donation to the Hokie Club is important. Virginia Tech strives to offer our athletes the best support toward a quality education both on and off the field, and your support of the Hokie Club is essential.
In what ways can I give to the Hokie Club?
You can support the Hokie Club with gifts in a variety of ways. Tax-deductible gift options include cash, securities or real estate, gifts-in-kind, memorial gifts and planned or deferred gifts. Please note that Donor Advised Fund gifts are acceptable, but you will NOT receive Hokie Club point priority credit for our membership.
What options do I have when setting up my payment schedule for my annual gift?
When making an annual gift, there are several ways you can set up your payment schedule. You can pay the full amount with cash or credit card via our online form. You may also set up Hokie Matic (monthly electronic transfer), Payroll Deduction (VT Employees) or Quarterly Payments.
What is Hokie Matic?
Hokie Matic is an electronic transfer option that allows a member to have his or her annual donation drafted with even payments on a monthly basis from a specified banking account, either checking or savings. Drafts will occur automatically on either the 15th or 30th of each month as specified by the member. Hokie Matic forms are available on our website, www.hokieclub.com.
What are matching gifts?
Many companies provide a matching gift program as a benefit to encourage employees to make charitable donations. Upon making this donation, the company will "match" the employee's original gift. The amount or percentage matched varies per company. To determine if you are eligible to make a matching gift and to receive a matching gift form, check with your employer. Note, matching gifts can not be processed for companies that prohibit gifts to Athletics.
What is the Hokie Club's point priority system?
The Hokie Club uses a standard formula called the point priority system to assign a rank to each member of the Hokie Club. The point priority system takes into account one's membership club level, current annual gift, cumulative giving history, consecutive years of membership, various involvement points, as well as season and postseason ticket orders.
What is my Anniversary Month?
When a person joins the Hokie Club by making an annual donation (payment in full), he or she will be considered active for a 12-month period. At this time, the month joined will become his or her Anniversary Month. The Anniversary Month is used to track the person's giving and will be used as a reminder for membership renewal at the end of his or her 12-month period. Note: Payments made via Hokie Matic, Payroll Deduction (VT employees), and Quarterly Payments are set up on a calendar year schedule.
What is the Benefits Deadline, and how does it affect me?
To effectively utilize the point priority system, the Hokie Club has designated Dec. 31 of each year as the Benefits Deadline. Using the point priority system, the Hokie Club will rank all members and use that rank as of this date for all benefits for the upcoming year, including benefits for football season tickets and parking, basketball season tickets and parking, bowl game tickets, etc.
Does joining the Hokie Club automatically guarantee season tickets for football and basketball?
No, joining the Hokie Club does not in itself guarantee season tickets for football and men's and women's basketball. All benefits associated with these sports are based on your point priority rank. Your rank as of the Benefits Deadline is used for this purpose.
If I join the Hokie Club and order season tickets, what do I need to do to retain my location?
To retain your current season tickets for football, men's basketball, and women's basketball, you must be a Hokie Club member, your membership must be ACTIVE on the Benefits Deadline (Dec. 31), and you must maintain the giving level at which your season tickets were assigned. If your membership is INACTIVE or DOWNGRADED on the Benefits Deadline, your current season tickets will be moved. This policy was implemented during the reseating of Cassell Coliseum (2004) and Lane Stadium (2005).
How are parking passes assigned for football and basketball?
Parking passes for all football and men's and women's basketball games are assigned based on your point priority rank. Parking passes are assigned on a season basis only, and all season parking pass orders must be returned to the Athletics Ticket Office by the new/renewing season ticket deadline set for that specific sport each year.
What is a Hokie Representative, and how can I get involved with the Hokie Club in my community?
A Hokie Representative is a volunteer for the Virginia Tech Athletic Fund (Hokie Club) whose purpose is to assist and support in raising funds for athletic scholarships and facility improvements at Virginia Tech athletics. To get more involved, contact the Hokie Club to learn about becoming a Hokie Representative and about the various area Hokie Clubs in Virginia and surrounding states.