Under the management of Dave Cianelli, the Tech track and field and cross country programs have thrown,
run, jumped and vaulted their ways onto the national scene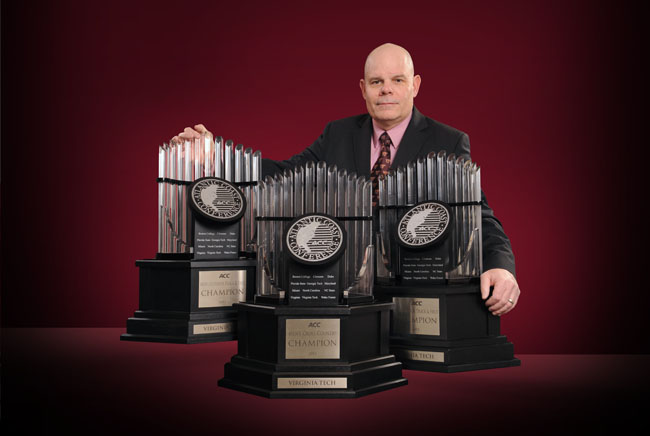 There are numerous piles of papers sitting on Dave Cianelli's wooden hunk of a desk, each no doubt representing something of great importance to the Virginia Tech track and field and cross country programs and each meticulously stacked. Not a loose end sticks out abruptly anywhere in any of the piles.
Frames with certificates of those who have earned All-America honors and other honors during his tenure at Tech hang upon his walls. All of them suspend perfectly, each precisely even with another. Nary a one sits askew.
Trophies and awards sit proudly on his bookcase, all of them angled perfectly to show what they represent. All of them are polished to a shine. Dust is extinct on this shelf and throughout the office.
Cianelli simply likes symmetry. He needs it to function. It's his addiction, something to keep his inner biorhythms in harmony.
So when a tape recorder sits on his desk, recording his insight during an interview, he glances at it periodically. One almost gets the feeling that it bothers him, this foreign object in his otherwise ideal world.
"It's borderline OCD (obsessive compulsive disorder)," Cianelli said, with a smile. "My coaches will come in once in a while and move something on my desk, just to mess with me. I'll come in and that will be the first thing I'll see. Then I'll go and yell at Greg (Jack) or Charles (Foster) or somebody because they just want to mess with me."
Joking aside, the sheer truth of the matter is that Cianelli's strict attention to details and his impeccable organizational skills are his best attributes. He needs these to be successful in his job as the CEO of Virginia Tech's track and field and cross country programs.
Success is an understatement when talking about Cianelli, a 57-year-old native Marylander who has bounced all over the country in pursuit of track and field glory, both as an athlete and a coach. Actually, he's been ultra-successful, though Hokie Nation may be a bit oblivious to the school's most accomplished Olympic sport.
His men's team just captured the title at the ACC Indoor Championships, giving his programs eight of the school's 16 ACC team championships since the school joined the league for the 2004-05 season. Three of his teams have finished in the top five nationally, and his programs have brought home 13 individual national titles. Yet many a Hokie don't even know how to pronounce his name (cha-nelly).
They need to start learning. This stickler for the details is currently Tech's most successful coach – and that may not be changing any time soon.
---
Tom Gabbard remembers his inaugural meeting with Cianelli. It was in February or March of 2001.
At the time, Gabbard, an associate AD for internal affairs, served as the sport administrator for track and field. He and Jim Weaver, Tech's AD, wanted to hire someone to oversee both the men's and women's track and field and cross country programs after Russ Whitenack, the longtime men's coach, had moved into the role of Monogram Club director. Gabbard and Weaver sought an opportunity to bring … well … symmetry to the programs, particularly since the school was moving to the Big East Conference.
When Cianelli started talking about his plan for the Tech programs, he blew away Weaver and Gabbard.
"He told us, 'Your best time in the Atlantic 10 in any event would finish eighth in the Big East,'" Gabbard said. "He had done his research.
"Then, I'll never forget, he pulled out this ragged folder. He had a step-by-step plan of what he would do. He was so humble and grounded, too. Jim and I were thinking, 'This is our guy.'"
Cianelli certainly wanted the opportunity to build a program. Growing up as a kid in Bethesda, Md., he dreamed of becoming a physical education teacher and a coach. He wanted to coach track and field and football, the sport his father, Dave Cianelli, Sr., played at the University of Maryland in the early 1950s. A linebacker and a fullback, the elder Cianelli helped Maryland to an undefeated season in 1951 and an upset win over No. 1-ranked Tennessee in the Sugar Bowl. The Volunteers, though, were named the national champions.
"Back then, they voted (in the polls) prior to the bowl game," the younger Cianelli said. "Tennessee ended up No. 1 even though Maryland beat them."
After high school, Cianelli wound up at Bowling Green, where he was a decathlete for four years before graduating in 1977. Following college, he moved to California to continue training. He also took a job as the track and field coach at San Marcos High School in Santa Barbara, Calif.
There were no teaching jobs available at the high school, and the coaching gig didn't pay, so Cianelli worked odd jobs to pay his rent and meals. He ran a commercial fishing boat owned by one of the teachers at the high school for a year, hoisting crab pots out of the Pacific daily and selling his catch at the local market. He also hauled trash to the local dumps for $30 a truckload, and he worked for a spell as a day laborer for a construction company.
"I think I did everything but fast food," he said.
After three years of coaching high school track, he decided to take a job as a volunteer coach at Cal Poly-San Luis Obispo, one of the best Division II programs in the nation at the time. He still worked odd jobs to pay the bills, but he found himself falling more and more in love with coaching instead of competing.
Cianelli, who married wife Ellen, also a Maryland native, during this time, worked at Cal Poly for four years before getting hired as an assistant at Southern Methodist University. After seven years of working an array of jobs just to keep a roof over his head, a few meals in his belly and a few bucks in his pocket, he had finally landed a job that was going to provide a paycheck in two-week increments.
"It's funny thinking back, but it wasn't so funny back then," Cianelli said. "For me, it was a great experience. I wouldn't trade that for anything. It was definitely a struggle. That experience, not having much money and struggling, but at the same time wanting to coach, tested my will in terms of how badly I wanted to do this. That helped me become strong in my focus."
---
Cianelli worked at SMU for 13 highly successful years. He worked with 123 All-Americans and 27 NCAA champions, and the Mustangs finished in the top 10 nationally on 16 separate occasions.
But he got the urge to run his own program, and while he and Ellen enjoyed the Dallas Metroplex area, they wanted a little slower pace to raise their two children – daughter Mariah and son Sebastian.
In the winter of 2001, Cianelli saw an advertisement in NCAA News, a magazine at the time produced by the NCAA. Virginia Tech was advertising for a director of track and field and cross country position, and the ad piqued Cianelli's curiosity.
"When I saw the Virginia Tech job advertised, I told my wife, 'This could be a really good situation,'" he said. "'It's in a college town, and it's not far from where we grew up. I'm going to apply for it and see what happens.'"
Cianelli got the job, selling both Weaver and Gabbard on his plan to construct a successful track and field program at Tech as the school headed to the Big East.
Building such a program wasn't going to be easy. At the time, Tech offered the full compliment of women's scholarships allowed by the NCAA – 18 – because of Title IX requirements. However, only 4.5 scholarships were available for the men's program because of budgetary issues.
Try finding top-notch runners, jumpers, throwers and vaulters to compete in a major conference with only 4.5 scholarships. That's like going to Outback and trying to pay for dinner with tip money.
Cianelli, though, was undaunted. He lured Greg Jack, one of the top throws coaches in the country, from the University of Pittsburgh to Tech, and they decided to put most of their emphasis on the throwing events, recruiting mostly foreign athletes to help them.
"My goal was to be good in one area, and to me, that was the throws because I knew I had the right coach to do that and we had the facility and location to be able to develop that area," Cianelli said. "That was our first focus."
Cianelli also got Bob Phillips, a former Tech pole vaulter and a legendary pole vault coach, to stick around. Phillips had been helping Tech pole vaulters for nearly 20 years at the time Tech hired Cianelli, and Cianelli wanted to take advantage of his expertise. He also wanted him to start a program on the women's side, which Tech didn't have.
And Cianelli brought aboard Ben Thomas as the cross country coach. Thomas, a former Tech runner, had coached an NCAA individual national champion at Appalachian State and an NAIA individual national champion at Brevard College.
Still, the Hokies didn't exactly get out of the blocks quickly. Cianelli's inaugural men's team finished 10th at the Big East Indoor Championships, while the women's team came in 14th. At the outdoor meet, the Hokies came in ninth, while the women finished 12th. The next season at the Big East indoor meet, the men finished 12th and the women in 14th. At the outdoor meet that season, the men came in 13th and the women in 12th.
But Cianelli and his staff stuck to their plan. In 2002, they lured Spyridon Jullien, a thrower from Greece, to the Tech campus, and in 2005 at the NCAA indoor meet, Jullien won the first of his four national championships. Jullien's accomplishments brought unprecedented attention to the Tech track and field program, and that, in turn, resulted in better results on the recruiting trail.
Tech's administration also helped the men's track and field program by loosening the purse strings. Weaver gradually allocated more money for scholarships, and Cianelli and his staff ultimately were able to offer eight scholarships. In 2007, Weaver increased the number to the current 12.6 – the NCAA maximum.
The coaches also stayed with it in recruiting, and their work paid off nicely. In 2006, they landed a relatively unheralded young woman from Richmond named Queen Harrison. In 2007, behind Harrison and a bunch of other talented women's student-athletes, the women's program recorded its first ACC championship, claiming the league's indoor title that February and the outdoor crown later that spring. The women's team won both again in 2008.
Harrison ultimately won three national championships, winning the 60-meter hurdles at the 2010 NCAA Indoor Championships and becoming the first woman in NCAA history to win the 100-meter and 400-meter hurdles at the 2010 NCAA Outdoor Championships.
"We knew she was a talented athlete," Cianelli said. "We had no idea she would do what she did. That wasn't in any of our minds. I have to be honest with you."
The men's team broke through in 2011 at the ACC indoor meet. Behind first-place finishes from pole vaulter Stephan Munz and thrower Alexander Ziegler, the Hokies rolled to the ACC crown. The men won their first outdoor title last spring and their first ACC cross country championship last fall.
Under Cianelli, the track and field programs have enjoyed meteoric rises. The men's program finished fifth nationally at the NCAA outdoor meet in both 2011 and 2012, while the women recorded a top-five finish at the 2010 outdoor meet. More impressively, Tech has claimed 13 individual national championships.
"I knew it would take time," Cianelli said. "I knew it wasn't going to be one or two years and then we'd be at the top. It took a while, but we gradually got there. First, we got there with the women and then with the men. Now, it's a matter of trying to maintain what we've built, which is difficult.
"That's the satisfaction of coaching, when you get the program moving and get it going again. The coaches and the students are the program … These championships go back to the coaches and the students. I just sit back and coordinate the big picture, but all this stuff here (pointing at the championship trophies in his office), really, every kid who has come through this program and every coach has a huge part in every one of those."
---
Moments after the Tech men's team clinched this year's ACC indoor title at Rector Field House in thrilling fashion, after all the championship t-shirts had been passed out and the photos had been taken, Cianelli walked up to the pole vault area, where his team had gathered in waiting. He started addressing the group, the massive ACC championship trophy sitting on the ground at his feet.
Behind him, Will Mulherin, who sealed the team title with a victory in the 3,000-meter run, and Ziegler stealthily carried a Gatorade cooler and approached Cianelli – and then they proceeded to dump the contents all over Tech's unsuspecting coach.
Such a moment rarely happens in track and field. But it goes to show the respect that the track and field student-athletes at Tech have for the man who runs the operation.
"It's really the assistant coaches and the athletes who deserve the credit," Cianelli said in typical humble fashion. "They're the ones doing the day-to-day training and preparation. I just kind of sit back and look at the big picture."
Days after the event, Cianelli was named the ACC's coach of the year – for the eighth time. His style works, as the evidence points out. Cianelli gives his coaches a lot of flexibility when it comes to coaching and training and recruiting. In many ways, he resembles another great Tech coach – Frank Beamer. Perhaps there's a lesson to be learned. After all, the two of them have won 12 of Tech's 16 ACC team championships.
The Tech men's team now holds all three ACC crowns in track and field and cross country, having won the ACC's outdoor meet last spring, the cross country championship this past fall, and of course, the recent indoor meet. It has been an unbelievable run, especially in a league with Florida State, which won NCAA championships in 2006 and 2008 (outdoor).
"Dave has done a great job," said Thomas, who has been Cianelli's cross country and distance coach since the beginning. "He's the best CEO you could have. He lets you do your job. He keeps everyone grounded. He does a lot of the business side of it and lets us coach. That type of leadership really works for the program.
"Coming from 12th in the Big East – or whatever we were when we were starting off – to winning three ACC championships in a row is quite a story. You don't see it very often. We're super proud. It's very tough to do. We're not a traditional track power, but look at the banners on the wall here (at Rector Field House). We hope to become one and feel like we're on our way and excited to keep it going."
How far can it go? That's an interesting question. Those top-five finishes at the NCAA Championships provoke the thought.
Could one of the track programs some day win the school's first team national championship?
"I get asked that a lot by our fans, and I'm honest with them," Cianelli said. "I tell them there is a chance, but I also tell them there is a big difference between fifth and first.
"I'll never say we can never win one. That will always be a goal of mine, but our first order of business is the conference and then we want to do as well as we can at the national level."
Winning a national championship would be a dream come true, the fairytale ending to an improbable story.
Imagine it, a national championship trophy sitting in his office, with the other numerous trophies, plaques, frames and awards. You better believe Cianelli would find a way to organize it perfectly. Just like he has with everything else.