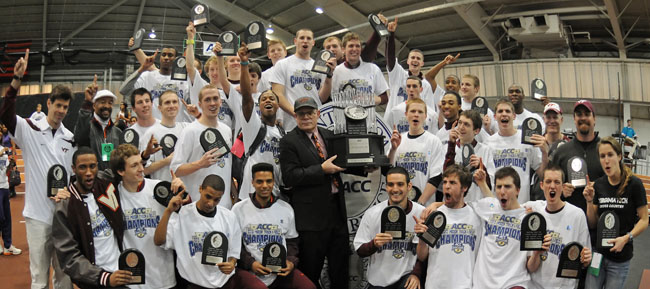 EMBRACING THE CHALLENGE
The Virginia Tech women's lacrosse squad was fired up for its game against No. 3 North Carolina, and the Hokies gave the Tar Heels everything they wanted before falling 18-11 in Blacksburg. The Hokies are still on track for their third straight winning season.
The Student-Athlete Experience
"I'm very thankful for the time I've had at Tech. Thanks for the support!"
-Becca Niles | Junior, Lacrosse
"I am so grateful to be a part of the Hokie Nation.The memories I've collected are endless. Thank you for all of your support!"
-Kelly Naslonski | Junior, Lacrosse
The Donor File
Randy & Janet Jones
Hokie Club Level: Hokie Benefactor
Hokie Club member since: 1981
Currently Resides: Charlottesville, Va
What year did you graduate? 1969
Family:
Sons- Randall & David, Daughter- Becki, plus seven grandchildren
Q&A
Q: Being a member of the Hokie Club and supporting Virginia Tech athletics is important to me and my family because…
A: We really enjoy attending the games and have met some nice folks over the years at the games (both home and away), including Hokies and fans who support other schools. We have also met a lot of student-athletes and some of their parents, which we probably would not have had the opportunity to do if we were not involved with the athletics programs.
Q: Do you have any game day or tailgating traditions or superstitions? If so, what are they?
A: We usually tailgate with several other families and friends. Usually the two of us families that also have residences in Christiansburg set up the tailgate areas early so we can secure an area that will accommodate all of the group members and their families. The only tradition that we have is that one member of the group always is in charge of bringing the "spudnuts" – donuts made of potato flour. Charlottesville has the only Spudnuts store that we know of. We also take them to away games and treat other fans to them at those games.
Q: Do you have a specific moment when you realized that you were a fan of Virginia Tech athletics and knew without a doubt that you were a Hokie?
A: It was in my freshman year when I went to my first Virginia Tech varsity football game in the fall of 1965 (we had freshmen teams back then). Lane Stadium was under construction at the time and the students sat on the East "bank" in bleachers that season. Growing up in Charlottesville, I had attended a number of UVa games. But the atmosphere at Tech was different. The Corps provided a lot of school spirit (I was not in the Corps), and the civilian students also had a lot of spirit at the games (including other "spirits") that was not evident at the UVa games back then (except for the "spirits").
Q: What has it been like being involved with the Charlottesville Hokie Club given that you are located in Charlottesville, Va.?
A: Actually, it has been great, particularly since we have won most of the annual football game matchups with UVa over the years I have been president. But not withstanding that part, there are a lot of Hokies in the Charlottesville area, and it is always good to meet and converse with them at the local Hokie Club events and Tech sporting events.
Q: When you head into town for a game, are there any "must-do" things for you and your family?
A: On football weekends, the first thing to do is to get the details straight for the tailgate. By having a local residence, it makes it easier to plan for the football and other games.
2013 Orange & Maroon Tour Dates
April 16 - Tri Cities | Beamer, Wolff
April 16 - SW Virginia | Weaver, Wiles
April 18 - Lynchburg | Beamer
April 18 - Bluefield | Johnson, S. Beamer
April 22 - Peninsula | Beamer
April 22 - Northern Virginia | Johnson, Loeffler
April 22 - Danville/Martinsville | Weaver, Grimes
April 23 - Raleigh-Durham | Beamer
April 23 - Outer Banks | Johnson, Stinespring
April 24 - Fauquier | Beamer, Wolff
April 25 - Staunton/Waynesboro/Harrisonburg | Beamer, Wolff
April 25 - Western Tidewater | Weaver, Brown
April 30 - Triad | Weaver, Moorehead
May 1 - Southside | Weaver, Wolff
May 1 - Fredericksburg | Johnson, Gray
May 2 - Maryland | Johnson