The school honors former tight end Steve Johnson after his generous contributions to the football program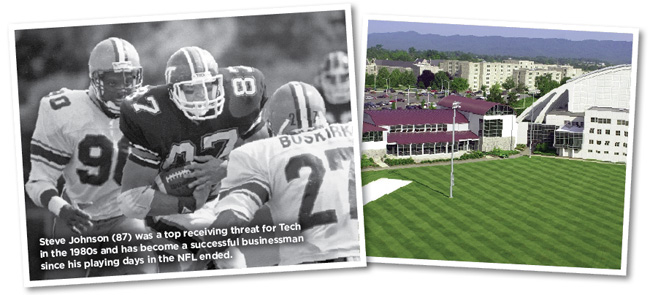 Some past players just bring forth great memories.
Tech fans remember Chris Kinzer's kick against NC State, Corey Moore's game against Clemson, Michael Vick's run against West Virginia, and Tyrod Taylor's pass against Nebraska.
Steve Johnson's name certainly belongs among this crowd, too. Many remember his touchdown catch against Clemson down at Death Valley his junior year. Some remember his touchdown catch in the waning moments against Virginia his senior year – and watching the Hokies fall 14-13 after not being able to convert the 2-point attempt.
"Actually, the play that I get asked about the most is the fourth-down catch to keep the drive alive to get Kinzer in position to make the field goal (in the Peach Bowl)," Johnson said. "It was about fourth-and-5, and we were at the 50 or so. I think that's probably No. 1."
The athletics department and the university, though, are making sure that Johnson gets remembered for more than just his plays on the field. Those two entities want to make sure he gets remembered forever for his generosity to the Tech program.
Officials from both have decided that the football practice fields between the Jamerson Athletics Center and Lane Stadium will be renamed the Steve Johnson Practice Fields in honor of the former Tech tight end who recently made a $1 million pledge toward the construction of a new indoor football practice facility.
This new facility, to be built on a site yet to be determined, will be used by the Hokies' football team. Preliminary plans call for an artificial turf surface and for the facility to be tall enough to allow for punting and kicking. The Hokies' current indoor facility, Rector Field House, will be renovated and used primarily by Tech's track and field programs, along with the women's lacrosse and men's and women's soccer teams.
The costs for the project have yet to be determined as well, but Tech officials estimate those to be between $20-$30 million. Of course, Johnson's donation certainly will help offset a chunk of those expenses.
"The key to any venture whether you're playing football or competing in the NCAA level or the pro level or out here in business really comes down to two things – people and equipment," Johnson said. "In the case of Virginia Tech, on the people side, that's coaches and players, and on the equipment side, it's the facilities they have. You've got to have both, but without outstanding facilities, you limit your ability to attract the people side. These kids today coming out, if all things are equal, there's a strong chance they'll choose the university that has the most impressive facilities.
"We've got the people side covered, with Frank Beamer and our coaching staff. If we have the best facilities in the country, then the combination of our coaching staff and our facilities puts us in great position to attract the best players. I just want to do my part in that.
"As a supporter and a fan, if you're in a position to help the university create an environment that has superior facilities, if you're not doing your part, then you lose your right to have anything to say about the outcome, don't you?"
That Johnson actually got to the point where he could donate this type of money is quite the story. A native of Huntsville, Ala., he came to Tech in the mid-1980s to play for then coach Bill Dooley and he ended up lettering for two coaches in his career – Dooley and Beamer.
He caught four passes as a freshman for 83 yards and a touchdown, and as a sophomore, he hauled in nine passes for 109 yards and a score. He burst onto the scene as a junior in 1986 when he caught 33 passes for 391 yards and three touchdowns.
As a junior, Johnson helped the Hokies to the Peach Bowl, where they edged NC State 25-24 on a last-second field goal by Kinzer. Johnson, who caught six balls for 54 yards in the game, hauled in a touchdown pass in the fourth quarter that gave Tech the lead. He's also known for catching a touchdown pass in the third quarter of the Hokies' 20-14 upset of Clemson at Clemson, S.C., that season.
In 1987 – his senior season and his lone one under Beamer – he hauled in a team-leading 38 passes for 475 yards and three touchdowns, and he finished his career sixth on the school's all-time list for career receptions and eighth for touchdowns by a tight end (eight).
He anticipated a long career in pro football, especially after the New England Patriots drafted him in the sixth round of the 1988 NFL Draft. Johnson spent two seasons with the Patriots, playing in 14 games during the 1988 season. He started three and caught one pass. He signed with the Dallas Cowboys as a free agent in 1990, but tore up his knee in a preseason game and was never on the Cowboys' active roster. He retired from football shortly thereafter.
After his football career ended, he had no idea what he wanted to do for the rest of his life. He and his wife ended up moving to Bristol, Va. – her hometown and a place he viewed as a temporary stop on the road toward longer-term career goals, whatever they may be.
"We didn't have any intention of staying here, but we just kind of settled in," Johnson said. "Her dad and I developed The Virginian (one of the best golf courses in the state), and once I was finished with that, I started dabbling in commercial real estate. In the mid-1990s, it really took off. It got hot, and I just stuck with it.
"In the process of the journey that got me involved in commercial real estate, I really found what I loved to do, and I just think that's so important – that you're passionate about what you do and love what you do. That will really set you apart from others in your field."
Johnson currently serves as president and owner of Bristol, Va.-based Johnson Commercial Development, one of the largest commercial developers in the southeastern United States. Johnson Commercial Development is currently developing one of the largest commercial projects in the country, the Pinnacle, a 1 million-square-foot upscale retail development under construction in Bristol, Tenn.
His success in commercial real estate has led him to contribute to other athletics department projects in the past. He previously contributed to support construction of the Merryman Athletic Facility, which includes a room for speed and agility training that also bears his name. He also is a member of the Ut Prosim Society, a select group of Virginia Tech's most generous supporters.
Johnson said he was honored to have the practice fields named after him and proud to leave that type of legacy for his family. More importantly, he hopes that it serves as an example for future football players.
"I'm hopeful that it's a symbol that the kids can look at today and say, 'I can do that, too,' because they can," Johnson said. "It's all right there in front of them. With the proper approach and emphasis on getting an education and working hard in the classroom and on the field and doing it right with honesty and integrity, they, too, can enjoy the success that puts them in position to do the same type of things. I can't imagine any kid coming through that program, that if they were in position to come back and do something special, that they wouldn't do it."
No timetable has been given for the start date or the completion of the indoor practice facility project. Fundraising for the facility is ongoing.