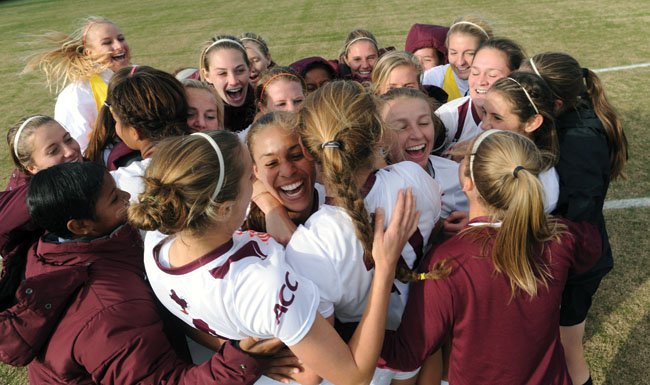 A SEASON FOR SMILES
The Tech women's soccer team has been smiling a lot this season, particularly after notching the program's first win at the ACC Championships since 2009. Jazmine Reeves' header with 1:13 left in overtime propelled the Hokies past Notre Dame 2-1 in the quarterfinals - a victory that was their second over the Fighting Irish this season.
The Student-Athlete Experience
"Thank you for supporting Hokie Nation! Your hard work and contributions are what make our time at Tech so special"
-Katie DeTuro | Senior, Women's Soccer
"Thank you for all that you do! I am so thankful for my experience here at Virginia Tech! We appreciate your support!"
-Taylor Antolino | Senior, Women's Soccer
The Donor File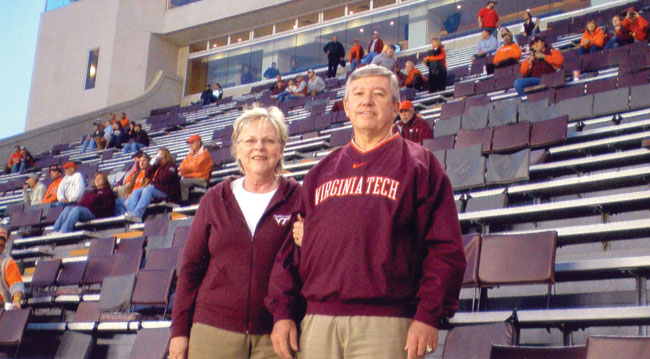 Sam Camden
Hokie Club Level: Golden Hokie
Hokie Club member since: 1989
Currently Resides: Roanoke, VA
What year did you graduate? 1968
Family: Brenda (wife); Chris and Teresa (son and daughter-in-law); Kelly and Steve (daughter and son-in-law); Jeremy and Erin (son and daughter-in-law); grandchildren Brennan, Reece and Alexa (Chris and Teresa), Kenley (Kelly and Steve) and Graham (Jeremy and Erin).
Q&A
Q: Do you have a special moment when you realized that you were a fan of Virginia Tech athletics and knew without a doubt that you were a Hokie?
A: I grew up in the Lexington, Va., area and attended the VPI and VMI football games in the 1960s. Once I became a student at VPI, I became a super fan.
Q: Being a member of the Hokie Club and supporting Virginia Tech athletics is important to me and my family because …
A:
It is very gratifying to help provide athletics scholarships to the young men and women who represent Virginia Tech in sports. I want to help improve the athletics facilities so they will be among the best in the country.
Q: When you drive into Blacksburg for a game, are there any "must-do" things for you and your family?
A: We do our share of tailgating before the games. However, we also enjoy eating at West End Market. We remember with fond memories our great friend, John Price, who was the "brain child" of West End Market. He had some of the best tailgating get-togethers and was one of the best Hokie reps ever.
Q: How are you involved with the Roanoke Valley Hokie Club? Has it been a positive experience for you, and what is going on for Hokie members in Roanoke?
A: I serve on the board for the Roanoke Valley Hokie Club and am vice president of events. I enjoy working with the other club members on the fall luncheons at Hidden Valley Country Club each Friday before home football games. We have our annual "recruit night" in February. Our biggest event is the "kickoff" dinner at the Hotel Roanoke in July. This event always draws a large attendance.
Q: My all-time favorite Virginia Tech football player is –––, and my favorite memory of him is …
A: It would be Frank Loria who played football when I attended Virginia Tech. He was a great player as well as a great person. I had some classes with him. He was a humble student-athlete who represented Virginia Tech at a high level. After graduation, Loria was a coach for the Marshall University football team. On Nov. 14, 1970, the team was returning from an away game when its aircraft crashed. All 75 people on board, including Frank Loria, were killed. The accident is considered to be one of the deadliest sports-related tragedies in U.S. history.
Q: My all-time favorite Virginia Tech student-athlete from another sport is …
A: This would be basketball's Dell Curry. Dell was a tremendous long-range shooter for Virginia Tech in the days when there was no such thing as a 3-pointer. My family and I drove to Charlotte, N.C., on many occasions to see Dell play professional basketball for the Charlotte Hornets. What a Hokie!
Hokie Club announces new point priority guidelines
Effective with the ACC Championship and/or bowl game following the conclusion of the 2013 football season, the Virginia Tech Athletic Fund is implementing new point priority guidelines for season and postseason tickets purchased through Virginia Tech. In the past, points were fixed and awarded regardless of the number of tickets purchased for both season and postseason tickets. Moving forward, each Hokie Club member will now receive the following priority points for tickets purchased from the Athletics Ticket Office:
• Three (3) priority points for EACH postseason ticket purchased in football and men's and women's basketball. This includes the ACC Championship, bowl game, ACC Tournament, NCAA and (W)NIT games.
NOTE: Points will be applied to each donor's membership during the year the game was actually played, not when the tickets were ordered.
• Five (5) priority points for EACH season ticket purchased in football and men's and women's basketball. For football, this now includes both regular-season and club seat tickets.
The Athletic Fund, in conjunction with the athletics department, felt this was a positive way to reward those members who support Virginia Tech athletics by purchasing season tickets and postseason ticket allotments. This gives them the opportunity to improve their annual point priority ranking. With the 2013 ACC Championship and bowl game order deadline of Nov. 22 quickly approaching, this is the perfect time to show your support of the football team and add additional points to your individual membership. The Hokies will be making their 21st consecutive trip to a bowl game and need you there providing the continued support you have shown time and time again.
Letter from Lu
Dear Hokie Club Members,
The Hokie Club is preparing for the end-of-the-year giving activity, and it will be an important time for all of our donors. Each one of you has made a significant personal investment in our athletics program, and you have made a difference for our student-athletes. I hope that you will continue to support these outstanding young men and women who proudly wear the orange and maroon as they compete in their chosen sport.
As we look toward the end of the year, I think it's important that I share with you some of the important dates and deadlines that affect our membership. The last day to set up or upgrade your membership using either "Hokie Matic" or "Employee Payroll Deduction" to qualify for privileges to be awarded before the Benefits Deadline is Nov. 29. To make any changes to an existing Hokie Matic, including increasing your monthly deduction, please submit a new form indicating the updated information. Hokie Matic forms can be found on the Forms page of our website, hokieclub.com.
The Benefits Deadline of Dec. 31 is perhaps the most important deadline for Hokie Club members behind your anniversary month membership renewal, so I wanted to bring it to your attention, as we are approximately six weeks away. The Benefits Deadline serves as the deadline for all Hokie Club benefits for the 2014 year. As we look toward the Benefits Deadline, I will encourage you to think about your membership and your giving level within the Hokie Club. You can upgrade your point priority ranking and improve your parking and seating choices for the 2014 season by upgrading your VTAF membership.
Because of the university's holiday schedule and the Hokies' potential bowl game schedule, I would ask that you make every effort to speak with the Hokie Club staff or visit our office now if you have questions about your membership. Remember, checks must be postmarked by Dec. 31 and online contributions must be made at hokieclub.com by midnight EST, Dec. 31.
Like many other schools in the ACC and across the country, we are being challenged to meet the rising cost of higher education. The budget for the 2013-14 academic year for tuition, room, board and computers has reached $11.7 million. It is our hope that the new Hokie Referral incentive program will bring new members, as will the Recent Graduate program. You can help the membership grow by referring friends and neighbors and earn additional priority points that will improve your priority ranking in 2014.
Your support of the athletics program is very much appreciated. We can be very proud of the student-athletes who have excelled in the classroom and on the fields and courts of play while finding time to make a difference here in the New River Valley. I see them every day, and I continue to be impressed with the high quality of young people who represent our university.
As we close out the fall semester of 2013, let me express how thankful I am for our consistently successful athletics program. The women's soccer team has worked its way into the top 10 in the country, an all-time high season ranking. Volleyball is having another good fall season, and the football team is bowl eligible for the 21st consecutive season. On behalf of the Hokie Club staff, let me take this opportunity to wish all of you a Happy Thanksgiving. GO HOKIES!
Go Hokies,
Lu Merritt
Senior Director of Development for Intercollegiate Athletics