Tech and Tennessee will play a football game at Bristol Motor Speedway in 2016 and will attempt to break college football's all-time single-game attendance mark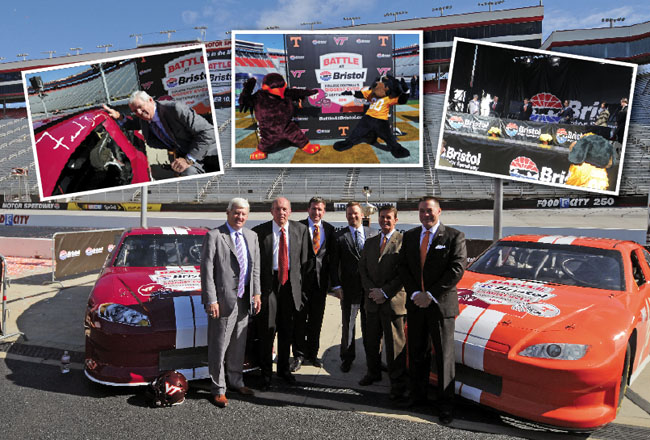 Amid confetti and fireworks, officials at Bristol Motor Speedway announced Oct. 14 that Virginia Tech and Tennessee will play a nonconference football game in 2016 at Bristol Motor Speedway.
The game, scheduled for Sept. 10, will be played on the infield of the speedway, where NASCAR racing teams and their haulers reside on race days, and could draw a record crowd for a college football game. The speedway, which ranks as the fourth-largest sports venue in America according to Wikipedia, possesses enough seats for approximately 160,000 people. The current attendance record for a college football game is 115,109 set in September when Notre Dame and Michigan played in Ann Arbor, Mich.
The idea for the game is not something new. Bruton Smith, the chairman and CEO of Speedway Motorsports, Inc., has wanted to do this for more than a decade, and a Tech-Tennessee matchup represents the best geographical fit for a game at the speedway.
"It really is amazing and fantastic to be here [Oct. 14] to talk about making this game a reality because I remember being in Jeff Byrd's office [the former president of the Bristol Motor Speedway], along with my dad, Bruton Smith, and Jerry [Caldwell, the general manager of the Speedway], and we talked about this idea and thought it would be awesome if we could ever do that," said Marcus Smith, President and COO of Speedway Motor Sports. "At the time, it was just a crazy idea, but if you know anything about Bruton Smith, he has a habit of making dreams a reality, and that's come to fruition."
Despite residing four hours from each other, Tech and Tennessee have not played football in the regular season since 1937, though the two programs did meet in the 1994 Gator Bowl (a 45-23 Tennessee victory) and the 2009 Chick-fil-A Bowl (a 37-14 Tech win). The Volunteers own a 5-3 advantage in the series.
"It's very special to be here on this day that the announcement is made," Tech Director of Athletics Jim Weaver said. "Seventeen years ago, I just came to Virginia Tech, and I remember talking to Doug Dickey [former Tennessee Director of Athletics] about the possibility of the game.
"Then, Dave Hart [current Tennessee Director of Athletics], a great friend for many years, and I engaged in some dialogue this past summer. We worked together with Jerry, and it's a reality that's as big as anything that's every happened in the world of football."
Information on how to purchase tickets for the Battle at Bristol will be forthcoming in the near future.