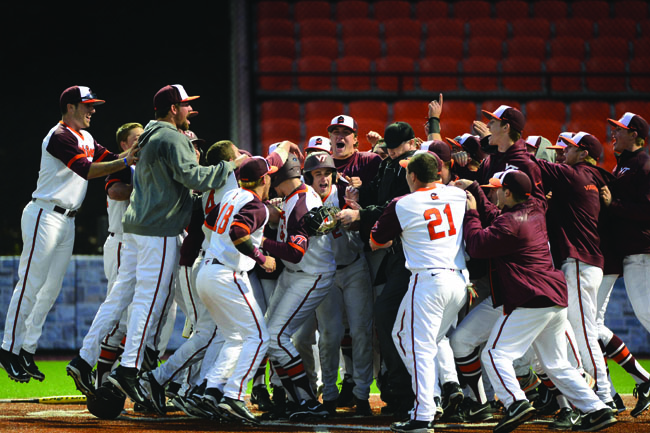 WALK-OFF WIN
Brendon Hayden's three-run walk-off homer in the bottom of the ninth inning lifted Tech to a 9-6 win over Cincinnati on March 2. Hayden, a junior from Twin Lakes, Wis., has started every game for the Hokies this season and leads the team in four offensive categories (doubles, homers, RBIs and slugging percentage).
The Student-Athlete Experience
"I am very appreciative of what the Hokie Club has done for student-athletes like me to give me an opportunity to attend a great institution like Virginia Tech. Without these scholarships, many athletes at Tech couldn't live out their dreams!"
-Alex Perez | Junior, Baseball
"I am very appreciative of the Hokie Club's efforts to raise money for scholarships. It helps give athletes who have put a lot of blood and sweat into their athletics a chance to earn something of meaning - a scholarship to a great Division I program such as Tech. The Hokie Club's efforts go a long way for us student-athletes, and we are very appreciative for that."
-Brendon Hayden | Junior, Baseball
2013 Orange & Maroon Tour Dates
April 16 - Tri Cities | Beamer, Wolff
April 16 - SW Virginia | Weaver, Wiles
April 18 - Lynchburg | Beamer
April 18 - Bluefield | Johnson, S. Beamer
April 22 - Peninsula | Beamer
April 22 - Northern Virginia | Johnson, Loeffler
April 22 - Danville/Martinsville | Weaver, Grimes
April 23 - Raleigh-Durham | Beamer
April 23 - Outer Banks | Johnson, Stinespring
April 24 - Fauquier | Beamer, Wolff
April 25 - Staunton/Waynesboro/Harrisonburg | Beamer, Wolff
April 25 - Western Tidewater | Weaver, Brown
April 30 - Triad | Weaver, Moorehead
May 1 - Southside | Weaver, Wolff
May 1 - Fredericksburg | Johnson, Gray
May 2 - Maryland | Johnson
New Members
The following is the remaining list of new donors, continued from last month's issue:
Mark C. Regester - Broadlands, VA
Robert A. Lawson - Arlington, VA
Robert G. Brooks, P.E. - Virginia Beach, VA
Steven L. Sparks - Hickory, NC
Linda Diane Harrison - Salem, VA
Bryan Huntley - Glen Allen, VA
Dr. Suzanne Parker - Florence, SC
Albert G. Delbridge - Wilkesboro, NC
Chris Demain - Chicago, IL
Daniel A. Kecman - Herndon, VA
James K. Farley, III - Niceville, FL
Kevin R. Brown - Chesapeake, VA
Michael McCoy - Harrisonburg, VA
Travis C. Tyboroski - Radford, VA
Will Monahan - East Northport, NY
Anne A. Satterfield - Dry Fork, VA
Kacie E. Powers - Chicago, IL
Lisa Vornbrock Cohe - Falls Church, VA
Mallory N. Wyatt - Mechanicsville, VA
John Dale Wagoner - Martinsville, VA
Andrew C. Mulrean - Arlington, VA
J. Bruce Pavesich - Glen Arm, MD
Keith L. Verspoor - Mansfield, OH
William Thomas Street - Blackshear, GA
Adrianne Taylor - Vienna, VA
Andrew Dozier - Wake, VA
Dr. Kendall T. Cummings - Gaithersburg, MD
Bill S. Pafford - Damascus, VA
Brian D. Wiersema - Blacksburg, VA
Dennis L. Ward - Odenton, MD
Edwin J. Nicklas - Fort Lauderdale, FL
James P. McGaughey - Woodbridge, VA
Jim Reilly - Mount Pleasant, SC
Kevin D. Moomaw - Orkney Springs, VA
Kurt Nicholas Vernon - Moseley, VA
Sagar Shah - Chicago, IL
Ted S. Pickus - Chicago, IL
Wade Colby Eller - Centreville, VA
Kristy D. Wade - Mechanicsville, VA
Sallie Lynn Stricker - Harrisonburg, VA
Schyler Coleman Higgins - Blacksburg, VA
Zachary Houston Higgins - Blacksburg, VA
Christopher J. Scott - Middletown, DE
J. Shawn Mitchell - Broadlands, VA
Brian P. Cavaliere - Hazlet, NJ
Mark Scott Becker - Newton, NC
COL William J. Butz - Glen Allen, VA
Austin Eells - Roanoke, VA
John A. Willingham - Winchester, VA
Michele Ann Bannon - Mechanicsville, VA
Suzanne Mace - Pinch, WV
Ransom Leonard - Lebanon, VA
Charles B. Shiflett - Raleigh, NC
Andrew Pieleck - Forest, VA
Austin Lee White - Henrico, VA
Robert Warfel, II - Paeonian Springs, VA
Dr. Marcus Dean Wilson - Newark, DE
William D. Bishop - Radford, VA
New River United Soccer Assocation - Christiansburg, VA
Roy J. Ward Jr. - Richmond, VA
Jeffrey P. Zimmerman, Jr. - Arlington, VA
Sterling T. Lewis, III - Shady Spring, WV
Thomas Mark Sanfacon - Centreville, VA
William N. Goodson, Jr. - Great Falls, VA
James L. Whitson - Hampton, VA
Doug Wagoner - Broadlands, VA
Huff Ford - Wytheville, VA
Blackwell Autos - Danville, VA
Michael E. Strickler - Houston, TX
Robert M. Bennett - Raleigh, NC
Karl VanSant Roulston - Woodstock, VA
Dennis & JoAnn Wolff - Blacksburg, VA
Guy W. Chapman - Richmond, VA
Mary J. Lowe - North Tazewell, VA
Dr. James Earl Rountree, Sr. - Martinsville, VA
Andrew S. Rivenbark - Portsmouth, VA
Connor M. White - Chicago, IL
Gary Lee Creasy - Roanoke, VA
Matt T. Donlon - Midlothian, VA
Nicholas J. Overholt - Rocky Mount, VA
Raymond A. Hiza - Plano, TX
Sarah Lynn Carlson - Louisville, KY
Todd M. Rauchenberger - Smithfield, VA
Jason & Dana Wills - Chester, VA
Tuan Thanh Pham - Houston, TX
John S. Boyette - Newport News, VA
Kimberly Massie Stuarts - Draft, VA
Donna H. Boone - Ashburn, VA
Letter from Lu
The Virginia Tech Athletic Fund (Hokie Club), established in 1949, provides financial support to the student-athletes representing Virginia Tech. This aid is in the form of tuition fees, housing and meal costs, along with other institutional fees. In 2012-13 fiscal year, the Hokie Club provided $9,882,124 to pay these fees for approximately 500 student-athletes. Hokie Club membership is open to all alumni and friends of Virginia Tech. Last year, 9,759 Hokie fans supported the athletics department through their gifts to the Hokie Club.
Each year, the cost of attending Virginia Tech rises. University officials do an excellent job of holding tuition and institutional fee increases to a minimum, but the cost of providing a high-value education is expensive. The projected athletics tuition budget for 2013-14 is $11.7 million.
Your annual donation is very important to this equation. Eighty percent of the tuition bill is paid from Annual Fund gifts and 20 percent comes from earnings from endowed athletic scholarships. The most recent investment report revealed that the Athletic Scholarship Endowment Fund stood at $49.9 million. These funds are invested by the Virginia Tech Foundation. Earnings from these investments are transferred twice each year to assist in paying the university for athletics scholarships and related fees. The Hokie Club is grateful to those donors who have endowed these athletic scholarships.
Donors give to Virginia Tech athletics for a variety of reasons, including ticket and parking benefits, away game and postseason tickets. Many enjoy the pure pleasure of philanthropy knowing that their donation supports the growth and quality of the Virginia Tech athletics program. Giving back to support more than 500 student-athletes is gratifying and worthwhile. Did you know the most recent academic results reveal that of 512 student-athletes on fall 2013 team rosters, 52 percent achieved a 3.0 or greater fall semester GPA, while 48 percent maintained a cumulative 3.0 or greater GPA?
The average team fall semester GPA was 3.02, and the average team cumulative GPA was a 3.03. Eleven teams achieved a 3.0 or greater fall semester GPA, while 12 teams maintain a 3.0 or greater cumulative GPA.
Your investment in educating our young people is paying impressive dividends!
Each Hokie Club member has an annual anniversary month, which corresponds to the month they joined the Hokie Club. Each member receives a reminder, the prior month, that their 12-month membership is due for renewal. The membership becomes "inactive" if it is not renewed during that month. While Dec. 31 of each year remains as the priority deadline for benefits, I ask that you do not wait until December to renew your membership. An "inactive" membership loses benefits, including the monthly magazine Inside Hokie Sports. Frankly, it also helps our office staff when processing membership renewals to spread out the workload. This past December, our staff processed over 6,500 gifts which is a lot for one month.
The Hokie Club office is welcoming more new members who are joining to support the athletics program. They are responding to new AD Whit Babcock's call for all Hokies to get involved. They take pride in knowing that their gift supports an athletics program that is successful on the fields and courts of play and is graduating its student-athletes at a high level. Pure philanthropy at its best.
On behalf of the entire staff of the Hokie Club, I want to thank all of our members for their support, especially the new members who have joined or re-activated their memberships. Follow us on Facebook, Twitter and our website. Go Hokies!
Lu Merrit | Senior Director of Development for Intercollegiate Athletics