Expect to see backhoes and bulldozers, cranes and precast concrete, and construction workers galore this summer next to Lane Stadium in Blacksburg.
The Virginia Tech athletics department is going to begin construction on a much-anticipated and long-awaited new indoor practice facility.
The athletics department cleared the final hurdle on the new indoor practice facility project, receiving approval from the school's Board of Visitors on March 24 for the design of the project and the financing plan. The Board of Visitors met that Sunday and Monday on Tech's campus, and the approval allows the athletics department to begin construction as soon as possible.
"We feel this is going to be a dynamic facility that will not only benefit our football program, but a number of our other sports programs as well," Tech AD Whit Babcock said. "Jim Weaver [Tech's former AD] and the Hokie Club did a tremendous amount of work on this project and deserve the credit. I am appreciative of all their efforts. It is another big step in keeping our athletics facilities among the best in the nation."
Athletics department officials already have chosen an architect and a general contractor and expect to begin foundation work shortly after graduation in May. Plans call for the building to be finished by August of next year in time for the 2015 football season.
The project has been in the works for quite some time. In fact, Weaver identified a new practice facility as a need not long after being hired in the fall of 1997. In 1998, he received permission to build the facility from then-president Dr. Paul Torgersen, but other facilities needs took precedence at the time, thus putting the project temporarily on hold.
Over the next decade, the athletics department built the south end zone structure at Lane Stadium and then a new structure on the west side of the stadium. The department also constructed a basketball practice facility, a new football locker room, a new Olympic sports weight room, and it embarked on several other smaller, but important, projects.
Movement on the indoor practice facility project began again in earnest two years ago, but finding a site proved problematic, as the university and the athletics department worked out issues related to finding a location. Last September, a building and grounds committee of the Board of Visitors approved the site, with all sides coming to an agreement that the best place for the facility was on part of the existing football practice fields – specifically, the east practice field adjacent to the football locker room.
Last fall, the athletics department inked an agreement with SportsPLAN Studio out of Kansas City, Mo., to serve as the design criteria consultant. This group put together and organized the criteria for the project, and HKS Architects, a global company with offices throughout the United States, won the bid to design the facility and W.M. Jordan Company, based out of Newport News, Va., will be the general contractor.
Many may be unfamiliar with these companies, but both have been involved with major projects. For example, HKS designed AT&T Stadium, home of the Dallas Cowboys, while W.M. Jordan Company ranks yearly on Engineering News Record's list of top 400 contractors.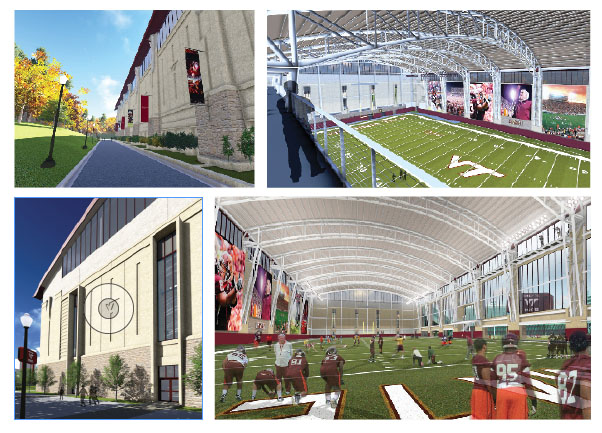 "Both of them are outstanding firms," said Tom Gabbard, Tech's associate AD and the man who oversees most of the athletics department's facilities projects. "They've both got proven track records when it comes to major projects such as this one."
Tech's much-needed indoor facility will be 210 feet wide and 400 feet long, with an artificial surface similar to the surface at English Field, the Hokies' baseball home. It also will be 85 feet high, thus allowing plenty of room for punting and kicking. The facility's eight-foot padded walls, wide sidelines, full scoreboard and 40-second clocks on each end will allow the football team to conduct a full-contact scrimmage if it desires – something it is unable to do at its current indoor home, Rector Field House.
The facility will feature doors that roll up, so that if the football team is practicing outside and a thunderstorm approaches, then it can move quickly and easily inside. The facility also will have two observation decks, with the highest one for filming of practices and the lower one for head football coach Frank Beamer's observation of practices. Video photographers will be able to shoot video from six different positions.
The facility will possess stadium lighting both inside and outside. The outside lighting will allow the football team to practice on its outdoor fields late into the evening.
The construction of the facility does mean that the football team loses two full-sized practice fields. However, the west practice field will be transformed into two smaller practice fields – one of 75 yards in length and one of 65 yards – and the field can be "turned" into one 100-yard field.
"I think this facility is great for several reasons," Beamer said. "Now track [the track and field programs] can take over Rector and that will help that program recruit and perform, and then the new facility will help not only us, but also baseball, softball, lacrosse and others.
"I also think it's going to look very attractive, and that always helps in recruiting. And then there aren't many [football] programs in the country where the head coach can stand in his office and see all the facilities. They're all right here together, and that's really a benefit in operating with your football team and also with recruiting."
As Beamer stated, the facility will benefit an array of sports, as athletics department officials wanted an indoor facility for sports like baseball, softball, lacrosse and both soccer teams to use during inclement weather, particularly in early spring.
"That was always our plan," Gabbard said. "It's strictly for practices, not competition. You won't see games in there. But as many know, the weather this spring has really limited how much our teams could practice, particularly our spring sports. So on a day when it's snowing, lacrosse, for example, could have gone in there and practiced easily. So this is definitely a project that is a win-win for a lot of our programs."
The price tag for the project figures to run around $21.3 million. So far, the Hokie Club has raised close to $13 million in private money for the project, but the completion of the design of the building now allows for the Hokie Club to be even more aggressive in its fundraising for the project. As most know, no taxpayer money can be used to construct athletics facilities.
Lu Merritt, the senior director of development for intercollegiate athletics at Tech, hopes to get most, if not all, of the money raised in the next six months.
"We're going at this pretty hard," he said. "We want to get as much of this raised as possible before the building is built because people tend to say, 'Well, you've built the building. You don't need my money.' Well, we do because we haven't gotten it paid for yet. So we're going to go real hard at it for the next couple of months before they start working and see if we can get another $5-6 million committed on this thing, if not more than that.
"Then we've got to continue to raise money past that for what they [athletics department officials] want to do in regards to renovating Rector for the track programs and for the building of the softball hitting facility. We want to try and raise all of it under the umbrella of the new practice facility.
"I'd love to get this [fundraising] done before September, but it all depends on the results we get. Our focus is right now. But without question, this is a building that Hokie fans will be proud of and that will serve a number of our athletics teams. We need everyone's support, however large or small, to get this facility built. It's going to be beautiful."
The second part of the indoor practice facility project includes renovating Rector Field House. Athletics department officials want to keep the indoor track up permanently at Rector (they take it down after the indoor track season ends in March), add much-needed spectator seating, add halftime locker rooms for soccer and lacrosse matches and build a hitting area adjacent to Tech Softball Park for the softball team. A timetable for the second part of the project hasn't been established yet.
"We will start programming Rector right away," Gabbard said. "What that means is that we'll sit down with the two users, Scot [Thomas, Tech's softball coach] and Dave [Cianelli, Tech's director of cross country and track and field], and talk about what they want in this building and what we need to include in our plan. Then we'll get an architectural firm to put it together."
The football team may have to work around construction crews this fall as the workers build the facility, but Beamer and his staff shouldn't have any issues conducting a practice adjacent to the site. Plus, they will have full use of Lane Stadium in the event of any conflict.
A little inconvenience is a small price to pay for what figures to be a stunning facility.
"It's going to be a spectacular building," Gabbard said. "Imagine that building in a night game with this west side and all that glass and all lit up. It's going to be a signature building, which is great, and it's going to be extremely functional."