Allen Calloway's battle with cancer unfortunately ended the way most do against this insidious disease.
A popular, yet quiet, player, Calloway passed away on Feb. 15 at his family's home in High Point, N.C., ending a nearly four-year war with the ailment. He was only 25 years old.
"It's a tremendous loss," Tech head coach Seth Greenberg said. "Allen just had such a competitive spirit and a great heart. He was an unbelievable young man who was just taken away from us way too soon.
"I don't think I ever heard him complain one time. One of the things I will always remember about him was a play in a exhibition game not long after he had been diagnosed. He only weighed around 160 pounds and yet he stood in there and drew a charge. He was always a competitor.
"I addressed that with our guys, too. You have to embrace every opportunity because you never know. One thing I do know is that Allen's in a better place."
Calloway, originally from Danville, Va., played ball at Tunstall High School and then went to Coastal Christian Academy in Virginia Beach, Va., for his senior season before coming to Tech. He was diagnosed with alveolar soft part sarcoma, a rare form of cancer, in the summer of 2005 before the start of his senior season. A tumor on his calf ultimately led to the diagnosis and the cancer already had spread to his lungs at this point. Because of complications related to both the cancer and the treatment, Calloway was forced to give up basketball, playing in just two games during the 2005-06 campaign.
Calloway later developed brain tumors and underwent three brain surgeries in a 10-month span. But he never gave up.
In the spring of 2006, he took part in graduation ceremonies at Tech. In early February of 2007, he returned to Blacksburg to turn in a project on real estate appraisal. That project marked his final task toward completing his degree requirements in residential property management.
For his career, he played in 83 games, starting nine, and averaged a little over two points and two rebounds per game. His best two games came during his junior season. He scored nine points in the Hokies' win over Georgetown in Washington, D.C., and then he scored seven points and grabbed five rebounds in 17 minutes in Tech's win over Rutgers in the Big East tournament that season – the Hokies' lone win in that league's tournament. In that game, he drained a 3-pointer, the first and only one of his career.
"When Allen Calloway knocked down that 3-pointer, I knew the basketball gods were on our side," Greenberg joked after that game.
Greenberg, basketball trainer Keith Doolan, Tech AD Jim Weaver, and associate AD Tom Gabbard all went to Calloway's funeral in Gretna, Va., on Feb. 19. Several of his former teammates, though, expressed a desire to be there and passed along condolences.
"I got to show him around on his visit before he signed with Tech," former forward Bryant Matthews said. "There really aren't enough words to describe him. He really wanted to please the people who cared about him.
"In college, you often go your separate ways, but by playing with him, I would have done anything for him. It saddens me to know I can't see him off and didn't get a chance to go see him. But I talked with him and I'll cherish that moment always. I'll always keep a vision of his laughter and smile. I pray for his family for their loss of a treasure."
"The thing I'll remember most about Allen is that I never heard him complain or feel sorry for himself," former guard Zabian Dowdell said. "He always seemed to have that 'I'm going to beat this' attitude and it's hard not to respect a person like that."
Vassallo's hot hand
Tech forward A.D. Vassallo has been torrid down the stretch for the Hokies. In Tech's game with No. 2 UNC, he scored a game-high 25 points, hitting 11 of 21 shots from the floor, including 3-of-8 from beyond the 3-point arc. Nineteen of those points came in the second half, as the Hokies rallied from a nine-point deficit in the first half to tie the game on two occasions, but couldn't overcome the Tar Heels in an 86-78 loss.
Against No. 7 Duke on Feb. 28, he registered his first double-double of the season (and fifth of his career), scoring 26 points and grabbing 10 rebounds. He hit 10-of-17 from the floor, including 4-of-8 from beyond the arc.
The North Carolina game marked the seventh time in the previous nine games that the senior had scored at least 20 points – almost solidifying his spot on the All-ACC team in the process.
"He's a guy who has continued to get better year after year," Greenberg said. "He's not just a jump shooter. He can take guys off the dribble. He finishes at the rim. He's an opportunistic defender. He rebounds his position. He's just a complete player and he's not afraid to take – and make – big shots."
Hokies notch another road win over ranked opponent
On Jan. 29, Tech let a 15-point lead slip away in an 86-82 loss to No. 12 Clemson at Cassell Coliseum, but the Hokies exacted revenge with an 80-77 victory at Littlejohn Coliseum on Feb. 25 – a game that snapped the Hokies' three-game losing streak and a four-game skid to the Tigers.
It marked the second time this season that the Hokies had knocked off a ranked opponent on the road. Tech stunned No. 1 Wake Forest on Jan. 21 in Winston-Salem, N.C.
"When you consider the recent history between these two teams, a three-point win almost seems like a blowout," Greenberg said, referring to the close games in this series – the past eight have been decided by five points or less. "These games have turned into epic games.
"I talked to our guys and made a point to tell them to go out and play hard, but also to be tough. You can play hard and lose. I thought we were tough tonight."
Tech led 78-77 with possession of the ball when the Tigers' Demontez Stitt fouled Vassallo with 12.5 seconds remaining, sending him to the free-throw line.
Facing a raucous Clemson student section – a proverbial sea of orange – Vassallo buried them both to give the Hokies an 80-77 lead.
"I'll be honest, I didn't see a sea of orange," Vassallo said. "All I saw was the orange rim. I was going to force them to hit a 3-pointer. There was no way I was going to let them beat us on a buzzer beater. There was no way. I just stepped up and knocked them down."
After Vassallo's free throws, Clemson pushed the ball up the floor and got it into the hands of Terrence Oglesby – the Tigers' hot hand on this evening with 22 points. But Tech's Dorenzo Hudson played good defense, and the Hokies, as a unit, played the possession perfectly. Stitt threw up a prayer toward the rim at the buzzer that didn't come close, and Tech walked away with its third ACC road win of the season.
"The last possession of the game, I was really proud," Greenberg said. "Because we hadn't been able to get that stop or that 50-50 ball to finish a game. So I was really proud that we were able to get that stop and win the way we want to try and win."
Malcolm Delaney paced the Hokies with 26 points – his 11th game of the season with 20 or more points. Vassallo added 21 points.
Both Delaney and Vassallo drained four 3-pointers each. As a team, Tech tied a season high with 11 3-pointers, and the Hokies hit 11-of-19 from beyond the arc, for a 57.9 percentage – easily their best of the season.
Thorns makes first start of the season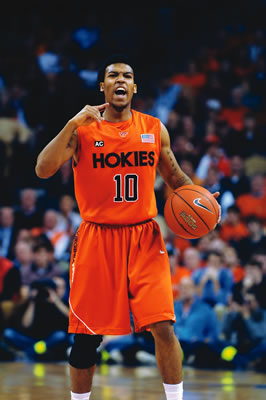 Greenberg elected to start Hank Thorns at the point guard position and move Delaney to the shooting guard spot for the Clemson game and the start marked Thorns' first of the season. He started 12 games as a freshman last season.
"I started Hank because we wanted to throw over their press," Greenberg said. "We wanted to get our scorers up the floor and I thought he did just a great job of attacking and getting the ball to guys with room and rhythm. And we've got two guys [Delaney and Vassallo] who can make some shots. But I thought he [Thorns] did a great job with that."
Thorns rewarded his coach by playing his best game of the season. He tied a season high with 10 points – just his second double-figure scoring game this season – and he dished out four assists to go with four steals. He hit 3-of-4 from the floor, including a 3-pointer, and 3-of-4 from the free-throw line in a season-high 30 minutes.
Delaney sees streak come to an end
Delaney saw his streak of scoring in double figures come to an end after he scored just seven points in the Hokies' 72-65 loss to No. 7 Duke at Cassell Coliseum on Feb. 28. The string ended at 32 games.
Delaney hit just 2-of-12 from the floor and went 0-for-6 from beyond the 3-point arc. He also took just three free-throw attempts, making all three. He did, however, tie a career high with eight assists and played all 40 minutes.
"I was just off," Delaney said. "I was getting to the rim whenever I wanted. I only had a few shots that were contested. I just didn't hit them. I did a lot of stuff where I missed shots because I was trying to avoid charges. I knew I couldn't get in foul trouble. I think that probably threw some of my shots off because I didn't want to draw a charge."
Part of Delaney's struggles could be attributed to Thorns' absence. Thorns missed the Duke game after contracting a virus and becoming severely dehydrated. Without him, Delaney was forced to play the point guard position for the entire game.
"He didn't make shots, but he played well," Greenberg said. "They did a good job on Malcolm, but he also played well. He defended, he distributed, he competed, he got caught on switches and fronted the post, he got caught on switches and defended [Gerald] Henderson … everyone asks 'What happened to Malcolm?' Well, he missed some shots, but we asked him to do a lot and I'm proud of him."
Witcher's big game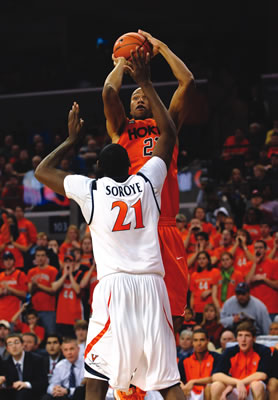 Reserve forward Lewis Witcher played his best game of the season in the Hokies' loss to Maryland on Feb. 14 in College Park, Md. The junior from Rocky Mount, Va., scored eight points, hitting 4-of-5 from the floor in 20 minutes of action. He played mostly because of Jeff Allen's foul trouble.
All eight of Witcher's points came in the first half. He scored more in the first half than he had scored in any game this season and finished just three points short of his career high.
"It was exciting to have a good game," Witcher said. "It's bad that we didn't get the win out of it. I wanted to come in and play hard and do everything I could to help the team out. Fortunately, my shot was falling and that made it exciting."
Interestingly, Witcher spearheaded a great game by Tech's bench – maybe the Hokies' best bench performance of the season. Tech's reserves scored 25 points and grabbed 12 rebounds in the game. Usually, the Hokies tend to win when they get good production from the bench. For example, Tech's bench scored 16 points and grabbed 11 rebounds in the win at Clemson.
J.T. Thompson and Terrell Bell scored seven each to aid the cause at Maryland.
"Even though we didn't play well, that was a good point," Witcher said. "We had some good contributions from our bench, so that was good."
Diakite strong against GT and UVa
On Feb. 11, the Hokies knocked off Georgia Tech 76-71 at Cassell Coliseum and they got a huge game from center Cheick Diakite.
The senior from Mali scored a season-high 10 points in 31 minutes, and he also chipped in seven rebounds against the bigger Yellow Jackets. He hit 4-of-8 from the floor and 2-of-4 from the free-throw line.
The 10-point outburst came one point short of his career high of 11. He scored 11 points against Mount St. Mary's his freshman year. His four field goals tied a career high and his eight attempts were a career high.
"I can score the basketball if I get the ball," Diakite said. "My job is to play post defense, but if they feed me, I can score."
Diakite also impressed with his defense in the second half. Gani Lawal scored 23 points for the Yellow Jackets, but he finished with just one second-half rebound after grabbing seven in the first half. In contrast, Diakite grabbed five rebounds in the second half – and scored six points.
"I wasn't happy with my first half," Diakite said. "In the first half, my rebounding effort was bad. I had a head cold and my eyes were killing me. In second half, I was ready to go."
Diakite was also one of the few bright spots in a 75-61 loss at UVa on Feb. 18. He scored nine points and grabbed a season-high nine rebounds, just one short of his career high.