When he walks into a room or down a hallway or across campus, he casts a long shadow, and strangers with no knowledge of whom he is often gawk at him in wonderment, trying to ascertain where Frank Beamer actually found this guy.
After all, he stands anywhere from 6-foot-7 to 6-9, depending on which roster listing one chooses to believe. He pushes 225 pounds, with a body that looks hewed out of Hokie stone. He wears a scowl that actually contradicts his true personality, but all of this nonetheless leaves one to contemplate where Beamer plans on lining this kid up next fall.
But Cheick Diakite is a basketball player. He possesses a football player's body, mind you, with a temperament girded for the gridiron. He beats a warrior's heart, too. But he's a basketball player and wants you to believe nothing less.
His teammates learned quickly of his fierce motivation. Challenge him after a rebound at your own peril. Some have, only to be rudely kissed with a pointed elbow to the jaw.
But that's just what Cheick Diakite has brought to the Hokies the past four years – overwhelming toughness and an unmatched work ethic. Those are constants, his constant.
After all, he's still learning the game even at this stage, absorbing its intricacies and subtleties. He grew up in a foreign country playing a different sport, and even when he transitioned to basketball, he didn't have the advantages of camps or AAU teams or other sport-specific training. He only had a ball and a goal and a desire to succeed.
In short, basketball's been a process for him, one that still continues.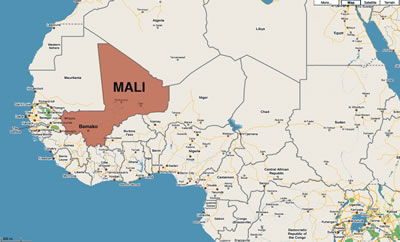 Diakite hails from Mali, a land-locked nation in western Africa arguably best noted for being the parcel of land that holds the city of Timbuktu, an elusive destination that, over the years, somehow worked its way into American sayings (such as "I'll knock you from here to Timbuktu," among others). Mali – which sits on the fringe of the world famous Sahara Desert – is the seventh-largest nation in Africa and one of the poorest countries in the world, with a person's average annual income consisting of roughly $1,500.
"In Africa," Diakite said. "Everyone is poor. Probably 70 percent of the people are very poor."
He himself grew up in Mali's capital and biggest city, Bamako. It houses more than a million people and has electricity, running water and a thriving market place, where farmers come to sell their harvests.
Diakite grew up without a father – his father passed away when he was six months old – but comes from a huge family. His mother, Fatoumata Coulibaly, and all his brothers, sisters, stepbrothers and stepsisters pitched in to help each other out, each an integral part of the family unit.
"Growing up in Mali, you learn a lot," Diakite said. "You learn a lot about life and about how to help each other. Your parents teach you a lot. It doesn't matter how old you are or where you live. In Africa, your parents teach. It's not like in the USA. Once you turn 18, you're free. But it's not like that in Africa and I appreciate that."
As a kid, Diakite rarely noticed his mother's struggles. She runs a small clothing business and provided only the essentials for him – basically, food.
"Growing up, you'd get food at the house," Diakite said. "But you might want some expensive clothes or some other stuff. Then you really have to work to get those things. But food, they [the family members] do whatever they can, and when you get sick, they take care of you.
"I didn't work [as a kid]. We didn't have summer jobs like they do here in the USA. My mom would give me money, and my brothers, if I needed anything. But I didn't need a lot of stuff. All I needed was to go to school and eat at home. We didn't go out to eat and do stuff like that because we couldn't really afford it."
He spent many of his formative days playing soccer in the streets. Soccer is considered by many to be the sport of the world, and in Mali, it isn't any different.
Entering his teen years, Diakite sprouted past his friends. At the age of 14 or 15 – Diakite is fuzzy on the details – a friend of his sister suggested he give basketball a shot given his ever-increasing height. He was hesitant to try it, though not for the reasons one might imagine.
"I thought it was a ladies' sport," he said, with a smile.
Imagine a gangly teenager picking up a ball for the first time and shooting it toward a goal after a lifetime spent kicking one around. Certainly, it was an awkward sight.
"The first week I started doing it, I was terrible," he said. "People tried to encourage me and told me to keep working. They told me to come there [to the dirt court] every day. People were kind to me, and it all worked out."
It took all of about one jumper for Diakite to come to an astonishing realization.
He liked this game of basketball. This was the sport for him.

Diakite attacked his newfound passion with an insatiable work ethic, one probably instilled into him by his mother and a host of family members. After all, when you come from a family as large as his, you learn quickly that nothing comes for free.
Understandably, his game lacked polish. But his toughness and work ethic, combined with his physical stature, gave him a foundation on which to succeed.
He didn't play in high school there in Mali simply because there are no high school teams. In Mali, kids earn spots on club teams and play against each other, and Diakite earned his, all while rapidly developing into a more than serviceable player.
His big break came when he earned a spot on an international squad and got to fly to Egypt to play in a tournament there. Sitting in the stands was a gentleman named Rob Meurs, who used to run a scouting service and traveled the world in search of basketball talent – and possessed a keen eye for spotting it.
Meurs also happened to be one of Tech assistant Ryan Odom's better friends. He liked what he saw from this basketball-raw Mali kid, and he dialed up the Tech assistant, telling him that he may be able to mine a rugged gem of a big man out of western Africa.
Odom was intrigued. So he initiated the correspondence with Diakite through e-mail.
Problem was Diakite knew nary a lick of English. Like most in Mali, he spoke French and/or a local dialect. Ever resourceful, he used the Internet and found a Web site that helped him translate Odom's words. Diakite, too, became intrigued with the thoughts of going to America, getting a college education, and best of all, playing basketball.
Odom and the rest of the Tech's staff, though, wanted Diakite to spend a year at prep school first before they decided to commit to a scholarship offer. That only made sense because Diakite needed to learn English first before he could gain admission to any American university, and the year also gave Tech's staff time to evaluate Diakite to see if he fitted within the framework of what they liked to do.
At this point, Odom contacted another friend, Whit Lesure, and Lesure entered the picture. Lesure coaches the basketball team at Bridgton Academy, a prep school secluded in the mountains of southwestern Maine.
"We don't take foreign kids every year, but we've had maybe 10 since I've been here," Lesure said. "We've found that, for the most part, they're more academically mature than American kids. So when you're taking one, you don't look at their past from that standpoint. It's not about what they've done, but what they're likely to do.
"Now, from a basketball standpoint, you kind of go on faith. But there was enough information on him [Diakite] to suggest he'd be good. Of course, you never know. But I've known the Odom family for years and there's a trust level there."
Diakite ultimately packed up his meager belongings and came to America. When he arrived on Bridgton's campus, he knew no one, spoke no English and wondered how he'd landed in this rural spot on the U.S. map, thousands of miles from his former desert utopia.
"I didn't have a clue about Maine," he said. "The first few days, I was disappointed because, back home, all I knew was tall buildings. When you heard about the USA in Africa, all you'd hear would be L.A., New York, Las Vegas and places like that.
"When I got to Maine, I was like, 'Where the heck am I?' But I talked to my friends and they told me that the USA was huge. I calmed down after that."
He quickly became friends with the school librarian, Linda Kautz, and she tutored him on the English language. During his spare time, he stayed either in the weight room or in the gym, practicing and honing his game.
The language barrier wasn't really a barrier on the court – something Lesure says gets overblown.
"At times, I'm happy when guys can't talk back," Lesure joked.
Diakite's toughest opponent during his time in Maine was Mother Nature, who gets pretty physical with her winds and sub-zero temperatures. She was cruel to Diakite, who was used to Mali's desert climate. The coolest month in Mali averages 87 degrees.
"My first two months weren't too bad," Diakite said. "But November, December, January and February, it was freezing. Just freezing. I'm from a warm country and I ended up in the coldest place in the USA.
"I had the clothes, but I didn't have a big jacket because I didn't know what the weather would be like. I had no clue. I had never seen snow. My prep school coach, he bought me a big jacket. Then one of my friend's dad bought me clothes. His dad helped me a lot. He bought me clothes and whatever I needed."
Over time, Diakite got used to the New England way of life. He made friends. He gradually learned English. And on the court, he nearly averaged a double-double, which kept Lesure busy fielding calls.
In short, life could have been worse.
"I like Maine a lot now," he said. "When I was there, I met lots of great friends over there who are really, really nice and I really had a good time in prep school. I had fun."

There really wasn't much of a recruiting process for Diakite. He knew where he planned to go all along.
You see, in Mali, the citizens take great pride in their respect for one another. If someone helps you out, then you return the favor. You never give it a minute's thought.
Diakite signed with Tech in the spring of 2005 because someone helped bring him to the U.S. – Odom.
"The way our parents educated us, if someone helps you, you've got to let him know that you appreciate it," he said. "So the only way for me was to come to his [Odom's] school and follow him. If it weren't for him, I wouldn't be here today."
Diakite hasn't been a superstar during his four years in Blacksburg. He's averaged 2.5 points and 2.8 rebounds per game for his career and only scored in double figures on two occasions.
But this, his senior season, has been his best. He's averaging four points per game and four rebounds per game, easily career bests, and he came up big in a win over Georgia Tech (10 points, seven rebounds) and a loss at UVa (nine points and nine rebounds).
Diakite has given this program that which can't be measured or spotted in a box score – toughness and work ethic. His recent game against Florida State's Solomon Alabi epitomizes his career. He held Alabi, a 7-footer widely considered an NBA prospect, to just six points and six rebounds, while scoring three points, grabbing eight rebounds and blocking two shots himself. He will leave as one of Tech's all-time leading shot blockers.
"He gives us a physical presence and I think he's competitive," Tech coach Seth Greenberg said. "He's been facing up and making that 15-footer when people help. He's done a nice job.
"There are a lot of different ways to contribute. Even though he doesn't score a lot, he's been giving us rebounding and defense, and those are positive contributions."
Diakite graduates with a degree in agricultural economics this spring and wants someday to run his own business, but first plans on taking his game to the next level – hopefully overseas. He desperately hopes to play in Europe for the primary reason of providing for and being closer to his mother – who never once got to see him play at Tech, either in person or on television. A flight from Mali to the U.S. costs more than most of its citizens make in a year.
"I'm really looking to go play in Europe," he said. "We'll see what kind of agent I get to go to Europe. I really want to play basketball and make some money. That way, I can help my family. My mom did everything for me when I was little, so it's time for me to step up and help my family."
"I think he's probably four or five or six years from being as good as he can be," Lesure said. "It's a shame he's 6-7, 6-8. If he were 6-11 or 7-0, he could be like a Dikembe Mutombo [Houston Rockets center]. But I think he'll get better and can help a team."
One thing is for sure. This young man from Africa with a football player's body and temperament and burgeoning basketball skills is unafraid of working to get to that point.