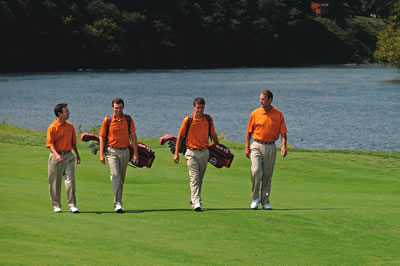 A while back, after one of his team's rounds, a reporter walked up to Tech golf coach Jay Hardwick and asked him which member of his team was his favorite player.
Hardwick wasted little time in answering.
"The guy who is shooting 65," he said. "That's pretty easy for me. I want the one who is shooting the low number every time.
"I'm not good at math, but when I look at the scorecard and I don't see anything above a 4, I can add pretty quickly."
Hardwick's 2009 Hokies should be doing anything but hacking as they enter this spring campaign. His team exhibited an ability to put up some low scores this past fall, thus enabling Hardwick to keep his calculator in his pocket. The Hokies participated in four tournaments in the fall and finished in the top seven in all four.
His team is small in numbers – he only has seven golfers. But they each possess the ability to record small numbers.
"Any player on our team can do it," said Hardwick, who is in his 26th season as the Hokies' head coach. "Every player has the talent to do it. We only have seven players, but top to bottom, it's the closest group talent-wise that I've had. There's not a lot of disparity there.
"Every player on our team has enough talent. Any one of them could be our No. 1 player. Last year, that happened a lot. When you look at our lineup and see all our guys, you see a lot of top-25 finishes by all of them."
Hardwick heads into the spring optimistic about his team's chances in large part because of their talent and experience. He only lost three golfers off last season's squad, though one of those was an All-American and one of the best ever to play at Tech. Jurrian van der Vaart, a Netherlands native, earned All-America honors a year ago, finished ninth at the NCAA Golf Championships, and closed out his Tech career by finishing second on the school's all-time scoring list. The others to depart were Nick MacDonald and Chad Fultz.
But Drew Weaver shunned an opportunity to turn professional and returned for his senior season. He headlines Tech's program and appears poised for a tremendous spring. In the summer of 2007, Weaver stunned the golfing community when he won the British Amateur, which thrust him on the national stage in this country. He brought home a veritable golf bag filled with prizes, including an exemption to play in the Masters last spring.
Weaver, a native of High Point, N.C., pressed a little last spring. Perhaps partly because of the newfound fame that put added pressure on him, he finished 23rd at the ACC Championships and then tied for 58th at the East Regional. But this past fall, he played well in all four tournaments, wrapping up the autumn with four top-20 finishes, including three top-10s. He narrowly missed his first victory in a collegiate tournament, falling by a stroke at the Brickyard Collegiate Championship held in Macon, Ga., despite shooting a respectable 2-over-par.
"He was pressing last year with all the publicity," Hardwick said. "He felt people were looking at him to be the top player in every event and he put a lot of pressure on himself. I told him, 'You just need to play your game. What you've done speaks for itself.' He worries that he hasn't won a college tournament, but this fall at the Brickyard, he did everything he could do and he just came up a shot short.
"I want Drew just to play his game and not get caught up in wins and losses. Scores are what matter. Jurrian was an All-American and he didn't win a college tournament and finished ninth at the national championship. I'd rather have a top 10 at the national championship than a college win somewhere down the line because he [Van der Vaart] finished in the top 10 in the best tournament in college golf.
"I think Drew will be fine. He had a good fall. He had a good offseason. There's no indication that he won't continue with that. If he plays well and everyone puts it together, then we'll win tournaments."
Three sophomores figure to join Weaver and be fixtures in Tech's lineup this spring – Marshall Bailey, Aaron Eckstein and Garland Green. Bailey, from Fincastle, Va., and Eckstein, from nearby Salem, played in all four tournaments in the fall. Bailey recorded a top-20 finish at the VCU Shootout, claiming 19th place at even par. He was in the top 30, though, in all four tournaments. Eckstein's best finish was 22nd at the VCU Shootout, checking in at 1-over-par.
Green, though, may be the one to watch. The Tazewell, Va., native played in three tournaments in the fall and recorded top-20 finishes in all three. He closed the fall with a flourish, coming in fifth at the Landfall Tradition (5-over-par).
"Garland had his best tournament the last event of the fall," Hardwick said. "He finished fifth in tough conditions – about as tough as we've played in. That gave him a lot of confidence. He played a lot in the offseason and is continuing to play well.
"Marshall has been solid. He may not have been as highly recruited or had quite the credentials when we recruited him, but he played well for us. And Aaron has the ability to shoot some really low numbers.
"We've got seven players and everyone has played in at least two tournaments."
The rest of Tech's roster includes redshirt senior and captain Will Oldham, redshirt junior Matt Boyd and freshman Blake Redmond. Oldham played in three tournaments in the fall and recorded a top-10 finish at the VCU Shootout, where he came in 10th at 2-under-par. Boyd and Redmond played in two tournaments each.
"I didn't play the same lineup in any tournament this fall," Hardwick said. "We try to put the best five players in depending on how they're playing and how the golf course fits their game. That's where Coach [Brian] Sharp and I make those decisions.
"We always have opportunities for players to play their way into lineups. We have a rule that if a player finishes within eight shots of the individual lead the previous week, he's in [the next week]. In qualifying, they have to shoot certain numbers, and if they do that, they're in. I like it when the players take those decisions out of my hands."
Hardwick and associate head coach Brian Sharp kept the roster small for a couple of reasons. A smaller roster allows them to travel the entire group and foster camaraderie, while also providing for evaluation time in tournament conditions as opposed to wondering how the ones at home would have fared.
It also freed up scholarships for two standouts for the 2009-10 season – Mikey Moyers from Ruckersville, Va., and Jacob Everts from Ooltewah, Tenn., both of whom signed in the fall. Moyers won the Group AA championship on two occasions, torching the field by 18 shots this past fall and setting a state record with rounds of 65 and 62. Everts is ranked the No. 11 golfer in the nation in the Polo Golf Rankings and 30th in the Golfweek/Sagarin Performance Index.
The Hokies opened their spring slate at the end of February in Puerto Rico. The weather there marked a stark contrast to what they had seen in Blacksburg since November. The team only got a handful of rounds in at their home Pete Dye River Course of Virginia Tech, though they got in plenty of work at their practice facility.
"It's been the coldest snap I've seen from mid-November until now since I've been here," Hardwick said. "We've had the least snow, but the coldest weather.
"You'd like to get time on the course. Fortunately, with our team practice facility, that has made quite a difference. We can be under the shelter. It's not totally enclosed, but it helps. Now when it was bitterly cold, we'd bring the guys inside two at a time to the indoor facility and hit indoors. It's quite a plus to have that team facility.
"I wish we'd had better weather. But that's OK. We're looking forward to the season."
The Hokies came out of the fall in great shape as far as qualifying for the NCAA regionals under the sport's complex qualification system. So this spring, they take full aim at winning the ACC championship – a feat they accomplished in 2007 (co-champions with Georgia Tech).
The road won't be easy, however. Five ACC teams are ranked in the top 23 and nine are in the top 60. Ten of the 11 ACC teams that play men's golf qualified for the NCAAs last season.
"I feel good with this team," Hardwick said. "I think everyone can contribute and we've gotten better every week. We'll look to continue to do that and try to peak for the ACC and the NCAA Championships."
Certainly, this team has got a lot of pieces. Weaver gives them a legitimate standout and the roster, though young, is experienced and deep. Hardwick knows how to coach – he's won seven conference coach of the year awards in addition to a host of other awards and honors – and Sharp, his assistant, serves more in a co-head coach role and provides impressive credentials. Sharp, Tech's all-time leading scorer, won at every level during his playing days and also holds undergraduate and master's degrees from Tech, giving him instant credibility, both academically and athletically, among the players.
With that in mind, Hardwick is looking for low numbers from his team this spring.
After all, he's well aware that low numbers often add up to multiple victories.
Tech puts in bid to host 2011 regional
The Virginia Tech athletics department put in a bid to hold the 2011 NCAA East Regional at the Pete Dye River Course of Virginia Tech. The regional would be held at some point in May of that year. Tech officials should find out later this summer whether they won the bid.
The Hokies' home course continues to earn accolades. It received a 4.5 star rating from readers of Golf Digest in their "Best Places to Play" poll for 2008-09. That tied for the highest ranking in a four-state area (Virginia, West Virginia, Kentucky and Tennessee).
A new $5.5 million clubhouse is currently being constructed on the property and should be finished later this year. The building site is perched on a 70-foot rock cliff above the New River and will feature "Hokie Stone" and an elevated patio in excess of 4,000 square feet to take in the views of the course, the river and the mountains.
Giving back
For quite some time, members of the Virginia Tech golf team had wanted to visit a hospital for children, and finally, last spring, they got their wish.
The team and coaching staff took a day away from the course and visited the Shriners Hospital for Children in Greenville, S.C. They took posters of the team's ACC Championship, Virginia Tech bumper stickers, and brochures for every child at the hospital. They visited every room, and in all, interacted with more than 100 kids.
"Our kids just loved doing that," Tech coach Jay Hardwick said. "That's one of those things that they'll never forget. All of our teams here at Virginia Tech do things like this and that's what makes this a special place."
"Virginia Tech did more than complete a community service project," said Melissa Bayles, Public Relations Specialist for the Shriners Hospitals for Children. "They brought smiles and happiness to our patients. Even if for just a few minutes, they helped the kids forget about their pain.
"As an employee, it was touching to see how well the golfers interacted with our patients. They weren't afraid to get close to the kids, even visiting the ones in isolation. For those patients, the memory of the team's visit will last a lifetime."