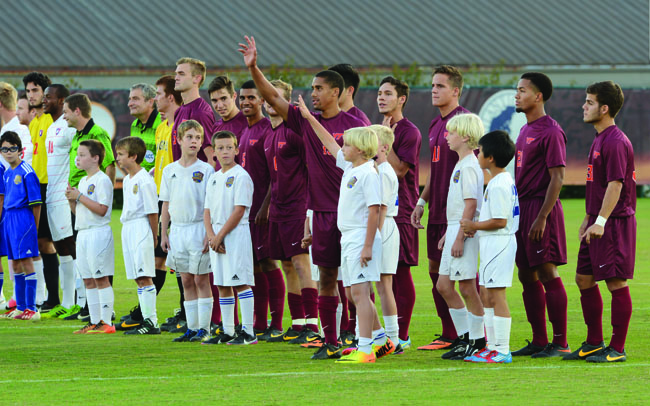 STARS OF TODAY - AND TOMORROW
Members of the Virginia Tech men's soccer team welcomed two New River United under-11 soccer teams - BRSL and Skyline - to Thompson Field for the Hokies' game against Clemson. Players from the two teams got to walk out with Tech players for pregame introductions, and then the two teams played a short scrimmage at halftime of the Hokies-Tigers contest. Tech and Clemson battled to a scoreless tie thanks to Tech goalie Kyle Renfro's 10 saves.
The Student-Athlete Experience
"I would really like to thank all of the Hokie Club members for their continued support of all our student-athletes here at Virginia Tech. Their generous support enables me to attend the university of my dreams! "
-David Clemens | Senior, Men's Soccer
"I want to thank the Hokie Club for their continued support of Virginia Tech men's soccer. Without their contributions, we wouldn't be able to receive athletic scholarships and be blessed with the state-of-the-art facilities that we have."
-Kyle Renfro | Senior, Men's Soccer
The Donor File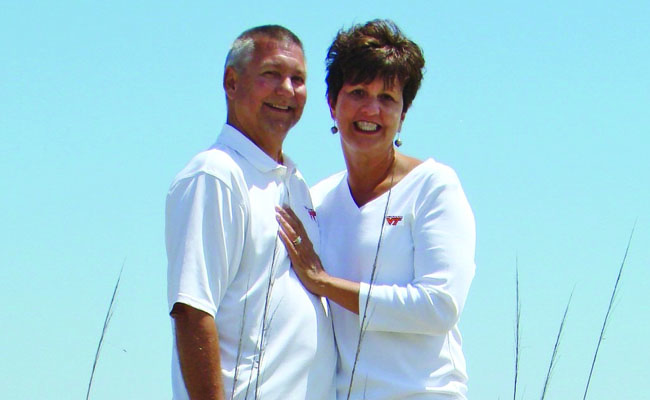 Chuck Parron
Hokie Club Level: Hokie Benefactor
Hokie Club member since: 1988
Currently Resides: Christiansburg, VA
What year did you graduate? 1978
Family: Andi (wife), Jon (son) and Sarah (daughter-in-law). Jon and Sarah are both Virginia Tech grads!
Q&A
Q: Being a member of the Hokie Club and supporting Virginia Tech athletics is important to me and my family because…
A: We enjoy giving back. We enjoy knowing that our support, no matter how large or small, makes a difference. Athletics is very often a major factor on people's perception of your school. I don't think there is any doubt that our athletics success has greatly enhanced, in a positive manner, the overall perception of Virginia Tech. What has been built at Virginia Tech is very special. I'm proud to say we have played a part in that success.
Q: Do you have a specific moment when you realized that you were a fan of Virginia Tech athletics and knew, without a doubt, that you were a Hokie?
A:
When I was in high school in 1973, Bobby Stevens hit the shot at the buzzer in overtime against Notre Dame that helped Virginia Tech to win the NIT. From that moment, I knew that I would go to Tech and be a Hokie for life. My wife, however, being a Buckeye, truly realized she was a Hokie after the 2007 shootings. Her heart has been knit with Virginia Tech ever since that April day.
Q: Do you have any game-day or tailgating traditions or superstitions? If so, what are they?
A: Since the early 1990s, we have been tailgating with a group of Hokies who are or were (some of us have retired) work colleagues. Each family is in charge of a game and sets a theme or menu. One year, after a loss, our friends did not like some of the negativity, so for the next game, they brought a three-foot Yoda with a piece of VT Hokie Stone in front of it. They told everyone who had made a negative comment in the previous game to rub the stone and "confess" to Yoda. That was at least five years ago, and Yoda still comes to every tailgate. Many who pass by have made a habit of stopping to "confess," too.
Q: When you drive into Blacksburg for a game, are there any "must-do" things for you and your family?
A: When our family and friends arrive, we enjoy taking them to the Blackstone Grill or River Company before going to campus for a tour, and if possible, to take in an athletic event. We have also become fans of the Cascade Falls and try to make sure no one leaves without experiencing it.
Q: Virginia Tech has had a lot of successful teams and wins over the years. Do you have a favorite team / season or game that stands out the most?
A: Absolutely – the 1999 undefeated football season. What a joy it was to watch that team play game after game! I still get tears in my eyes when I watch replays of the national championship game. However, I have yet to watch a replay of the fourth quarter.
Q: My all-time favorite Virginia Tech football player is (player's name) and my favorite memory of him is …
A: One of my favorite players is Michael Vick. My favorite memory is of his run down the sideline late in the fourth quarter of the West Virginia game that set up Shayne Graham's game-winning field goal and preserved our undefeated season.
Q: My all-time favorite Virginia Tech student-athlete from another sport is (player's name) and my favorite memory of (player's name) is …
A: A favorite student-athlete from another sport is Angela Tincher. There is no specific play that jumps out, however. I loved her grit and determination, and she was a winner in all aspects of the word. By the way, Angela, welcome back!
Hokie Club Frequently Asked Questions
As we move into fall and start thinking about the end of the year and our benefits deadline, the Hokie Club staff fields many related questions. To better serve our membership, we've compiled some of these questions, and we present them to you here for your benefit. If you have additional questions, please don't hesitate to contact the Hokie Club office, as we are more than happy to assist you.
Where does my annual donation go and does it make a difference?
Your annual donation to the Hokie Club is very important and makes a tremendous difference in the lives of our Virginia Tech student-athletes. Tuition continues to rise, and our scholarship bill this year is $11.4 million. Approximately 20 percent of the scholarship bill is funded through our VTAF Endowment, and your contributions to the Athletic Annual Fund are critical to complete the remainder of the scholarship bill for more than 500 student-athletes. The Annual Fund for 2012-2013 was $9.6 million, and we are focusing on the Hokie Referrals program and obtaining new members to grow the Athletic Annual Fund. As tuition continues to rise, you can see how critical the growth and sustainability of the Annual Fund on a yearly basis is absolutely vital to the success of our student-athletes. We appreciate your continued support as all gifts make a difference to our athletics program.
Why should I upgrade my membership level?
Benefits for all Hokie Club members are based on the Hokie Club point priority system. Upgrading your membership level not only increases the support we are able to provide for more than 500 student athletes through scholarship support, capital projects and programmatic needs, but it also improves your Hokie Club rank within the point priority system. This increase will allow you to strengthen and enhance the benefits that are offered to you as a member.
Should I renew my membership on my anniversary month rather than waiting until the end of the year?
Yes, if you are Hokie Club member, we ask that you please renew your membership on your anniversary month. As you approach the end of your 12-month annual membership, you will receive reminder letters from our office, and we encourage you not to allow your membership to become "inactive." We would also encourage you not to wait until the end of the year to renew your membership, as you will miss out on several benefits during this time, such as Inside Hokie Sports magazine, which is provided monthly to all active Hokie Club members.
For the recent graduate, or the current student, how do I get involved in the Hokie Club?
If you are a recent graduate (undergraduate or advanced degree) within the past two years, you can join our Recent Graduate program and receive a two-year membership for the price of one year, which is a 50 percent discount. To join the Recent Graduate program, a qualifying recent graduate must take the following steps:
• Online – visit hokieclub.com to submit an application. On the giving page, select the desired annual giving level and enter the associated dollar amount. Type "Recent Graduate" in the comments field at the bottom of the form.
• Using Paper Application – write "Recent Graduate" on the application.
If you are a current student, you will need to join the Hokie Club as a regular member, and you can do so online at hokieclub.com or submit a paper application.
Is Hokie Club parking assigned yearly? How is it determined?
Parking privileges for football and basketball season ticket holders are some of the most highly desired benefits of Hokie Club membership. Parking privileges for both sports are assigned each year, and all assignments are based on Hokie Club member's point priority rank.
What is Hokie Matic? Can I alter or add it before the Benefits Deadline?
The easiest way to make your Hokie Club donation is by using Hokie Matic, the Hokie Club's monthly electronic transfer program. Using either your checking or savings account, you can have your Hokie Club donation deducted monthly to avoid having to pay a lump sum once a year. This option is very popular, especially with our younger members, and is a great option to consider.
November 30 is the last day to set up or upgrade your membership using either Hokie Matic or Employee Payroll Deduction to qualify for privileges to be awarded before the Benefits Deadline. To stop a Hokie Matic, please send written notice to the Hokie Club Office. To make any changes to an existing Hokie Matic, please submit a new form indicating the updated information.

What is the Hokie Rep program, and what role does a Hokie Rep play in the Annual Fund?
Established in 1986, the Hokie Rep program's goal is to provide outside assistance through volunteer efforts to meet the Hokie Club's three-part fundraising mission of raising money for scholarships, capital projects and the programmatic needs of the athletics department. With more than 450 Hokie Reps in communities throughout Virginia and in surrounding states, the Hokie Rep program has allowed the Hokie Club to spread its mission and expand its reach to Hokies that have a desire to financially support Virginia Tech athletics.