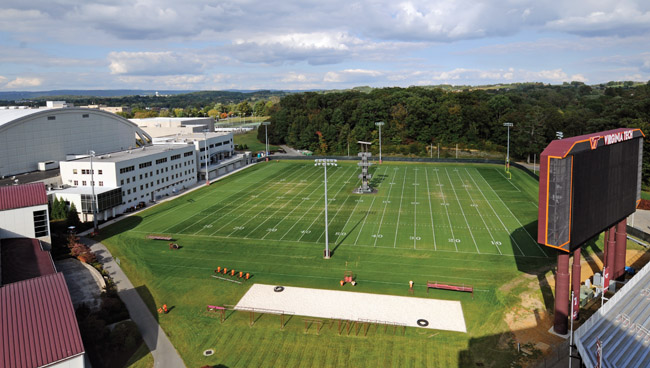 It took Tech AD Jim Weaver 15 years, but he's finally going to see a new indoor practice facility get built.
The Virginia Tech athletics department received some much-anticipated good news on Sept. 9, as a building and grounds committee of the Virginia Tech Board of Visitors approved a location for an indoor football practice facility at the Board of Visitors' meeting on the Virginia Tech campus.
The decision ended a somewhat lengthy process, as the university and the athletics department worked out issues related to the site for the facility. The two sides came to an agreement that the best place for the facility was on part of the existing football practice fields – specifically, the one practice field adjacent to the football locker room.
"I'm very pleased with the approved location for the new indoor field house," Weaver said. "I think it's going to be extremely beneficial to our football program. It will give them a location that is very conducive to practicing in bad weather. We won't have to worry about people crossing Spring Road at peak hours [to go to Rector Field House for practice], and the preparations for practice during inclement weather will be so much easier, as far as getting all the [tackling] dummies and sleds and other gear ready.
"This facility will also help many of our other sports teams. It will allow for a permanent indoor track in Rector Field House, and our baseball, softball and lacrosse programs will be able to practice inside [at the new facility] when the weather is bad. So I'm excited about this project. This is going to help so many people."
For Weaver, the approval from the Board of Visitors ends a rather long wait for him. He received permission in 1998 from then-president Dr. Paul Torgersen to build an indoor practice facility, seeing a need to get the facility closer to the football locker room, strength and conditioning area and Lane Stadium.
But other facility needs took precedence – mainly enhancements to Lane Stadium. A new south end zone structure allowed for suites and premium seating, and seeing more potential, Weaver and the athletics department decided to rebuild the west side of the stadium to include more suites and club seating.
"As I continued to evaluate things, it became crystal clear to me that it [the indoor practice facility] wasn't the most important part of the facilities ball game," Weaver said. "We needed other things. We needed work done to the stadium, in both the north and south end zones and the west side. We desperately needed a basketball practice facility. We built a new football locker room, which created locker room space for other sports, and we built a new Olympic sports weight room, which has helped us immensely.
"So yes, it's [the indoor practice facility] the first facility I identified when I first got here, and it's become the last one to get built. But I'm glad we're going to get it done. It's something I think is needed and is really going to benefit us."
The project figures to cost around $25 million and essentially consists of two parts – the building of the indoor football practice facility and then the renovation of Rector Field House, the current indoor facility where the football team practices during inclement weather. Athletics department officials want to keep the indoor track up permanently at Rector (they take it down after the indoor track season ends in March), and they want to add halftime locker rooms for soccer and lacrosse matches since Rector sits next to Thompson Field, the home of the soccer and lacrosse programs. They also want build a hitting area adjacent to Tech Softball Park for the softball team.
The new indoor practice facility will eliminate the interruptions during practices because of weather, while also providing a huge space for conditioning drills, if the strength and conditioning staff needs it. When storms hit Blacksburg, they often force the football team back to the locker room to change cleats and then the players and coaches have to walk down to Rector to resume practice. The lightning and rain and the traffic on Spring Road create logistical problems and certain safety concerns.
For those reasons, Beamer was willing to give up an outdoor practice field to get the indoor facility.
"There was some give and take there both ways, but that's the way it needs to happen at Virginia Tech and do what's right for everyone," Beamer said. "But having that facility next to those practice fields … it's exactly where it belongs. We'll have big doors, and we might just go in there some and work the offensive line, defensive line or whatever.
"What's really beneficial is sometimes you're out there practicing and a bolt of lightning comes. Now we can go in there in about three minutes and resume practicing. It used to be we'd have to go inside and change and go down to Rector. So I'm really pleased about that."
Athletics department officials, including Beamer and senior associate AD Tom Gabbard, already have a good idea of what they envision for an indoor practice facility. Gabbard said the facility would be approximately 210 feet wide and 400 feet long. It also will be tall enough for punting and kicking.
"We can have two smaller outdoor practice fields next to it or one 100-yard field," Gabbard said. "Of the two smaller fields, one will be 75 yards and one will be 65 yards. But we can always have a 100-yard field if we turn it. It [the 100-yard field] would be parallel to the indoor practice facility."
The athletics department plans on using a design-build approach to construct the facility. In this process, a design criteria consultant comes in and organizes the criteria for what the project entails (size, scope, etc.). That plan then goes to various architects and builders on a national scale, and the architects and builders put together design-build "teams" and do the actual designing of the facility. The various teams will then pitch their designs to the athletics department – namely, Weaver, Gabbard, Beamer and John Ballein, Tech's associate AD for football operations.
The athletics department already has an agreement in place with SportsPLAN Studio out of Kansas City, Mo., as the design criteria consultant to put together and organize the criteria for the project. This same group, under the leadership of Joel Leider, handled the planning of the Hokies' football locker room project. Leider and his group will have approximately 60 days to put together Tech's design criteria into a plan.
"We hired him two years ago, but we couldn't do anything because we didn't have a site yet," Gabbard said. "He'll take into consideration some of the restrictions that the site presents. It will take him about 60 days to do that, and then he'll give that to the design-build teams out there – there are about five or six of them who have already contacted us – and then we'll give them about 60 days to present to us the best practice facility in America for the price we want. We'll pick one and turn them loose, and they'll build it.
"The thing I like about this process is that the architects and the builders are talking, so the change orders get reduced and you never lose the creativity of the architect, yet the builder keeps reeling him [the architect] in on the costs."
The athletics department will build the indoor facility first before starting on the Rector Field House part, and Gabbard said that he would like to start site work in early 2014. The football team would lose the practice field next to the locker room for next spring and fall, but the coaches can use the game field at Lane Stadium for practice on occasions or use Rector Field House to reduce wear and tear on the practice field next to the Merryman Center.
"Certainly, I'd like for it [the indoor practice facility] to be ready by the spring of 2015," Gabbard said. "No later than preseason of 2015. That's where I'd like to be.
"Once we get our plan for the indoor practice facility fixed, I'd like to start on Rector. I want to get the track and softball coaches involved, and the operations people involved. There is some stuff we want to do over there, so we'll need to get together on that. But the first thing is getting Joel [Leider] here and starting on the practice facility."
Weaver said the department has roughly $11 million in cash or pledges for the new indoor facility. He added that it's been a little difficult to raise money without a design to show people, but that fundraising efforts will really ramp up early next year once a design gets chosen.
Beamer agreed.
"We've got to raise some money," he said. "But now that we know where it is and have a plan – or will have a plan – for the building, if our supporters are anything like they have been, we'll raise that money pretty quickly."