Tech women's basketball coach Dennis Wolff thinks his team will have more offensive weapons this season, but keeping people healthy is a key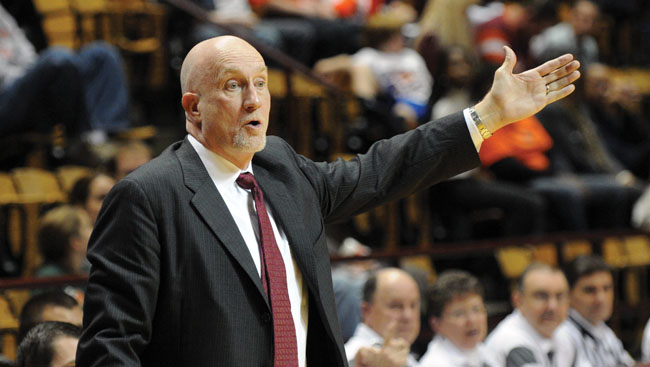 A lot was being asked of the 2012-13 Virginia Tech women's basketball team as it entered preseason a year ago. A stronger nonconference schedule awaited the team, and the squad would be missing two key components at the start – players who were certainly going to make the Hokies a better team.
Injuries then plagued the team, as head coach Dennis Wolff was forced to use 13 different starting combinations and none more than eight times. The NCAA sat Uju Ugoka for the first nine games, and she later missed four games with an injury. Taijah Campbell, expected to contribute as a freshman, missed 13 games with a foot injury. Also, Hannah Young didn't enroll until the spring semester. Thus, the Hokies struggled on offense and produced a 10-win season.
Entering the 2013-14 season, Wolff acknowledged the drawbacks he faced last year, but he is very optimistic of the Hokies' chances for the upcoming campaign.
"My overview of where we're at with the team is this … I think this is the best team that we've had in the three years that I've been the coach," Wolff said. "I think, without question, staying healthy is the No. 1 most important factor. We had very few games last year where both Uju and Taijah were healthy, and then when you factor in the fact that Hannah missed the first semester as well, we didn't have three kids that we were kind of counting on last year.
"Now, they're all back. They got good experience, even though it was a little disjointed last year. I expect the three of them to be three kids that are going to contribute because they've already shown glimpses of the fact that they can be good ACC players."
The Hokies have a nice one-two punch when it comes to their offense in the form of guard Monet Tellier and Ugoka. Both averaged more than 10 points a contest, with Tellier leading the way at 13.2 points per game and Ugoka going for 12.5 a game.
But the Hokies need to find a No. 3 and No. 4 scorer on the team. The departure of Alyssa Fenyn (7.0 ppg) leaves a drop in scoring. Sophomores Campbell and Lauren Evans (4.7 ppg each) were the only others above 3.5 per game.
"At the end of last year, I thought we were playing defense like an ACC team that would like to win," Wolff said. "Our problems were that we had trouble converting near the basket and making outside shots. So returning players like Monet, Lauren and Hannah have spent a lot of time in the gym, and they've shot a lot.
"But we've added four freshmen – Vanessa Panousis, Maddison Penn, Sami Hill and Serafina Maulupe – and they are all perimeter players and they are all a bit different. The one common denominator for all of them is that they are all good shooters. So I think in regards to being a more efficient offensive team, they are going to play a big part in it."
Defense was a big emphasis for Wolff when he first took over the program – as was keeping control of the ball. In his first two seasons, the Hokies have seen their opponents' scoring drop from 66.1 points a game the year prior to Wolff's arrival to 62.3 in his first year and 56.1 last year – the lowest season per-game average since the 2003-04 season (56.0 ppg) when Tech won 23 games.
Turnovers were his other point of emphasis, and in his first year guiding the Hokies, they committed a total of 467 turnovers, the fewest by a Tech team since the Metro days (454 in 1990-91). Last year's 514 turnovers were just a smidge above the 2004-05 Hokies who turned it over 506 times.
"At any place that I've ever been, I think that, if you want to have a good team, you've got to play good defense," Wolff said. "When you take over a program, you're going to have to fix some things. It's difficult. I'd like to think that I'm a good coach, but I don't think I am a miracle worker, so you can't fix everything at once.
"We thought the thing that was the easiest to try and make a point of emphasis was trying to play good defense, and then the second part was trying not to turn the ball over as much as they had. And I think, in those two areas, we've improved.
"Now, we have to get out of those 40-point [scoring] games. We'd like to run more and play a little bit of a more up-tempo style of basketball, and I think, with the roster being what it is now, we can do that."
The Hokies' roster now features six international players, including another Canadian (Hill) and two more from Australia (Panousis and Penn), thanks to a former Wolff connection.
"I had a friend on the men's side that went over to Australia and befriended some people over there," Wolff said. "So when I got hired, my friend called me and said 'Look, I've spent six months in Australia, and I have a friend that's involved with the national program in Australia and he could be a good resource for you.'
"About a year ago, we spoke, and he said that there were some girls coming up that might work out, and the first one was Hannah. The other two girls he spoke about were going to be a bit tougher to get because they were playing for the national U-19 team that actually finished third in the World Championships.
"Sami was involved in the Canadian national team and was a teammate of Taijah's, so that's kind of how that happened. And if these players were coming up the grapevine in the States, they would have been highly rated. But what I found here is, once the international kids leave their home and come to the States, what's the difference between going to Blacksburg or any other place, and they just really like it here."
Last year's Hokies faced one of the strongest schedules in the nation – their strength of schedule was ranked in the mid-20s – and that wasn't just relegated to the ACC slate. Eight of their 11 nonconference opponents made the postseason (three NCAA teams) and seven won at least 19 games.
Tech will face another tough test again in 2013-14, with five postseason teams on the early slate and a much-improved ACC that welcomes three new teams.
"The schedule this year is a challenging one," Wolff said. "I think last year, in an attempt not only to help our own program, but also to help the ACC, we went along with the scheduling guidelines, and we had one of the toughest schedules in general of any team in the country.
"And we have a similar schedule this year, as we try to schedule good nonconference games, and we're trying to play some nationally named schools. And then with the addition of Notre Dame and Pittsburgh and Syracuse into the league, it's going to be a very challenging schedule, but also it's going to be an entertaining schedule for the fans."
Fans will get a great chance to see the Hokies early in the season, as Tech will play five of its first seven games at Cassell Coliseum, with the home opener slated for Nov. 9 at 3 p.m.