Nick Marshman remembers the day vividly.
He had been at Virginia Tech for just four months, an 18-year-old, mid-year enrollee doing his best to adjust to the rigor of academics and the rigidity of major college athletics. On this day, he stood on the sideline, preparing for his first real game at Lane Stadium in front of real, live people – a lifelong dream about to become a reality. That it was the annual Maroon-White spring game mattered little to him.
The April day resembled so many during that time of year. The sun splashed over the stadium. A lazy wind barely mustered enough energy to unfurl the flags. Fans of all ages loitered in and around the stadium, with the adults getting in some tailgating practice and the kids honing their pigskin skills not for the hope of garnering a future scholarship, but simply for the innocent joy of it. As kickoff approached, they all slowly walked to the congregating point to catch their first glimpse of next season's squad.
During the game, Marshman and Barry Booker, a teammate and a classmate, gazed around at the spectacle with wide eyes, soaking it all in. They looked up at the west side stands, seeing a few familiar faces and tossing a quick wave, avoiding the sharp eyes of an attentive coaching staff.
Booker then asked Marshman a rather benign question at the time.
"Where are your folks sitting?" he said.
"Right there," Marshman replied, pointing to two people waving and enjoying themselves after making the drive down from Harrisonburg, Va., the Marshmans' hometown.
"Where?" Booker asked again. "Are they sitting behind the white couple right there?"
"No," Marshman said. "Those are actually my parents."
Booker's face, as expected, expressed surprise. Marshman matter-of-factly explained to his teammate that he was adopted. And as only teenagers can do, they quickly moved on to other subjects.
Marshman is now a fifth-year senior, a college graduate, and a two-year starter on Tech's offensive line. He loves NASCAR and hanging out with his friends from home, and in his scant free time, he takes his rod and reel and heads to any number of local creeks and rivers.
He loves his parents and wastes little time thinking about being adopted. And even less time thinking about the skin tone of his parents. To him, they are normal. To them, he is normal.
In a society rife with labels and tags and stereotypes and racial overtones, theirs is a story that is refreshing.
In the Marshman family, things just simply aren't black and white.
---

Nick Marshman is used to getting interviewed. For one reason, he always willingly does interviews. For another, he eloquently and forthrightly answers questions.
Most of those center on football. Few center on his background. Few know he's adopted – including his teammates – or that his parents are white.
"They'll know after reading this," he said. "But it's not really something I think about that much. Obviously, after I got into elementary school, everyone pretty much knew I was adopted. So you kind of forget and assume everyone knows. But you get to college, not everyone knows and they're surprised when they hear that or when they see my parents."
The story, though, only begins there. Few know that Marshman actually has four siblings.
And they are all African-American or bi-racial, too.
This story actually starts with Frank and Janet Marshman, whom both come from big families and have big hearts for kids, regardless of their skin tone. Both of them had three siblings, and both agreed they wanted a big family once they got married.
However, fate tried to intervene. They couldn't have children of their own, so they went about circumventing fate. After a lot of inner soul-searching, they decided to explore the adoption route and ultimately pursued it.
Their research revealed some startling – and certainly sad – findings. Plenty of African-American children were available in contrast to white children. The Marshmans simply wanted children, no matter the race, so they started the process.
"So why African-American kids?" Frank Marshman said, asking the question that certainly begs to be asked. "Well, for starters, we wanted to adopt domestically. We're not fans of international adoption. We're not trying to make a political or social statement with that. It's just our beliefs.
"Secondly, we didn't care. Color didn't matter to us. And African-American children were very available. If you wanted a blue-eyed blond at the time, you were going to wait 5-10 years. But there were plenty of African-American children available."
Then came the process of securing a child. That turned out to be a bit tedious for the Marshmans, as they found out that adoption agencies frowned – at least inwardly – when it came to placing African-American children with white parents.
Ultimately, they found out about Catholic Charities in Roanoke, Va., and that agency agreed to help them. Officials there conducted a home study, and within six weeks, the Marshmans were presented with a daughter, Alexandra, who is now a 25-year-old young woman.
"We were on vacation when we got the call," Janet Marshman said. "We didn't expect it to happen that fast. Fortunately, we were able to find an agency that would place a black child in a white family."
The Marshmans knew they wanted at least four kids, but "five was a nice round number," Janet said. Nick came next, followed by Elliott (now 21), Sonya (20), and the youngest, Bernadette, who is 18.
All five children came within a seven-year span, leading parents from around the Commonwealth to wonder how the Marshmans survived during those early years.
"Raising one is hard and raising two is harder," Frank said, with a small laugh. "But raising five isn't any harder. They just entertained themselves."
---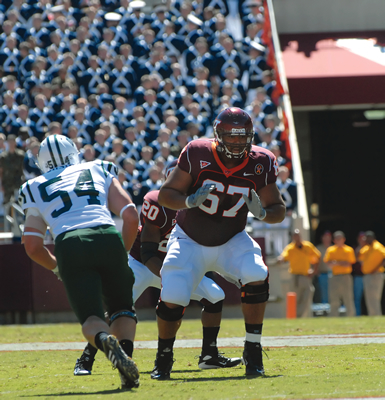 Though he looked differently than nearly all of his friends, Nick Marshman experienced the normal childhood. He ran around the house, tormenting his siblings, as young boys do, and at school, he wildly caroused around the playground with his buddies. It wasn't fairy-tale like, but it was normal and that certainly beat what could have been considering his situation.
His adoption and his parents rarely came up in conversation with anyone. He never lived in fear, fear of what adolescents would say, or worse, do. He never lived in embarrassment or shame. He just simply lived.
It explains why he struggles to answer questions related to his parents and to being adopted. He simply never has given it much thought because he always considered himself normal.
For example, when asked his reaction when he found out about being adopted, he thought for a minute.
"I don't even remember when they [his parents] told me," he said. "I think maybe when I was younger, but I don't remember ever actually sitting down with them. Maybe when I was 5 or 6, they told me and I just went on.
"I probably didn't understand fully, but once I understood, I didn't think anything of it. I went to school and did everything normally. Everyone knew that I was adopted so it didn't matter."
Amazingly, all throughout elementary school and all throughout his days at Turner Ashby High, Marshman can't recall a single situation in which racism reared its ugly head toward him, which stands as a fine testament to the folks who live in Harrisonburg and the Shenandoah Valley.
In fact, according to Janet, none of their kids experienced such ugliness.
"We did not experience overt racism," she said. "Maybe underneath we'd question some things, but people here knew us and our kids were involved in things at school. Race wasn't something that raised its head. Our children moved back and forth between various groups of people and it was never an issue.
"That's why we stayed in this community. This is a university community [JMU] and we felt the mindset would be more open and liberal, and we've found that to be true."
Nick gradually became more recognized for his abilities on the court and the field than anything else. In fact, his teammates refuse to believe this, but Marshman was a standout basketball player at Turner Ashby, and early on during his high school days, he gave thought to pursuing that route.
But Joe Taylor put such nonsense to rest. Seeing the young man's size the time – 6-5, 270 – and his athletic ability, the head coach at Turner Ashby coaxed Marshman into coming out for football his sophomore year. He lined the big fellow up at tight end for a couple of years, but eventually moved him to tackle midway through his senior season.
"I was always one of the biggest guys on the team," Marshman said. "I knew at some point that my days as a tight end were going to run out. I just didn't know when and where. But you don't look at it as where you want to play. You look at it as where you're going to get on the field and where you can help the team the fastest."
Taylor's decision and Marshman's willingness to accept it turned out to be a rather fruitful decision for him. He received multiple scholarship offers, but ultimately chose to accept Virginia Tech's.
And he did so for one primary reason – he wanted to stay close to home and close to his family.
---
Marshman has enjoyed a very good career – in fact, an underrated one. For three years, he bounced between guard and tackle, often sacrificing personal gain for the better of the team, and last year, he filled in admirably for Ed Wang, who missed the first half of the season with an injury. He thrives at guard, and offensive line coach Curt Newsome insists that, given Marshman's size and athleticism, he can play at the next level.
Considering that he is about to embark on another phase of his life here in four months, another question begs to be asked – has he given thought to finding his natural parents?
"I was taking a human development class and they ask you some of these things like, 'Do you have heart disease in your family?'" he said. "When things like that pop up, I wonder. But then I ask myself how much work I would have to go through to find out and go through medical records and stuff like that.
"There was probably a time when I thought about it more. But you get to this point and there's a possibility I could go to the NFL, and if you look for them at this point, you really don't know if they want to know you or if they're just seeing the dollar signs and that they could get money out of you. So I don't see me trying to find them."
If he does – or if any of their children decide to go down that route – Frank and Janet Marshman have promised to help. The Marshmans participated in a closed adoption, which means the birth parents' names are sealed and finding them could prove to be a monumental task.
"When they [the children] turned 16, we gave them all the information we had and let them read anything we had," Frank said. "We've told them any time they're interested in finding out about their natural parents, we'd be glad to help. I'd be curious, if it were me. But none of them have chosen to go in that direction."
In Nick's case, why would he? He's got the life – loving parents, loving siblings and a football future that looks bright. He loves his friends, many of whom came from Turner Ashby to go to Tech. He lives with a group of former high school classmates, and they grill out every Sunday before watching the day's NASCAR event – one of Marshman's true loves.
They hunt and fish, and keep the meat. Their top purchase during the winter is an old college staple – Hamburger Helper – and they mix in deer meat instead of beef to save on groceries.
He and Sergio Render, one of his best friends on the team, do a lot of hunting and fishing together as well. They joke about being the only two black guys on the team to hunt and fish. You could jokingly call them a redneck tandem, if you will.
But why get into colors and stereotypes?
After all, look at the Marshmans. They refused to, and what a wonderful lesson they have taught the rest of the world.