Brother's condition has helped shape Tech runner as a person and an athlete
Liam Cornwall's wheelchair isn't just a simple wheelchair. Nope, it's the Cadillac of wheelchairs, as he and his family refer to it. And after seeing it in action, it's not hard to see why.
It's got a sleek, black exterior and is motorized to allow the high school junior to zip around faster than most people can walk. It's built to maneuver over rocks and potholes, even while going down a grassy hill. And get this, it even transforms. Somewhat like an Autobot from last summer's hit movie, Transformers, it morphs from a normal-looking chair into an upright position at the push of a button, allowing Liam, who is afflicted with muscular dystrophy, to strengthen his bones by standing up. It's pretty cool, and his mother, Pat, agreed.
"He is more than happy to tell you everything about his wheelchair – he'd probably give you a ride!" she joked.
Liam was soon put to the test. When asked how fast he could go in the chair, he said he wasn't sure.
"This fast," he shrugged, as he accelerated it to the max.
It was a good enough answer for most, but not the inquisitive Liam, who has already racked up several college credits through honors and advanced placement courses during his first two years at Culpeper County High School in Culpeper, Va. Not even a minute later, he was asking his father, Bruce, to drive next to him in the van at an identical pace and shout out the speedometer reading so he could have an exact answer.
Bruce obviously declined to race his son and his wheelchair on the open road, but it's that curious nature that has defined Liam in his nearly 16 years, not his physical condition. And while Liam's muscular dystrophy certainly changed his life from the get-go, it's positively shaped someone else's life, too – his big brother, Devin, a cross country and track runner for Virginia Tech.
If you were to pass Devin on the street, the chances are you probably wouldn't think twice about it. He's got the unassuming, skinny build that distance runners possess, and he sports the scruffy facial hair that many college kids have. But partake in conversation with the 20-year-old junior and you are quickly treated to one of the friendliest young men you could ever wish to meet.
"What I find that makes him unique is that kids – especially his friends in high school – wouldn't engage us in conversation, but Devin will talk to any parent there is," Pat said. "His social skills amaze me every time I see him and sometimes I'll just stand back and watch him."
Devin will talk freely about a number of things, whether it's his longtime girlfriend, Ryanne, his desire to get into sports marketing or his aspirations of one day writing a novel. On this day, though, he spoke at length about muscular dystrophy and what it's like to live with someone who's been stricken with such an awful disease. After listening to him and his parents, it's not a stretch to say that Liam's condition has helped mold Devin into the exceptional person that he is today.
Muscular dystrophy (MD) is a genetic disorder that gradually weakens the body's skeletal muscles, causing the affected person to eventually lose the ability to do things like walk, sit up straight, move the arms and hands, or even breathe easily. As it worsens, it can lead to other health problems and it usually shortens the life span as compared to the average person. Present much more often in males than females (the faulty gene is located on the X chromosome, and in females, the mutation must be present in both copies of the gene, making it more rare), there are over 40 types of MD, and some of them, like Liam's, haven't been totally defined yet.
Liam's form of MD is classified as congenital myopathy, which according to the Cornwalls, is a really vague category that doesn't have a whole lot of history on which to predict future progression or regression. Different forms onset at different times of a person's life and can affect different parts of the body. Liam's form was present at birth, and the Cornwalls knew early on that something wasn't right. Devin remembers how his little brother's head would push along the floor when he crawled because he was unable to hold it up correctly. Young Liam was tested, and though he did indeed have MD, it was confirmed that his type wasn't fatal, a huge relief to his parents.
"With some forms, when you get to Liam's age (mid-teens), there are a lot of kids where that's the end of their life," Bruce said. "So that was great news for us."
Even so, Devin said Liam needed to use a walker by the first or second grade, and he transferred to a wheelchair fulltime around the fifth or sixth grade. He's also gone through two major surgeries to correct his scoliosis, a common problem among MD patients in which the spine curve and twists because of a lack of muscle support and prevents the internal organs from growing and functioning properly.
Because of the whole process, Devin, who was actually a rowdy youngster who got kicked out of several day cares, was forced to mature a little earlier, whether he knew it or not. Just ask Liam.
"Since I've been able to realize it, I feel like Devin and I have sort of had a better relationship because of the MD," Liam explained. "He couldn't bully me like a regular big brother because it might have hurt me more than a regular kid, so we couldn't really horse around as much. Instead, he'd always look out for me to make sure I didn't get hurt."
The siblings made up games that Liam could compete with Devin in, including Lego wars and a modified wiffle ball home run derby. Sometimes Liam would win fair and square, and sometimes, according to Pat, Devin was able to let Liam win because unlike Liam, he had the outlet of sports and athletics to satisfy his competitive nature. Predictably, Devin became quite comfortable with Liam and began to branch out toward other people who were different in some shape or form, a big step in the development of the social aptitude that he displays today and something Pat wishes more people would do.
"A lot of times, you'll see kids whispering, 'what's wrong with that person?' and pointing," Pat said. "I really hope that every parent says [to their child] that's not polite to do, but if you want to know, why don't you go up to that person and ask them, because they're people, too? And even if they can't talk, they'll just be glad that you tried to talk to them."
"People don't want to offend me by asking questions, but it never really offends me," Liam agreed. "I don't mind answering questions."
Soon enough, Liam's MD became a family affair and the activities associated with it helped Devin to get even more involved. He'd go around to the local firehouses with Liam to thank the firemen who would collect money for the Muscular Dystrophy Association (MDA). Liam was once selected as the state of Virginia's Goodwill Ambassador for the MDA and got to participate in the annual Labor Day weekend Jerry Lewis telethon, where Devin tagged along to help as a pledge runner between the telephones and tallying room. And then there's the annual MDA summer camp.
"Devin grew up a tremendous amount when he went to camp as a counselor," Pat said.
"It really changed his outlook," Bruce added.
Ah, the MDA summer camp. Each member of the Cornwall family can't help but smile at the thought of the camp, a yearly gathering of children with MD that is fully sponsored by the MDA. The camps are located throughout the United States, but the one the Cornwalls are involved with is in Maryland just off the mouth of the Chesapeake Bay. The children in attendance get to experience a multitude of things, whether it's fishing, horseback riding, canoeing, wheelchair football, basketball and soccer, a pinewood derby, riding in fire trucks, limos and Harleys, meeting the D.C. United – you name it. But most of all, it's the sense of companionship that keeps the kids coming back. Liam started attending when he was 7 and hasn't missed a year since.
"That's one of my favorite things – being around kids with a condition like my own," he said. "It makes you feel like you're not out of place. When you go there, nothing is wrong with you – you're just another kid who can make friends and you have one more thing to talk about."
"The MDA is the most incredible organization," Devin added. "And the camp is amazing. The only thing those kids want is to spend a week with their counselors and fellow campers and be treated normally, and the norm at that camp is that everyone is in a wheelchair – they're not sticking out and getting looked at funny. For some, it's the time of their lives."
Devin cites the camp as one of his most rewarding experiences, and he started counseling the first year he was eligible (counselors have to be 16). He hasn't been able to make it back to the past two camps because of his commitment to Tech's cross country program, but he said it's something he will definitely return to in the future.
"I owe it to the team to be training throughout the summer," the former ACC Freshman of the Year said. "We have a schedule we need to follow, and if I were to try to fit that in with camp, I wouldn't be doing the camp, myself, or my team justice. I don't like missing out on that, but it's something that has to happen right now."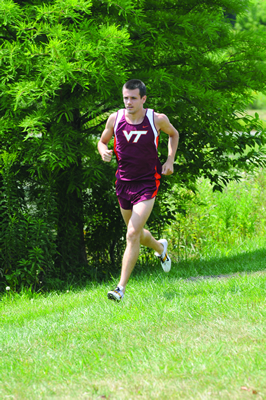 Distance running truly is a commitment, something that Devin's teammate, Paul LaPenna, fully understands. But ask LaPenna his thoughts on Devin, and he hardly mentions his talents – instead, he talks about his personality.
"The best part about Devin is how he just radiates motivation," LaPenna said. "He's always enthusiastic and the team can just kind of feel his vibe. He's always ready to go."
That's not something that Devin consciously tries to do, but it's something that's come naturally because of the experiences he's been through and the realizations he's come to, many because of Liam and the MDA.
"I cherish the fact that I can walk," said Devin, who dreams to one day organize a charitable race to benefit the MDA. "Sure, I personally can run well, but just to be able to walk and do all the things I can do normally is amazing. I've realized that people affected by MD don't want pity. They just want to be treated normally. So that, in turn, has opened my eyes to how I treat other people – anybody I see.
"It's just an amazing concept that these kids are so full of life and so optimistic, even when they're facing death at an earlier age than most. It makes you look at your life and think, 'why should I be mad at anything?' You don't sweat the small things – it's all about the bigger picture.
"In a running sense, I used to get down to the fine print and say 'alright, I need to run this much at this pace and do that.' But I've come to the realization through all I've experienced that whatever happens will happen – I can only do so much. It opens your eyes to so many other things than yourself."
But that doesn't mean that Devin takes his running lightly now. In fact, he recalls one specific instance – with LaPenna, actually – where he used his sunny outlook as a source of motivation in one of his most grueling races.
"I can remember racing with Paul last year when he was coming back from an injury, and prior to that, I was talking to him about the notion of us not being able to run," Devin narrated. "That would break our hearts. While running might seem like a horrible passion to some people, we love going out there and doing it. But for us to not be able to ever, ever, ever feel that, and even if you wanted to, to not even have the chance … it's heartbreaking for us to think about.
"So this one race, we were like, 'alright, you yell at me if I'm slowing down because I need to keep the pace.' I was trying to qualify for regionals, and I wasn't quite fit enough at the time for the pace I needed to meet, so I was starting to drop off. But all of the sudden, Paul was shouting at me, 'run because you can run!' That was all I needed to help push myself through it."
The Cornwalls often joke that because Devin received so many athletic talents, Liam was graced with all of the family's smarts. Liam humbly downplays that, saying that Devin is a good student, too, but Liam has already started thinking about college. In fact, he's already made an official visit to Tech through the College Bound program that teaches young adults with disabilities what it's like to live on your own, and he is intent on coming to Blacksburg for school if he keeps his grades up. But his family knows that it's those smarts that have gotten him this far and that will continue to push him to greater heights.
"He's been blessed with the intelligence and awareness that he has," Devin said of his younger brother. "There's no turning back with MD – you can't really do anything to prevent it. It's a difficult realization to come to, but once you accept it, you thank whomever possible … you thank God that Liam is here and can experience the things that he's able to experience."
And so Liam is able to continue stockpiling college credits while still in high school for one reason – he's already stockpiled many of the credits he needs to cope with life.
"I truly believe that – I think his intelligence is what is going to get him through everything," Pat said with a beaming smile that only a mother could give. "He'll hopefully come to Tech, study what he wants to and be very successful at whatever he does for his lifetime."
One thing's for sure. With a role model like Devin, that won't be hard to do.