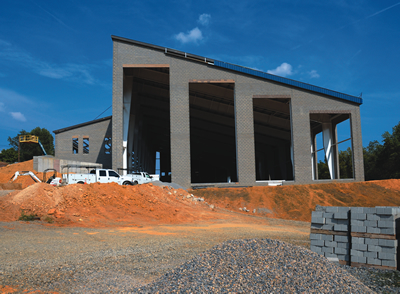 Ned Skinner remembers the first time he walked into venerable War Memorial Gymnasium on the Virginia Tech campus and took a glimpse at the swimming and diving facility. A 34-year-old head coach at the time, he quickly surmised that this dated venue was better than his facility at William & Mary.
Now, he's about to move his program into a pristine new home, a place that rates as the Trump Towers of swimming and diving facilities.
The 10th anniversary of Skinner's hiring will be his final one of having meets at War Memorial. Early next year, his teams will be training and participating in meets at the Christiansburg Aquatics Center, a new state-of-the-art indoor swimming and diving facility in nearby Christiansburg that figures to be fully open and operational in February or March.
A collaborative project between Christiansburg and Virginia Tech – the first time these two entities have partnered on a project of this magnitude – this facility will arguably be the best in the state of its kind. The 62,000-square foot, three-pool venue first and foremost meets the needs of Christiansburg residents, who have lacked a swimming facility, and it also provides a top-notch arena for which to build a top-flight swimming and diving program.
Skinner's program is already on its way toward elite status. The Hokies sent seven swimmers to the Olympic trials in June, and both the men's and the women's teams finished in the top 30 of the national rankings this past season.
Now the program figures to get even better, with this facility being used as a major recruiting draw.
"Obviously, it's going to be a huge recruiting advantage for us," Skinner said. "We're going from the bottom fifth of the ACC in terms of facilities to the top fifth. Only Virginia Tech and Georgia Tech are going to have the capability to host a complete ACC championship [the diving part is usually held at different locations]. Plus, we're going to have some autonomy in our scheduling and we'll be able to train kids using modern technology. We feel we're going to be able to prepare elite athletes and make them even better."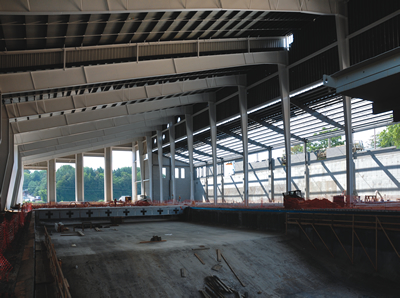 This venue truly is the Escalade of swimming and diving facilities. It features a 50-meter Olympic-sized competition pool (1,012,000 gallons!); 5-, 7- and 10-meter diving platforms; 1- and 3-meter springboards; locker rooms for both Tech teams; and a seating capacity of 1,100, which allows the building to host competitive swimming and diving events. It also includes components that the average person would not think of, things like a sparger system at the bottom of the pool that releases air bubbles to soften the landing at the water's surface for divers, and a UV disinfection system, which will clean the water and eliminate the smell of chlorine.
Christiansburg officials even plan on taking another step – installing showers near the diving area. The recently concluded Olympics in Beijing prompted this idea. They saw divers going to the showers after their dives and learned that the hot water kept the divers' muscles loose. So they decided to include showers as a part of the project as well.
"Now we're going to be able to go head-to-head with the UNCs and Georgia Techs for kids," Skinner said. "We've never used War Memorial as an excuse, but now that we're going to be in this new facility, there's a reality to the situation. Not having a long-course pool has hurt us. Not having a 10-meter platform has hurt us. Others can say, 'Come here and we'll train you in these events.' We didn't have any other options.
"I don't want to sound critical of War Memorial. Our program has grown immensely because of the work we put in there. But it has its limitations."
That certainly won't be a problem now.
From a Christiansburg perspective, the arena provides a separate family/leisure pool with a two-story water slide and a separate therapy pool to be used for physical therapy. And of course, town residents get to use the big pool during designated times. According to the partnership between Tech and the town, the Tech teams get to practice between 5-9 a.m. and 3-7 p.m. Also, Tech gets 10 weekends a year to hold meets – dual meets, invitationals, the ACC championships, etc.
In return, Tech is paying Christiansburg a total of $250,000 a year for the next 20 years, contributing $5 million total to a project that is going to cost $14.5 million.
The unique partnership between Tech and Christiansburg came about when Tech graduate and former Tech and Radford swimming and diving coach Bill Beecher suggested it to Lance Terpenny, Christiansburg's town manager. In 1994, town officials embarked on a 10-year master plan of recreational needs and a swimming and diving facility was the final thing on that list (in a poll, Christiansburg residents cited this as the town's biggest need). Originally designed as a 25-meter pool, Terpenny – a former Tech swimmer himself – took Beecher's advice and approached Tech AD Jim Weaver in 2005 about a joint venture that would enable the facility to meet Olympic specifications, while also giving the Hokies an awesome facility. Weaver and Skinner conferred and agreed to the idea.
The facility was supposed to be finished last year. But to get financing, Christiansburg officials went through the Public-Private Educational Facilities Infrastructure Act (PPEA), a creative financing tool originally designed to help local governments build schools, but recently amended to include other types of projects. This created a delay of more than a year.
"We had never done one [a project] through the PPEA," Terpenny said. "Our lawyers hadn't, our architect hadn't, and our construction company hadn't. We kind of began this thing at the bottom of the learning curve. But in the end, it gave us a better project for less money.
"Plus, we had a series of discussions with the university and we wanted to get information from the ACC. It took us about a year and a half to accommodate everyone's needs."
A Tech graduate designed the facility and a Tech graduate is building it. Glenn Reynolds of Reynolds Architect serves as the architect on the project, while Sam Lionberger Jr. of Lionberger Construction is the general contractor.
Reynolds has put his unique touch on the facility. The building features a lot of airy, open space and a lot of huge windows to allow for plenty of natural light and for aesthetic beauty when lit at night. He also played a role in the pool design, which called for two six-foot bulkheads instead of the tradition four-foot variety. Bulkheads serve as moveable bridges that allow big pools to be divided into multiple pools for multiple activities, and six-foot bulkheads allow for more room.
"You can configure this pool in any way you want," Reynolds said. "You could have starting blocks anywhere on the pool deck. You could run multiple events at the same time. We wanted to allow for as much flexibility as possible, and I think we've done that.
"I've really gotten tremendous enjoyment out of this project. Working with Lance and the people in Christiansburg and working with the people at Tech in the athletics department, it's been an enjoyment and I think the project is going to draw a lot of outside interest to the Christiansburg area."
Terpenny – who has been the town manager since 1996 – is already finding that out. In fact, he started fielding calls before the project ever broke ground, and the mere thought of events in the facility brings a smile to his face.
"If it's sitting idle, it's losing money," he said. "There's been a lot of interest and we think there will be even more.
"There's just not a facility like this around here. The Virginia state senior championships were held in Cary, N.C. Think about that – a Virginia meet had to go to North Carolina. But it was the only place that had adequate seating. We've already gotten a lot of calls from high school leagues, independent leagues, things like that. And obviously, we want to get the ACC Championships here."
That's certainly something Skinner wants to see as well. He's tired of traveling to places like Atlanta, Chapel Hill and College Park for the ACC Championships. He'd love nothing better than to crank up "Enter Sandman," go out and win the ACC title right here at home.
"The ACC won't award a bid until the site is complete, but we're looking at having it here in 2010 or 2011," Skinner said. "I think you're really going to see aquatics in general just evolve in this area [the New River Valley]. From learn-to-swim programs to club teams to collegiate swimming, I think the interest is going to explode. What people don't realize is that this facility is going to bring all these constituencies together. They're all going to have an opportunity.
"They're going to have a draw to come here. And hopefully we can bring some of those world-class swimmers to Virginia Tech."