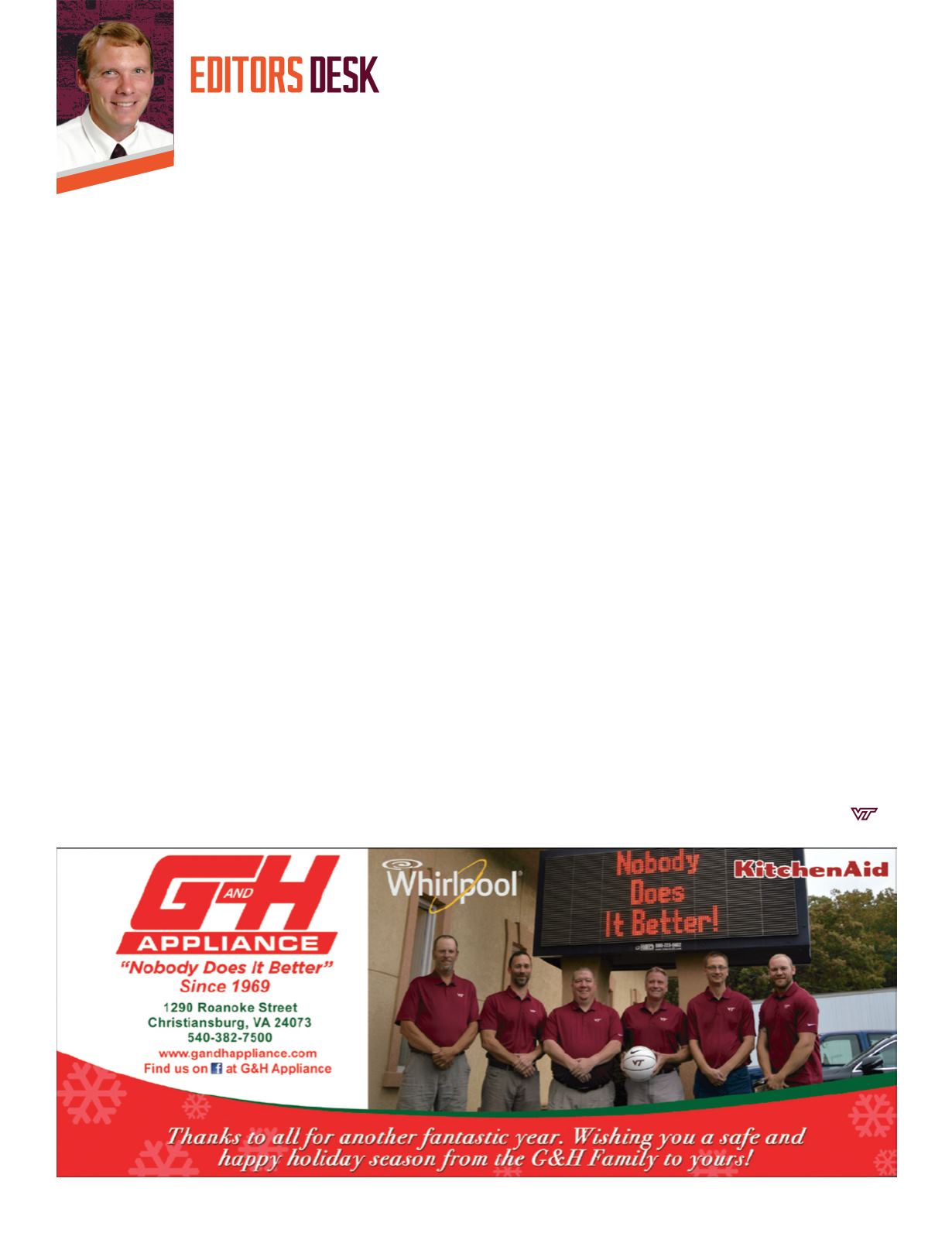 inside.hokiesports.com
9
by
Jimmy
Robertson
Despite bowl loss, Tech program
headed in positive direction
Bitter cold temperatures and an unfriendly
wind greeted those associated with the
Virginia Tech football program after they
arrived in Southwest Virginia in the early
morning hours following a disappointing 30-
21 loss to Oklahoma State in the Camping
World Bowl.
The weather fit the mood, as the Hokies, at
least from this perspective, played reasonably
well, but an ill-timed turnover and missed
opportunities dictated the game's outcome
(
more in the bowl recap, pgs. 14-15
). Winter's
doldrums set in shortly thereafter, with
plunging mercury levels befitting the ending
of the 2017 season and the departure of so
many high-quality seniors.
But this column wasn't crafted to keep
readers in a frosty mood. On the contrary,
Tech fans should feel quite warm and fuzzy
about their team—both about its season and
its future.
To recap: the Hokies went 9-4 with a
freshman quarterback and mostly freshman
receivers. They qualified for a nice bowl game
despite losing Terrell Edmunds for the final
three games. They won without arguably their
best offensive lineman for nearly the final half
of the season (Yosuah Nijman). They beat
Virginia for the 14th straight time without
those two, Joey Slye or Mook Reynolds, all out
with injuries.
Yes, Tech struggled on offense down the
stretch. Yes, Tech's defense gave up too many
big plays in the bowl game.
Yet overall, 2017 was very good work.
And the program appears poised to do more.
The Hokies return 13 starters, which makes
for a great 2018 foundation even with the early
departures of stalwarts like TremaineEdmunds,
Terrell Edmunds and Tim Settle—all of whom
decided to forgo their final seasons and make
themselves available for the NFL Draft.
Seven starters return on offense, led by
quarterback Josh Jackson, who admitted
following the bowl that he needed to play
better. The redshirt freshman put up solid
first-year stats, throwing for 2,991 yards and
20 touchdowns, with just nine interceptions.
He also rushed for six touchdowns.
The 20 touchdown passes were more than
those thrown by Michael Vick, Tyrod Taylor,
Bryan Randall and Logan Thomas in their first
seasons as starters, and the yardage was more
than all but Thomas' (3,013). But in the bowl,
Jackson missed a couple of open receivers for
potential touchdowns—the types of plays that
change the course of a game.
"First year, 9-4," Jackson said, assessing his
season afterward. "I don't feel very good about
this game. I think I missed too many throws. I
don't think I played very well, but I hopefully got
better as the season went along in some aspects.
But [there's] a lot for me to get better at."
Aside from Cam Phillips and Travon
McMillian, who decided to transfer, Tech
returns all of its skill players. That makes
head coach Justin Fuente happy, as Fuente
said all season that he worried more about
the personnel around Jackson than Jackson
himself.
A lot of that personnel played well in the
bowl. Phil Patterson caught seven passes,
while Eric Kumah and Hezekiah Grimsley
each caught five. Deshawn McClease ran for a
career-high 124 yards in his first start. Tech's
staff needs to replace two linemen (Wyatt
Teller and Eric Gallo), but the offense should be
ready to roll when spring practice commences.
The defense will require a bit of retooling
after the three early departures and the
graduations of Andrew Motuapuaka, Greg
Stroman and Brandon Facyson. But Tech's
staff received good news when defensive
tackle Ricky Walker decided to return for his
final season, and keep in mind that 17 different
players started on defense at some point this
past season. Defensive coordinator Bud Foster
has some talent at his disposal.
For sure, the Hokies, overall, are losing
some quality people. Those seniors led the way
for this program to win 19 games over the past
two seasons, putting Fuente in rare company.
Only two other coaches in the history of the
ACC have won more games in their first two
seasons (Ralph Friedgen, Maryland and Jeff
Jagodzinski, BC).
"They've really risen to change this program
back to what Virginia Tech fans like to see and
what we've done," Foster said of the seniors.
"And you see where the future is going."
Yes, the Hokies lost three of their final five
games, but Tech's program appears stocked
with young, talented players. The roster
also features 17 rising seniors, and nearly
every recruiting service ranked Tech's recent
recruiting haul among the top 20 nationally.
So when Tech fans sit at home on those icy
nights for the remainder of this winter, they
need only to remember this—those are the
signs of a healthy program. For sure, there are
much worse situations in which to be.