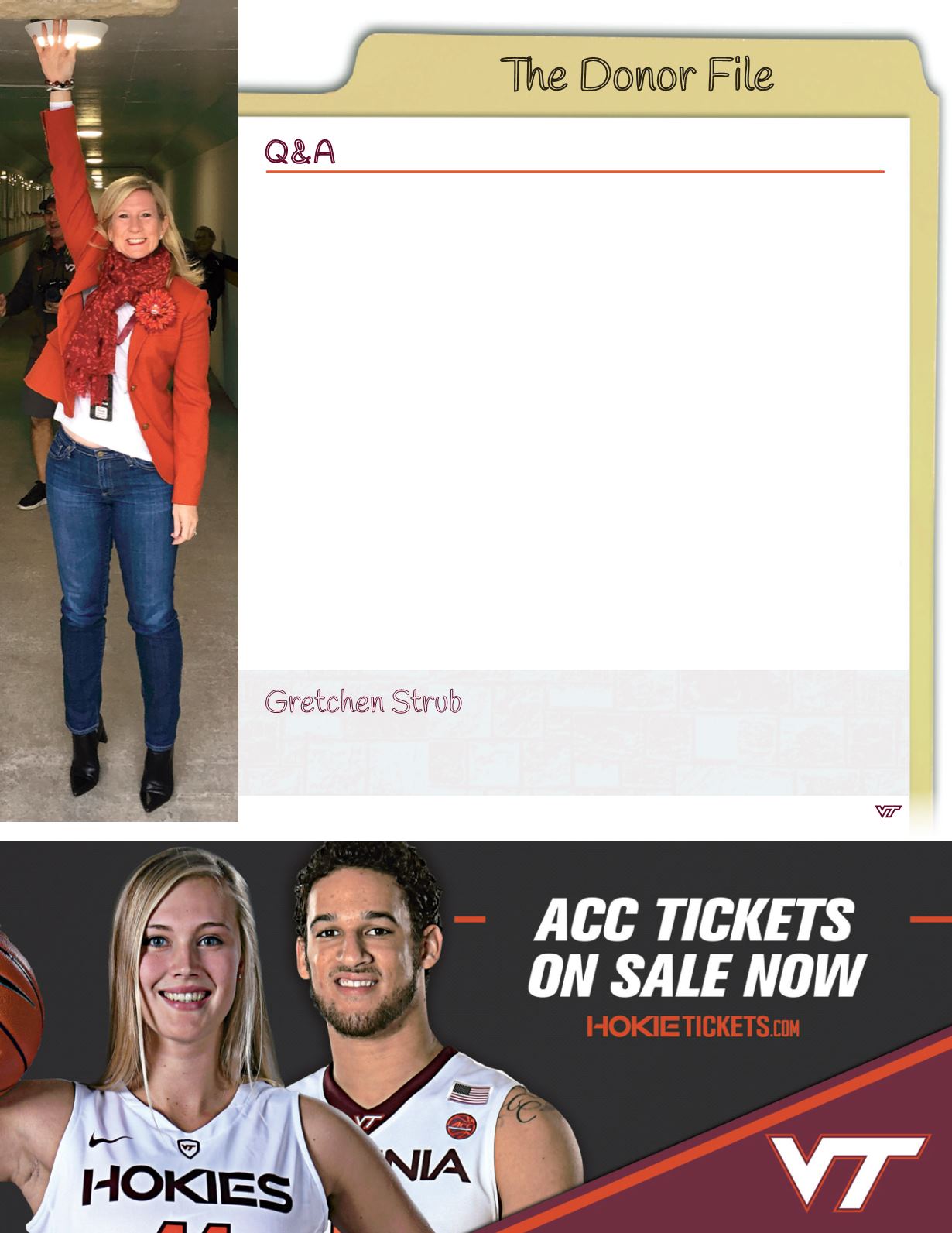 Supporting Tech Athletics Since 1949
The Donor File
Q:
A Hokie is…
A:
a special person who lives "
Ut Prosim.
"
Q:
The Hokie Nation is real because…
A:
no matter where my travels take me, there is
always someone I can say, "Go Hokies" to!
Q:
What is your best memory of Virginia Tech
Athletics?
A:
Going to Ohio State and winning. I felt like I
could not breathe until the clock ran out.
Q:
How did you get involved with the Hokie
Club?
A:
I was interested in what the Hokie Club was and
wanted to be more involved with the Virginia Tech
Athletic Fund (Hokie Club) and the student-athletes.
I attended a meeting and was hooked, knowing we
can make a difference.
Q:
What caused you to become a fan of
Virginia Tech?
A:
I have always been a sports fan, and being a
student at Virginia Tech, I found a place where I
could support all of the sports. I fondly remember
just showing my student ID to get into the stadium
on gameday. My how times have changed.
Q:
Do you have any gameday superstitions? If
so, what are they?
A:
I always need to have something orange on, even
if it is "White Out" or "Maroon Effect."
Q
&
A
Q:
Describe your perfect day at Virginia Tech.
A:
Bright sunshine, crisp air, the leaves changing
and a Hokie win!
Q:
Do you have any tailgating traditions? If
so, tell us your best.
A:
Not sure these are suitable for print.
Q:
What motivates you to give back to help
Virginia Tech Athletics?
A:
Listening to the impact that the Hokie Club
support has on student-athletes and how it has
changed their lives. I love watching football on
Saturdays, but knowing that my support can help
make a difference in someone's life feels amazing.
Q:
I'm a Hokie Club member because…
A:
I like to be involved in something I believe in.
Virginia Tech is a place that shaped me and has had
a lasting impact on who I am today.
Q:
My favorite Virginia Tech sports are…
A:
football, basketball, cross country, track and field,
and volleyball.
Q:
My all-time favorite Virginia Tech
football player is…
A:
There are so many, but Danny Coale is one of my
favorites. That was a catch against Michigan!
Q:
My all-time favorite Virginia Tech
student-athlete from another sport is…
A:
Bimbo Coles. He is a great athlete and a great man.
Gretchen Strub
HOKIE CLUB LEVEL:
Platinum
CURRENTLY RESIDES:
Fairfax, Virginia
GRADUATION YEAR:
1988
FAMILY:
Chris (husband–he married into this);
Hannah (daughter) and Sydney (daughter)