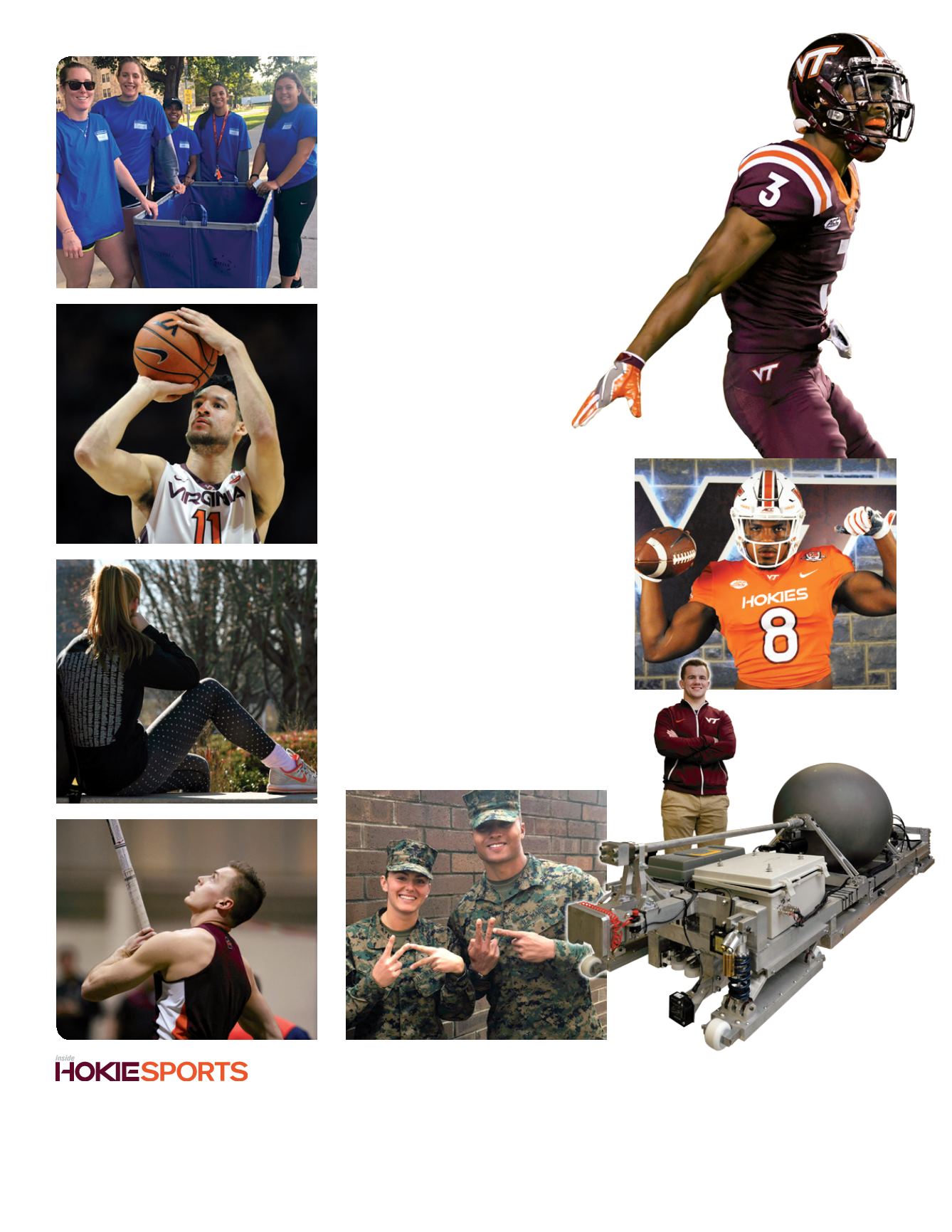 inside.hokiesports.com
Jimmy Robertson Dave Knachel
Editor
Photographer
John Sours
Contributors
Designer
Carly Northup—Hokie Club
Laura Bauer— IMG
*To advertise with Virginia Tech athletics or Inside Hokie Sports,
contact Brandon Forbis at IMG Sports 540-961-7604
January 2018
Vol. 10, No. 3
Published by the Virginia Tech Athletics Department
• Inside Hokie Sports (ISSN 8750-9148, periodical postage
paid at Blacksburg, VA 24060 and additional mailing offices) covers Virginia Tech athletics and is published six times annually.
The publisher is the Virginia Tech Athletics Department, 21 Beamer Way, Blacksburg, VA 24061.
SUBSCRIPTION PRICES:
$37.95 for one year (six issues) and $69.95 for two years. Mail all subscription inquiries, renewals, address changes, written
inquiries and complaints to Inside Hokie Sports, Jamerson Athletic Center, Virginia Tech, 21 Beamer Way, Blacksburg, VA
24061 or call (540) 231-6726. Inside Hokie Sports assumes no responsibility for companies and persons who advertise
in this publication. Reproduction of contents in whole or in part without written permission is prohibited. Publisher does not
guarantee accuracy of information contained in any advertisement.
ATTN POSTMASTER:
Send address changes to Inside
Hokie Sports, P.O. Box 11101, Blacksburg, VA, 24061-1101. Printed by Worth Higgins & Associates of Richmond, Virginia
contents
16
38
12
34
38
2
Hokie Club News
7
News and Notes
Hicks becomes all-time steals leader
at Tech
9
From the Editor's Desk
Bowl loss does nothing to dampen
outlook for future
10
Behind the Mic– Jon Laaser
Remaining in pursuit of a balanced life
12
Student-Athlete Development
Tech student-athletes making most
of outreach opportunities
14
Camping World Bowl Recap
Despite 500 yards of offense, Hokies
fall to Oklahoma State to end season
16
Football Spotlight –Greg Stroman
Stroman provides big returns in decorated
career at Tech
20
IHS Extra–National Signing Day
Fuente, staff bring in recruiting haul
considered among top 20 nationally
24
Men's Basketball Spotlight–Devin Wilson
Perimeter player to depart Blacksburg with
two degrees and having played two sports
28
IHS Extra–Student-Athletes
and Mental Health
Tech athletics ahead of game when
it comes to mental health care
32
Track and Field Preview
Numerous pieces return for two teams
that claimed ACC titles last spring
38
Wrestling Spotlight –Brooks Wilding
While pursuing aerospace engineering
degree, Wilding involved in intriguing
Hyperloop project
42
IHS Extra–Former Athletes Pursuing
Career in Marines
Two former Virginia Tech student-athletes
recently graduated from Marine Corps
Officer Candidates School
20
24
32
2
42