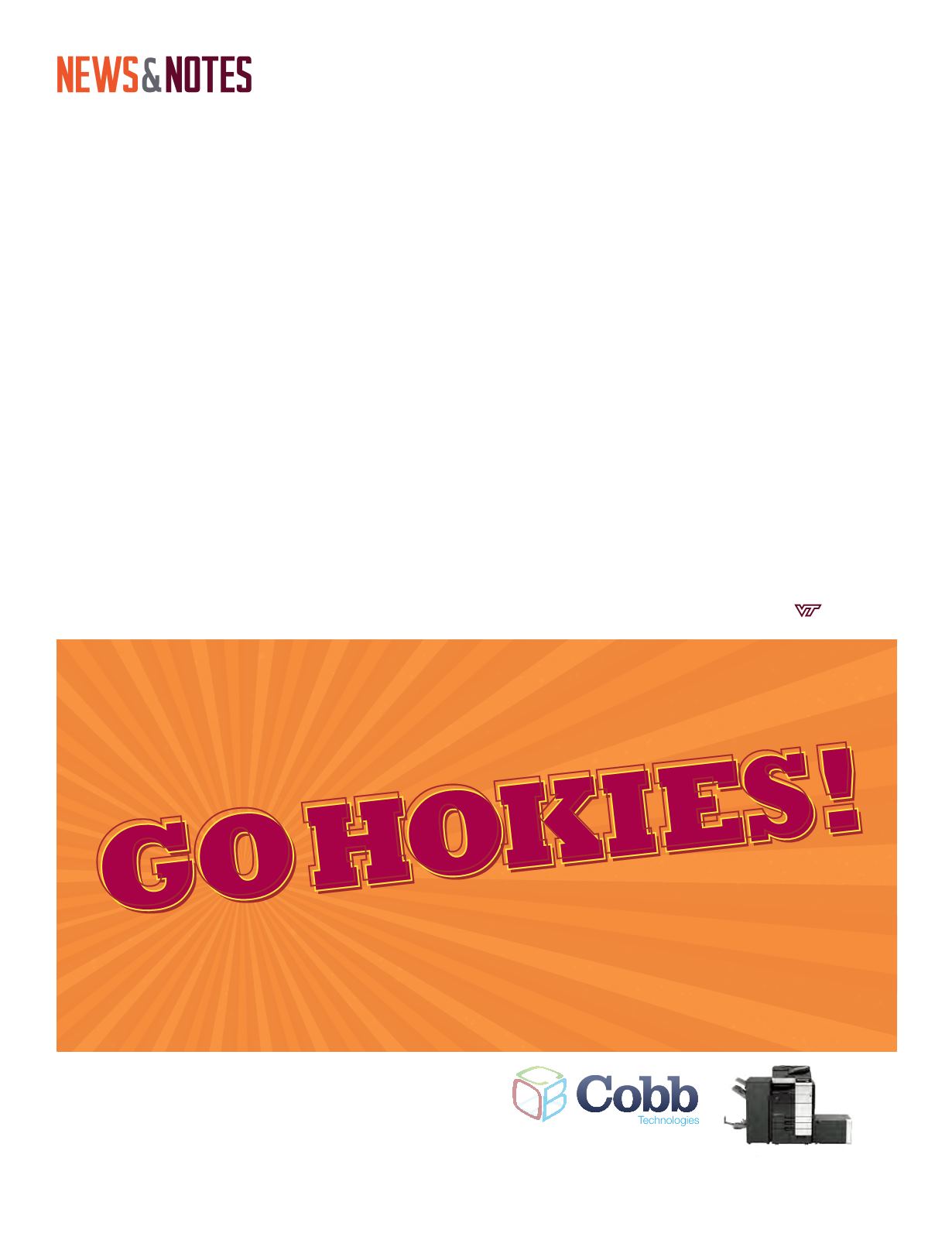 inside.hokiesports.com
7
Beamer headed to College Football Hall of Fame
Frank Beamer received arguably the top accolade of his career when
the National Football Foundation and College Hall of Fame selected the
former longtime Virginia Tech head football coach for induction into
the College Football Hall of Fame during his initial year on the ballot.
Beamer will be one of 13 inducted at the 61st NFF Annual Awards
Dinner to be held Dec. 4, 2018 at the New York Hilton Midtown. The
inductees will be permanently enshrined at the College Football Hall of
Fame in Atlanta later that December.
Beamer won 280 games during a coaching career that lasted 35
seasons, including 238 games during his 29 seasons at Tech. He led
the Hokies to 23 consecutive bowl games, 11 bowl wins, and seven
conference championships. His teams won 10 or more games in eight
consecutive seasons (2004-11) and seven or more in 23 straight.
Beamer, a 1969 graduate of the school and a former player, will
become just the fifth former Tech student-athlete to be inducted,
joining Hunter Carpenter (inducted in 1957), Carroll Dale (1987),
Frank Loria (1999) and Bruce Smith (2006).
Hicks steals school record
Virginia Tech point guard Chanette Hicks etched her name in the
women's basketball record books when she became the program's all-
time leader in career steals during the Hokies' win over Chattanooga
before Christmas.
Hicks' steal in the third quarter gave her 253 in her career, enabling
her to surpass Taiqua Brittingham's previous school record of 252 set
from 1981-85. Heading into a game against Pittsburgh, she has 269
career steals.
"It was exciting," Hicks said of the accomplishment after the game.
"I've been seeing it a lot on social media lately when I've been getting
close to it, but I didn't know I was that close until the last game [against
WE ARE PROUDTOBEONEOF YOU!
www.cobbtechnologies.com
experienced. proficient. smart.
Fromprint and document management to worry-free managed
services, CobbTechnologies provides an experienced approach
to the proficient services and smart solutions businesses expect.
by
Jimmy
Robertson
Maryland Eastern Shore]. When Coach said something, really, I was in
awe because I actually did it, and I'm a junior."
Hicks, a native of Norfolk, Virginia, came into the season with two
records already. As a freshman, she set the single-season record for
steals with 91, and of course, a freshman record as well. Last year as a
sophomore, she eclipsed that with 123 steals.
In both seasons, she surpassed Brittingham's best season, which came
in 1983-84 when she recorded 78.
"You know, it's unbelievable," Tech head coach Kenny Brooks said.
"When the sports information department alerted me that she was so
close, I'm like, 'What? Are you serious?' It's a major accomplishment
for someone in general, but to do it this early in their career is just
tremendous."
Hicks is averaging 3.3 steals per game in her career. If she continues
along at that pace, she will finish with more than 400 career steals.
Hicks reached a couple of other milestone as well over the winter
break. In the Hokies' loss to NC State, she scored the 1,000th point
of her career, becoming just the 25th player at Tech to do so. Also, she
moved into second place on the program's all-time list for career assists.
Heading into a game against Pittsburgh, she has 415 career assists and
needs 221 over the remainder of this season and next season to break
Lisa Witherspoon's (1995-99) record of 635.
Sy returns to men's basketball program
Khadim Sy, who left the Tech men's basketball program in September
for undisclosed reasons, decided to return to Blacksburg and met with
head coach Buzz Williams, who announced on Dec. 27 that Sy was
returning to the program.
Sy, a sophomore from Dakar, Senegal, played in 32 games as a
freshman, starting 28 of those. He averaged 11.4 minutes per game and
finished with averages of 4.0 points and 2.7 rebounds per game.
Williams and Sy agreed that Sy would take a redshirt season for the
remainder of the 2017-18 campaign and enter next fall as a redshirt
sophomore, with three years of eligibility remaining.