Starting in Style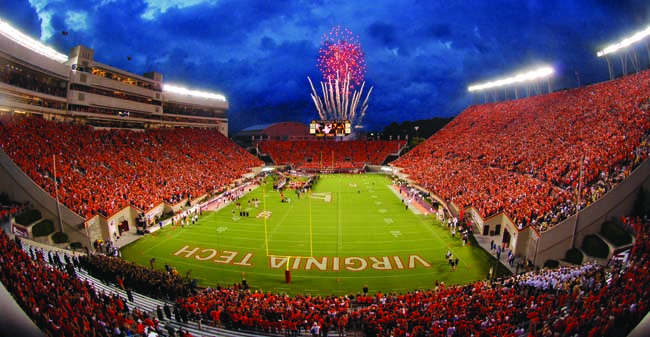 Virginia Tech has started the 2012-13 athletics season, and pregame fireworks at Lane Stadium signified the beginning of the Hokies' football campaign.
The Student-Athlete Experience
"Your support has provided an invaluable experience for me at Virginia Tech. Thank you!"
Michael Hammond | Student-Athlete Advisory Committee President | r-Senior, Track
"I feel so blessed to be a part of the Hokie Nation. I'm so grateful for all the support I have received!"
Emily Lauten | Student-Athlete Advisory Committee Co-Vice President | Senior, Women's Tennis
"Tech is such a magical place, and I thank you for contributing to the captivating atmosphere!"
Brook Martin | Student-Athlete Advisory Committee Co-Vice President | Junior, Lacrosse
The Donor File: Jimmie Anderson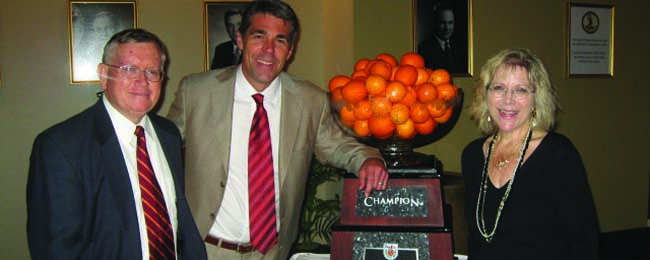 Hokie Club Level: Platinum Hokie
Hokie Club member since: 1986
Currently Resides: Manakin Sabot, Va.
What year did you graduate? 1969
Family: wife - Pat Wiseman Anderson (VT B.S. 1970; M.S. 1975)
Q: Being a member of the Hokie Club and supporting Virginia Tech athletics is important to me and my family because …
A: Virginia Tech has been a big part of my family's life. My uncle, Clair Sykes, is a member of the class of 1948, my late uncle, C. G. Mays, is a member of the Class of '57 and his wife, my aunt, Carol Sykes Mays, is a member of the Class of 1958. A niece and several cousins also have degrees from Tech, and my Uncle Clair's grandson, Spencer, is currently a sophomore. My wife, Pat, has served on the Cooperative Extension board and the Human Resources Alumni Board, and we are both active members of the Alumni Association as well as the Hokie Club.
Q: What made you want to be a member of the Richmond Hokie Club, as well as being willing to serve as a Hokie Club Rep and chairing the club's annual football kickoff event?
A: Being a member of the Richmond Hokie Club and becoming a rep has been a terrific way for me to give back to Virginia Tech in a way I could never do on my own. It has provided me the opportunity to work with other reps and use my planning skills to help organize the kickoff dinner, which annually draws a crowd of approximately 1,000 Hokies. Events like the dinner enable the Richmond Hokie Club to donate hundreds of thousands of dollars to the Virginia Tech Athletic Fund.
Q: When you drive into Blacksburg for a game, are there any "must-do" things for you and your family?
A: We have a condo in Blacksburg, so we usually come down two or three days before a game. A must for every trip to the campus is a visit to the memorial in front of Burruss Hall and the Pylon memorial. We want to always remember those 32 terrific people who are memorialized on the Drill Field, as well as honor the brave Hokies who have given their life for our country. Days before the game are also used to catch up with friends who are in town or work at the university. Early mornings are spent making a required trek to Carol Lee's Donuts on North Main Street.
Q: Virginia Tech has had a lot of successful teams and wins over the years. Do you have a favorite team/season or game that stands out the most?
A: We have been very fortunate to see many great Virginia Tech teams play in Lane Stadium. My college years (1965-69) saw some terrific teams and two trips to the Liberty Bowl. Back in those days, Tech was known for a stifling defense, just like Coach [Bud] Foster's present-day defenses. The 1999 season has to be special because it put the Hokies on the national stage, where they remain today. However, the one game that stands out in my memory is the 1995 Sugar Bowl when the Hokies beat Texas. I remember sitting in the Superdome that night with a euphoric feeling that I had experienced only one time before and that was when I was sitting in Madison Square Garden cheering on the Hokies as they beat Notre Dame for the 1973 NIT championship.
Q: Why is your connection to Virginia Tech so important to you?
A: Virginia Tech has defined my life in so many ways. Without Tech, I would have never met my wonderful wife, Pat. Without Tech, I would not have made so many of the lifelong friends who are so important to me. Without Tech, I would have not received the world-class education that has been so important to my career. Ask any Hokie and they will tell you of an indescribable feeling that wells up inside of them when they step back on campus. It is a genuine feeling of happiness, camaraderie and belonging.
New and Upgrading Members
The following represents Annual Fund donors (gifts from $100 to $10,000 annually) who have either joined as new Hokie Club members or have upgraded their Hokie Club memberships from January through mid-August of 2012. We want to celebrate these commitments of helping improve Virginia Tech athletics by recognizing them and by saying "Thank You!"
"We are pleased to welcome these new Hokie Club members and commend our current members who have upgraded their Hokie Club memberships! Our successes are tied directly to our annual membership, and we thank you for your support!"
Lu Merritt | Senior Director of Development for Intercollegiate athletics