Amanda Gerhard played every sport in high school, and she has used her versatility to play just about every position for the Tech women's soccer team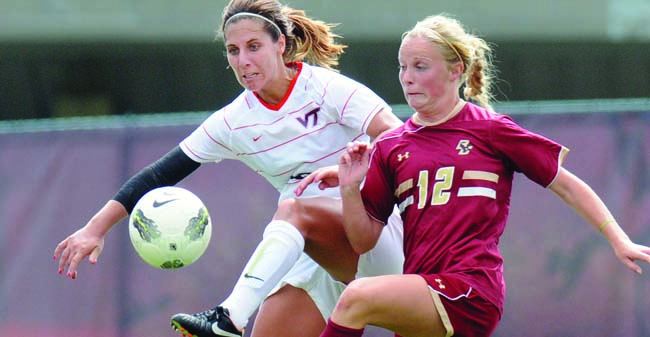 She has succeeded in everything she's attempted and everywhere she's gone – the epitome of a typical natural athlete. Since she was 5 years old and took up soccer for the first time – the path she ultimately chose for the next level – Virginia Tech redshirt senior Amanda Gerhard has been earning awards, breaking records and helping her teams to the top.
Gerhard will go down as one of the best female student-athletes ever to come out of a tiny school located about an hour's drive north of Philadelphia, Pa., a borough called Catasauqua. She earned 14 varsity letters while playing for the Rough Riders and graduated near the top of her class before bringing her talents to Blacksburg.
"I started soccer when I was about 5 years old," Gerhard said. "I also played softball when I was younger, and then softball and soccer kind of collided because their seasons were at the same time, so I had to choose and chose soccer, obviously.
"I also played basketball, starting when I was about 7, and I really liked playing it a lot. I just liked running up and down the court. I ran track in high school just for three years, and field hockey, I picked up my freshman year of high school."
Not familiar with the sport of field hockey, but knowing that her mother, Holly, played it in high school, Gerhard went for it. Not surprisingly, she earned three varsity letters, three league honorable mention honors, and she helped the team to the league title as a junior.
"I didn't really want to have anything to do with the sport," she said. "But when I decided to start playing field hockey, I fell in love with it. I actually miss it so much to this day, but I'm very happy with my decision to play soccer in college."
Many small-school athletes play multiple sports and go from fall to winter to spring without stopping. Gerhard was no exception, as she earned four varsity letters in basketball and all-league honors as a senior on the court.
However, her busiest time was in the spring when she played both soccer and ran track. But being a two-sport athlete during the spring didn't slow her down one bit.
"The school decided that I could do soccer as my primary [sport], so I would do soccer practices and soccer games, and that was my primary sport," she said. "Then, whenever we had track meets, I would leave practice early to go to the meet. I ran the 100, 200 and 4x100 and sometimes the 400. I actually qualified for states in both the 100 and 200 my junior year, and that was an awesome experience."
Gerhard pulled in an additional three letters while running on the track team, but the soccer pitch is where she ultimately made her mark, not only for the school and in the league, but also in the district and state. She was a prolific scorer and led her teams to a pair of league titles, a district title and a state championship game appearance during her junior year when she scored a District XI-record 51 goals, which was also the 12th-most ever in the state of Pennsylvania.
Gerhard capped her career with a 39-goal performance in her senior year that lifted her career total to 152 goals, which was a girls' district record, and at the time, the sixth-most ever scored in the state.
"To be honest, I didn't even really know what I was at going into my senior year," she said. "It was a milestone to get 50 career goals, and then it was a milestone to get 100 career goals. My junior year, I had scored over 50 goals in one season, so I thought 'Oh, that's cool.'
"Then, going into my senior season, everybody was talking about breaking the [district] record. And people were saying, 'Oh, she's not going to do it,' and I really didn't even care. I just wanted to win. So honestly, I was not that aware of the record beforehand until I had gone into the season.
"And you know, after breaking it, it was awesome. I was really excited and proud of myself for doing that, but when it comes down to it, it really doesn't mean that much because I play outside right back now and I'm not a big scorer in college. So it was a great high school feat."
Gerhard chose Tech, another milestone accomplishment for the young lady from Catasauqua. She has been the only female athlete from her high school to play four years of a varsity sport at an ACC school going back to her birth in 1990. Only three male athletes from her high school have done this in that same time span, one in soccer.
Interestingly, the sport of girls' soccer was relatively new to her high school – with the girls program not starting until 1997, when Gerhard was already 7.
"I wanted to play somewhere where I would be surrounded by the best, so I decided to play soccer in college," she said. "I looked at schools at home, like Villanova and Penn State, and I started getting some interest from Virginia Tech and thought 'That's awesome.'
"I just wanted to be somewhere where there was big football and big basketball, and experience something totally different. All the girls on the team are like, 'Yeah, I graduated in a class of 1,600' and I'm like, 114, just so small. I just wanted to do something totally different."
The road hasn't been an easy one for Gerhard since arriving in Blacksburg, as she broke her right foot her freshman year just 15 minutes into a preseason scrimmage and had to sit out her first season. Also, Gerhard has not been the goal-scoring machine in the ACC as she was in high school, which would bother some players. Not her, though, as she has flourished in other roles.
"I would play anywhere on the field," she said. "I've played on the back line. I've played in the middle. I've man-marked players. I've played up top and out wide. So yeah, I've played a bunch of different positions. I don't care. I just want to be on the field.
"It was definitely tough at first. I think it's a hard transition coming from high school, where everyone's a superstar, to coming here. And I mean, it's very difficult to be a superstar in the ACC. You're going against some of the best players in the country and the best teams.
"I had different expectations for myself coming in – I thought I was going to score some goals – and then I kind of found myself in more of a defensive role. Even when I was in the midfield, I found myself being a tackler and chasing players down and not so much going to the goal. It's definitely different to say the least. I actually like playing defense better, if I'm honest. I really like being on the back line and stopping girls from scoring."
Her natural athletic talent certainly has been on display by switching positions at the highest of levels and helping her team succeed – four straight NCAA appearances and, just recently, a team ranking of 11th in that nation, the highest ever ranking for the Hokies by the NSCAA.
Her athletic genes come naturally. Her father, Chris, was a state wrestling champion and played football at a Division II school, while her uncle, Matt, may have pulled off the greatest accomplishment the school has ever seen, becoming (at the time) just the fourth state wrestler since 1938 to win four individual state titles.
Those two older Gerhards have already been inducted into the school's Hall of Fame. One has to think Amanda's name will certainly be called soon.