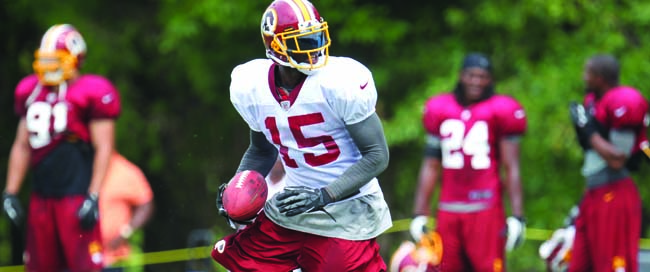 Josh Morgan's 2011 season in San Francisco had more twists and turns than Lombard Street. It was more torturous than a night at Alcatraz.
Morgan, the former Tech receiver who departed Blacksburg after the 2007 season, suffered a broken right leg during the San Francisco 49ers' 48-3 win over Tampa Bay last October. The injury came on a pass play in which Morgan was tackled awkwardly, and it led to widespread speculation as to why head coach Jim Harbaugh was throwing the ball with five minutes left in a game in which his team led by 38 points at the time.
The injury, which came during the team's fifth game, required eight screws and a plate, and sidelined Morgan for the remainder of the season. He missed the rest of the 49ers' 13-3 regular season and their run to the NFC championship game.
"It was real hard," Morgan said. "That's really the first time I've been seriously injured. When I got hurt at Tech, I was still able to play with the injury. But it was devastating to watch the team [the 49ers] have some success and not be a part of it. It was hard physically and mentally, but I think it made me stronger as a person."
Morgan's pending free agency also complicated things last season. In the final year of a four-year contract with the 49ers, he wanted to make a statement with his play on the field and set himself up for a huge payday in free agency. After all, he caught 44 passes for 698 yards in 2010 and 52 passes in 527 yards in 2009 despite the 49ers' plodding offense, and he appeared to be coming into his own as a receiver. Instead, he went into free agency having caught just 15 passes for 220 yards and a touchdown because of the injury.
Fortunately, teams were still interested. Morgan estimated that his agent fielded calls from 15 teams inquiring about him. The Washington Redskins jumped in with a two-year deal worth $12 million – $7.5 million guaranteed. A native of Washington, D.C., Morgan jumped at the opportunity to return home.
"I was set to come back home," Morgan said. "San Francisco was about the farthest away I could be coming out of Tech. The first day of free agency, the Redskins came out strong, and this was the move that made the most sense to me.
"All the coaches tell you that it's your decision, and you have to do what's best for your family, so why not go home and play in front of family and friends who have watched you grow up to be the man you are today?"
Morgan made a name for himself at H.D. Woodson High in Washington before coming to Tech. He grew up four blocks from the old RFK Stadium, the Redskins' old home. For the first time, he'll be playing in front of family and friends. He never played in Washington while with the 49ers, and he missed out on playing against Southern Cal at FedExField in 2004 while at Tech because of an injury.
"Everyone's ecstatic," Morgan said. "It's been non-stop phone calls and texts. On the flight out from San Francisco, I cut my phone off, and when we landed, I probably had 400 texts.
"So it's exciting. It's like a dream come true. I never thought I'd have this opportunity."
Morgan said he was close to 100 percent and expects to be that way once the season starts. He was limited some during training camp while getting the leg stronger, but he said he spent a lot of time learning head coach Mike Shanahan's offense and expects to be ready to go.
"It's really the same type of West Coast offense that we ran in San Francisco," Morgan said. "I've had to learn some of the different terminology, but the concepts are the same."
In addition to playing in front of his friends and family, he can't wait to play with rookie quarterback Robert Griffin III. For the many Tech fans who double as Washington Redskins fans, Morgan gave a scouting report of what to expect from the rookie quarterback and said to expect big things this season.
"He's a taller, faster version of Marcus Vick," Morgan said. "He's got the arm strength of Michael Vick, and he's got the intelligence of Logan Thomas and Sean Glennon.
"I'm really excited about the season. I can't wait. I haven't been this excited since my freshman year at Tech. I can't wait to get out there and put on a show."