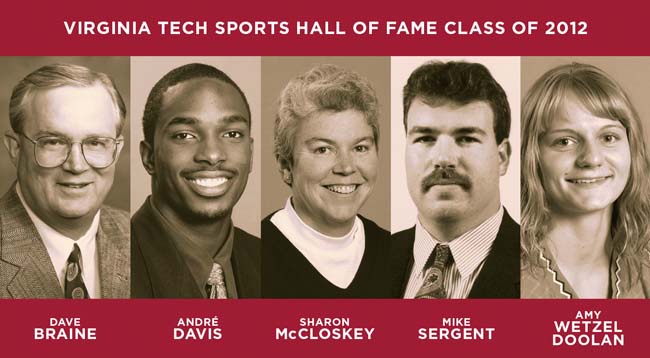 On Sept. 7, the Virginia Tech athletics department inducted five new members into the Virginia Tech Sports Hall of Fame at a banquet on the Tech campus. Here's a closer look at each new inductee:
SHARON MCCLOSKEY (1984-current)
Sharon McCloskey built her career in athletics administration from the ground up – literally.
As an undergraduate at Virginia Tech in the late 1970s, she worked on the athletics department's grounds crew. In fact, she actually helped re-sod the turf at Lane Stadium during Bill Dooley's first year, and she even helped with the construction of the expansion of the east side of the stadium.
"I loved that part of the job," McCloskey said. "It was hard work, but I enjoyed it."
That work ethic has served her well in a career spanning nearly three decades. It started in 1984 when, while working at a local bank, she received a call from Don Perry, who used to work in Tech's athletics administration. He told her about two job openings within the athletics department – one in football and one in track and field. She interviewed for the opening as the football office receptionist with Dooley and Bill "Moose" Matthews, an associate AD for Dooley, who himself doubled as the football coach and AD.
Dooley was skeptical about hiring McCloskey, but Matthews convinced him otherwise. That began what has turned into a Hall of Fame career.
She became the recruiting secretary six months after being hired. When Dave Braine took over as the AD in 1988, he named McCloskey senior woman administrator – a position she still holds.
"At that time, it was PWA – primary woman administrator – and they said, 'They're going to make you PWA,'" she said. "I was like, 'That's great. What's that?' Then the NCAA changed the title because it was meant to be for a female, and many schools were putting men in that position. So from there, I went from assistant AD to associate AD to senior associate AD, just a progression over time."
In addition to naming her senior woman administrator, Braine also named McCloskey recruiting coordinator. Thus, she became the first woman in college athletics to hold the position of recruiting coordinator, and she worked with a young head football coach named Frank Beamer.
McCloskey became a pioneer for women in college athletics, but not just because she was named recruiting coordinator. She actually put forth new ideas to improve official visits – things like keeping recruits on campus and making academics more of a focal point. Those ideas helped Beamer turn around Tech's program.
"I don't know about all that," McCloskey said when asked if she thought she was a pioneer. "I think I had some innovative ideas because I was recruiting secretary and I had seen what was being done."
McCloskey's career also included a brief stint as Tech's interim AD. When Braine left to take the Georgia Tech AD job, he left a vacancy that McCloskey filled until current AD Jim Weaver was hired. Weaver kept her on his staff, and she currently ranks as the No. 2 person in charge of Tech athletics.
These days, as the SWA and senior associate AD, she serves as the main liaison between the athletics department and the university admissions office. She oversees housing for athletics, and she plays a key role in making sure the department meets Title IX requirements. She also oversees the football, men's and women's basketball, women's soccer, and lacrosse programs in addition to strength and conditioning, sports medicine and the equipment room.
"I'm happy with where I'm at," she said. "I'm comfortable in my role. I feel like I do a good job with Title IX, and our department is in good shape there. We were not at one time, so Jim wanted me to go to some seminars, and I got a good education there. I feel I'm a good administrator to my coaches, and I think it helps that I've never coached. I leave the coaching to them.
"I never thought I'd work anywhere 29 years, but I like it here. I love this program and this university. Being a graduate, I love it as much as the alumni. I'm a part of Hokie Nation. I'm just fortunate enough to work here."
DAVE BRAINE (1988-97)
In 1988, the Virginia Tech athletics department was in shambles. The football program was on probation, the budget situation looked bleak and morale among the employees resided in the dumpster.
Dave Braine, named the AD that year and tasked with turning things around, vividly remembers his first day on the job on Jan. 2 of that year. No one in the department stopped by to say hello. No one welcomed him. No one gave him a set of keys. And a visit to the equipment room for some workout clothes resulted in longtime equipment manager Lester Karlin giving him one long sock and one short sock – and one of those had a hole in it.
"I didn't know whether to laugh because he certainly wasn't trying to impress the new AD or cry because that's how bad things were," Braine said. "That was my first day on the job – no one there to greet you and a pair of socks, one long and one short."
Braine and his staff, though, put the pieces to the department back together over a 10-year span, and under his leadership, rebuilt the foundation that has propelled the Hokies to their current successes.
He placed an emphasis on people, treating student-athletes right and making them feel special, while also developing personal relationships with departmental employees. When he wanted to talk to an employee, he often walked to that person's office instead of using the phone. On his trips to visit with Lu Merritt, who oversees the Virginia Tech Athletic Fund and whose office used to be in Cassell Coliseum, Braine often walked through the Hall of Fame and gazed at the plaques on his way there.
"I probably walked through the Hall of Fame hallway 300 times a year," Braine said. "Looking at all those plaques, you have to wonder if, one day, you might be up there. So it was an exciting day when I got that letter. This is a dream come true."
Braine accomplished a lot in his 10 years at Tech, but is probably best known for two. First, in 1992, he was the pivotal person in getting the Tech football program into the BIG EAST Football Conference. Tech's membership into that conference turned out to be a steppingstone to national prominence and full membership into the BIG EAST. Even today, Beamer credits that move with propelling the program to unprecedented heights.
"It was the salvation of the program then," Braine said.
Braine's other major accomplishment came after the 1992 football season when he decided to keep Beamer aboard as the head coach despite a 2-8-1 season. He did not hire Beamer – Dutch Baughman did – but Braine, a former football player and former assistant coach, respected Beamer and his knowledge of the game.
On Sunday mornings in the fall, Braine often bought donuts from Carol Lee and gave them to the football coaches before they met to watch film. He got to know them, and on occasion, he watched film with them. He realized they knew a lot about coaching and decided to give them another opportunity after the 1992 season.
"That turned out to be the best decision we ever made," Braine said. "It wasn't a difficult decision. I realized that whole year that he [Beamer] was very good and very knowledgeable. He never got angry with me for coming. Today, there is no way an AD would do that, but back then, you could."
Braine's other accomplishments certainly deserve mentioning. Tech's graduation rate improved to more than 70 percent during his time, and he came up with the comprehensive action plan to combat off-the-field troubles of student-athletes – a policy still being used today. He also got the school into the Atlantic 10 for sports other than football, and he added three women's sports during his time (soccer, lacrosse and softball) to help the department meet Title IX requirements.
"When I left here, I was proud of what we had done, and I really thought whoever succeeded me would have a hard job," Braine said. "What Jim Weaver [Tech's current AD] has done is unbelievable. Me leaving and him coming was probably good for everyone.
"It was hard for 10 years here. It took a lot of work to get it where it was, and sometimes you get beat down and need a new challenge. It was a new challenge for me to go to Georgia Tech and a new challenge for Jim to come here, and I think it worked out well for both parties, but it especially worked out well for Virginia Tech."
Braine left in 1997 to become the AD at Georgia Tech, where he worked for nine years before retiring. He and his wife, Carole, moved back to Blacksburg after his retirement.
"The last day we were here, we bought a lot 300 yards down the road from where we lived because we were coming back here," he said. "We wanted to come back here – nine of our 11 grandkids live in Virginia – and we've never regretted one minute of it. We like the small town. We're Blacksburg people. It's what we love."
ANDRE DAVIS (1998-2001)
For those who ever doubted as to the type of fine young man Andre Davis is, consider this. When Keith Ricks, a sprinter who just concluded his Tech career this past June, broke Davis' school record in the 100- and 200-meter dash earlier this spring, he received a message from Davis, who took the time to look up Ricks on Twitter.
"I was happy for him," Davis said. "I know records are made to be broken, and I'm grateful just to have those records as long as I did."
That's Andre Davis. He's always been a Hall of Famer off the field. Now, he's a Hall of Famer for what he did on it.
Davis arrived with little fanfare out of Niskayuna, N.Y., after his cousin, Rich Bowen, delivered a highlight tape to Tech's coaching staff, and then receivers coach Terry Strock shrewdly followed up on it. Davis went on to become a record-setting receiver. In 1999 – as Tech made its run to the national championship game – he set a school record with 962 receiving yards and tied a school record with nine touchdown receptions. He also averaged a school-record 27.5 yards per catch. All three of those records still stand, and for his career, he ranks fourth in receiving yardage (1,986 yards) and tied for eighth in receptions (103).
"One of the great things about my life is how God has presented me with opportunities and helped me succeed," Davis said. "I really want to make sure to give God all the glory.
"I look back now and see how God gave me the opportunities – how I had a cousin who happened to play at Tech and took a tape to the coaches and how I got to play with all the great players in that era. You can't say that was a coincidence. It's amazing how God just put everything in order, and I try to share that with other people now."
Davis readily admits he played with arguably the best quarterback in college football history in Michael Vick. The two of them nearly propelled Tech to the national championship, as Vick accounted for 322 yards of total offense in that game against Florida State, and Davis caught seven passes for 108 yards and a touchdown. That was his 10th touchdown reception of the season, which would be a Tech record today, but bowl stats did not count toward records back then.
Davis was nearly as good in track. He won the 100- and 200-meter dashes on three occasions at the Atlantic 10's outdoor meet, and he also anchored the 4x100 relay team that won all three years. During the indoor season, he won the 55-meter dash and the 200 on two occasions at the A-10's indoor meet.
But Davis took more pride in what he accomplished in the classroom. He earned a spot on the BIG EAST'S All-Academic football team on four occasions and earned first-team Academic All-America honors in 2000. As a senior, he was the recipient of the NCAA Top VIII Award for athletics, academic achievement, character and leadership and was chosen to speak on behalf of the group at its awards banquet in New York.
Davis also earned an $18,000 post-graduate scholarship from the National Football Foundation and won the Socrates Award presented annually to the college athlete who best exemplifies excellence in athletics and academics.
"The awards I got in academics are just as important, if not more important, than the ones I got in athletics," Davis said. "It is possible to do well in school and in sports. I'd rather brag about that stuff [his academic accomplishments] than the stuff I did on the football field."
Davis spent nine seasons in the NFL before retiring last year, and he decided to put his degree in residential property management to use. He, his wife and two children have settled in Myrtle Beach, S.C., where he stays as busy as ever.
Davis and a couple of partners run a real estate development company called Carolina Holdings Group, and he has a hand in a technology company as well. He shadows his financial advisor and remains involved with the Houston Texans as a community ambassador. He'll be heading back to Houston for five games this season as part of a group of ambassadors who represent the team at games and in the community. For good measure, he serves as the contractor for the house he's building in Myrtle Beach.
But he plans on making treks to Blacksburg for the spring game an annual tradition, looking forward to reminiscing about the old days.
"Me and Corey Moore and Larry Austin and Willie Pile go back and forth on Twitter," he said. "We'll remember plays, and then someone will post a random photo. It just brings back such great memories – some things I'll never forget."
DR. AMY WETZEL DOOLAN (1996-2001)
Dr. Amy Wetzel Doolan hasn't dribbled a basketball in competition in more than a decade, but rarely does she go out in the town of Blacksburg and not get recognized by admiring fans.
Such was the impact she and her teammates had on the community following the Hokies' 1998-99 dream season.
Wetzel's numbers alone make her worthy of her Hall of Fame induction, as the plucky guard ranks in the top six in just about every offensive category at Tech, and she helped guide the Hokies to three NCAA Tournament appearances in her four years. But the 1998-99 season is one Tech fans still remember, and the shooting guard from the small town of Ashland, Pa., played a huge role in that team's success.
A sophomore at the time, Wetzel was part of a group of players known as "The Working Class" – a group of gym rats who worked hard and played fundamentally sound basketball in head coach Bonnie Henrickson's system. The Hokies started that 1998-99 season by winning their first 18 games, and they went on to advance to the NCAA Tournament, where they played in front of two sellout crowds at Cassell Coliseum. Playing in front of a raucous crowd and behind Wetzel's 18 points, Tech destroyed Auburn in the second round to advance to its first Sweet 16 appearance in school history.
The run ended with a loss to No. 2 Tennessee, and the Hokies finished a program-best 28-3.
"In hindsight, I wish we hadn't been intimidated by Tennessee because I think we could have won," Wetzel said. "But that was a great year and a great ride. Without Bonnie and her staff, I don't think we would have been as successful and had so many in the Hall of Fame [Wetzel joins Tere Williams and Lisa Witherspoon off that team in the Hall]. They made us who we were, and I owe a great deal to her and her staff for making me into the player I was."
As a junior, Wetzel received the Atlantic 10's Defensive Player of the Year honor, starting all 31 games on a squad that finished 20-11 and advanced to the second round of the WNIT. Her senior season, Tech's first season in the BIG EAST, Wetzel's running 10-footer off the glass with 3.7 seconds remaining gave the Hokies a win over 17th-ranked Virginia during a senior campaign that produced 22 wins and a third trip to the NCAA Tournament.
The Hokies went 92-33 during Wetzel's career, a winning percentage of 74 percent.
"I think we were so good because she [Henrickson] was that good of a coach," Wetzel said. "You could never outwork Bonnie. You could never put more effort or time into something, and I think that's why we were good during that time. We didn't have the most athletic group. We were all blue-collar workers who worked hard, and she brought the most out of each and everyone of her players."
Wetzel finished her Tech career fifth in scoring (1,444 points), first in games played (129) and free throws made (489), second in steals (235) and third in assists (399). She currently ranks sixth in career scoring, while still holding the same spot in the other four categories.
"When you play, you lose sight of the impact you make," Wetzel said. "Looking back and reading my bio [for the Hall of Fame], I was like, 'Wow, did I really do that?' It's nice to reflect back, and it [getting into the Hall of Fame] is a very nice honor."
Wetzel's accomplishments off the court may be more impressive than those on it. She got her undergraduate and master's degrees from Tech, and then she was part of the first graduating class from the Edward Via College of Osteopathic Medicine in 2007. She and former football player Billy Hardee were the first two student-athletes to attend VCOM and graduate from the school. She later completed her residency in family medicine and pursued a fellowship in sports medicine.
Dr. Doolan is currently a board certified family physician and is practicing primary care/sports medicine at Academic Primary Care Associates in Blacksburg, where she lives with her husband, Keith, and two children. She also teaches at VCOM and serves as one of Tech's team physicians, currently as the head team physician for women's basketball. Keith Doolan is an athletic trainer with the Hokies' football team.
In spite of numerous opportunities for her and the acute need for doctors nationwide, she never really considered leaving Blacksburg.
"We love Blacksburg," she said. "It's a home away from home, and I've always felt that way. I think it's a great place to raise children, and still feel that way in spite of all that has happened over the past several years. Keith loves what he does and is very good at what he does. We've made a lot of friends, and we just didn't want to leave the area."
MIKE SERGENT (1988-92)
Mike Sergent had many memorable moments during his Tech career back in the late 1980s and early 1990s, but one transformed the Nokesville, Va., native from a very good thrower to an elite thrower.
During his senior season in 1992, he competed at the prestigious Penn Relays, but went in, according to his memory, as a "30 or 34 seed" in the hammer throw. He ended up finishing second and setting a personal record – a performance that turned out to be just the start of great things for him.
"I felt like I should have been seeded higher, and I ended up second, so that was exciting for me," Sergent said. "I went into that event thinking that I was going to prove something to some people. After that, I felt differently about myself."
It showed. Then Sergent went on to have two of the greatest performances by a track and field thrower at Tech during that time period – two performances that ultimately helped lift him into the Virginia Tech Sports Hall of Fame.
First, Sergent won both the hammer throw and the discus events at the Metro Conference outdoor meet that season, and then, he earned All-America honors in the hammer throw when he finished seventh at the NCAA Outdoor Track and Field Championships. He became the second thrower to earn All-America honors at Tech, joining Paul Sulik, who accomplished that feat in 1981.
Sergent set school records in the hammer, the discus and the weight throw during his career. In 1990, he set the weight throw mark with a toss of 63 feet, 1.75 inches – a record that lasted for a decade. His hammer throw mark of 210 feet, 1 inch, lasted for seven years, and his throw of 175 feet, 5 inches in the discus in 1992 lasted for eight years.
Sergent, and Sulik before him, were the first great throwers at Tech and laid the foundation for what has become an outstanding Tech tradition. Four Tech throwers – Spyridon Jullien, Marcel Lomnicky, Alexander Ziegler and Dorotea Habazin – have won national championships in the past seven years.
Those four figure to be in the mix for Hall of Fame honors in the future. But there can only be one "first" – and Sergent is the first Tech thrower to be inducted.
"I've joked with Greg Jack [Tech's throws coach] about that," Sergent said. "I'm honored to be the first thrower in the Hall of Fame, and it's very special to me. But I'm glad I got in now because I know what's coming down the pike."
These days, Sergent serves as the throws coach for the track and field program at the University of South Carolina – a position he's held since 1997 after serving for five years as the throws coach at Tech (two years as a graduate assistant and three years as a full-time assistant). He and the Gamecocks team come to Blacksburg for meets frequently during the indoor season, and he admits he keeps close tabs on his alma mater's program.
"It's all so different now, with Tech being in the ACC and having the resources to compete on a national level," Sergent said. "It makes me feel good to see where the program has moved to today. Even though I'm not there on a daily basis, I can appreciate where it's come from, and I feel like I'm a part of the foundation."
Then he added, with a laugh, "Paul and I may be the dust and crushed rocks of the foundation, but at least we were a part of it."
Joking aside, they were a very important process. Greatness, after all, has to start somewhere, Sergent certainly staked his claim as one of Tech's best.