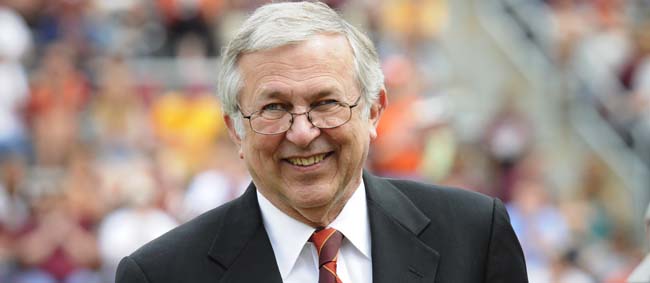 This past summer, the BCS Presidential Oversight Committee met in Washington, D.C., and approved massive and dramatic changes to the process of how college football will crown a national champion. As we know now, starting in 2014, there will be four-team playoff at the conclusion of each season. Virginia Tech president Charles Steger was the chair of the committee that also included USC president Max Nikias, Nebraska chancellor Harvey Pearlman, Texas president Bill Powers, Florida president Bernie Machen, and Notre Dame's Rev. John Jenkins, among others. Simply put, the biggest, most powerful men in college football were all in one room to make some major changes.
I had the chance to visit with Dr. Steger in his office a few weeks ago to discuss a variety of issues, including the future of the ACC, finances at Virginia Tech and the experience of chairing the committee that changed how college football will crown its champion.
ROTH: What was your professional and personal experience in chairing this committee?
STEGER: "Well, it was an interesting experience because there were many people at the outset who felt that getting this group together, while we may result in a conclusion, it was going to take multiple days. But we did a lot of preparatory work, a lot of phone calls, and the commissioners … I have to say the commissioners deserve tremendous credit in putting together a proposal that was viable for the presidents to look at. Now, you have a group of individuals all of whom reflect complex constituencies. Each one, each president, represents a conference, their alumni, the alumni of the conference, traditions like the Rose Bowl and things like that. So there's a complicated agenda, and getting them all on the same page took us several hours."
ROTH: How do you get a group like that to a consensus?
STEGER: "I think everybody felt that not making a decision that day was a very undesirable outcome. I think everybody also shared the same objective that we wanted to do what was best for college football, what was best for one's respective conference. And of course, each person had to look out for the best interests of his own institution. So we had to find a compromise point, and we ultimately did. But there was a lot of discussion. I think any question that the presidents were a 'rubber stamp,' or there was no institutional control, is quite false. These are very strong individuals, and I have to say that many of the presidents could have chaired the committee just as I did. It's just I ended up with the short straw."
ROTH: You're modest, but let me ask you: this decision, while very important, would seemingly be far afield from the typical duties of most presidential executives. How engaged do you think the other presidents were, taking into consideration the great ramifications of this decision?
STEGER: "I think all of us had to do a lot of homework, just understanding the levels of commitment it takes to have a successful and exciting intercollegiate football season. So you have to appreciate the work the bowl committees do in the various cities and the economic impact of that, which is quite significant. You have to understand what's happening in the television markets. And I think very importantly, you have to be sure that you look after the interests of the fans who come to the games. The ones who watch on TV are important, but the ones who fill up those stadiums, the ones who travel to the bowl games, their interests all have to be incorporated in this. So you're thinking about all these things at the same time, and then you're thinking 'Okay, now how am I going to get a majority from this group?' So it was a challenge, but it all worked out."
ROTH: Why is four the right number?
STEGER: "Four was not too far, but just far enough. When you go beyond that, you get a whole set of logistical issues. We thought this provided a balance of access and participation by the bowls, and it was a manageable configuration of games that we could run. Everybody came in there with the understanding that they were going to have to compromise something. And as a result, we all concluded that, as a first step, certainly this was a good idea. I think it's been pretty well received."
ROTH: There's been a lot of speculation about the long-term sustainability and viability of the Atlantic Coast Conference. How committed to the ACC is Virginia Tech? And secondly, in your opinion, do the other schools, do the other presidents, share that commitment?
STEGER: "First of all, there should be no question about Virginia Tech's commitment to the ACC. We are stalwart members, and we share a lot of values with the other schools, as well as the wonderful geographic footprint for our program because of the travel, particularly for the Olympic sports. People often forget that you have football and basketball, but we also have 19 other sports that participate in this league, and it's very important that we have the capacity for all of those students to participate. So we're committed. We think it's a great conference up and down the entire East Coast. It's a tremendous media market. And before the meeting in Washington, where we made the (BCS) decision, I had private conversations with every president in the ACC. There is no exception. Everyone is committed to staying. I know there has been speculation about Clemson and Florida State, but I can tell you that Jim Barker, who is the president of Clemson, and I go back decades. He probably doesn't want to admit this (laughing), but the same with Florida State. While there are people talking about it, I don't think there's any likelihood of any of those schools leaving the ACC."
ROTH: Next year, of course, two new schools will come into the league with the additions of Syracuse and Pittsburgh. Is 14 a good number?
STEGER: "Our analysis, and we spent a lot of time looking at this, says that 14 works well from the point of view of scheduling, and it works well from the point of view of finances. And that's a pretty good combination."
ROTH: Some presidents are actively involved in their schools' athletics programs. Others are not. What is your opinion on how an institution's highest executive should be engaged in an athletics program?
STEGER: "Well, one, you have a fiduciary responsibility to make sure the athletics enterprise is well-managed, and all the complexities that go along with it. Secondly, and this is certainly true from my point of view, you should recognize that the head coaches know much more about these teams and games than you do. Your job is to be sure you have the right personnel in place and let them do their job. I think Jim Weaver and his staff and Frank Beamer and all of our coaches are fine people, and we share a sense of values. We are very well managed financially. So my real touchstone is: "Are these programs run with integrity? Are we generating the revenues we need to make it all go? And do I have confidence in these individuals as people who are well-represented and known all around the country representing this institution?" On all counts at Virginia Tech, it's 'Yes.' So I try to be as supportive as I can, and I talk with Jim frequently. We share the values and objectives, and they try to be helpful to me, and I try to reciprocate when I can."
ROTH: Athletics are such a big part of campus life at Virginia Tech for a growing student body. How is the university able to keep its fees so low, particularly when it comes to athletics, when compared to its ACC sister institutions and some schools in the state?
STEGER: "We are very fortunate. We are one of a small number, I think it's 15 or 16 institutions in the country, that are in the black with their athletics programs. If you compare our student athletics fee, which is $268 per year, with the $1,400 or $1,800 per year of other schools in Virginia, it's really quite remarkable. We do that through a series of things. One, we have a very well managed enterprise. We have successful programs, and our financial people have been very skilled in placing bonds in the market to finance facilities at the right time. All of that coming together enables us to keep the overall cost of education down for our students. We are very proud of that."
ROTH: While facilities in athletics continue to grow, when one walks across this campus, we see cranes in the air all over the place. Why is this happening now?
STEGER: "Over time, Virginia Tech has grown in terms of the undergraduate and graduate population. We added about 2,500 undergraduate students a few years ago. We have tremendous demand for students who want to come here, and we also added about 2,000 graduate students who help with programs and help support the dramatic expansion of our research programs. Our research expenditures last year exceeded $450 million. They were about $168 million just seven or eight years ago. So we found ourselves with our programs growing faster than the facilities and laboratories that were available.
"Secondly, we need to modernize them to be in tune with the new instructional technologies, and most importantly, we want to provide for our students in terms of recreational facilities the best we can. We're still not far enough ahead on that, even though we've built several million square feet of space. We still have a ways to go.
"Now, how is that financed? The state provides, through bond issues, funding for projects, but over half of everything that's constructed on campus is funded by other sources. Principally that comes from research overhead dollars, and it comes from private donations. And, of course, there is no state money that goes to any athletics facility. We raise all of those dollars, and our alumni have been very generous in making that possible."
ROTH: Back to football now. What is the game day experience like for you at Lane Stadium?
STEGER: "Well, it's always exhilarating, I have to say. On football weekends, I'll start out by speaking to some number of groups at breakfasts or board meetings. Sometimes, I walk through the tailgate parties, which are quite incredible enterprises (laughing). But more importantly, when you go there and see 66,000 people at the stadium, this kind of collective experience is exhilarating and inspiring. While everyone comes to see the game, it brings this community of people together. They have something that they share. It builds a sense of community, which undergirds the Hokie Nation. And when 'Enter Sandman' is played, you can't help but be excited – and I enjoy it."