Virginia Tech gets big plays from unlikely sources and uses a Cody Journell field goal beat Georgia Tech in overtime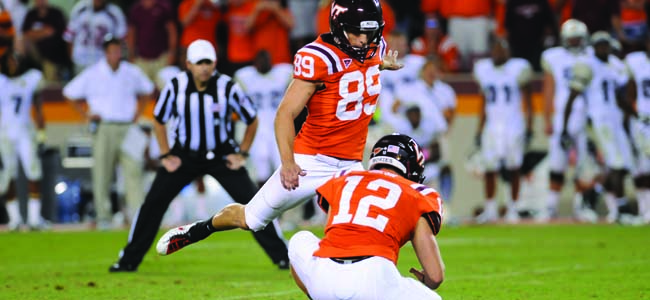 If Tech fans needed any more evidence of the zaniness that was the first overtime game ever at Lane Stadium, then consider this – the key plays in the game were made by:
A.) a former walk-on receiver (Corey Fuller),
B.) a high school track-star-turned-receiver from the Bahamas (Demitri Knowles), and
C.) a kicker whose career was in doubt less than six months ago (Cody Journell).
Largely because of these three guys, Tech fans arrived home in the wee hours of Tuesday morning following Labor Day in a gleeful state, as Journell's overtime chip shot of a field goal lifted the Hokies past Georgia Tech in a 20-17 season-opening thriller.
The game left Virginia Tech head coach Frank Beamer exasperated and harried at times, but, like Tech fans, joyful in the end. His team won for the fifth time in its past six meetings with the Yellow Jackets in a series that usually determines the team that takes the ACC's Coastal Division crown.
In fact, the winner of the Virginia Tech-Georgia Tech game has played in that' season's ACC championship game for the past seven years.
"Well, I think you've got an advantage," Beamer said. "I don't think there's any question about that. You've got a big advantage. But there's a lot of football to be played.
"The challenge for us is to look at this football team [the Hokies] and how we got tighter and how we could be really good in all areas and then keep developing that. That's what you've got to really look at."
If the Hokies find themselves in the same position at the end of this season, it may well be because of the three above-mentioned players.
Fuller, the 6-foot-3, 196-pounder who, to this point, has been best known as the brother of former Virginia Tech defensive back Vinnie Fuller and current defensive back Kyle Fuller, made arguably the two biggest plays of the game.
His first came in the fourth quarter when he alertly pounced on a Marcus Davis fumble that preserved a Hokie drive. A few moments later, quarterback Logan Thomas threw a 42-yard touchdown pass to Knowles, who was only in the game because of a shoulder injury to Davis. Knowles' grab gave the Hokies a 14-10 lead with 7:46 remaining.
Georgia Tech answered, scoring with 44 seconds left on a touchdown pass by quarterback Tevin Washington. But Fuller came up big again.
With the Hokies facing a fourth-and-4 and only 13 seconds on the clock, Thomas found Fuller for a 23-yard gain. That set up a 41-yard field goal by Journell to tie the game and send it into overtime.
"I knew I had it in me," Fuller said. "I had to step up. D.J. [Coles] went down [with a knee injury], and Marcus [Davis] went down [shoulder injury]. I just had to step up and make plays, and I knew I could make those big plays. So I just went out there and let loose."
In overtime, the Hokies' defense – tremendous all night – put the offense in a perfect spot. Kyle Fuller intercepted a Washington pass on third-and-goal, and that ultimately set up Journell's easy 17-yard field goal to win the game.
It marked the first game-winning field goal for the Ripplemead, Va., native, who once kicked a game-tying field goal for Giles High School in a game against Blacksburg High – a contest Beamer saw. It also marked a nice comeback for a young man who was involved in an off-field incident that led to a suspension for spring practice and much of summer workouts.
"Any time you have a chance to tie a game up with [six] seconds left and then kick a field goal in overtime, it's always special," Journell said.
"He's a good kicker," Beamer said. "The flight of the ball is the same all of the time, and the ball is near the middle of the goal posts. It's not always way off left or right. We've had a lot of good kickers here, and he's a good kicker."
The Hokies finished with 326 yards of total offense, led by Thomas' 230 yards passing and two touchdowns. In contrast, Georgia Tech's vaunted option attack finished with 288, including 192 on the ground – the fewest the Hokies have allowed to Georgia Tech since head coach Paul Johnson took over in Atlanta. The Yellow Jackets averaged just 3.5 yards per carry.
""I told my football team how proud I was, and to come back and win that football game after the way it looked at times … it just says so much about the players believing and making plays when they had to," Beamer said. "I really like the potential of this football team."