Celebrating Good Times

Life is good on and off the field for the Tech women's soccer team, as Kelsey Loupee (9) and Katie DeTuro (11) celebrated after DeTuro's goal helped the 16th-ranked Hokies upset ACC-leading Maryland 1-0 at Thompson Field.
The Student-Athlete Experience
"Your tremendous support has made my years here an experience of a lifetime. Thank you."
Kelly Conheeney
Senior | Women's Soccer
"I feel so blessed to be a part of the Hokie Nation. I'm so grateful for all the support I have received!"
Drew Ranahan
Senior | r-Sophomore | Men's Soccer
The Donor File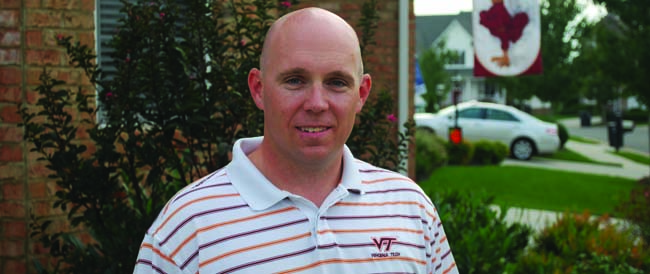 Hokie Club Level:
Golden Hokie Champion
Hokie Club member since:
2000
Currently resides:
Charlotte, N.C.
What year did you graduate?
Bachelor's Degree in 1999 and MBA in 2006
Q: Being a member of the Hokie Club and supporting Virginia Tech athletics is important to me and my family because …
A: My uncle, Marvin Crutchfield, was a tireless supporter of Virginia Tech athletics, and he convinced me to join the Hokie Club immediately following graduation. He set the standard for me as far as giving back to the university, and we are proud to now have an endowed scholarship in his memory thanks to the hard work and generosity of many individuals.
Q: Do you have a specific moment when you realized that you were a fan of Virginia Tech athletics and knew without a doubt that you were a Hokie?
A: My two uncles and grandfather started bringing me to football games when I was about 5 years old. I enjoyed every minute of the drive up from Southside Virginia, the tailgates, and especially the games. I have been hooked ever since.
Q: Do you have any game day or tailgating traditions or superstitions? If so, what are they?
A: I have been tailgating with the Southside Hokie Club as long as I can remember, and we typically set up about four hours before kickoff and enjoy a broad tailgate menu, including Hamid LaPuasa's signature fried rice. A few cocktails are consumed and usually finished off with a good luck swig of Franklin County's finest.
Q: You are involved with the Charlotte Hokie Club as a Hokie Rep. How and why did you get involved and has it been a good experience for you?
A: I relocated to Charlotte for work in 2008 at a time when the Hokie Club was looking for reps in the area. It was a great opportunity to meet other Hokies in the Charlotte area while also building support for our athletics programs. It has been a lot of fun organizing events that bring a lot of Charlotte Hokies together.
Q: When you head into town for a game, are there any "must-do" things for you and your family?
A: I was in school the year Big Al's Sports Bar opened, and that was my hangout. I still try to drop by there on game weekends to catch up with some old friends.
Q: Virginia Tech has had a lot of successful teams and wins over the years. Do you have a favorite team/season or game that stands out the most?
A: The 1999 season was my last semester at Tech, and it was a blast to watch the excitement of that season grow while being a student. The Thursday night Clemson game and the Boston College game to finish the perfect season stand out, but the trip to New Orleans for the national championship game is something I will never forget.
Q: My all-time favorite Virginia Tech football player is Waverly Jackson and my favorite memory of him is …
A: I played high school football with Waverly, and he always represented Southside Virginia well with his effort and work ethic.
Hokie Club Frequently Asked Questions
As we move into fall and start thinking about year end and our benefits deadline, the Hokie Club staff fields many related questions. To better serve our membership, we've compiled some of these questions, and we present them to you here for your benefit. If you have additional questions, please don't hesitate to contact the Hokie Club office, as we are more than happy to assist you.
Where does my annual donation go and does it make a difference?
Your annual donation to the Hokie Club is very important and makes a tremendous difference in the lives of our Virginia Tech student-athletes. Approximately 88 percent of our current Hokie Club membership gives to one of the seven Annual Giving Levels, which accounted for $11.2 million for the fiscal year 2011-12. With approximately 20 percent of the annual scholarship bill being paid by the VTAF Endowment, your contributions to the Athletic Annual Fund is necessary to pay the remainder of the scholarship bill for over 500 student-athletes. As you can see, the growth and sustainability of the Athletic Annual Fund on a yearly basis is absolutely vital to the success of our student-athletes.
Why should I upgrade my membership level?
Benefits for all Hokie Club members are based on the Hokie Club point priority system. Upgrading your membership level not only increases the support we are able to provide for over 500 student-athletes through scholarship support, capital projects and programmatic needs, but it also improves your Hokie Club rank within the point priority system. This increase will allow you to strengthen and enhance the benefits that are offered to you as a member.
Should I renew my membership on my anniversary month rather than waiting until year end?
Yes, if you are Hokie Club member, we ask that you please renew your membership on your anniversary month. As you approach the end of your 12-month annual membership, you will receive reminder letters from our office, and we encourage you not to allow your membership to become "inactive." We would also encourage you not to wait until year end to renew your membership as you will miss out on several benefits during this time, such as the Inside Hokie Sports magazine, which is provided monthly to all active Hokie Club members.
For the recent graduate, or the current student, how do I get involved in the Hokie Club?
If you are a recent graduate or perhaps a current student and are curious about the Hokie Club and how you can support Virginia Tech athletics, the simple solution is to join the Hokie Club. For a minimum contribution of $100, you can actively support the Hokies while receiving benefits that were once readily available while on campus. With an opportunity to purchase season tickets for football and for men's and women's basketball, joining the Hokie Club is the easiest way to continue to support the Hokies.
Is Hokie Club parking assigned yearly? How is it determined?
Parking privileges for football and basketball season ticket holders are some of the most highly desired benefits of Hokie Club membership. Parking privileges for both sports are assigned each year and all assignments are based on Hokie Club member's point priority rank.
What is "Hokie Matic?" Can I alter or add it before the benefits deadline?
The easiest way to make your Hokie Club donation is by using "Hokie Matic," the Hokie Club's monthly electronic transfer program. Using either your checking or savings account, you can have your Hokie Club donation deducted monthly to avoid having to pay a lump sum once a year. This option is very popular, especially with our younger members, and is a great option to consider.
November 30 is the last day to set up or upgrade your membership using either Hokie Matic or Employee Payroll Deduction to qualify for privileges to be awarded before the benefits deadline. To make any changes to an existing Hokie Matic, please submit a new form indicating the updated information. To stop a Hokie Matic, please send written notice to the Hokie Club Office.
What is the Hokie Rep program, and what role does a Hokie Rep play in the annual fund?
Established in 1986, the Hokie Rep program's goal is to provide outside assistance through volunteer efforts to meet the Hokie Club's three-part fundraising mission of raising money for scholarships, capital projects and programmatic needs of the athletics department. With over 450 Hokie Reps in communities throughout Virginia and in surrounding states, the Hokie Rep program has allowed the Hokie Club to spread its mission and expand its reach to Hokies who have a desire to financially support Virginia Tech athletics.