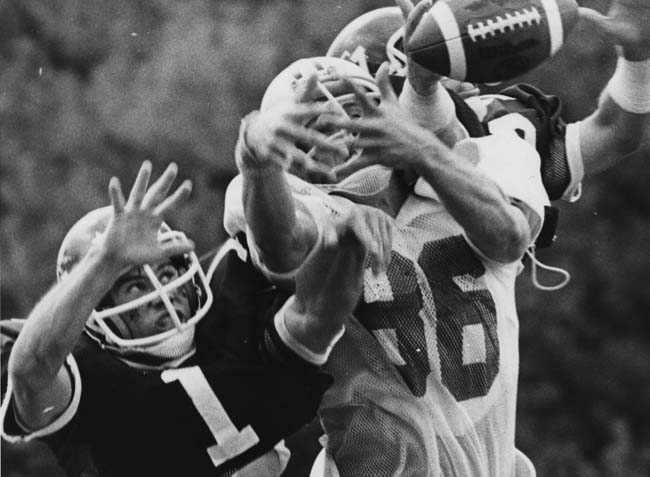 Most folks retire from a profession and then start to take it easy.
Paul Davis retired, hopped on a tractor and went to work.
The former Tech defensive back retired after working 28 years as an agriculture extension agent, but he works just as hard these days, helping his father farm 250 acres of the family's 1,200-acre place in New Kent County, Va., a relatively small county between Richmond and Williamsburg. They grow corn, soybeans, wheat, barley and pumpkins.
"My wife and I built a home here on the Pamunkey River," Davis said. "I wake up and get to work with my dad, who is 85, and my mom is in good health, too. My wife just retired last year after being a P.E. teacher for a long time. It's been a lot of fun. I'm fortunate. I've lived several dreams."
Davis' father, Boogie, played baseball at Tech in the 1950s, and Davis himself eventually wound up in Blacksburg. Despite being a terrific athlete at New Kent High, he stood only 5-foot-9 and weighed around 160 pounds, so he received little attention from colleges and decided to join the Army. He spent two years in the Army and married not long after his service ended. He then went to Ferrum Junior College, where he played for the legendary Hank Norton for two years. In his final year there, he intercepted 11 passes, and despite his small stature, he received a scholarship offer from then Tech head coach Bill Dooley.
"At Ferrum, you had to buy everything," Davis said. "You had to buy your cleats and shirts and all that stuff, and when we traveled, we went everywhere by bus. We never stopped to eat. We'd leave for a trip and stop in the morning at a rest area for donuts. Then for lunch, we'd stop at another rest area, and he'd [Norton] pull out the bread and cheese and bologna for us.
"At Tech, everything was handed to you. If you didn't play hard, you didn't know how good you had it."
Davis quickly made a name for himself after enrolling at Tech in 1979. He won a starting cornerback's job, and he also helped out with punt returns, teaming with John Ludlow to handle those duties. They got the job when Dooley made anyone who had returned punts in high school go down to the end of the field to catch punts one day in practice. Anyone who dropped a punt was eliminated from the competition for the job.
"It was a way to get out of hitting and running for an hour," Davis said. "We caught a bunch of punts, and John and I didn't drop a punt. Then Dooley told us the job was ours. If I had known that, I would have dropped the first punt. Our first game was a night game against Louisville, and I hadn't played a night game in years. I was as nervous as you could be."
He survived that game and many others in the punt return role, but he took his two hardest hits as a punt returner, including one against Florida State when he didn't see a would-be tackler in front of him. The tackler nailed him just as he caught the ball.
"I couldn't have fumbled," he said. "The ball was buried in my chest."
Davis, though, has fond memories of playing the Seminoles. On Sept. 29, 1979, he intercepted three passes against Florida State in a game played at Lane Stadium, tying a school record in the process – one that he still shares to this day with numerous others. The Hokies lost the game 17-10 and went on to finish with a 5-6 mark in Dooley's second season.
However, Davis and his teammates turned things around in 1980. Led by a suffocating defense, the Hokies went 8-3 during the regular season and secured a bid to the Peach Bowl – the program's first bowl bid in 12 years.
The bowl game, though, wasn't exactly the greatest of experiences for Davis – and not just because Tech fell 20-10 to a Jim Kelly-led Miami Hurricane squad.
"I had the intestinal flu the night before the game," Davis said. "I didn't get out of bed until we loaded the bus right before the game. I was a team captain, and it was my last game and it was on national TV. I couldn't miss that game. I had just an okay game, but by halftime, I felt fine. It was just one of those 24-hour bugs."
Davis, who had always planned to go into agriculture and be a farmer, graduated in 1981 with a degree in integrated pest management. He spent three years as an agriculture extension agent in Fluvanna County, Va., before returning to Tech to get a master's degree in weed science. Once he got his master's degree, he took a position as a Chesapeake Bay cleanup coordinator, helping educate other extension agents in efforts to clean up the waters that feed into the Chesapeake.
After two years, Davis landed back in New Kent as the extension agent there, educating farmers in the region on the latest in agricultural practices and raising his two daughters, including one who graduated from Tech in 2005 and one who graduated from Bridgewater in 2010. He worked in New Kent for more than 20 years before recently retiring, but he still remains involved in the profession, working as a research consultant for fertilizer companies and other agriculture-related businesses.
Despite all he has going on, he still makes time to come back to Blacksburg for a couple of games each year.
"This is our busiest time of the year," Davis said. "But I still make it up two or three times. I like to check in on Lester [Karlin, Tech's longtime equipment manager] and Billy Hite [senior advisor to Coach Frank Beamer]. They're the only two left from when I was there."
Davis saw some of his old teammates at the letterman's reunion this past spring, and he plans on coming back next spring for that. Of course, he's probably written that date in pencil.
Given his love for agriculture, any work on the farm that needs to be done next spring certainly takes top priority.