Jeron Gouveia-Winslow has overcome hurdles on and off the field and is trying to make the most of his final season at Tech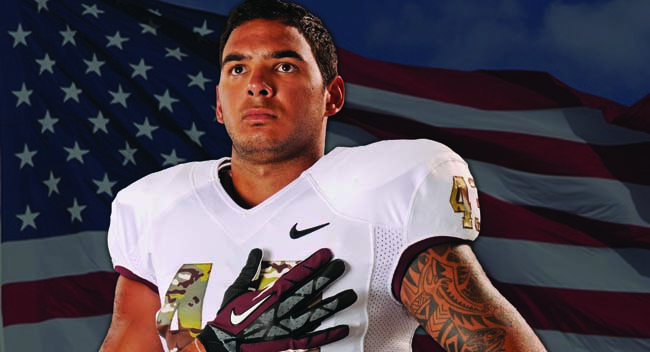 The ball came straight toward him, an inflated piece of stitched swine skin wobbling end over end. Here he was, all of 5 or 6 years old at the time standing on a piece of earth with a bunch of other youngsters barely above toddler age, and the ball seemed destined for him.
He raised his small hands, and the ball caromed off his mitts. It landed behind him, hopping merrily toward the end zone. He quickly scooped it up, and with his coaches imploring him to "RUN," he took off.
And he never stopped, reaching nirvana – the end zone – in his first game ever and the first time he ever touched a football.
"It was pretty cool," said Jeron Gouveia-Winslow, who has played football ever since and currently splits time with Ronny Vandyke at whip linebacker for the Hokies. "Wow, it doesn't seem that long ago."
Those were the good ol' days, the days when Gouveia-Winslow seemed to do no wrong on the football fields of Northern Virginia, and later on, on his middle school and high school fields. He was a magnet for football success, skipping two levels in his Pee Wee League because he was just too good to compete against kids his age and then later becoming one of the best players in the state of Virginia while at Stone Bridge High School.
Each year at Stone Bridge, the team came up with a slogan for the season, and after coming up short in the playoffs a few times, Gouveia-Winslow and the rest of his classmates came up with the slogan, "One time." They wanted to win the state title just one time.
It happened, as he closed out his prep career by intercepting two passes in the Group AAA championship game and leading Stone Bridge to its first state championship. The Virginia High School Coaches Association named him its defensive player of the year for his efforts.
But things haven't been exactly easy for Gouveia-Winslow since those days. He had to rebuild a relationship with his natural father not long after he arrived at Tech and then he struggled on the field as a starter two years ago. A foot injury wrecked last year when things appeared to be turning in his favor, and then after starting the first four games this season, he was moved into a platoon role with Vandyke, a redshirt freshman who serves as the heir to the whip position.
So he finds himself in this season, his final one, launching himself into a full-scale assault toward helping the team accomplish its goal of an ACC championship and toward his goal of becoming the player he wants to be. The games continue to click off the schedule, and the clock on his collegiate career continues to wind down.
As it does, he finds himself hoping for this – "One time," just one time.
Gouveia-Winslow certainly possesses the genes to be an outstanding football player. Washington Redskins fans and Northern Virginia residents probably recognize at least a portion of his last name, though the hyphenation and the "Winslow" part might perplex some.
He is the son of Kurt Gouveia, the former Redskins linebacker who played in the NFL for 13 seasons, including two different stints for Washington (nine years total). Gouveia won two Super Bowl rings with the Redskins (1987 and 1991), becoming sort of a football idol in the nation's football-crazed capitol.
But in the latter throes of his playing career, Gouveia and his wife, Loree, split up and ultimately divorced, and he left behind their four children, all under the age of 9, including then 5-year-old Jeron. The messy divorce created a lot of heartache and some hostilities.
Four years later, Loree and her oldest child's (Landon) baseball coach, a man named Tommy Winslow, developed a relationship and eventually got married. He had four children from a previous relationship, but he treated all of Loree's children as his own. They were one big, happy family – literally. At one time, seven children lived in their home.
"Tommy's oldest daughter had gone off to college," Jeron said. "The rest of us were there, and it was a little crazy. Then it seemed like, every two years, someone was going off."
Jeron eventually took his stepfather's name. Obviously, he never forgot about his natural father, but he harbored some bitterness over the situation. He and his natural father rarely spoke for years.
That certainly didn't affect him on the field. He helped Stone Bridge High to the state title game in 2005, when it lost to Hampton High 15-8. Two years later, he helped the Bulldogs make it back to the state championship game, as they defeated Phoebus in the semifinals, snapping Phoebus' 20-game winning streak. In the title game, behind Gouveia-Winslow's seven tackles and two interceptions, Stone Bridge easily rolled to a 38-0 win over previously unbeaten Potomac.
"It's pretty remarkable," he said. "We had a talented team. We've always had a good program. Getting to the regional semis and the regional championship game were expected, but getting the state championship, we had fallen short of that. Our senior year, we always had a phrase or slogan or something for the season, and ours was 'One Time.' Let's win the state one time. Let's do it. It was cool because they've been there again. They've made it to the semifinals, but they haven't won it, so it makes it special that we have been the only ones to do it."
Gouveia-Winslow provided his head coach, Mickey Thompson, with his first state championship. In doing so, he paid back Thompson for his help in getting Gouveia-Winslow noticed by college recruiters. Thompson graduated from UVa, but had no problems selling Gouveia-Winslow to Tech assistant Torrian Gray.
"He [Thompson] kept telling him [Gray], 'You all need help in your secondary, and this guy can help,'" Gouveia-Winslow said. "One day, he called me out of class, and I walked down to the football office. He told me, 'You got it [a scholarship offer].' It was exciting. He gave me a hug, and then I got on the phone with Coach Gray and accepted. I always wanted to come here [Tech]."
He hadn't talked with his father much, and he wanted to re-establish that relationship somehow. But things on the football front were looking great, and he set off for Tech looking to continue his gridiron success.
Gouveia-Winslow vividly remembers the day. He remembers where he was. Even remembers the class he was planning to attend.
On a summer day during his freshman year, he received a call from his older brother, Landon.
The call ultimately changed his life.
"He said he was heading down to dad's and wanted to know if I wanted to go with him," Gouveia-Winslow said. "I remember it well. I was on the Drill Field. He called me. I was walking to class. It was summer time, and I was in Summer II [second summer session]. He was going down [to North Carolina, where his father lives] for the Fourth of July weekend, and so were my cousins on my dad's side. I had always stayed close with my biological cousins because they had grown up in the same town with us.
"My brother took me down there, and it was nice to have my cousins and family there. I was able to be with my dad and be with everyone else at the same time. That made it easier on me."
The call changed his life because it reignited things between Gouveia-Winslow and his father. Landon, who had maintained his own relationship with his father, essentially hot-wired that connection.
Father and son started talking again. The conversations didn't go well at first, but the two of them usually reverted to the subject of football to keep the tone civil. Eventually, they patched the large potholes in their relationship, and today, Gouveia-Winslow and his father talk two or three times a week.
"I talk to him twice a week about the game or the upcoming game," Gouveia-Winslow said. "We keep in touch. He's always calling me and checking on me. We do talk a lot of football. I remember when we first started getting back in touch. We talked a lot of football because it was something we had in common."
While things continue on the upswing in regards to his relationship with his father, unfortunately, they haven't always gone in the same direction on the field. He redshirted his first year at Tech and then was switched to a different position as a redshirt freshman, seeing action in eight games as a whip linebacker. His sophomore year, he started, but he – like the Hokies – got off to a tough start. Tech lost to Boise State in the opener that season and followed it up with a loss to JMU. Gouveia-Winslow struggled in both games.
"JMU was, like, my worst game ever," he said. "We were 0-2, and I felt I was a huge part of why we were 0-2. I felt for our seniors. I didn't know how we would react. In the locker room, tensions were high, and it was tough for the team as a whole.
"But we came back together and got close, and had a remarkable end to the season. As difficult as it was in the beginning, it seemed to put us on track to win out and have a good season."
His sophomore year ended on a great note, as he intercepted a pass and returned it for a touchdown in the Hokies' ACC championship game win over Florida State, and then he posted two tackles and forced a fumble in the Orange Bowl against Stanford.
That carried over into his junior season, when he recorded 21 tackles and forced a fumble in the first four games. But against Miami, after he snuffed out a fake field-goal attempt by the Hurricanes, he suffered a Lisfranc sprain in his left foot. The injury was the final horn on his season.
"That was tough just because it was midway through, and I had been playing pretty well," he said. "Then I got hurt, and that was a bummer for the season for me. It took a lot for me to get back."
Gouveia-Winslow spent the better part of the next six months rehabbing. He worked sparingly in spring practice, but used the summer to get bigger and stronger in the strength and conditioning program while gaining more and more confidence in his foot.
He won the starting job at whip for the Georgia Tech game and played well against the Yellow Jackets, recording 14 tackles (9 solo) in the Hokies' 20-17 overtime win.
"I had the game of my life in the Georgia Tech game, which meant a lot to me, just battling back from last year," he said. "Just the injury and all the doubts … it meant a lot to me to play well."
Losing the starting job to Vandyke for the Cincinnati game was an obvious disappointment, but he refuses to let it ruin his season. He hopes his final season ends as one of affirmation; both in his playing abilities and the belief that good things come to those who both wait and work hard. Off the field, he has maintained a great relationship with his family and has reconnected with his father, who now coaches for the Sacramento Mountain Lions in the UFL.
Gouveia-Winslow has followed in his father's footsteps in being a football player. The Tech graduate, with a degree in human development, might do the same as a coach.
"Coaching is something I feel I'd be great at. Coaching is what I see myself doing," he said. "I want to stay involved with football. It's what I know – and love."
Hopefully, down the road, life will treat this young man well, like it did when he played on fields near his hometown in Northern Virginia and dominated the competition. For sure, he deserves it.
GETTING TO KNOW JERON GOUVEIA-WINSLOW
It's Friday night in the offseason, what are you doing?
JGW: "I'm probably trying to take a trip to my dad's or take a trip for the weekend. In the spring, I get in travel mode or lake mode, either Smith Mountain Lake or Lake Norman. I always try to meet up with friends there. That's pretty much it."
What are you reading these days?
JGW: "I don't read books or novels too much. I do like reading up on random things, like health and fitness and science and technology. I go on Yahoo tablet and there are different things on there, and I stay up on the world through that. But I don't read a lot of novels. I'm more into watching movies. I could watch movies all day."
Facebook or Twitter?
JGW: "I lack social media. I use Facebook to keep in touch with some family and friends, but I don't get on it often. I like seeing pictures of my nephews and nieces. I'm on Twitter all the time, reading up on things. I don't tweet too often. If I had to pick one, I'd say Facebook only because I like seeing pictures of my family."
Favorite player?
JGW: "Troy Polamalu [safety for the Pittsburgh Steelers]. I love watching him play. There are a lot of other guys I love watching, but he's a safety and I was a safety growing up. I always wanted to be like him."
I'd love to trade places for a day with …?
JGW: "Rob Dyrdek [a professional skateboarder with a reality TV show on MTV]. He does whatever he wants. He's famous. He's got a lot of money. He's got his own show. He lives it up. I'd definitely enjoy doing what he does."
In 10 years, what will you be doing?
JGW: "I'll probably be a dad. I'll be enjoying what I'm doing. I see myself as a person who loves life. I'll be a father and have a family, and whatever I'll be doing, I'll be loving it."