Jed Prater may be from a spot halfway around the world, but he is loving his experiences in the U.S., while also being a leader on the Tech men's soccer team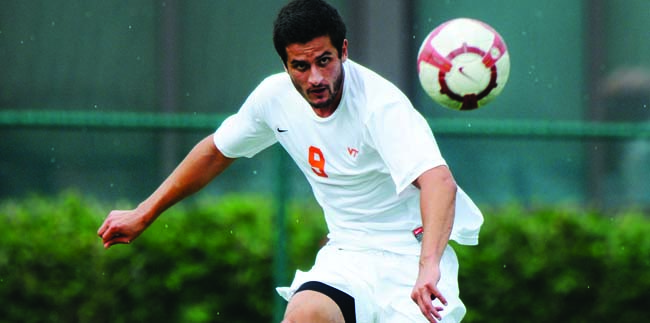 It's almost 10,000 miles, as the crow flies, from Somersby, Australia, to Blacksburg, Va., which for all intents and purposes, is halfway around the world. The hometown of Virginia Tech men's soccer player Jed Prater sits just off the coast, about a 20-minute drive to the Pacific Ocean and less than an hour north of Sydney, the state capital of New South Wales and the most populous city in Australia.
That may seem like paradise to many, but for Prater, he found himself in a rut. He wanted something new. So at 20 years old, after last sitting in a classroom more than two years before and after never setting foot on American soil prior, he chose to attend Virginia Tech in search of a new challenge.
"I had never come to the United States before, so I never visited the campus," he said. "I got a few references from guys who had played in the States before and the word around was that this was the best choice.
"I had been out of school for two years and sort of living by myself, so it wasn't like I was coming straight out of the parents' bedroom to over here. I was just excited for something new. I know I felt like I was standing still a little bit over there, and I was just wanting to experience something new and it's been a lifetime experience."
At 16, Prater had gone to England, once, for a couple of weeks for a soccer tournament. But he had never really traveled outside the islands of the South Pacific – places like Fiji and New Zealand, where his family went for family vacations.
He was determined to make a fresh start. He had been playing on a semi-pro club team called Manly United, which practiced three nights a week and played its games on the weekends. The 12-team South Wales Premier League that runs from March through October is the highest state-level men's league and is one step lower than the A-League – or professional league.
So he was still in shape to play, but how did a 20-year-old in Australia get noticed in Blacksburg?
"When I started to look at coming over here to play, I knew a few people who had come over here and done the whole student-athlete thing," Prater said. "There's this agency back in Australia that can get in contact with colleges over here. So I gave them my information and made a video, and they sent it out to different colleges.
"I started getting some offers and emails, and Virginia Tech just sort of stood out. It seemed like a really good program in the ACC, and the coaches were really interested. I'm really happy I chose this place."
Since his arrival, Prater has made the most of his experiences, either playing practical jokes on his teammates or clearing up common misconceptions of Australia, or helping the men's soccer team on field. He has taken advantage of his time in the States.
When most of your new friends only know about your country through popular culture, you can have lots of fun. But getting over the fallacies can be tiresome.
"First things first, we don't call shrimp 'shrimp.' So the saying 'Shrimp on the barbie,' it's not real. We call them 'prawn,'" Prater said. "We also don't drink Foster's [a brand of beer]. But as far as the beach and the sun and outdoor activities, it's pretty much what everyone thinks.
"I've never seen a shark in my life, so watching 'Shark Week' over here with you guys is pretty entertaining. I know people find it hard to tell the differences between us and the English. We like to consider ourselves pretty far away from the British.
"But it's pretty easy to get away with far-fetched stories. I had a couple of friends come over and visit me for Christmas, and I managed to convince them that, for a couple of months of the year, you could actually walk over to New Zealand, that the tides part and you can walk there. So you can get away with lots of stuff. I also convinced some people that we used to ride kangaroos to school and wrestle sharks and crocodiles, which is not how it is. But we do have a lot of snakes and spiders and Steve Irwin [the late Australian wildlife expert nicknamed "The Crocodile Hunter"] is pretty out there. It's not like that in everyday life, but it's pretty wild."
On the soccer field, Prater has excelled for the Hokies, so much so that, as a sophomore, he was named a team captain, a title he retained for the 2012 season as well. The junior midfielder was also named the team's Most Valuable Player last year after logging the second-most minutes among all field players.
"At the start of my sophomore year, Fio [David Fiorello] was the only captain, so a few weeks into the season, the coach [Mike Brizendine] said that he wanted me to be a captain as well," Prater said. "I didn't really expect it, but it was a huge honor. I've been a captain a lot growing up through the years, so I felt like I could take that on, and I just like leading the boys. Being older than a lot of the boys, it's sort of good to try and take them under my wing and bring them up. And yeah, I just want to pay it back to the coaching staff for putting that into me, and hopefully I can, and I do like the responsibility.
"Being named MVP [last year], it was a shock. I felt like, personally, it was one of the best seasons I'd ever had, consistency wise, but, I mean, the whole team plays into that. If they're not playing well, then I'm not going to look good. They picked me out. It could have been a number of other players who deserved that award as well."
Working hard on the field and in the classroom hasn't stopped the psychology major from enjoying all that an experience like this can offer. He enjoys traveling to the many destinations that soccer has taken him, places like Maryland, Boston College and North Carolina, but he has also taken time to enjoy places outside of team travel.
"Oh yeah, since I've been here, I've been to Miami and Vegas, so it's great to be able to get out of Virginia and see different parts of the United States," he said. "I'd like to do a little bit more traveling before my time's up, maybe hit the West Coast. But there are so many things to see. I've been thankful enough to get around.
"I went to Miami for spring break two years ago with a few of the boys on the team, and that was a blast. We went down there for a week, and being from the beach, I missed it a lot. The weather was great, and I recommend it to anyone. I want to go back there at some point, for sure."
It hasn't been all joy and happy times since Prater left his homeland to further his education. Tragedy struck this past summer with the unexpected death of his father. Rod Prater was a furniture maker, and with his wife, Odete, ran the business. Jed worked with his dad prior to coming to Tech.
"My dad made big giant tables, and he did that for 15 years," he said. "They ran a shop and have a website. He did all the pieces himself and built it up from scratch. He had a couple of apprentices and tradesmen, and that's what I did out of school. I worked with him and got a feel for it. It is interesting and rewarding, just building amazing dining tables out of a tree, a dead tree."
Prater said he was unsure of when he'd be back from his father's funeral, so before he left, he and his girlfriend, Katie Wade, a psychology major from Big Stone Gap, Va., made a promise.
"I met her in January, and we just kind of hit it off," Prater said. "I had to go back home for a couple of months, so we exchanged some promise rings. I wasn't sure when I'd be coming back, but things are looking really good, and hopefully, there's a long future with her."
He's already starting a future with Wade, as the pair recently adopted a puppy named Jackson, a black Labrador, Chow-Chow mix. He has also invited Wade to his home for Christmas this year.
"Flights, it's like 24 hours of straight traveling, which I know scares a lot of people off," he said. "But I managed to convince Katie to come over for Christmas. It will be her first summer Christmas in so many years. I know she's excited, and my mom is really happy to meet her."
"I am going to Australia for Christmas, and I couldn't be more excited!" Wade said. "I've never been out of the country, so the 14-hour flight from LA [Los Angeles] to Australia will be interesting."
Prater certainly has experience with that, traveling to a foreign country for the first time. Hopefully, the Hokie from Virginia has been working on her far-fetched stories as well.