New men's basketball coach James Johnson takes over a Tech squad long on experience, but short on depth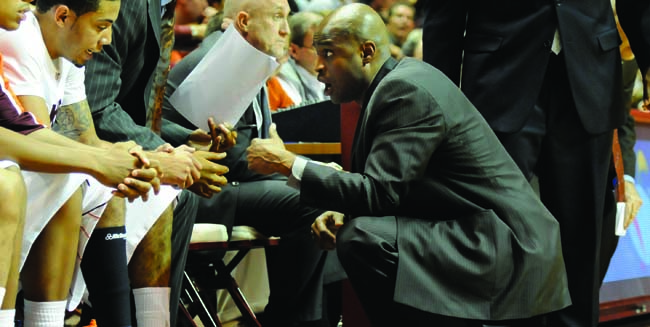 Strong winds blew through Blacksburg several months ago, and no, we're not referring to anything remotely resembling the derecho.
Instead, the winds of change blasted through the Virginia Tech men's basketball program, as Tech AD Jim Weaver relieved head coach Seth Greenberg of his duties in late April, and a week later, hired James Johnson as the new head coach. Johnson, who had been a Greenberg assistant for five years, had left Tech just weeks earlier for an assistant's gig at Clemson.
Johnson, a popular hire among those in the Tech athletics department, steps into the head role for the first time after a long career as an assistant coach. The Powhatan, Va., native, who played at Ferrum College, cut his teeth as an assistant at basketball outposts such as his alma mater, Longwood, Old Dominion, Elon, College of Charleston, Penn State and George Mason. He worked with former George Mason and current Miami coach Jim Larranaga at George Mason and former Penn State and current Navy coach Ed DeChellis at Penn State.
Despite his lack of head coaching experience, Johnson possesses a familiarity with the Tech program, and that certainly worked in his favor toward getting the Tech job. Now, he takes over a squad that is long on experience and short on depth. But that certainly doesn't dampen his enthusiasm.
"I'm excited about the upcoming season, and about the opportunity I have," Johnson said. "I'm excited to represent this university as the head coach and to lead these young men. I'm looking forward to watching the growth of this team under a new direction. We have a new philosophy and new things that we're trying to do and new players in different roles. So I'm excited."
Despite the lack of depth – Tech has just nine scholarship players on the roster – the Hokies' experience should make for a smoother transition for Johnson. Tech returns six players who played at least 24 games a year ago, and the Hokies return 81 starts from last season. Granted, the Hokies lost Dorian Finney-Smith, who transferred to Florida, and his 30 starts, 6.3 points and seven rebounds per game. But they should be able to make up for that loss.
Tech's best chance for success probably hinges on the continued stellar play of guard Erick Green. The senior from Winchester, Va., earned second-team All-ACC honors a year ago after averaging 15.6 points, 3.3 rebounds and 2.8 assists per game. He's one of the ACC's top three returning scorers.
Green possesses the versatility to play both guard positions. He led the Hokies with 88 assists, but Tech may be better off with Green at the shooting guard spot, paired with Marquis Rankin, who played in 24 games last season as a freshman, starting six of them. Rankin plays good defense and pushes the ball up the court quickly, and Johnson wants to see the Hokies get more easy baskets.
Also, Robert Brown figures into the mix in the backcourt. Brown, a 6-foot-5 sophomore from Florida, played in all 33 games last season and showed his potential with a strong, 16-point performance against Duke in the ACC tournament. Brown possesses the versatility to play either shooting guard or small forward.
Senior Joey Racer, a walk-on last year who was invited back for another season and placed on scholarship, returns, and he, along with walk-ons Will Johnston, a sophomore, and Marcus Patrick, a freshman, round out the backcourt.
"With having Erick Green, I feel real, real comfortable there," Johnson said about his backcourt. "We've got to keep him healthy, keep him out of foul trouble and not wear him down.
"Robert Brown, in his last game out, had 16 points and eight rebounds in 22 minutes against one of the better defensive teams in the league in Duke. Then Marquis Rankin played a lot last year as a freshman. He's a good on-ball defender, and he's fast. He knows how to push the ball in transition and play the way we want to play. But we're not very deep there."
At small forward, Johnson has some flexibility at his disposal. Jarell Eddie, a 6-7 junior from Charlotte, started 32 games a year ago, but most of those starts came at the power forward spot – not his natural position. He averaged 9.1 points per game and shot 44.3 percent from beyond the 3-point arc.
Johnson plans on keeping Eddie at the small forward position this season. Eddie feels more comfortable at that spot, and Johnson wants to take advantage of Eddie's shooting ability.
"He looks a lot more confident and comfortable," Johnson said. "He's more of a wing player. That's what he was recruited to play. Out of necessity last year because of our youth, he had to play down low. We flip-flopped him between the perimeter and the post. But this year, he looks comfortable and confident playing at the small forward spot. Even there, he's got things he has to learn and work on to be effective at that position.
"We may look to play Robert Brown down [at small forward] and play three guards. We may play Marquis some with Erick and Robert. But right now, that is Jarell Eddie's spot. We could play Robert as a swing guard, if we need to go that route."
Johnson doesn't have nearly as much flexibility when it comes to post players. Cadarian Raines returns after filling in nicely when Victor Davila went down with a groin injury. Raines started the final eight games of last season and averaged better than 10 points per game in that span. The 6-9 redshirt junior is the Hokies' biggest player and best post player. He needs to have a big year.
Johnson hopes someone steps forward at the other post position. C.J. Barksdale, a 6-8 sophomore, returns after playing in 32 games a year ago. He only averaged 2.7 points and 2.7 rebounds a game, but he showed flashes, particularly in an eight-point performance against Georgia Tech. Also, freshman Marshall Wood, a 6-8 forward from Rustburg, Va., comes in with the reputation of being a shooter and will be battling Barksdale for playing time at the power forward spot. He averaged 24.1 points and 12 rebounds per game his senior season at Rustburg High.
Another option is Joey van Zegeren, who, at 6-10, ranks as the tallest Hokie. He played in three games a year ago as a freshman before a head injury sidelined him. He needs to play more physically in the post, but he shows some skills, particularly as a face-up shooter out to 15 feet.
Walk-on Christian Beyer, a 6-7 sophomore from New Bern, N.C., rounds out the post contingent for Tech.
"With Cadarian and what he showed last year after Victor Davila got hurt, we feel very comfortable with him," Johnson said. "He's healthy, and he's looking good right now. We expect him to step it up in rebounding.
"C.J. Barksdale and Marshall Wood are going to be battling for that 4 position. Then, we have big Joey, who has shown a lot of improvement and gives us a shot blocker inside. He gives us some size in there to go with Raines."
The lack of depth will impact Johnson's coaching philosophy, at least for this first season. He would like to extend his defense and trap more, but hates to run the risk of getting guys into foul trouble or wearing them out toward the end of the season. He still wants the Hokies to get out more in transition and get easier baskets. He also plans on placing a lot of emphasis on man-to-man defense because that was his strongest attribute as a player.
Tech certainly needs to score more, shoot better and play better defense. In conference games, the Hokies failed to average 60 points per game and shot less than 40 percent from the floor. In contrast, their opponents shot nearly 45 percent.
Hence, the reasons why Tech lost five games by two points or less and finished with a 16-17 record.
"It was something different, really, every game," Johnson said of the close losses. "Whether it be free throws or a rebound here or a rebound there, or whether it was a missed shot … we were up one with 40 seconds to go down at Duke and we turned the ball over. It was a lot of different things.
"I think execution and starting out at the beginning of the game making plays are very important. Even though it comes down to the last couple of possessions, it's really not. It has something to do with the game as a whole. If you're up six and you have the ball and you have a chance to extend the lead to eight or nine, you've got to do that, as opposed to letting them get the momentum and come back."
The Hokies weren't far off a year ago. A little better execution, one more stop or one more rebound, and they would have been in the postseason discussion. With most of the squad returning for this season, they could be in the hunt yet again.
The likable Johnson could be in worse situations. For sure, he's grateful to be in this one.