Tech goalkeeper Dayle Colpitts has traveled around the world playing soccer and wants to play in the Olympics for her home country of Canada, but her first task is helping the Hokies march toward another NCAA berth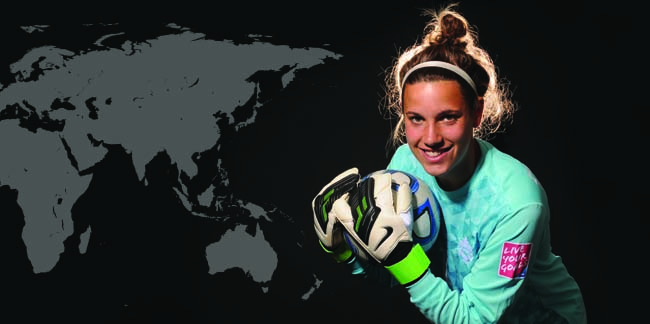 She's not into fashion, and she certainly doesn't have the height to be a supermodel – although she is still holding out for a few more inches on her 5-foot-7 inch frame. However, a fashion choice that Dayle Colpitts made at the age of 10 years old has taken her all around the world and closer to her dream of playing in the Olympic Games.
Colpitts, a junior goalkeeper on the Virginia Tech women's soccer team and a native Canadian, recently returned from Japan, where she competed for Team Canada in the 2012 FIFA U-20 World Cup, and her path to the Land of the Rising Sun started with a choice she made more than 10 years ago.
"I started playing soccer when I was young, probably 7 or 8, and I just always knew, since I was 8 years old, that I wanted to go to the Olympics, but I didn't know in what sport," she said. "Soccer challenged me more than any other sport that I played. I am so competitive, and I don't like doing anything that's easy and so soccer and goalkeeper were really hard for me.
"I had great coaches when I was young, and they pushed me more than coaches did in other sports and that's kind of where I found out that soccer was my passion. And the international game of soccer is huge. That was a big part of it for me in choosing soccer."
But the fashion choice?
"That's funny, actually," she said, as to how she became a goalie. "I was 10, and I was playing on this team who had horrible ugly uniforms. I didn't want to wear the team jerseys, but I did like the keeper's jersey. So I put on the keeper jersey and kind of never looked back.
"It was just the color – it was bright neon orange, which is kind of funny now, because I'm at a school with maroon and orange. I just remember I didn't want to wear that orange jersey, and now, obviously, I want to wear that orange jersey."
Tech fans have certainly enjoyed the effort Colpitts has put forth for the Hokies wearing their jersey. Midway through the 2012 season, she has started every game she's played for the team, has been rewriting the school's record book and is poised, possibly by the end of this year, to be Tech's leader in goalkeeper wins and shutouts.
It was this past February, though, when Colpitts traded in her Hokie jersey for a Team Canada one. She traveled to Panama to compete with the team in the 2012 U-20 World Cup qualifiers, which was certainly not her first international competition with the team, as she had also gone to the qualifiers in Guatemala in 2010. That effort came up short, but this time, the Canadians finished second to advance to the World Cup, which started last August.
Despite a 1-2 record and not advancing to the knockout stage in Japan, Colpitts has nothing but positive memories of her experience.
"First and foremost, it was just an honor to compete for Canada," she said. "It's what I've wanted since I can remember – to play for Team Canada and to represent our country. So I was just soaking it all in.
"You just feel like an elite athlete when you're at an international competition. You couldn't ask for anything better. You're playing the sport you love with and against the best players in the world. It was really amazing, and I can only hope that I have the opportunity again with the full senior national team. So that's kind of what I am aiming for."
Ironically, her journey with Team Canada coincided with the start to the 2012 Tech women's soccer season. She was in the Hokies' preseason camp, but left Blacksburg on August 8 for Japan and missed the first five games of the season – all wins, which included four shutouts.
Colpitts knew everything would be fine and kept tabs on her teammates while overseas. She was in touch every day via Skype despite the 13-hour time difference, and she followed the games and scores on the web.
"I was really confident that Caroline [Kelly] was going to get the job done for us," Colpitts said of her replacement. "She had come into preseason prepared and ready to play, and I had no doubts that either her or Kimmy [Anderson] would be able to step in and do a great job for us.
"We were winning, and I couldn't be happier."
And she was grateful for how the coaches were so understanding and considerate of her opportunity.
"The coaching staff was so supportive," she said. "They know me, and they knew that's always been my goal to play the international game. They were just really excited that I had the opportunity, and I couldn't have asked for a more supportive coaching staff.
"I was in contact with them while I was there, and they were following me, too. They were wishing us luck, and it was a good situation. It was hard because I am so committed to our team here. It was hard to be away because this is where all my energy goes. It was tough to miss games, but my teammates and my coaches were just so supportive because they know that's a goal of mine for the future."
Getting to Tech, though, was just as random for the girl born and raised in Fredericton, New Brunswick – which is right beside Maine, about two hours from the border – as was her soccer position.
Colpitts, who is bilingual and speaks both English and French, said it all started when she was playing at a national training center one weekend in Halifax, Nova Scotia.
"I did want to play D-I [Division I]. That was huge for me, and I was really lucky," she said. "Kelly Cagle, who was the women's coach when I was a freshman, was up there watching our training weekend. I visited Tech the summer going into my senior year of high school – so I was pretty late in the recruiting process – but I came here and didn't want to look anywhere else. I pretty much made up my mind right then and there."
Family is huge for Colpitts, literally and figuratively. The oldest of four kids, she loves the outdoors – especially hiking and camping – and the family tries to schedule activities like that whenever she comes home.
She credits her parents, Mark and Kim, for getting her active when she was a kid, as she was always around the gym with her parents, who both played volleyball at the University of New Brunswick, and played in adult rec leagues.
She is, though, the black sheep of the family, as her three younger siblings have all followed in their parents' footsteps, maybe due to their stature.
"My brother and two sisters are all volleyball players, too, and they are all taller than me," Colpitts said. "My dad is 6-3, and my mom is 5-8. So I am the shortest one in my family, and I am very bitter about that, but I am still holding out for a couple of more inches.
"But my youngest sister, Lauryn, who is 12 and in seventh grade now, is taller than me. Alyson [who is 15] is about 6-foot, and Ryan [who is 17] is 6-4. Isn't that unreal? And I am 5-7.
"They are all amazing athletes. I love being home to play around with them in the gym. When they were younger, they played soccer, but they kind of grew away from it – that's how I'll say that. I'm the only one who found the deep passion for soccer, but it's really good because we're all doing what we love."
Colpitts' passion for soccer came from a youth coach. Howard Myatt, her youth coach, brought out the best in her.
"He just pushed me so hard, and I am so competitive and I just wanted to be better. I wanted to do what he was asking me to do," she said. "Every day, it was a new challenge, and goalkeeper is such a complex position, technically and mentally, and I just really connected with it."
The love of soccer has seen Colpitts train in camps with the Canadian senior national team, with the likes of Karina LeBlanc and Erin McLeod, the Olympic goalkeepers for Canada in London. That same love has also taken her to many destinations, which includes France, Norway, Mexico, Cyprus and Switzerland to name a few, and that has certainly filled her passport.
She still has the rest of this season and next year to lead the Hokies in Blacksburg before turning her attention to another international destination – Rio de Janeiro, the site of the 2016 Summer Olympics – and making her dream a reality.
MORE INFO ON DAYLE
Did you watch any of the Olympics this summer?
"Of course, I watched it. It was such an exciting time for soccer in Canada and everywhere. We won the bronze medal at the Olympics, and that's better than they've ever done, and I was really proud of them. I feel like we are on a rise right now. We are just starting to be considered a threat as one of the top teams in the world, and that's pretty unreal."
What is a key trait to being a great goalkeeper?
"Communication is a one of the most important roles on the field, just organizing your team and organizing your backs. It's also important for the center backs because they have to organize who is in front of them. Our communication is very important as far as positioning. That's why I am very excited about this year because I feel that, myself and the backline, are all really on the same page and know what to expect from each other."
Have you had any unusual injuries?
"I broke my right ankle when I was young on a kiddie slide in my backyard. I was 14, and I missed nationals one year because of that. I was making a waterslide for my brother and sisters, and that kind of backfired and I went down, slipped and broke it. I was babysitting at the time."
What is your plan after soccer is over?
"I'm majoring in biology. It was the only thing I really liked in high school, so I thought I might was well do it in college, and I love it now. I'd love to go to med school some day. I love school. I'm such a geek sometimes, but I love science. I've thought about med school, but first and foremost, soccer is what I am focused on right now and for the next few years."
Why have you been able to be so successful here?
"I think because I love Tech. I love being a part of Hokie Nation. I wouldn't want to be anywhere else. I have amazing teammates around me and they're my best friends. I just love playing with them and for them, and there is just no better feeling than leaving it all on the field and getting an important result with this group of girls. It's a real honor to be a student-athlete here, just with the history of the athletic programs and the support we get from the staff and from alumni. It just makes it easy to want to perform well and do well for the team."
What is the mindset of a goalie in preparing for a game?
"Our position is so unique from everyone else's on the field. I think, as a goalkeeper, you definitely feel the pressure because you are the last one before the goal. You just really have to be confident and know that you're just one of 11 on the field. Going into every game, I know it isn't all on me because it's a team sport. I feel the pressure only because I want to do well for my teammates, and I don't want to let them down. You have to embrace that pressure because everyone feels it. You're a collegiate athlete and performance is important, and it's all just about embracing that pressure and knowing your role on the team."