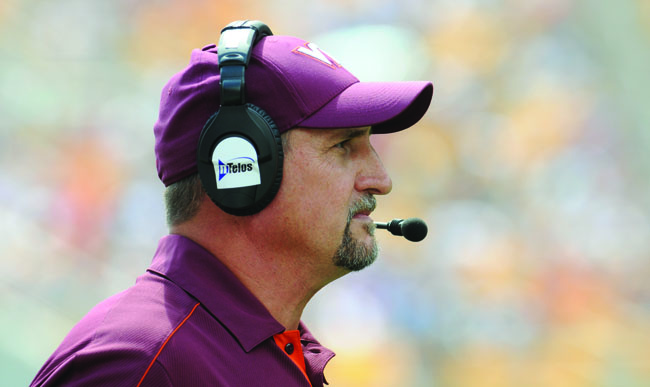 As he exited Kenan Stadium in Chapel Hill, N.C., in October, Virginia Tech defensive coordinator Bud Foster knew something was amiss with his 2012 Hokies' defense. Tech had just been gashed for 533 total yards by the Tar Heels, including 262 yards rushing by tailback Giovanni Bernard, in a 48-34 Tar Heel win.
"Pathetic" is how Foster described the defensive performance in the postgame interview. "Our tackling was atrocious," he said. "No excuses. That's not who we are, and that's not who we've been."
No sir.
The first six games of 2012 looked nothing like the type of defense Foster and the Hokies had grown accustomed to seeing in orange and maroon. Traditionally, Foster's defenses are among the best in the nation. However, six games into the 2012 season, the Hokies were allowing 390 yards per game, nearly 200 yards rushing per game, and Tech had allowed 34 of 97 third-down conversions (35 percent.) At the time, those numbers ranked in the middle, at best, in the ACC and barely in the top 100 in the NCAA rankings.
But over the next seven games, things changed dramatically. Tech's defense found itself. It became the stingy, aggressive, nasty unit that Foster and many had projected. And by the end of season, Foster and the Tech defense were back in a familiar position—among the top defensive teams in college football.
For the 2012 season, the Hokies finished 18th in total defense (333.15 yards per game), tied for ninth in tackles for loss (7.62 per game), fifth in third-down conversions (28.2 percent), and tied for 19th in sacks (2.69 per game). This season marked the eighth time in nine seasons as a member of the ACC that Tech's defense was ranked in the top-20.
How did Foster and Tech's defense turn it around in midstream, and almost instantaneously, during 2012? I had the chance to visit with Bud to discuss this season and look ahead a bit towards 2013. Here is the interview:
BR: Bud, thanks for taking the time to visit. The numbers show the Hokies had another top-20 defense in 2012. How did you guys turn it around this year?
BF: "Well, early in the season, we were playing a lot of guys in new positions in the back end of our defense. We had some inexperienced guys like (Detrick) Bonner and (Michael) Cole who we were playing at nickel (as a fifth defensive back). That's a position that Kyle (Fuller) had played the year before. So we had some inexperience in the back end, and we were playing all those spread offenses. Our tackling, particularly on the perimeter wasn't good, and we were giving up some huge plays, just some big-yardage plays."
BR: During the second half of the season, you switched back to a more conventional defense in a lot of ways. Can you walk us through that?
BF: "Yeah, after the Carolina game, what we did was we went back to (Ronnie) Vandyke and (Alonzo) Tweedy and played them more at whip and let them develop at that position. Earlier in the season, we got away from our blitzes and pressure packages. But with Tweedy, we brought a lot of pressure and played to his strengths, and that helped. It really prevented the big plays on the perimeter in the run game that we were allowing earlier. We didn't make those plays early, especially against UNC and Pitt."
BR: Tweedy made a big difference, didn't he?
BF: "Yeah he did. And we played more 'match-up football.' We had him in there for the run, or against a tight end or a man in space, and he did well."
BR: Statistically, the difference between the first six games, and the final seven is remarkable. What was the key to the individual and collective improvement down the stretch?
BF: "Our linebacker play was solid. Bruce (Taylor) got better. He is better suited to be a mike linebacker (where Jack Tyler played again in 2012), but he was an outstanding leader for us down the stretch. Also, we got push with a four-man pass rush. The spread offenses early slowed down our ends. We need to be able to defend running quarterbacks in that, and down the stretch, we played more pro-style teams, and that fit more into the strength of our ends."
BR: The spread offenses though, particularly when you have a mobile quarterback, are so incredibly difficult to defend it appears. Why is that?
BF: "Well, they get you in an 11-on-11 game. So your free safety is absolutely huge in the run game, and good offenses put you in one-on-ones with a dynamic quarterback and that can be hard. Early on (in 2012), we didn't pressure as much as we'd like to."
BR: But you did pressure Clemson and held the Tigers to a season-low 294 yards. You look at what that team, with Tajh Boyd, Andre Ellington and DeAndre Hopkins, did offensively against LSU and other teams this year, and Tech's defensive performance at Clemson is even more remarkable. In the Florida State game, Tech had five sacks and a 12 total tackles for loss. Those two games, even though Tech lost, were tremendous from a defensive standpoint.
BF: "I thought we were able to pressure teams. Stop the run and pressure teams. And that's kind of what we do, and it showed what we can do even against dynamic quarterbacks and elite skill people."
BR: In the bowl game, that was the key?
BF: "I thought we had him (Rutgers quarterback Gary Nova) looking at the rush. Again, we had some hurries and hits and knockdowns and were able to get off the field (Rutgers was 3 for 21 on third downs). We played on their side of the line of scrimmage, which I thought was key."
BR: One of the best bowl performances ever, and it caps off one of the great seasons ever, considering where you were in mid-October, no?
BF: "I'm really proud of our kids, and my hat is off to them. When things didn't look the brightest for us during the course of this season, our kids hung in there. It says something about them and our staff. I'm really proud of how they fought down the stretch. This team could've folded the tent, you know? When we were 4-6, our seniors hung in there, and our team hung in there."
BR: Let's look a little toward spring ball and next year. Who should we watch?
BF: "I'm really anxious to see how we look at linebacker and especially Tariq Edwards, who I think can be really dynamic for us in coverage and with pressure. I look for him to be 'full go' for the spring. He was really improved the last six weeks for us this season, and he can be a real difference maker for us there."
BR: Who will you be watching among the younger guys this spring?

BF: "Well, both Devin Vandyke and Deon Clarke have a chance to be really good at linebacker, and we'll get them out there this spring and turn them loose. Davion Tookes is a guy who redshirted and we're looking for big things from him, and also from Der'Woun Greene in the secondary, too. Our front is going to be good, but I think a guy like Nigel Williams has a chance to step in there and help us in our front four. Overall, I think we still need to work on things on the back end and on the perimeter, but I'm really excited about the players we have back."
2012 VIRGINIA TECH DEFENSIVE STATISTICS
| | | |
| --- | --- | --- |
| Category | First six games | Final seven games |
| Yards allowed | 2,340 | 1,991 |
| Yards per game | 390 | 284 |
| Rushing yards per game | 196.7 | 80.4 |
| Opposing 3rd down conversions | 34 of 97 | 23 of 105 |
| Sacks | 8 | 27 |
| Tackles for loss | 40 | 59 |