Antone Exum's interception caps a great week for him and sets up a touchdown that enables the Hokies
to rally past Rutgers for an overtime win in the Russell Athletic Bowl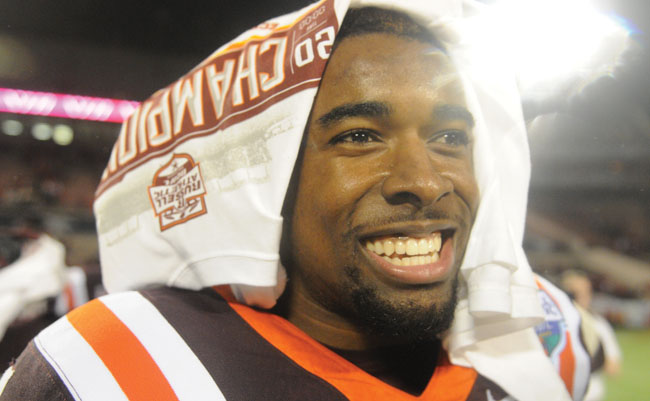 Last-minute Christmas shopping for the Virginia Tech football team consisted of a Christmas Eve jaunt to a Best Buy in Orlando with a $470 gift card in their pockets.
This was their "paycheck" for making the Russell Athletic Bowl and giving up Christmas with their families, so most understandably rewarded themselves, buying up all sorts of electronic equipment and gadgets.
But Antone Exum exhibited the spirit of the season, giving back to those less fortunate and using all of his gift card to buy all sorts of goodies for three random young boys from the Bahamas who just happened to be in the store at the time.
A few days later, he then gave the Hokies' 17 seniors a parting present – a victory over Rutgers in their last collegiate game.
Exum made arguably the biggest play of the season when his late fourth-quarter interception set up a game-tying touchdown and ultimately enabled the Hokies to pull out a 13-10 overtime victory over the Scarlet Knights in the Russell Athletic Bowl played at Florida Citrus Bowl Stadium on Dec. 28.
Tech rallied from a 10-0 deficit in the fourth quarter, and then the Hokies snapped a two-game bowl losing streak in overtime on kicker Cody Journell's third game-winning field goal of the season, a 22-yarder on the first possession of overtime. Rutgers kicker Nick Borgese missed a 42-yarder on the Scarlet Knights' possession, sending the Hokies celebrating as they concluded a rather trying season that saw them finish with a 7-6 mark.
"I give Rutgers a lot of credit … I've got a lot of respect for that program," said Tech coach Frank Beamer, who improved to 9-11 in bowl games at Tech. "But I'm proud of our guys, too. It's kind of like nothing comes easy for us. It's work. But we've got a bunch of guys who will hang around, and we're not always pretty, but we hang on and keep working at it.
"I think that says a lot. Rather than getting down … a couple of times this year we could have shut it down, but these guys never did. We've always hung together and kept playing. To me, that's what this game is all about, and it's what life's all about."
Certainly Tech had reasons to shut it down in this game, as nothing went right in the first three quarters of the game. The offense amassed a total of 79 yards in the first 45 minutes, and a botched snap on the game's second play – Tech center Caleb Farris tried to catch Rutgers offsides and snapped it to quarterback Logan Thomas, who wasn't looking – led to the Scarlet Knights' Khaseem Greene recovering the loose ball in the end zone for a touchdown. And while Tech's defense played great, it dropped several interceptions that could have changed the momentum.
But in the fourth quarter, Tech's offense cobbled together a couple of big plays, as Thomas completed a 32-yard pass to Dyrell Roberts and followed that with a 25-yard completion to Corey Fuller. Those two plays set up a 25-yard field goal from Journell that cut the Rutgers lead to 10-3 with 12:14 left in the game.
A little more than a minute later, Exum delivered the momentum changer.
The redshirt junior from Richmond intercepted a pass by Rutgers quarterback Gary Nova right in front of the Scarlet Knights' sideline and returned it 32 yards to the Rutgers 21, putting the Hokies in perfect field position with 11:11 remaining.
Tech capitalized. On third-and-10 from the 21, Thomas threw a perfect pass to Fuller toward the corner of the end zone, and Fuller hauled it in for the game's lone offensive touchdown. Journell's extra point tied things at 10 with 10:56 remaining.
"He's been doing that down the stretch," Tech mike linebacker Jack Tyler said of Exum. "He made that big play against UVa (an interception that set up Journell's game-winning field goal against the Cavaliers). That's what Antone does for us. He makes big plays when you need them.
"When your offense is struggling like that, sometimes the defense needs to jump start things. I think the offense will be happy that Antone got that pick because it switched the momentum of the game."
In the overtime period, Rutgers won the toss and elected to play defense first. On second down, Thomas fired a 19-yard strike to Marcus Davis to get the Hokies inside the Rutgers 5. The drive stalled, and Tech settled for the 22-yarder by Journell.
Rutgers (9-4) then got the ball. But Tech's Derrick Hopkins sacked Nova for a 6-yard loss and two completions by Nova netted just six yards, forcing Rutgers to send out Borgese for the 42-yard attempt. He missed it wide right to end the game.
Offensively, Tech finished with 196 yards, as the Hokies struggled to muster much against a good Rutgers defense. Thomas completed 15 of 39 for 193 yards, with the touchdown and two interceptions. J.C. Coleman led all receivers with five catches for 39 yards, while Davis caught four for 62 and Fuller hauled in two for 46.
But Rutgers finished with just 196 yards itself against Tech's stout defense, which sacked Nova three times and amassed 12 tackles for a loss. The Hokies' defense was particularly good in the fourth quarter and overtime, as that unit gave up just one first down in that span.
The Scarlet Knights stayed in the game because they did not turn the ball over – until Exum's interception in the fourth quarter. The interception marked the fifth of the season for the second-team All-ACC cornerback, who was named MVP of the game.
But he – and teammates Tariq Edwards and Davis, who chipped in a portion of their gift cards as well to purchase the goodies for the three Bahamians – received more for the good deeds off the field just days earlier.
"I think God works in mysterious ways," Exum said. "It's a blessing to get that MVP award, and more importantly, to get that win.
"As far as the gift giving goes, that was probably the highlight of my trip, just being able to see the smiles on those kids' faces. It definitely means a lot."
The win marked Tech's third straight to finish the season, as the Hokies recorded their 20th straight winning season – a streak that dates back to 1992.
Perhaps more importantly, the 17 seniors go out with a win. They finished their careers with a 39-15 overall mark.
None, though, more gratifying than this one – one that left them thanking an underclassman for playing such a big role in it happening.
"Those guys have been great examples and great leaders," Exum said. "We've learned a lot from those seniors. To send them out on a winning note was everything to us.
"We haven't had a losing record in I don't know how long. We win around here. It's just great to be that team that didn't end with a losing season and hopefully we can do bigger and better things next year."