Members of the 2012 recruiting class who redshirted this past fall are anxious to put their talents on
display during spring practice in March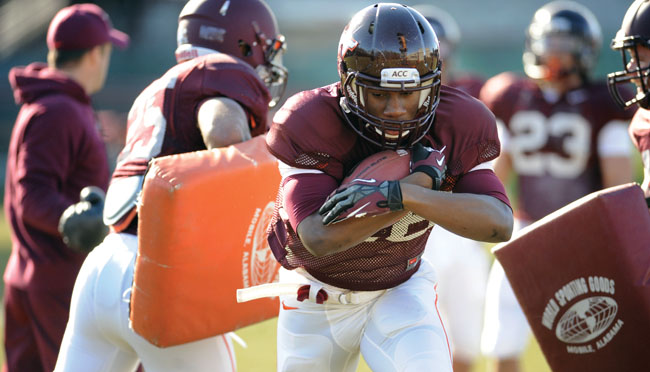 In the weeks leading up to the Russell Athletic Bowl held in Orlando, most of Virginia Tech's football players expressed excitement over spending a week in a city with so much to offer in the way of entertainment.
Most, but not all.
"Nah, nah, not even thinking about it," freshman Dahman McKinnon said. "I mean, it's definitely fun. I'm a part of it, but I'm not going to be contributing. I need to be worrying about what I'm going to be contributing to (in the future)."
McKinnon's businesslike manner reflected the attitude of many of the freshmen who redshirted this past fall. In other words, get through it, and then get on to spring practice.
Tech's 2012 recruiting class included 28 signees – the second-largest class ever under coach Frank Beamer. Only six of those 28 played this past season, and two of those six, Joshua Stanford and Deon Clarke, are probably applying for medical hardship waivers after missing most of the season. Five others never arrived, though may enroll later. That left the remaining 17 to go through a redshirt season at Tech.
"I do," said Trey Edmunds, one of those 17, when asked if he thought redshirting was the best move for him. "I believe any high school player that comes straight to college … they just want to play. That's all I knew back then. But the coaches made the right decision. I did it, and I'm happy with it. I'm getting ready for next year, and all this (redshirting) has been a benefit."
Edmunds and McKinnon are a part of a freshman class whose development, perhaps more than any other class under Beamer, is critical for any future Tech success, both in the short term and the long term.
This rings true particularly on the offensive side of the ball, where the Hokies lost three receivers (Marcus Davis, Dyrell Roberts and Corey Fuller), two tight ends (Randall Dunn and Eric Martin), three offensive linemen (Vinston Painter, Nick Becton and Michael Via), fullback Joey Phillips and reserve tailback Martin Scales. Not to mention, quarterback Logan Thomas hadn't made up his mind at press time on leaving school early and making himself available for the NFL Draft.
So in all, Tech loses 10 contributors on offense, not including Thomas. The Hokies' offense struggled with consistency during the 2012 campaign, so with the loss of so many players and a tougher schedule on the horizon in 2013 (Alabama in Atlanta and at East Carolina), it's little wonder that Beamer and his staff spent a lot of time working in younger players in pre-bowl practices.
"You start looking at those younger guys and start seeing where they're going to project for next year," Beamer admitted.
The spotlight figures to shine brightly both on Edmunds and Chris Mangus, a 5-foot-11, 190-pounder, during spring practice this March. Tech's staff almost played Edmunds this past season, but he, like most young running backs, struggled in pass protection and with the playbook. Additional repetitions in spring practice will give him an opportunity to showcase the player who rushed for nearly 2,600 yards and 33 touchdowns his senior season at Dan River (Va.) High School.
Mangus is noted for his speed, while the 6-foot-1 Edmunds now weighs 215 pounds and would give the Hokies a power back whom they need with Scales departing. But Edmunds also excelled on defense in high school, and some wonder if he wouldn't be a better linebacker at the collegiate level.
"Right now, I'm still working at tailback. I haven't heard anything else," Edmunds said. "So each day, I go out there and try to learn new things and get better. I'm working on protecting the ball, holding it high and tight, and working on my footwork and working on reading the defenses – just the little things that make you better.
"I think all of us running backs bring something different to the table. I think my size is an advantage to me, and hopefully, that will help me get on the field faster."
Of course, how Tech's offensive line develops really holds the key to any improved rushing attack. The Hokies appear solid at the guard spots and at center, but the tackles remain an unknown at this point, with rising redshirt juniors Mark Shuman and Laurence Gibson needing to improve.
Tech's staff anticipates Augie Conte being in the mix. Conte, a 6-5, 275-pounder, is a little farther along than fellow freshmen linemen Jack Willenbrock (6-3, 250) and Adam Taraschke (6-5, 300), and he benched an impressive 370 pounds in scout-team testing back in November, raising some eyebrows among the Tech staff.
"I'm a competitive person," Conte said. "I hate losing. I almost hate losing more than I like winning. Pretty much everything I do, I look at it as a competition. I'll be looking to make my spot during the spring. We'll see how it goes.
"The biggest thing for me is learning all the plays and learning all the different formations, and just learning our offense. Of course, I need to develop more physically. I'd like to be 290, 295, by the time the season starts. But for me, the big thing is learning the game of football. I've only played four years – this is my fifth."
At receiver, the Hokies have an interesting collection of young talent, led by highly touted Joel Caleb and Stanford, the August superstar. Caleb, a 6-2, 205-pounder, needed to redshirt as he adjusted from being a high school quarterback to a college receiver, while Stanford wowed everyone in August scrimmages. He played in the Austin Peay game, but a knee injury shelved him for the remainder of the season, and Tech's staff plans on applying for a medical hardship waiver on his behalf.
The remaining three players on offense who redshirted were quarterback Brenden Motley (6-2, 215), tight end Dakota Jackson (6-2, 257), and receiver Mark Irick (6-3, 196). Jackson is probably the most ready to play out of those four. Like Conte, he recorded a 370-pound bench press in scout-team testing.
On the other side of the ball, the staff played three of five defensive backs out of the 2012 recruiting class this season – Donovan Riley, Desmond Frye and Donaldven Manning. Only Davion Tookes (5-10, 166) and Der'Woun Greene (5-10, 179) redshirted, though Tookes may have gotten some time this season if not for a nagging hamstring injury suffered last August.
The freshmen on defense who redshirted this past fall will really have to distinguish themselves in spring practice to get on the field next fall. After all, Tech's defense loses just four players off its first- and second-team units – backer Bruce Taylor, whip linebacker Alonzo Tweedy, rover Jeron Gouveia-Winslow and defensive tackle Antoine Hopkins. The Hokies feature a lot of depth on that side of that ball.
That's not to say, though, a few freshmen couldn't surprise. The group certainly possesses that type of talent and potential.
On the defensive front, Alston Smith (6-1, 273), Nigel Williams (6-2, 278), Jarontay Jones (6-2, 238) and Ken Ekanem (6-2, 236) bring size, strength and speed, with Smith and Williams looking like tackles of the future and Jones and Ekanem looking like future ends. Smith, the son of former Tech star Bruce Smith, may be the strongest freshman on the team. He recorded a 395-pound bench press and a 385-pound front squat in scout-team testing.
Ekanem was one of the class' most decorated recruits. The state's defensive player of the year as a senior, he recorded 18 sacks his senior season at Centreville (Va.) High, but he tore his ACL in the Group AAA championship game. He used the redshirt year to rehab his injury, while also developing as a player.
"The knee's a lot better," Ekanem said. "I feel a lot better now. When I came in here in July, I was close to 260 and now I'm down to 235, trying to put on good weight and get to 240. I didn't want to be that heavy, but I couldn't do anything because of my knee, so I had to work it (the weight) off.
"Redshirting was a good thing for me just because of my injury. I thought I'd be redshirted anyway regardless of where I went, but it was good to rehab and get back to top speed, and also to develop different aspects of my game."
At the linebacker spots, McKinnon (6-1, 206), Clarke (6-3, 221) and Devin Vandyke (5-11, 214) round out the group. Clarke played sparingly in the first few games before going down with an undisclosed injury, and he plans on applying for a medical hardship waiver. Vandyke injured a knee and spent most of the fall recovering from it, but he certainly possesses the potential to be a good one.
McKinnon, though, stood out. The Hope Mills, N.C., native earned Super Iron Hokie honors in the strength and conditioning program after recording a 385-pound bench press, a 390-pound front squat and a 36.5-inch vertical jump. The staff worked him some at rover early on, but he fits in perfectly at that whip linebacker spot, a position that takes advantage of players who can play in space.
"I think it's a good position for me," McKinnon said. "I need to put on weight, and then go out there and do what I need to do. It's (the whip position) a lot like what I did in high school. I like to fly around the field and be a factor."
Most of these players admitted that they came in expecting to play right away. Then in August, reality struck, as they found themselves facing players who weighed more, possessed more strength and speed, and had, in some cases, four more years of experience on them.
That only takes into account the physical and experience aspects. Nearly all of them struggled with the terminology and the complexity of the Hokies' schemes.
"It was very difficult," McKinnon said of his transition from high school to college. "The defense was difficult to learn. That was the hardest part for me, just knowing what to do, when to do it and how to do it. You have to recognize formations and then call the defenses based off that. It's a lot to process.
"Redshirting was definitely a good move for me. I'm glad it happened."
The group spent the fall adjusting to college football and got a good start on that process – without the pressure of needing to perform each Saturday. They also enjoyed their week in Orlando for the Russell Athletic Bowl.
But for them, more fun comes from being on the field and playing in front of thousands. The redshirt year is now over, and the road to that playing time begins this spring.
For sure, these freshmen can't wait.