The Tech men's track team won the ACC outdoor championship last spring and won the cross country title
in the fall, and now is heading into the 2013 track season looking for its third straight conference crown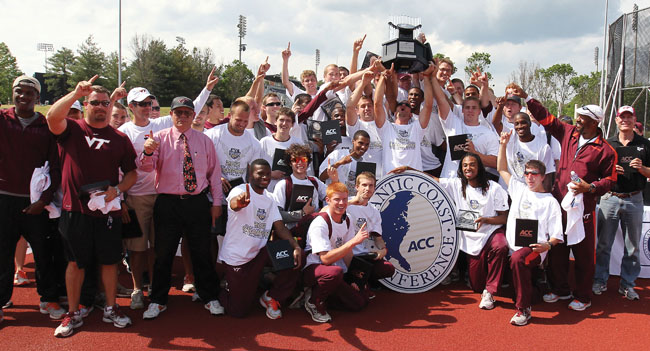 More than 20 years ago, the Clemson men's track and field team accomplished a rare feat that had last been done by an ACC school in the mid-1970s. The Tigers won the ACC men's cross country championship in 1988 and followed that up with the 1989 titles at both the ACC indoor and outdoor championships.
That tri-title feat has not been done in the same academic year since then, though Florida State has come close many times. The Seminoles have won 18 ACC titles over the past 10 years (two of which were later vacated), and when they claimed the ACC cross country title in 2010, not only did it give them three straight titles – winning the track titles earlier in the year – but it also gave them a chance at matching the Tigers' feat.
However, the Virginia Tech men's track team scored a surprising win at the 2011 indoor championships, thwarting the Seminoles' chances, and the Hokies have matched the Seminoles title for title ever since. Of the past seven ACC championship meets, Florida State and Tech have won three each, and with a win at this year's indoor meet, the Hokies can stake their own three-in-a-row title feat after winning the 2012 ACC outdoor crown and then claiming the ACC cross country title this past fall on their home course.
"The important thing is to take each season separately, and to have the student-athletes and the coaches focus on the season that they are in and not necessary talk about how we've won outdoors and cross (country), and now if we win indoors, that will be three in a row," Tech director of track and field and cross country Dave Cianelli said. "The last two that we've won, they are now in the books. There is nothing that we can change about that.
"I think the guys are pretty motivated to try to go into this track season and try to win another title. It certainly won't be easy – it never is. But I think we have a chance, as long as we keep everyone healthy. I think we have at least a chance to be in a position to possibly win an indoor or an outdoor title."
The men in Tallahassee will probably have something to say about that, as Tech has certainly put a bulls-eye on its back with its recent success. Cianelli, though, has a couple cards up his sleeve, especially when it comes to the indoor season.
As the Hokies did for the cross country season – using redshirts to set up the perfect storm of a lineup to maximize an ACC title possibility – they worked the system again. Their two workhorses, Will Mulherin and Michael Hammond, along with Alexander Ziegler, have just indoor eligibility remaining and will certainly look to end their Tech careers with another team title.
"With our men, we have a chance at a title, and that's all you can really ask for," Cianelli said. "Just like in cross country, I felt like we had a chance to win that, but everything would have to really come together, which it did. I think we beat a couple teams that, maybe on paper going in, were stronger than we were. Indoors (during the indoor season), it'll be sort of the same thing.
"Again, it's early, but I would say that, as it has been in the past, Florida State is going to be very, very good again. So in the last couple of years, it's sort of been us and them going head to head. I don't see that necessarily changing on the men's side. I think they'll be the team again to beat in track, and it will take a really, really great effort on our part to win, whether it's indoors or outdoors.
"We have a few people that we are going to have indoors that we aren't going to have outdoors. We'll have Will Mulherin and Michael Hammond, indoors only, and the same with Alex Ziegler. Those are three very, very important individuals that have contributed so much to our program at the conference and the national level."
On the women's side, a young team with just four seniors is expected to be better than last year. Injuries hurt the team a season ago, but coming out of the break, everyone seems to be healthy. The projection for this team is not just finishing in the top half, but the top four at the ACCs.
"I'd like to see our women be in the top four both indoor and outdoor at the conference meet, and at the national meet, we have enough quality that we can be a top-20 team," Cianelli said. "I'm really focusing more on the conference meet. We're kind of building back to where we can be a top-three team again.
"We are a fairly young team, but I think we are going to be better than we were a year ago. We had so many injuries last year on the women's side. We just lost a lot of people. It was just one of those odd years.
"We had several out, either indoors or outdoors or both, that we lost for the year. But right now, everyone seems to be healthy, and they seem to be excited to get track started."
What follows is a breakdown of the main areas of both track programs, starting with the men:
Men's Sprints/Hurdles/Jumps
A deep, talented group returns in this area, led by All-American Darrell Wesh in the 100, along with two other men who ran with him in the 4x100 relay in Jeff Artis-Gray and Jonathan McCants. That relay team set the school record in the event and finished 13th at the NCAA Championships.
Artis-Gray was also an All-American in the long jump (outdoor), and Ronnie Black, who was a two-time All-American in the high jump (both indoor and outdoor) returns as well.
"Our men's sprints group will be very formidable," Cianelli said. "And then we have a freshman from Georgia, Tadashi Pinder, who I think is going to be an outstanding sprinter. This will be his first year with us, and there is always that learning curve, but he's extremely talented.
"Where we won't be as strong in is the horizontal jumps because Hasheem Halim graduated. He was a multiple All-American in the triple jump, but he was also a scorer in the long jump at the conference level. Jeff has done some triple jumping, so we might use him there a little bit to try and score some points. But overall, collectively, I think it's going to be a very, very good group again. So each group will have to perform well for us to have a shot at a conference title."
Men's Distance
As stated, Mulherin and Hammond have just indoor eligibility, along with Jason Cusack. They led a deep distance group to the ACC cross country title, and those men will find their niche on the track.
"Tommy Curtin, who had an outstanding cross (country) season, is going to be a factor in the distance races," Cianelli said. "Grant Pollock, who really had an outstanding outdoor season last year, he's going to be more of a middle distance (runner) in indoors, like a miler.
"Then we have the Degfaes (Leoule and Tihut, both juniors). So Coach (Ben) Thomas has a pretty deep group that can cover the different event areas and the distance medley relay, indoors. To be successful as a team, you have to be able to bring some good quality in each one of these areas."
Men's Throws
Ziegler, a three-time All-American in the weight throw, returns for the indoor season only and will throw the weight, along with Denis Mahmic, whose resume is solid, but who has never been good enough to unseat his predecessors for an ACC title. He's been third in the weight throw at the ACC indoor meet in Hokie sweeps (with Ziegler and Marcel Lomnicky) twice and has a third (behind his teammates) and a second at the outdoor meet in the hammer.
"We have a really fine group of throwers," Cianelli said. "We really don't have a shot putter, but we are pretty strong in the weight throw. We'll have Alex returning, and Denis, and we have a new athlete, Tomas Kruzliak. Those three will all be factors in the weight, and I'm confident that those three will be (factors) at the national meet as well."
During the outdoor season, Matthias Treff will look to win his fourth ACC title in the javelin and his first NCAA title, as he has a second and third in his prior trips to the national meet.
Men's Pole Vault
ACC point scorers Stephan Munz and Chris Uhle both return for the Hokies, while a pair of freshmen will also be called upon to pick up points.
"We have a couple of freshmen, Jared Allison and Brad Johnson, and I really like the way they're looking," Cianelli said. "They could improve to a point where they could be scorers at the conference level.
"But the other individual that looks very good is Scott Campbell in the heptathlon. He's certainly going to be a factor at the conference level, and he's made great strides over the last year. Matt Hoogland will be another person doing the heptathlon with him. He came in originally as a straight vaulter, but now he's doing the multi."
Women's Sprints/Hurdles
Three of the four seniors on the Hokies' women's side are featured in this group, as Yvonne Amegashie, who was All-ACC last year, Jameice DeCoster, who is in her second year at Tech after transferring from Wisconsin, and Natalie Woodford return.
"Yvonne is going to have an outstanding year, both indoors and outdoors, and she's sort of the leader of this group," said Cianelli. "Then it's a fairly young group, with sophomores Leah Nugent and Caira Simms and freshman Shaquera Leach.
"Leah is a hurdler, but will run some 400s for us as well. Caira is more of sprinter – 60-meter, 100-meter and 4x100. Then Shaquera will step in and do a lot of relay duty for us."
Women's Distance
If healthy, the distance group could be the strongest group for Tech this season. The Hokies return Sammy Dow and Frances Dowd, both NCAA qualifiers in the steeplechase (outdoors) and 800 (indoors), respectively, and they have a number of runners who can fill in all the way to the 10K.
"This is a pretty deep group, led by Sammy Dow, who didn't have cross country eligibility, but she's got both indoors and outdoors, so I'm expecting a really strong season from her," Cianelli said. "Frances Dowd was a national qualifier (indoors) in the 800 a year ago. We redshirted her for the outdoor season last year. She had some foot issues, so we held her out outdoors, but she set our school record indoors in the 800, and so I'm expecting her to be at the national meet both indoors and outdoors.
"Then we've got some people coming back from different types of injuries – Courtney Dobbs, who was a scorer two years ago in the 10,000 and 5,000 indoors, and Madalyn Nuckols, who's coming off a hip injury but was a scorer in the 5,000 at the ACC level the year before last.
"And then we have some really outstanding freshmen, and they are mainly middle distance runners. Shannon Morton and Britani Myers are primarily 800, 1,500-type runners. Kaila Blackburn is a distance runner, like the 5,000 outdoors. So I think our distance group is pretty deep, and I think there's enough quality there to really help us at the conference level to move up into the top three of the conference."
Women's Throws
Annjulie Vester is one of just two returning ACC champions from last year's team, and only competed in the hammer throw at the outdoor meet. She will anchor the throws area. Tech also has brought in a transfer in Sabine Kopplin to toss the javelin.
"We just didn't feel like Annjulie was ready a year ago, so we'll see what she can do indoors with the weight," Cianelli said. "The hammer, she'll move up and should be the favorite at the conference meet, and then she should be at the national meet this year as well.
"We also have a new javelin thrower in Sabine. She was at Nevada two years ago, and now she's here. She's an outstanding javelin thrower and should be one of the favorites at the conference level, but also has a good chance to be an All-American outdoors."
Women's Pole Vault
The other returning ACC champion is Martina Schultze, who was an All-American last year, both indoors and outdoors, and set the school record outdoors. She will need some help, and Cianelli points to a few newcomers.
"Leigh Allin is also returning and looks very good in training," he said. "But we'll have newcomers, Grace Giampietro and Lyndsey Saunders, also and anyone of those individuals could be scorers for us at the conference level."