A humble attitude, a great work ethic and an undeniable determination were just a few of the traits that
former walk-ons and running backs Joey Phillips and Martin Scales shared in their Tech careers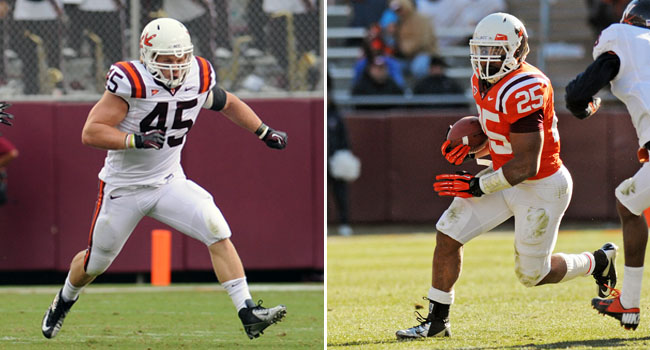 Joey Phillips and Martin Scales share many commonalities. They practically share the same age (Scales is seven months older), they share the same Southwest Virginia roots, they shared, at times, the same position in Tech's backfield, and thus, they shared the same meeting room for the past three years. They even shared the same football field at times this past season.
They share a deep friendship, a mutual respect not just of the physical skills that each brings to the football field, but also of the values that each represents. They share a love for being one of those blue-collar grunt workers who are absolutely critical to a team's success. They share an admiration for each being willing to accept that role –and thrive in it.
Platitudes aside, there is one obstacle that their friendship hasn't been able to overcome, a mountain simply to tall to ascend.
"You know he ended my high school career, right?" Phillips said. "Oh yeah. Beat us in the playoffs my senior year."
Investigative research, as expected, confirmed Phillips' statement. His Blacksburg High team finished the 2007 regular season with a 7-3 record and a Group AA playoff berth. The Bruins traveled to Bassett, Va., for a first-round game against Scales' undefeated Bassett High team, and on the frosty Bermuda turf of the Bengals' home field, they lost 27-15, ending their season – and Phillips' career.
Scales had a lot to do with that. He rushed for a whopping 179 yards and two touchdowns in the Bassett victory, and according to Phillips, he caused a lot of headaches as a free safety.
"I think he's still a little salty about that," Scales said.
The two remember each other from that November night. Phillips, who played outside linebacker, remembers the Scales runs, but also swears to this day that Scales could have been a great rover at Tech. Scales remembers watching film and noticing Phillips and all the plays he made.
Now, here it is more than five years later, and both their careers have just ended. They never would have predicted back then that they would take nearly identical paths to becoming contributors at Virginia Tech.
Joey Phillips seemed destined for a baseball career in college and perhaps beyond. Yes, he played other sports growing up. He started playing football in the fifth grade and he later got into wrestling. But baseball was in his DNA.
After all, his father, Jay, played baseball at Tech – and he played it well, too. In 1980, he hit .358 and stole 24 bases on his way to earning first-team All-Metro honors. He later got into coaching and served as Chuck Hartman's top lieutenant for years.
"Baseball was my first love," Joey admitted. "My first word was 'ball.' Obviously, I was always around it with my dad being a coach. When he started coaching here in 1991 or 1992, I used to go on one trip a year and got to go on the bus with the players. This was before English Field was a stadium, like it is now. They had that big hill over there, and I used to tumble down that hill and chase foul balls."
Joey Phillips became a very good baseball player. He went on to set school records in doubles and RBI over the course of a four-year career at Blacksburg High. He earned first-team All-Group AA honors his senior season.
For whatever reason, few recruiters took notice. Maybe some assumed he planned on playing football because of his skill in that sport. Maybe others projected him as a wrestler, another sport in which he excelled.
But by the end of his senior season, he planned on going to Tech and becoming an average Joey.
Occasionally, though, fate gets in the way of the best-laid plans. One Sunday evening, Jay and Kathy Phillips made a Walmart run. While there, they ran into John Ballein, Tech's associate AD for football operations. Ballein and Jay Phillips know each other well going back to Jay's days as assistant under Hartman, and Ballein asked about Joey's plans.
"Where's Joey going?" Ballein asked. "Is he going to play baseball?"
"No, it's weird," Jay said. "He's not being recruited. He's just going to go to Tech as a student."
The next day, Tech running backs coach Billy Hite called Joey and invited him to the spring game. He offered him an opportunity to walk on to the football team.
Joey Phillips was stunned.
"I had never thought of that," he said. "I thought I was a good (football) player. I came to the game with Bo Gentry (another former walk-on) and walked through the tunnel, and the crowd was going crazy. I knew then it was something I had to give a shot."
Not long after that, he got some calls from some Division III coaches, both for football and baseball. But he had made up his mind.
"I had made my commitment," he said. "I already had bought into being a Tech football player."
Scales' route to Virginia Tech was just as random as his comrade's, perhaps even more so.
For starters, he wasn't allowed to be inside his house.
"I had four sisters," he said with a smile. "So I wasn't allowed to stay in the house."
Scales grew up on the same country road – Flat Rock Road – in Henry County, Va., that his cousins, former Tech players Orion and Cam Martin, lived on, so he often walked down the hill to their house. The three of them spent most of their spare time playing football in the family fields with other cousins who lived in the area (his mom and Orion's and Cam's father are siblings). Kathryne Martin, their grandmother, has 17 grandchildren.
Of course, football only came about when Bobby Martin, their uncle and a former Tech player (1986-89), let them play. Often, the three boys helped Bobby with his logging business, or whatever other task he wanted them to perform. They became country strong and cast-iron tough.
"I always had some form of work to do, whether it was cutting grass or whatever," Scales said. "I always made sure the equipment had gas and oil and hydraulic fluid. When we were cutting wood, I usually pulled the cables to pull the wood off the skidder. I had the smaller jobs, but I was out there, too."
That work ethic, and those football battles with the cousins, served him well at Bassett High, where he became a top-notch player. He earned first-team all-district and all-region honors his senior season, earning co-Region IV defensive player of the year honors as well. On offense, he rushed for 1,553 yards and 21 touchdowns from his tailback spot.
He got some offers coming out of high school, but he dreamed of playing for Virginia Tech, as his uncle and two cousins did. He arrived in Blacksburg in 2008, all set for workouts and practices.
But he received some crushing news right before fall camp opened. Ballein informed him of an NCAA Clearinghouse issue that would make him ineligible. Crestfallen, he packed up his stuff and rode back to Martinsville, Va. He enrolled at nearby Patrick Henry Community College, wondering where his life was going.
"The Clearinghouse didn't receive all the paperwork from my guidance counselors in high school, so I either had to go to Division II and transfer back, or get an associate degree," he said. "It was easier on my family to get an associate degree. So I went to Patrick Henry right down the road."
Patrick Henry did not have a football team, but Scales kept himself in shape in hopes of getting another call from the Tech staff. For two years, he worked out and took classes – and wondered if the call would come.
"I was even thinking about joining the military," he said. "I didn't want to stay in Martinsville."
In the spring of 2008, his final semester at Patrick Henry, he received a call from Hite.
"Do you want to play some fullback for me?" Hite asked. "Can you hit linebackers the way you hit running backs as a safety?"
"I can do that," Scales told him.
He came to Blacksburg right after his semester ended, enrolling at Tech for the first summer school session.
"I had my mind set," he said. "That's where my uncle went and that's where my cousins went. I've enjoyed Tech football since I was young, and I wanted to do it."
Once they got into Tech's program, Phillips and Scales did whatever it took to get on the field. The path began when they committed themselves to Mike Gentry's strength and conditioning program, getting bigger and stronger. They also watched extra film. They took being on the scout team seriously. They volunteered for any and all special teams.
Special teams originally got both of them on the field, and both their devotion and work ethic there caught the eye of head coach Frank Beamer. Fittingly, in August of last year, he called both of them into his office at the same time – and offered both of them scholarships.
The reaction was predictable, but no less heartwarming.
"I didn't know what to say," Phillips said. "I didn't want to say too much. Coach Beamer was in a hurry, and we were between meetings. He's got football on his mind. He doesn't care if you're a first-year walk-on or a fifth-year senior. He wants football to be happening. I just thanked him and told him he wouldn't regret it. Then I sent out a group text to my mom, my dad and my sister."
Scales expressed similar thoughts. Relief overwhelmed him, as he knew what a scholarship meant for his parents. His father had been laid off a couple of times, and with Scales' newfound aid, his parents wouldn't have to pay his tuition.
"It was more just a relief financially for me," he said. "I didn't have to burden my parents. I was happy, obviously, but it was more just a relief financially.
"Then, I thought, 'I must be valuable for something.' That's the first time I thought, 'I guess I'm all right.'"
Both played substantial roles this past season. Phillips, who started five games as a junior at the fullback spot, started four games this season. His teammates thought so much of his contributions that they voted him one of four permanent team captains for the 2012 season.
Scales, who was moved to tailback for this season, started two games – on Senior Day against Virginia and in the Russell Athletic Bowl – but served an important role as a short-yardage back.
In fact, Scales arguably saved the Hokies' season. In the game at BC, he made an impressive run on third-and-1 from the BC 16, gaining 3 yards on a play that appeared destined to be a loser. Two plays later, Logan Thomas threw a touchdown pass that was the game winner.
"It sort of hit me after the game," Scales said. "I was just happy for the opportunity. My parents had told me earlier in the season, 'Don't be mad. Don't be pouting. Just be ready because eventually you'll get the opportunity. If you're not ready, then there's no point.'
"I still think we would have won the game. But it's cool to have the opportunity to do that."
With the season over, Scales and Phillips plan on getting ready for the next phase of their lives. Phillips, who graduated with a degree in human development and also got his master's degree in instructional design and technology, wants to do something in medical device sales. Scales graduated with a degree in history, and while he wants to give pro football a shot – even if it means going to Canada and playing – he sees law enforcement or becoming a history teacher as two more realistic options.
Their professions may not be as exciting as college football – not many things are – but they represent the next challenge in their lives, one they will welcome and attack with the same devotion and work ethic that made them successful as student-athletes at Virginia Tech.
"I was telling my mom the other day that I wished I was better at football," Phillips said. "I could be training for Pro Day (in late February or March) instead of just spinning my tires. It's bittersweet, but I'll be all right.
"I don't see entering the real world as a bad thing. I've been to college for five years, and I'll walk away with a masters. I've had a great time, made great memories. I have awesome friends. Everything will work out."
Knowing these two, it'll work out great. And it would be just one more thing that the two of these young men with similar stories share.